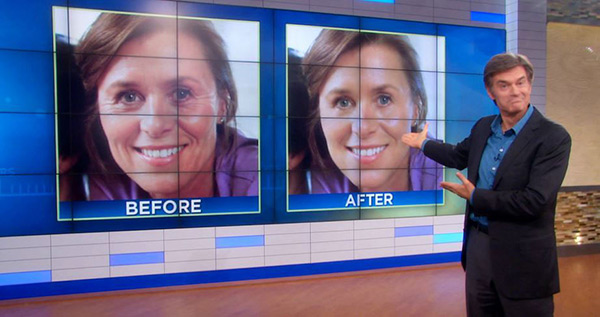 Beware of Free Trials for Anti-Aging Products – an Investigative Report
Get the Facts on Free Trials for Beauty Creams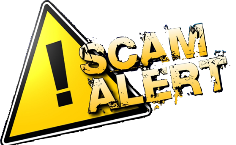 Have you been scammed by a free trial for an anti-aging cream? Keep reading! In this review about free trials, I'll give you tips on how to cancel and hopefully get your money back!
Before I go any further – if you're looking for a phone number to cancel a free trial, please check for the number on my latest blog post:
Free Trials – How the Ads Lure you In
You've probably seen the alluring ads with captivating headlines such as "Dr. Oz Calls this a Miracle Cream," or "Katie Couric's Backstage Secret," or "Shhhh Don't Tell Covergirl." The latest scam is the "as seen on Shark Tank" creams.
Stories of women who "accidentally" discovered a miracle breakthrough in anti-aging by using one cream at night, and another cream in the morning.
Honestly though, who doesn't want to find a miracle cream to reverse the hands of time overnight?
Unfortunately, there is a very deceptive, dark side to these offers, one that most people miss and don't discover until they notice the exorbitant and monthly recurring charges appear on their credit card statements, leaving them feeling scammed and frustrated.
In this article I will articulate how this new wave of "short-term" (12-14 day) free trials suck you in, how they function, and why I don't like 99% of them.
My Interviews with CBS
I was interviewed by Cristin Severance with CBS 11 in Dallas, Texas about Beauty Cream Free Trials (watch it here).  Cristin is a Consumer Justice Investigator and has won 7 Emmy Awards!
I was also interview by Bettie Cross of with CBS Austin, TX (watch it here or click the video below).
Educating yourself on how these supposed free trials actually work is your best defense against being taken for what can sometimes add up to hundreds of dollars!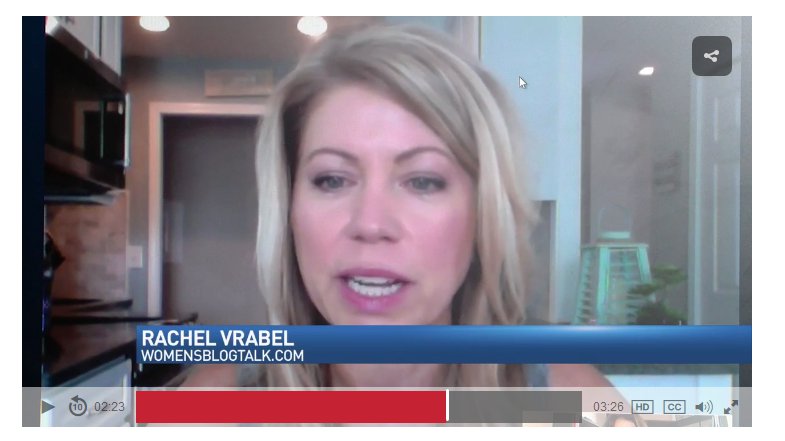 The Combo Free Trial Offer
Back to the combination offer.
In the example I used above, the combination free trial offer was BioGeniste Wrinkle Reducer and Dermal Meds.
But I could literally cut and paste about 100 different wrinkle creams in their place because the ads are IDENTICAL, and they often rotate.
"Avonlea and Pristine," "Nuvalift and Puravol," Bellalabs and Dermaperfect," "Absolute Rejuven and Absolute Derma," "Splendyr Instant Wrinkle Reducer and Levela Anti-Aging Cream," "Luminelle and Alleure."
There are so many that I can't possibly list them all but some of these may ring a bell.
They all follow the same story line, usually referencing a celebrity and also a normal lady with the likeness of "Brenda" who by accident, discovered that by using one cream in the morning and one cream at night, she obtained miraculous results. And before you know it, you're ordering your free trials of both creams. Sound familiar?
Be weary of any offer that won't let you proceed to checkout without agreeing to order a second or third eye cream or serum in order to get the cream you're trying to order – huge red flag!
The Allure of Looking Younger Overnight
As women, we want to find a cure for our wrinkles to look young and vibrant again, and wouldn't it be nice to find something that works overnight?  Or in two weeks?
Take for example, the picture of this woman on the right "Brenda," who I've seen in numerous ads for various wrinkle creams lately, she's a poster girl for these scams.
This particular ad is promoting a combination free trial of BioGeniste Wrinkle Reducer and Dermal Meds, and Brenda claims that she obtained these results by using these two products in combination.
I'm sorry to say, but there is no wrinkle cream, or combination of, that will give you this type of result, and this happens to be  a photo-shopped image purchased on a popular website called "shutterstock."
Do Celebrities Really Endorse Wrinkle Creams?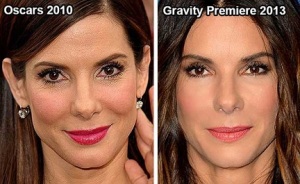 No, they don't! These scam companies claim celebrities such as Sandra Bullock, Ellen Degeneres, Katie Couric, Christie Brinkley – even Queen Kate – use these creams to obtain their ageless skin – and the "proof" seems nothing short of amazing in the before and after pics.
But I can assure you, none of these Hollywood stars promote any of these fly-by-night wrinkle creams scams, much less use these garbage creams.
There are also Youtube clips placed conveniently for credibility, but irrelevantly. For example, there is one video of Ellen Degeneres floating around to boost the claim that she's promoting a specific eye cream, but if you watch the video you will realize that she's merely doing a comedy stand up act where she jokes about what a klutz she is when she uses an eye cream (in a general sense).
What about Dr. Oz Wrinkle Creams?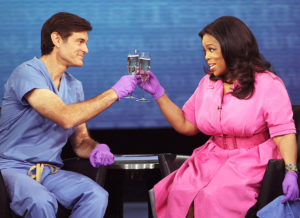 If a picture of Dr. Oz (or any other celebrity) is in a wrinkle cream ad, it must be true right?  WRONG, think again!
Dr. Oz is plagiarized more than anyone on the web!
These scam artists use his pictures, video clips, fake quotes, anything to make you believe that Dr. Oz is recommending them.
In this picture of Dr. Oz and Oprah, they state that Oprah is retiring to pursue her new skin care line with Dr. Oz. This is a flat out lie, please don't believe them. 
Dr. Oz does not, I repeat DOES NOT have his own skin care line, cream or serum. These crooks can say anything they want, don't believe their false advertisements!
I'm not trying to be mean about this, it's not your fault that there are liars and crooks out there, I'm just trying to help open your eyes so you won't fall for it.
I get countless emails every day from women saying "I ordered Dr. Oz's serum and now he billed me $90, what a jerk for being involved in these scams." Truth is he's NOT responsible, because these are not his creams. These are crooks and liars using his name to sell their products!
Shark Tank Ads, Angelina Jolie, Kelly Rippa – The List Goes On
Don't fall for the latest "as seen on Shark Tank" creams. These ads are all over Facebook and they are bogus. Beware of ANY ADS for creams on Facebook and always scroll to the bottom to read the terms and conditions.
And Kelly Rippa is NOT quitting her show to "focus on her skin care line full time." Nor is Angelina Jolie launching a new skin care line to help her recover from her divorce.
This is nothing short of deceptive and misleading advertising. Flat out lies. 
How Does a Free Trial Actually Work?
"Free trials" are NOT free. When you sign up for a free trial, you're not only giving them all of your personal information, i.e. name, address, phone, email, but you are REQUIRED to enter your credit card information to accept the free trial (to pay for the shipping).
Oftentimes, the fine print is so far down the page that you won't see it unless you scroll down, and most people don't even notice it, and therein lies the problem – most don't know what they're signing up for!
These scams I'm warning you about are garbage and their phones don't even work half the time, and there is a HUGE difference in quality. 
By accepting the free trial, you are agreeing to try the product for 12-14 days (this is what I refer to as a short-term free trial, which 99% of them are).
On the 14th day, you will be billed for the full price of the wrinkle cream that you received (usually about $90, and you can double that if it's a combo offer), and subsequently billed 30 days later for another month's supply.
In the example below for Puravol (copied and pasted from their website, had to scroll down to find it), the trial period is only 12 days, and on the 12th day you'll be billed $99.15, and billed $99.15 every 30 days thereafter.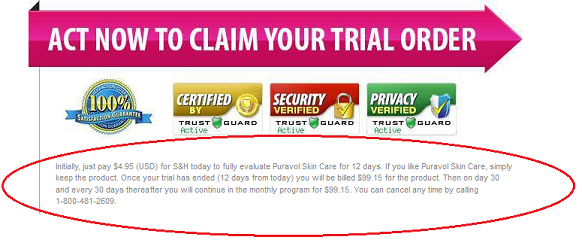 The problems with most free trials are as follows, some are shocking!
12-14 days is hardly enough time to receive the product, much less try it for a long enough time period to decide whether you like it or not. In my experience, companies who offer a 30 day trial usually have good products, and there are very few of them.

Most people don't realize that they will be billed on the 12th day for the full product amount (normally around $90), and each month thereafter (double for a combo offer)
most of these companies are IMPOSSIBLE to reach by phone to cancel, and sometimes publish non-existent phone numbers
many of these companies are fly-by-night, and you won't be able to "return the unused product for a refund," because……
many of these companies are based in countries without an extradition policy (i.e. Venezuela, Panama, Pakistan), meaning they run their scams and sucker people out of their money, and we, as consumers, have no recourse other than cancelling our credit cards with our banks altogether to get out of the recurring arrangement
many of these companies, once the negative publicity starts to surface, package up their products in new boxes and slap a new name on it, and run the scams all over again
most of these companies don't fully disclose their ingredients list which is not a good sign, this usually means it's nothing special or else they'd want to brag about it
beware of filling out surveys with "free gifts" involved, as these often lead to wrinkle cream scams (even on well known websites)
the billing company company name will NOT match the scam cream you buy online…another method to thwart you from contacting them or not noticing the charge.
What You Can Do To Fight Back – Please help me share this!
First of all, would you do me the favor of "liking" me on Facebook? If I've helped you in some way, you can leave me a review on Facebook and I would be grateful.

 More importantly, share this article on Facebook with your friends and family! Alert them to these scams!
You can share it by clicking the Facebook share icon on the left hand side of your screen or at the bottom of this article, or copy and paste the URL link and post to your Facebook page.

Tips for cancelling trials:
First and Foremost, you need to call the Cream Manufacturer and request they cancel your ongoing subscription and demand a refund.
Check for the number on my most recent blog post Skin Care Free Trials – Cancellation Phone Numbers. I've compiled this list over the last few years and have over 350 companies!
If you don't find the phone number on my list, call your bank to ask if they have a number (look for the s&h charge since it will be billed under a different company name than the actual cream you ordered).
BE FIRM WHEN YOU CALL TO CANCEL – If they are not cooperative, threaten to report them to the Better Business Bureau (BBB), your states Attorney General's office and the FTC (Federal Trade Commission).

Don't agree to their 30% or even 50% refund or a $35 restocking fee. BE FIRM.
 Ask to speak to a supervisor – don't take NO for an answer. To put it simply – put on your boxing gloves if you don't usually wear them. 
Continue to hold. Sometimes getting through takes half an hour or more! They put you in an endless loop of being on hold so that you'll get frustrated and hang up.
Ask for a cancellation confirmation by email. This way you'll have something to show your bank if they continue to bill you.
If none of this works, contact your bank to dispute the charges by filing a fraud dispute. Sometimes they will reverse all the charges and put a block on them.
You're better off using a credit card vs. a debit card for online purchases. Debit cards are basically "same as cash" whereas a credit card company will normally work with you to file a dispute. However, you can still dispute charges made on a debit card since they go through Visa and Mastercard!
Be advised! Simply cancelling your credit card is not enough, you must cancel with the cream company OR file a dispute. If you simply cancel your card without either cancelling with the company or filing a fraud dispute – you may get a surprise collections letter in the mail months down the road.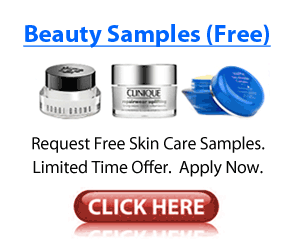 Conclusion & Recommendation
These 14 day short-term free trials won't be going anywhere anytime soon, so the best advice I can give you is to is to be very careful and just be smart, READ the terms and conditions. 
Have you been scammed? Leave a product review below to help others!
It's super helpful if you do leave a review, please list the name of the cream or product, and a phone number to cancel if you have it. Help me to help others just like yourself. And don't forget to share this article. Thanks!
How Women Found This Review:
and dr oz wrinkle cream, and dr oz face cream, and dr oz skin care, and Dr Oz Free Trial Wrinkle Cream, and jivam skin care, and dr oz wrinkle cream free trial
User Questions and Answers
User Questions and Answers
---
Q: I was scammed with a cream how do you stop them from taking money out of you account? -Helen
---
Q: got nailed on the scam...tried calling the numbers listed on the bank charges and neither number worked...I found a number on a piece of paper that came with the face and eye cream...I called and cancelled. This was Jan..Just looked at my checking account and see I was charged 93.00 again. My question is..When I made the cancellation would it have been for both...or do I need to locate a number for the second add on product? Here is the information on this new charge:Aim*beautyeye -Teri
---
Q: I ordered the Christie Brinkley eye serum sample this morning for $4.95 but need to cancel. I am getting surgery on where I was putting it. Can you please give me a phone number to contact to make sure this is done? Thanks -Joyce Richards
---
Q: Hi Rachel, I recently sent for the 30 day trial by Hydroxatone and the other product that comes with it is Bellaplex. When ordering the first product the credit card was accepted but when ordering the second product it would not accept the same credit card and had to use a different card. Do you have any feedback on these company's as I did order them as Dr Oz was I believed promoting them but now I'm not sure. -Del
---
Q: Is Pure Eternal anti-aging cream also a scam? -Dana Chang
---
Q: I usually know better but just ordered trials for Skin Refresh and Eye Sensation. Any idea about these being scams? -Jami
---
Q: Is revivederma and lyt derma a scam -tracie
---
Q: I just tried to order Purella skin cream free trial and after putting in my cc # and info for a free trial it said my cc was not accepted. After reading all this on your blog I am glad, but how do I know they didn't just steal my cc info. Has this ever happened before that you are aware of. -Susan
---
Q: How to find correct phone number to call to cancel "free trial"---i.e. product name CREME DE LA MIRACLE age killing..... and LUMIERE anti-aging night cream? Thank-you -Donna
---
Q: I ordered the free trial of Alluris anti-aging cream. I lost the invoice and have been looking for the phone number to cancel. Does anyone have the number? In the meantime, I have cancelled my card and got a new one. Is this product a scam? -Traci
---
Q: How about Novacare? Is it also a scam? -Stephanie
---
Q: No questions, just a great big "thank you"! So glad I found this site! Keep up the good work. -Christina
---
Q: This is not SCAM. if you click the terms and conditions before you placed the order you will see where's the terms. don't try to check the box without clicking the word "TERMS AND CONDITIONS". too many idiots. -Bullshit
---
Q: I have only just made an order I've since cancelled with my credit card company but cannot find a phone number or e-mail address to cancel the order. The credit card company are now going to watch for any activity on the card with this company. The product is DermaC any ideas how to contact them please. -Tracey
---
Q: I was scammed by the company "Beauty Wrinkle Reducer", after ordering a "free" trial. I called the number (877) 604 2293 and canceled any future orders. However, they told me that the shipment that was initially sent in January (of eye serum and face cream) was a "full months" shipment. In February, I received a $89.95 charge and a $99.95 charge for the "trials" that arrived in January. They then charged me again in March ($89.95 & $99.95). When I called to cancel and request a refund, they said they could not refund me but would discount the March shipment 50%, however, I would not be able to send back the product because it already shipped. I told them I was going to dispute it with my credit card company and they told me it would go into litigation. She pressured me enough that I agreed to receiving the shipment at 50% off. Do you think I could still dispute it with my credit card company? -Sarah
---
Q: When will u have a free trial again i was gonna do this one for march 27 but had scgool and test and didnt get back in time. Im very ineterested and would be ever so grateful for you to get back with me. -Candace
---
Q: My wife ordered a jar of Hydrolux, in the familiar "free trial" offer protocol. I looked at the entire web page and ordering process and found absolutely no reference to any obligation to pay for the "free" trial. This doesn't mean it won't happen, but I could find no hidden fee or future obligation. Do you know anything of this company? It is just the same as all others, or is it more legitimate? Thank you -Kevin Gittens
---
Q: I fell for one of these scams and have been sending them back unopened. They have tracking numbers from the post office saying they have all been delivered and received. However, they have continued to charge my account $98.71 for Erase Repair and $88.49 for the renewing serum each month under the name of Beauty & Truth with a return address of: 416 Bussen Underground Rd, St Louis, MO 63129. There were 3 different phone numbers online and I called: 518-203-1015. They are refusing to refund me on the unopened tracked ones I've sent back! I do not see their name on the BBB website and something needs to be done! This is a crime. Please advise. Thank you! -Donna
---
Q: how do & who do I contact to get my money back for the $99.15 charged me when I did not order the Nova Skin Toning Cream product? -bob
---
Q: Can you give me the number to RevyveSkin so I can cancel trial, they never said it was ongoing charges, please help... -Jessica Beth
---
Q: Was brilliant beauty one of scams, haven't received credit card bill yet -Mary
---
Q: I came across your article and am glad to see that I've pretty much done what you recommended. I kept records and am sending my reply to Beauty in Blooms accusations to our credit card bank. When I called to return second shipment, they told me that they have a no-return policy so I could not send it back. The email documents of billing and return policy they sent to the bank were "examples" and they were never received. There was nothing in the packages either. They claim that because I did not return the product, this is considered "online shoplifting." What should I do to protect myself against this veiled threat? I am asking for copies of the phone conversations as I have the dates and times of those and for them to present the site the Vlamorous was ordered from. Also, is there anything else I should be doing to protect myself? One last thing, I wondered if there is a class action lawsuit that I should add my name to. -Tina
---
Q: Hi I have just received anti aging cream called Invigorite. I thought I was getting a sample only and what I have received is not a sample. I have read your blog and I tried contacting the company to cancel I don't want to have money taken out off my account waited on the phone for so long with no one answer the phone just a message to leave my contact details what should I do thank you Robyn -Robyn Cleary
---
Q: 1st thing call your bank as soon as you notice a charge so you can dispute the charge ---- 2nd Have the bank close down the card and issue you a new card so any future charge attempts can't be place. ****make sure you receiving a new card number. *** This is a very important step to prevent future charges from coming. -Robert
---
Q: Where can i buy the 2 main ingredients in a store. Not a star products which they make their own line of skin products and jack up the prices because they had someone else to make it and then put their name on it and thats how the prices go through the roof. Proprietary Bisophere, Sytenol A, Vitamin C serums, Hyaluronic acid in it's purist form, Qusome, Chronogen,Neoderml ,I want to mix my own creams. -Adele
---
Q: Thank you very much for your blog. Are there any legitimate trial offers? -R
---
Q: I fell for dr.oz & ordered the free offer about 1 hour ago on my debit card. What should I do? -Linda
---
Q: Just wanted to thank you I accidentally pressed no it wasn't helpful YES IT WAS I like millions of others wish I had know about you years ago Thank you for all ur hard work I very much appreciate it Thanks again Kim -Kim
---
Q: I just purchased a trial anti aging combo called Amore Skin & Amore Eye. Are these scams as well? If so, how do I cancel the trial order? -paula
---
Q: No question, but I am a lawyer. This is not legal advice because I didn't do any research and laws vary by state. I cannot guarantee the soundness of what I'm about to say and I cannot guarantee it will work. I do, however, have a suggestion. If these companies or your bank give you a hard time about refunding your money based on the fine print where you purportedly agreed to the charges, explain to them that you completely dispute that the fine print was present when you ordered AND, even if if WAS there, it was, at best, an agreement to be charged for a product endorsed by X celebrity (Dr. Oz, Oprah, Ellen, etc.). Because the product for which you were billed is NOT actually endorsed by that celebrity, you should argue that the endorsement was an essential term of the agreement and, since you have NOT yet ACTUALLY received a product endorsed by X celebrity, your performance of the purported contract (paying an exhorbitant amount of money) has not yet come due. Most states construe contracts against the drafter (the crap company), so it's worth a shot. After all, you can explain, it's clearly an essential term. You wouldn't have agreed to $90 for a product that WASN'T endorsed by the particular celebrity in the ad you fell for. -SigBab
---
Q: Is Kelly Rippas Rejuvenem Anti Aging Moisturizer a spam also. -Patsy
---
Q: How do we bring these deceptive advertisements to the public? If the tv shows are going to semi endorse these products, then they should be held accountable for the deceptive practices. On the Revive Youth cream, you cannot back out of the free trial issue. I'm going to cancel my credit card for sure, but the public needs some 60 minutes notification for sure. -Michele Tereletsky
---
Q: "Ordering when drowsy": not a good plan. Can you help me with numbers for BELLE EPOQUE youth activating eye cream, LUMINIS Advanced Skin Care Anti-aging facial treatment, and RADIANT ESSENCE PLUS Night rejuvenating serum? Many thanks. -Pat
---
Q: How do I find the company name and phone No. for New Brilliance face cream and eye serum? I was dumb founded when I saw the new billing on my Cr. card of $84.95 and $89.95 (automatically). I did receive the cream and eye serum; I like them but not $175 worth. As you suggested, if I can't find a phone No. to cancel I'll have to cancel my credit card. Help!! -Beverly
---
Q: I was also scammed by a company. It is the Finesse & HR cream. Could you help me find a phone number for them? I was charged $90.53 for their scam. I will be reporting them as well. Thank you for your information and help. -Denise
---
Q: Do you have a phone number for nouvalift instant wrinkle remover? -Joyce
---
Q: I have a "free trial" of both juvacell eye treatment and creme la miracle, how do i find a phone number to cancel?? I had no idea and want the charges stopped! Thanks -Deborah
---
Q: I was intrigued by an offer on the Internet to receive up to 4 different anti aging creams/serums for s/h CB of $4.95 for each product on trial offers at no cost. Later after receiving them I discover I need to send unused portions of products back within 14 days if I cancel. Otherwise I will be billed app. $90 to $130.00 for each product every 60 days. I have cancelled my debit card so they will not be able to charge my account, but can they send me a billing, and will it affect my credit rating if I ignore it? I used my debit card. I am leery of sending the creams back because this happened once before, and I sent the unused bottle back within the deadline, and they didn't refund my app. $80.00, which they assured me they would do within 10 business days. This was a different company I was dealing with. I finally have learned a lesson, and will never do this again. I would rather dry up like a prune than go through this again!! -Janice
---
Q: I just check my bank status and see that i'm being charge again so, i call the company to cancel the order which, i'd got their phone numbers from my first order on the product label, i've not got the second yet so, i want to know do they suppose to send me an email confirming that i have canceled my order? When i call the representative told me that i should get my refund by no later then 7 days after my cancellation. -liew
---
Q: I just got scammed by Christie Brinkley offer ! They charged me full price for a.m. cream and p.m. cream , and all I ordered was the trial sample ! They say they are refunding my money ( almost $150 ) but I don't believe them ! What can I do ? -Patricia
---
Q: On your top 3 anti-aging creams, #1 in the discription it seems like its an instant temporary fix. However #3 sounds like a more permanent and you'll get better results.? Is that correct? -Tammy Elliott
---
Q: Are the stars next to the above comments for the review itself or for the products these people tried? Pretty confusing. One person gave three stars ..for what? Maybe it would be helpful to some readers to explain how the star rating system works? -penelope allingham
---
Q: we have been scammed and would like to know if there is a number for Renuva Genix? thank you and hope to hear on this. -Gina
---
Q: I need to track down the phone number for a company(?) which sells Beauty instant Wrinkle reducer and Beauty Wrinkle Cream. I stupidly just bought their TRIAL offer. They will rip me off for far too much money if I don't opt out. Please help me. Thank you. ps Promoted by quack Oz. -Janice
---
Q: Trying to get a number so I can cancel the alluracell membership its very costly. Please help -Sandy
---
Q: I keep getting Aurora anti-aging skin cream because I ordered a sample. They never send any paperwork-- just the cream and charge me. Do you have a phone number to cancel it. What a scam! -Jeanne
---
Q: I am taking full action against your scam and reporting you give free trial then charge me 99 dollars..you nneed to put money back and lose my info asap -Tanya
---
Q: Do you know anything or have any experience with Charlotte Tilbury's skincare, Magic Cream? -Tammy
---
Q: can you give me a reliable phone number so I can cancel the Le Allure skin care system that was supposedly promoted by Joanna Gaines from Fixer Upper on HGTV? -Linda
---
Q: Is Skin care from Retionolla part of this free trial scam too? -Donna
---
Q: I got scammed but just received the product but there is no company info except whats in my bank statement Elg*elegantantiaging and beautyface. Where do I cancel??? -Maria Rodriguez Martinez
---
Q: Is Christie Brinkley's Luminescent Serum a scam? -Lenore Butler
---
Q: Do you have a phone number for nue vitality overnight rejuvenating serum -Tammie
---
Q: Hello I would like to no,as av been told about whats been happenin about a scam about these anti aging cream/serums!.Sorry to say am 1 ov them people,who went in for a so call FREE TRIAL on 8th ov this month!.Iv foned the company today and canceled the derma C and flawless witch they said all I hav to pay 4.99 p&p the ad!.They said if I keep the trial ceams n not send them back,they will take £64.58 out of my bank even if I have cancelled there nxt order BEFORE the trial ends am 2dys in use'in the cream,do I keep the cream or send it back as it says its a free trial!.Am jus goin to fone ma bank,just incase they try and take some money out in 30days!Can you help with the problem!? -Sandra
---
Q: Need to cancel Suisse Serum and cream Po Box 25380 Santa Ana Cal. 92799-5380 trial for anti aging cream need tel. # just received it but no invoice just serum and cream.? -Leo
---
Q: I can't find a number to cancel my Duaderm Alvena order. Ahhhhhhh -Ramona
---
Q: I believe I just fell into the Cellology scam. I paid the $4.95 and then looked at reviews after paying.. dumb of me, I should have looked at reviews first. When I went back to look at terms and conditions, it just opens an error page and there are no terms or conditions. No phone number or email to contact, and the phone number on my bank statement is missing 2 numbers. Do you know how I can get ahold of them to cancel, or should I just go through my bank> Thank you soo much -Ashley
---
Q: Is AlluraDerm anti-aging Creme a fraud and do you have the number to call? I did call the number on the return slip and got a RMA number. I spoke with a lady who said nothing else would be charged to me and I could just return the product. She is suppose to send me a cancellation email but have not received it yet. Help!!!!! -Barbara
---
Q: I ordered Vderma for my wife as a Christmas present. Checked all the fine print, no indication of a scam. Now I have a 200 dollar bill, no phone number and no way to cancel. Do you have a phone number for this company, they are in Austin Texas, 1779 Wells Branch Parkway, Ste 110B-362, 78728-0000. The name on th package was Beauty - Health FulFIllment Center Vderma Trial Completion Vderma Trial Completion -Kent
---
Q: I have ordered the Active Youth Cream free trial. Is that also a scam? -Dana
---
Q: How about Ciello Ageless Cream and Ciello Eye Serum? These are recently-marketed products showing pictures of Prince William and his wife Kate Middleton who, they tell us, is promoting these products. I found no requirement for further purchases; however, they did require my charge card info for shipping charges--- (I will be sure to check my charge card frequently). -Ann
---
Q: How can I get in touch with cellology US. I signed up for the free offer pay 4.95 and at the end it was over 110.00 I need to cancel this. -deb
---
Q: I can't believe I fell for the scam. I usually check things out first. I just ordered what I thought was Dermasoft Wrinkle Repair Cream for 4.95. I saw something about Puracel near the end of my order. Do you have the number to cancel? -Leanne
---
Q: I don't actually have a question but just wanted to add a couple of products to your list. Skin Renu and Fantastique Eye were promoted as two products to be used together....and trust me they got billed together too. Everything you described in your article is exactly how it played out. Order a free trial of one and it pops up and adds the second product. Then you see a pre-authorization of $93 each come out of your account around two weeks later. If you try to call...no one answers...you are just on hold forever. So how exactly do you cancel if you can never talk to anyone...and that's if you realize you need to cancel...which I did not! Thank you for your article...I just wish I'd seen this before I ordered the "FREE" trials! -Tamara Paulson
---
Q: http://www.celleral.com/serum/tenOLD/d/?AFID=&SID=&click_id= I got scammed and want to cancel before they charge my card again. But cant find any contact details. Have you had any complaints about Celleral? Thx -D
---
Q: I am contemplating purchasing the jeunesse skincare products in particular the instantly ageless product. Is this a scam or does it really work? -Suzette
---
Q: It appears I'm the latest victim. ANy advice on how to get them to stop charging? -Lynne
---
Q: It appears I'm the latest victim. ANy advice on how to get them to stop charging? Renewedeye and imagetrialops is what shows on the bank statement. HELP! -Lynne
---
Q: Is "Simple" Anti-aging Serum also a hoax? -Mary
---
Q: I ordered creme la miracle for $4.95 and now they keep sending me more. Do you have a phone number so I can cancel this? -Joyce
---
Q: I'm afraid I fell for not 1, but 2 of these so called scams. I thought I was buying Christie Brinkley's line. When my packages came in the mail there was no contact information listed anywhere. I don't know how to cancel my subscription with the companies. Help! The c products are "Nuriva" and "Nuvajen Gold" -Katla
---
Q: I have filed a dispute with my bank re Neuphoric &Reawaken products. Per banks instructions I'm returning products by registered mail. Unable however, to obtain an address for Reawaken. Anyone out there have it? I found one for Neuphoric. Lesson learned! btw, these are the 2 products attached to Angelina Jolie's name -Carol
---
Q: I cannot locate a number for Complete Derma and Eye Serum. Really need to cancel this order. -Dorothy
---
Q: Any info on AvanSkinLabs in Tampa Fl? -Jackie
---
Q: I just got my credit card bill for ordering fron 'Dr. Oz' teh $4.95 samples of Regenerate eye cream and skin cream. What I got was a totally different product that is also garbage. I called them and my credit card company, credit card called back with me to ask for refund as this is a scam and they absolutely denied me. I told them I never got a contract, etc but they said since I didnt cancel in 14 days that I am stuck paying, well I advised them and my credit card that I am not paying and will cancel my card as well. Is there NOTHING that can be done? I dont have $200 to pay for this crap cream. thank you, -Maureen
---
Q: I fell for the scam for free trial. Never saw anything on ordering pages about ongoing subscription. I resigned myself to the 90+ charges (2 of them) the first time, because of my own stupidity, and they had sent another shipment. I want to cancel, but so many sites are scamming Reveal RX serum and eye cream, that I can't find the right one to get the right phone #. I will try the ones on the CC statement, but do you have a number for Reveal RX? -Joyce
---
Q: Just how many anti wrinkle products is D -Mary
---
Q: I've seen this same website revealing several different products claiming that each one is the miracle solution but each time the website pulls up, it says that it's a,totally different product claiming it's the one that works under the same profile picture of the woman who tested the product. Why is this site being deceitful? -Angela
---
Q: Hi, I just ordered from Nuriva Skin Care. Same scenario, charged me just 4.95 for shipping and handling. It made me order a second product for $4.95. I was smart enough to read the fine print at the end of my confirmation purchase. That is when I realized that will be charged $90 something dollars at the end of 17 day trial unless I call to cancel!! So I immediately called the number listed to see if it worked. It did thank goodness! I wanted to see I could stop the order however the agent stated I had to wait till the product arrived and I tried it! Then I proceeded to tell him that I hadn't even received a tracking number for my products shipment. He stated that it would go out the next business day, that a confirmation email would be sent to me with tracking information and that it would take 3-5 business days. So I pointed out to him that that would only leave me about 10 days to even try the product. We went back and forth like this for a few minutes. I did state to him that this was set up to essentially make the customer pay for the product no matter what! So now I sit here and play the waiting game and race against the clock!! So my question is, can they still charge me for the trial supply if I call and cancel before the 17th day? I plan on calling on the 14th to be on the safe side!! 2nd question, is Nuriva Skin Care known to be one of those bad scamming products? Any suggestions and information is greatly appreciated! -[email protected]
---
Q: How do I get the phone number for Nurvina revitalizing serum? I am trying to cancel this product and cannot find how to contact them. I would appreciate Your help. Thank you -Joan
---
Q: Unfortunately I ordered the Dr Oz free AllureDerm trial. Want To cancel any further Shipments or Withdrawals from my Bank account. Is there a Correct Phone number to call to do this? Thank You -Candy
---
Q: would you please comment on Christie Brinkley's EV DERMA. THANK U IN ADVANCE. BILL -WILLIAM
---
Q: I want to cancel my Free offer forNouvalift. Ther was no information given when I received the pkg. I don't know who to call or what to do. Can you help? -Patty Duncan
---
Q: I ordered the revive anti aging... free trial , paid $4.95 shipping. Just seeing this and wondering if it is also a scam. There were two products. One charge went thru, the second did not, as I saw in another comment. Can I call my bank to stop any further charges. -Diane
---
Q: What is the name of the REAL product from Shark Tank—not the fakes? -Kathleen
---
Q: Need contact info -Jorganna
---
Q: I ordered some anti ageing cream and when I received it it didn't have a phone num. The name isRENUVATURE Can I need a nnm. -Patty
---
Q: I'm really worried. Is Elemor Wrinkle cream a scam. -Jean
---
Q: Is nuvataskin also a scam under the Dr oz? Plz let me know. -Jennifer
---
Q: How do I cancel my order of dr oz skin serum? -Vicki
---
Q: I would like to cancel my order now, before the 30 days is up, this product did not work for me -Cynthia
---
Q: Do you have a phone number for Nuavive. It is such a scam. Credit card is reversing charge and blocking any more charges but I would still like to make sure I do not receive any more charges. What is this world coming to? -Ruth
---
Q: Trying to cancel rejuvaderm can't find a phone number to cancel. Pls help -K
---
Q: I emailed once I received my confirmations for the $4.95 shipping for free trials for Novacare and Dermagen. I received confirms back that they had been canceled. Today 18 days later I get a charge for 99.15. My bad, I cleaned my trash a couple of days ago with the cancelations! If I remember the fine print correctly you had to cancel within 9 days not to get the automatic renewals. Any suggestions? I already called and talked with a supervisor and got a confirmation for this second cancellation. -KC
---
Q: Do you have a phone number for Creme la Miracle product? -Debbie
---
Q: Is me cell and nova deem endorsed by Dr Oz and how effective are these creams? -Ribin
---
Q: There is an ad in my local newspaper leesburg fl. It is an ad for Dr. Sears age defying creme. He has a picture of himself with Dr. Oz and talks about Suzanne Summers also . anyone heard of this man and his creme? -Billie Jo Grubaugh
---
Q: How can I find the number to stop the order? I was in a process of ordering my free cream and when it asked for the second cream to order I did not want it but there was no button you dont want it, so as I had already finished putting all my details it said that an error occurred and all the info disappeared from the screen.I wanted to erase all I have entered I couldn't.then I went to check my account and I have noticed that I was charged for the delivery already -nadia
---
Q: Does Orogold really help with wrinkles. It was very expensive when my mom and i both bought it. -deborah
---
Q: Hoe match thuis product, Total Winkler miracle -Wilma
---
Q: Do you have a number for revivederma to cancel before they bill me -tracie
---
Q: Is there anyway to get a full refund after you've been scammed? -Judy Beane
---
Q: I keep hearing or something new you in the skin care line for wrinkles on your face and neck . Do you have a suggestion ? -Cindy
---
Q: I purchased many Items While I was away In Las Vegas by a company called L'Core. The Sales women sold me many items and said I would not have to use fillers or botox if I used the products. The products do not do what they said they would do. I also broke out in a rash. The company has a no refund policy that I did not realize till I got home. I think they stamped my receipt with the no return policy after I signed it. How do I prove to them that the products do not do what They claimed they would do? I am in the process of rebutting the charges with my cc company. The company still does not want to refund me. -Donna
---
Q: I received "a sample" of Ageless Moisterizing Crewam today. Should i return it immediately? -Betty
---
Q: I thought I was ordering a free sample of wrinkle cream and eye serum, and I didnt read the fine print obviously, and I have been getting more of the product and I cant use it, what is the best thing I can do to make sure I dont have anymore money taken from my checking account. Let me tell you what I have done first. I called the company, and explained I didn't realize I would get anymore and I sure didn't know it was going to cost $ 190.00. I received another shipment on Saturday, then I looked at my bank account and there was the money taken from my account. I said that to say this. The company said I could not return the cream, but they cancelled my next order. They sent me a confirmation number and said I would not be getting anymore. Is there something else I can do to make sure I don't get anymore? I cant use the mercandise. -Patsy
---
Q: I don't have a question, just want to say I also fell for the "free" samples and had to pay $3.95 and $4.95 respectively. I did receive the samples, real watered down stuff with NO Manufacturer's detail even on the label. 2 weeks later the recurring cost appeared on my bank statement. I threw a tantrum and threatened them, but had to cancel my card. I did however get a full refund of my money. My simple theory - if a company has to resort to such devious methods to sell their product, how can it be a great product? Great products sell themselves by word of mouth! -Ruby
---
Q: My question is what is good for the lines around the mouth both lips and mouth -Betty
---
Q: Why is the better business bureau not going after these scams -Anne
---
Q: Your company is a sham.. You charged me 94 dollars today, unauthorized, unwanted, and doesn't do shit. I want a refund now.. Will report you to the attorney general tomorrow(Monday).. Sidney -Sidney
---
Q: how can you file a dipute if you feel that you are being scammed -deborah
---
Q: has anyone been able to find an address for the Beauty Cream site/producers? My bank is saying they need an actual address and of course it's nowhere to be found. Thanks! -Peggi
---
Q: is elyraderma cream a scam -
---
Q: I just had the same experience as most of these women. I ordered a trial of Skin Optics on 4/14/16. Today 4/29/l6, I noticed that they had billed my account $89.95. I called the number I had for them and they tried to tell me they were a second party for the actual company that makes the product & they cannot offer refunds. Everything I have indicates that is a lie. What can we do to stop these kind of scams from happening? -Anita
---
Q: What is the phone # to cancel bella radiance -Catherine
---
Q: how did you fund out about this stuff? -Annie
---
Q: I too didn't see any fine print about a twelve day free trial and if i didn't call them by then I would be billed $93 for the product as they sent me a full month's supply. Called and cancelled subscription as product didn't work. They gave me a cancellation number and $20 refund on the $92 dollars billed. Is there hope to get all my money back? This is for Immortal youth cream. -Kathy
---
Q: How can I fight and get my monies back from the dr.oz cream scam? they keep charging me. This has got to be fraud and why is the internet letting them keep doing it? -Paula
---
Q: how do I stop the order for the vita lum... cream -tabitha
---
Q: I just ordered a free trial that had Cher and Dr Oz it said reshape face do you have a number -Evelyn
---
Q: I recently read that Ellen Degeneres was leaving her show for a new skin care line Panama. I signed up for a free trial bottle only paying for s&h for $4.99. As I was on the way to checkout it asked me if I would like to try the eye product as well as another making it a bundle for all 3 products making it a total of $24.95. I said no and to continue to checkout, I put in my cc # and email for a confirmation # then proceeded with the final steps. It said it would email me a confirmation#, I never got one! I never even got how long it would take to get here. My bank statement says I indeed purchased all 3 products but they all had different names and when I tried to go back to the ad with the "free trial" and it wouldn't even take me back there. It's as if it vanished. My question is do you even receive the products with a scam such as this and if you do are they safe to use? Or am I just out $34.89? Thank you so much, Shannon Meeks. -Shannon Meeks
---
Q: How much does a month supply cost? -Rinda
---
Q: I also ordered a facial cream, which I thought was just a trial size. I can not get a hold of them of either phone number I have tried, it comes up busy signal. Do you have a number on Regen-A ageless moisturizer? I have already contacted my credit card company, and they were reaching out to them with a letter, and I was to still try and reach them. I have tried to call several times, and only get a busy signal, want to cancel, but how when you can not get a hold of them. I was charged the $89.99, but have not received the cream yet. Could I just right on the box, return to sender, and not open it, but credit card company said I may not get it taken off my card. If you have a good number to call, I will call, but I am going to have to dispute charge, and get a new card, I think. I am going to call the credit company again, and see what they recommend to do also! I can not afford this and need help to stop them from putting on my card again. Please advise! thank you! -Jayne
---
Q: What about infomercials with celebrities like Jane Seymour? -Kathleen
---
Q: Is Vogue Firming Cream also a scam, although they don't seem to have an auto-ship clause? I don't like the cream and the pump arrived broken. I plan to try to send it back. Thank you. -Beth
---
Q: Unfortunately I just found you site. Two days ago I ordered a trial offer for Neuphoric. As soon as I hit enter, I realized there was a problem. In order to end the transaction was a big green flashing button marked continue. That turned out to be a button to order a unwanted weight loss magazine monthly subscription for 19.99. I immediately tried to contact the company. They do not answer and tell you to leave a msg. email address is incomplete, [email protected] It states you must call to return the product. I have not received it yet, but but can see there is going to be a problem. The only other info I have is this address: Neuphoric Returns PO Box 20800 Fountain Valley, CA 92728 United States For Product Returns: (MUST INCLUDE RMA#) (Obtain RMA by calling (877) 477-4765). Any information you could provide would be most appreciated. -Lillian
---
Q: Is Aqua Refine a scam? -Susan
---
Q: I just ordered free trial for suisse anti-aging cream is this a scam or legit? -Alita
---
Q: How can i stop them from taking money in my account ?whats the phone #? -Martine
---
Q: I need the phone number for cellology cream. They just charged me over $200.00 for a trail!!! I am stupid for ordering!!! -Rene Myers
---
Q: How about the product Nexacell? -Kim
---
Q: Skinnu, is this from Dr.Oz's skin cate line.? -Angela
---
Q: Like a dummy I just received Neuporic and Reawaken, and wish to send them back and cancel anything I may have subscribed for. Should I send it to the place that sent it to me? -Becky
---
Q: A lot of these companies advertise on Facebook...has anyone ever complained to Facebook about thus...seems like they are supporting a fraud.... -Mary West
---
Q: Does that make your eyes red when u put it on -Norma peruyero
---
Q: Is the site for Alluraderm a scam? -Milt
---
Q: Can't find cancellation # for beautiful and young prime nutria llc . Did not order-keep getting shipments and bills. Help!!! -Gloria
---
Q: ANTI-AGING FORMULA & SNAKE VENOM PEPTIDE ANTI-AGING CREAM By PREMIUM BRAND Rachel, I recently ordered the above 2 products by a "Free-Trial" offer & it was only supposed to cost me $4.95 each for shipping & handling. Well I just came home from hospital 2 nights ago (was in for almost a week). I have CML (Chronic Mylogenous Leukemia) & have not even opened them. They are by Premium Brand & I had opened my bank acct. yesterday & saw I had been charged $89.97 for each tiny jar. I was furious & I called the company for the Snake Peptide cream (PREMIERHTHST8889649676 888-9649676 CA) which was listed on my acct & spoke with Jonathan & he wanted to run me around in circles & said they sold some type of diet stuff in which I told him I had cancer, weighed 105lbs. & do not have a stomach, so obviously I do not need any diet stuff. He could not find my name in his system either but I told him his company certainly took $89.97+ $14.99 for shipping (which should have been only $4.95 shipping. He tried to argue with me until my son came home & got on the phone & finally they sent us to another number which sent me an email stating they would put the $89.97 bank in my acct. within 3-5 business days. Now, with respect to the other jar, Premium Brand Anti-Aging Formula (there was no ph. # for this except Prima Anti-Aging in Illinois. So, I am just so perplexed because this was nothing I was even told in the beginning yet alone on the page with the free trial. Since I am so sick, it will be at least another week before I can get to my bank & I am at a loss. I need to get this $89.97 back on the 2nd jar. The 2 jars look exactly alike except for the name of the cream in the jars. It is by Premium Brand (if they are even real) & the phone number is at the top of my question. I hope you can help Rachel. Please contact me by email only. I will not put any other info regarding myself on any site. Thank you:) -Robin
---
Q: Are all these big companies just preying on older women just because they or we cant remember to cancel our order on time with a 14 day trial which includes the first day you ordered it? -Brenda
---
Q: What about Goldie Hawns Boreilous Skin Cream? Is that a scam? -Hope
---
Q: Is Angelina jollies euphoric skin care Facebook ad for free trial legitimate? -Rita
---
Q: Heard of PurelyOrganic Release cream? Fell for the $4.99 sample. Discovered $89.95 chg to my checking account 12 days later. Call customer number. Cancelled but was told no refund. Took action with my bank who will investigate & blocked that company. I broke out with rash shortly after starting to use it. Company rep tried to get me to continue with program saying everyone gets a rash in beginning. She offered increasing discounts to me if I would continue. I said NO! Any chance I'll get a refund...I'm 79, on fixed income and could not afford to use it even if it worked. I may be old but still got a few brain cells left along with some wrinkles and lots of gray hair! Any more I can do? -Norma
---
Q: What do I do about a company that offered the product for only shipping...which I received. Then charged on the 14day, which was actually the 13th day they charged me $89 twice. I called them and made sure it was cancelled any future orders. The only thing is they charged me $178.oo and I never received anything. I contacted my bank and tried to stop payment. which didn't work. This was for "Juvalux" cream. Said to be endorsed by Barbara Walters, Joy Bahar. etc. -joanie
---
Q: I'm on disability and it won't except my government card that I receive my money I'm. It says it don't except prepaid cards,it's not prepaid it's government disability. -Terry
---
Q: Hi I stupidly got the free trial of RVTL Anti-aging cream last year, but after I received and didn't even open the cream decided to post back ! Well this morning I received in the post a letter from a creditor asking for £68 ...! Because I didn't fulfill my order? As anyone else received letters like this, I am fuming and contesting this. I think Monday I will seek advice and does anyone know if that's a scam as well. Kind regards Andrea -Andrea Green
---
Q: I got scammed by Avalure. I called to cancel my subscription and they told me to call back on August 7th. I have tried for three days now and all I get is a busy signal. I cancelled my credit card. Do I need to do anything else? Please advise. Thanks!!! -Jane Reeves
---
Q: Can you PLEASE bring this up with the Federal government to initiate a law to ensure that the consumer is made fully aware (check box, bold red print, etc) that they will be automatically signed up for a subscription plan when they sign up for a "free" trial? I'm pretty savvy and I still got scammed. What about the elderly? This has to stop!! Please pursue. If there is a petition I could sign, please send me the link. Something must be done to discourage companies from conducting business via scams!! -Misty
---
Q: Does Angelina Jolie know that an internet article about her beauty product line being a problem with Brad Pitt is showing an ad for ordering samples of "Premium Brand" anti-aging cream with the assumption it is her product? -Janis
---
Q: I got caught in the Aurora Cream and Eye Serum scam. I looked closely and read (I thought) everything and was not aware of any additional charges till my debit card was billed $89 for each product. When I called to complain they cancelled my account, but would only refund %50 of the charges. This is what makes me hesitant to buy anything on-line. When I asked for a name and address of the company, they refused to tell me. How can I go to the AG if I don't even have a name? I researched but, no luck. Do you have any info? -Laura
---
Q: I was also scammed by free trials and end up charged me $131 and $140. By the product named renuvica and nuvella. I called them to cancel any membership and asked them that I want my credit back and I didn't agree with the 50 % and 30% refund. They told me somebody will contact me within 24 hours by executive customer representative but nobody called, past 3 days alresdy.. What will be my next step? -Anna
---
Q: Hi I know u said Dr Oz and Ellen don't endorse these skin care products but I just seen a new one that might get people It says Ellen is taking a leave of absence to promote a new skin care called Bone and heroes the kicker when u order they enter u in a contest to win 2 free tickets to Ellen If she's gone how are u going to see her show? Lol Thanks Kim -Kim
---
Q: Please tell how to find the contact number to cancel the order. I have been charged 4.95 but I dint receive any product. I don't want they further charge me. So I m finding their contact number but I can't get on any website.i just got message when I had order as follows THANK YOU FOR YOUR PURCHASE We hope you enjoy the benefits of AURORA DEEP SEA. Your order is scheduled to arrive by August 21, 2016 ORDER RECEIPT Order placed: August 16, 2016 Order Number: 334854 AURORA Eye Serum That time I had copied this message and save . But I don't see anywhere the contact number. Please please tell me contact number. -Shaziya
---
Q: Can you tell me anything on "Eunisse Skincare? -Linda
---
Q: I fell for this scam with Derma Joie. I called and cancelled but still have to pay for what I used supposedly trial. I received another envelope but didn't open it. Have to send it back and they will remove from my credit card but charge a restocking fee. Credit card company will not remove the original amount of $185.00. They will file a dispute if Derma doesn't remove the 2nd amount when they receive the product. My question is : Is there a Person In charge I can write to at Derma Joie to claim false advertising? -Kathy
---
Q: To whom do I return "True Allure" cosmetics? Thanks, Jay -Jay
---
Q: Hi Rachel, I ordered a free trial of the Ludicene eye cream and serum in February and was just told to pay for shipping. I am usually careful about these things and I do not remember seeing any monthly subscription notice. The shipping costs (around $5) were charged to my account (no biggie) and I received the products. A month later, my bank alerts me of a strange charge to my account, cancels the charge and issue me another card. Recently, I have been getting several calls from a strange number and decided to answer today only to hear that the face cream branch office (apparently in Florida) are notifying me of an outstanding balance of $180 because I failed to cancel my subscription (which I don't remember seeing in the terms and conditions else I would not have agreed to it!). I requested an invoice for this because I received a notification in my email about the shipping of the items back in February and nothing else. The invoice looks fishy: text pasted atop of watermark, weird Canadian address and the fact that the facecream's name has changed from Ludicene to Celine! I am unsure about what to do, on one hand, they cannot charge me but can they file a dispute against me or will I get some collections claim down the line? They refuse to cancel my subscription unless the outstanding balance of $180 is paid. They also refuse to accept a cheque and request my credit card info which I am not about to provide over the phone or via email to someone I do not trust. What should I do? -Ogo
---
Q: What can we do to stop these scams? I've lost $200 for shitty eye cream that doesn't work. They hid the terms all the way at the bottom of the website and then never notified me til after I was charged a second time. They didn't even tell me they took the first charge out. I'm so pissed!!!!!! I want to take them down. -Irate consumer
---
Q: can somebody please tell me how I can go about cancelling Nu Youth Anti Aging free trial. I ordered it about an hour ago and only then came across these comments. When I tried to make payment for the free trial it said "error - rejected by acquirer" I don't even know what that means :( The telephone number I should call is +27-105003677 - I have no idea how to dial that number from South Africa. Please help -Pearl
---
Q: I was scammed and charged almost $200. For 2 monthes. I got them to cancel but how can I get my money back! Is there a way?? -Shirley
---
Q: I ordered a free trial offer and now after paying the original 10.00 my credit card was billed 174.87. The cream is called Youth Forever anti-aging cream and youth forever eye serum. Do you have a number where these scammers can be reached ? I plan on reporting them to the better business bureau and am changing my credit card. Thank you so very much. -Marinell
---
Q: Ihave really being scammed by this new balance ,very ill .Need help to get a refund never ordered skin balance -Eileen
---
Q: I just ordered the free trial of Shark Tank anti aging cream. What # do I call to,prevent further shipments ? -Deborah Carlson
---
Q: I lost my battle with my credit card company to reverse this charge. Has anyone been successful? I am so upset. Im always telling the kids to be careful and this company caught me totally off guard. Would love to fight back. -Ava Jude
---
Q: wHAT IS THE COST AFTER THE FREE TRIAL? -KATHY bRASHER
---
Q: Hi Rachel, So I'm one of the hundreds of people who got scammed into buying the Revived anti aging cream. So my bank actually notified me about a possible fraud transaction. And when I checked my account I saw that I charged 97.21, my bank actually blocked another charge that was $92. So I called the 1800 number listed with the charge and I got a CSR and told her that I did not want this charge and I would like a refund! Long story short, the CSR said she canceled my subscription and will give me a refund but I need to return my products and gave me RMA number. CSR said I would have to pay for the return. I did get an email that both my subscriptions for the cream and eye cream has been cancelled and that I would get a refund for the 97.21. My question is do I need to pay to return the product? Thanks! -Kimmylou
---
Q: I just received my order of two facial creams from New Age.(a serum and cream). I did not order eye cream. In the box containing the products, was a packing list with order #, address (of distribution center, email address ([email protected]), explanation of "free" 14 day trial time and customer service number. I called and was told by two different individuals after 14 days I would be charged $14.95 for each product. When I asked if they would automaticly send me the products afterwards. I was told no that I would have to call back to let them know that I wanted it and how often I wanted it sent. Sounds pretty ligitimate but is it? Please answer here as my email is not working right. -Lois
---
Q: I ordered Reawaken eye cream and Neuphoric ageless face complex. Charged my account for the full price after trial period. I tried to call the number on both bottles and got the same recording of which I could not speak to anyone. Any other help you can offer to cancel the subscription? Thank you -Melissa
---
Q: Is sultra glow a scam. -Annie
---
Q: I ordered the le'cell cream and it says that I can call and cancel anytime and tryied to call and cancel today for them to say I would be charged anyway. I am going to cancel my card before they can charge it hopefully. Will that stop the payments or will they still beable to charge it because it is a debit card? -Jillian
---
Q: Do you have anything on Zila skin care? The number on my statement goes to Natural Herbal but no one ever answers. -Janet
---
Q: hello i sent for some free trials for skin cream but i have to cancel in 14days but i cannot get back in touch to cancel what to do janet -janet
---
Q: phone number for L'Amour skin products free trial offer on skin products -Sharon
---
Q: I stupidly ordered one of these products got it in the mail on March 19th when I called to cancel the person who answered hardly spoke English, and he wanted all my information that they already had! Now I have to cancel my debit card before they charge me again! Will this work? -Laura Wanat
---
Q: I just received my ageless L'Amour face creme and ageless eye creme on Friday October7, 2016 do you happen to have the phone number so I can cancel this since I have read your warning about false creams -Oris
---
Q: Are Aurora skin care products any good? -Constance
---
Q: I just ordered the free trial sample from alvena and duaderma, only after I gave them my credit card did I google these products and find out about the scamming. I have emailed both these companies with the client service email they provide and cancelled any further shipments of their product. I contacted my bank and cancelled the credit card used. Do I need to do anything else to prevent them from sending any more product, as well do I return the trial sample? tks -Brenda
---
Q: Why was $99.00 taken out of my account, I can't wear or use this Satin cream, It broke me out in a rash ! So I am canceling my subscription, so please return my m0oney to my bank, Community Bank in Carmichaels, PA. 15230 -Karen Wise
---
Q: How can I get this cream company from taking money out of my account? I am so upset. I am now overdrawn. This the company Defineadwrinkle. -Hilda Salazar
---
Q: Just ordered dr Oz eye serum. Unfortunately I read the info about these ads being scams. I don't think this order went thru but I did give my email and credit card info. Then my phone died. Briefly I saw a line saying wait we're not finished and then phone went blank. I dhould have known better than to order on the phone. Should I cancel my debit card? -Martha
---
Q: Is Re:Youth one of these scams as well? If so do you have a number to cancel the trial successfully? Thanks for any help that you can provide. -Sheila
---
Q: Why has someone not contacted an attorney & started a class action law suit against them? I'd certainly join in. -Mary
---
Q: Hi, I have literally just ordered derma c about half an hour ago. Now having read these comments I am terrified I am going to be charged astronomical amounts of money for what I thought was a free trial! How do I cancel this trial? Can I do I immediately? -Lynn
---
Q: Is the creme la miracle snake venom peptide and the lumiere anti-aging night cream a scam -Romona lacroix
---
Q: Hi I entered my name, address and email address on the juvive anti aging cream (Christine Brinkley) which I saw on Instagram. And clicked rush my trial. I don't know what I was thinking. The next screen asked for my bank details. I didn't enter any bank details and just came out of the website. Do I need to do anything like cancel the free trial ? Thanks for any help Sue -Sue
---
Q: I want to cancel my order from Dr. Oz -Lisa
---
Q: Is kollagen Intensiv that contains SYN-COL Is I I good product or Is It a scam i need something for undereye bags and wrinkles -DeeAnn
---
Q: Rejuvaderm has disconnected their phone number 888-548-9571. I was able to cancel any further orders, was promised a refund on 2 orders which never came and RMA which never came. Any help is greatly appreciated. -Marcia
---
Q: ReVITALIZE (Age Defying Skin Serum) NEUPHORIC (AGELESS FACE COMPLEX) I Need the phone numbers for these,thank you for your help, really appreciate it. -DONNA
---
Q: Calm serum -Kimberly
---
Q: I signed for a "Risk Free" trial of an anti age skin cream All I had to do was pay the shipping..as soon as I clicked purchase button. I was stuck buying an additional product...for the same amount...they also sent two addtional products which ai never opened...I recently seen my credit card statements and noticed a company (different from the original) and both had 4 different names on my credit card statement. Billed almost $400!! I called my bank cancelled my card. Placed dispute. I also located a phone number on another website and called..told them that I never sunscribed to any product and i was notifying the police on top of that...because this is fraud...of the worse kind? Why just place a complaint? Why not contact authorities? Is this not stealing money from unsuspecting customers? If its legal.. Then the law needs to change in the way people market products! -Joy blB
---
Q: I ordered a free trial of anti aging face cream the end of August was told I would not get any more unless I ordered it now I just got some in the mail with no return address or phone number or price should I assume it came from the same people what do I do -Linda
---
Q: Looks like I got scammed by Euphoric Ageless Facial Serum. Paid $4.95 for shipping and just received the bottle. No paperwork in the box at all so no phone number to cancel. It was shipped from Fountain Valley, CA. Any ideas how to stop this before I get charged an on-going charge? Do you have a phone number for Neophobic? -Sharon
---
Q: Do you have any information on Allure beauty? I ordered and no where did it mention auto shipment but low and behold I'm getting charged now every month. There is no number listed and I can't even find a website. Plus I haven't been shipped anything. -Deanna
---
Q: There is absolutely no address or phone # for the product that I received so how can I cancel? -Bebee
---
Q: Re: Neuphoric. The email address is incorrect and the telephone number is not in service. Do you know how to contact the company? -Linda
---
Q: Hiya I was scammed by the Christy Brinkley advertisement for free trials of her cream... Cannot believe I have done it and feel stupid the cream is called auralel I cannot find the phone number to cancel... Please help x -Jan
---
Q: I want to cancel my order don't want to receive this product anymore .what do I need to do? -Lena
---
Q: The first lady has started a company similar to what you report here. Is she a victim also? -June
---
Q: My scam cream came with the name E'phame're. Maybe billed under,Pieroeyecr,Colcomplx,Eloquencey,Young Skin. Do you have cancellation phone number for these? Thank you for taking on this PIGS! -Jocelyn
---
Q: I asked you previously but never heard back. What is your opinion on Ora Gold products? -deborah
---
Q: I purchased Nuriva and renaderm eye cream from a post on FB and only had to pay shipping and handling. I'm so dumb. I actually like the one product but not the other and want to cancel the one but I can't find the phone number big surprise. I don't even know how much they're charging me. Please help me. -Carol Fleming
---
Q: I have a Beverly Hills crepe cream. i think it is called Beverly Hills MD. What can you tell me about them. -karen
---
Q: what is the real name of the anti wringle eye lotion which is sold by the people from shark tank....not to be confused with other manufacturers -jay bird
---
Q: What can u suggest that WORKS for eye bags & wrinkles that can be PURCHASED @ stores such as pharmacies, Wal Mart etc. I'm 79y/o. Thx. -Jeanne
---
Q: I just received a free trial of "wrinkle Free Moisturizer" from L'OJESETE for $4.95 s&h. How can I find out if this a scam or not. Thank You, Sonja Miller -Sonja
---
Q: Got a fraud alert on my credit card. Thought I was buying a sample of skin contour and eyebenifit. For 4.99 each. After 14 days they charged me 180.00. I was out of time during the trial period,and I didn't realize what I was being charged for and why. Disputed the charges with my cc company,cancelled the card and called the company. They refused to accept the return if 2 unopened products,but offered me a 50% discount on what they sent me. I will pay the shipping charges but would rather send back the unused product which they won't take back after the trial. They won't even give me an address unless they speak to someone at the bank! I'm still away from home,but probably still have the oackaging. I want to avoid going to collections. If I send the product back am I off the hook? They did cancel subsequent orders. -Chris
---
Q: I ordered for myself and friends, how can I stop them from charging my debit car now? -Melanie
---
Q: I read your articles and thank you for telling us about those creams so many of them are lyeing to us i want to buy some good face cream iam in my 40s what brands are good for me -Jennifer
---
Q: Where is the Number to Call to cancel?? -Pamela
---
Q: What is the "free" e book Wrinkles no more in the middle of your column. Is this for real or another ad for something -Rosemary
---
Q: What is best to do when the contact for the elemor wrinkle cream doeant work? -Annesha Sutherland
---
Q: Phone number for yes youth asap -Tanya
---
Q: Fortunately, I went online to check out Jaanu Serum (& corresponding Jolie cream) before putting in my Visa credit card number for a $4.95 shipping charge on a "risk-free" 30-day trial. However, I noticed that Safari on my phone would not "go back" to previous page and allow me to also delete my personal info (name, address, e-mail, phone #). I finally went to settings and cleared my History, but am concerned that they now have this personal information--even though they do not have my card number, they might know that it is a VISA. Don't think you can help, but maybe my story will warn others about these two products that CLAIM to have Dr. Oz endorsement. Also, I went to his website trying to see if I could find anything from him warning us to avoid scams that use his name--no luck. -Christine
---
Q: Creme Skin Support <[email protected]> Is this a scam? If so, do you have a phone number? It is not on your list. -DJ
---
Q: I ordered "Christie Brinkley's" Brightening Serum and Wrinkle Anti-Age Cream received something from "Sole Youth & Gryspro And it's from the PO Box how do I get in touch with them there's nothing there is no listing for them anywhere -Noel Marie
---
Q: Why don't they investigate crooks and scammers like Dr Oz. That guy has been a phony for years. AS a man I to like to treat my skin well, so I go to the local Target or Walmart and get the brand product. It may be Nivea For Men or Neutrogena For Men, but I at least know what I am getting and paying for. Now I order from Baxter of California For Men, and their products are very good. There is also no scam involved. Stop with the net orders ladies, it is too dangerous. -Maurice H
---
Q: How can you allow Dr Oz to keep endorsing these products without exposing him for ripping off the consumer by charging full price if not cancelled within 15 days. These people, in my opinion, including Dr.Oz are nothing more than grifters and at the very least should be exposed for the dirty deeds they are perpetrating. -Robert
---
Q: I was getting ready to enter my debit card information to purchase a 14-day free trial of Skin Complex Rx, when it dawned on me to look for reviews on the product first. Many of the first websites, on my search, continued to rave about the product. These sites appeared to be the same advertisement of SkinComplex RX over and over. I am glad I continued to look for unbiased reviews and found your blog. You saved me from falling for their scam. Thank you for being there for all of the women who fall into this trap. Are you familiar with this product? -Christine
---
Q: Dr . Oz why promote a product that the manufactur offers one price on your show and charges another? That's fraud, can't trust Oz -David
---
Q: Need phone number to find out when my stuff is coming I ordered -Tina
---
Q: Can you recommend an anti aging cream for wrinkles I am aged 60. Can you tell me if lifecell and kollengen are scams please. -Marie
---
Q: I have ads pop up all the time about these fast acting eye creams for puffy eyes. The same women are in all the ads but the products are always a different name. (Derma Glo, Avalure, Clair and Joliquae cream and serum. Why?? -susan
---
Q: bought some 'trial-cream' for £2.95 and now they hace billed me for £89.95 can 7ougive advise -pamela
---
Q: just looking at my email clicked on an ad, said free trial ILLU-ANTI AGING CREAM. CLICK ON SEE THEN GET A BILL FOR THE CREAM, EYE CREAM, THEN RUSH ORDER SCARED ME, WE ARE IN MEDICAL CRISES WE HAVE NO EXTRA MONEY. I CALLED THEM, THEY SAID WE SEND U OVER TO THE FRUAD DEPARTMENT, THEN HUNG UP ON. I GOT A EMAIL SAYING CANCELED THEN LOOK BK STATEMENT THEY BILLED 4.99 THEN 4.99 THEN2.99 RUSH DILEVERY. OH MY GOSH, NO WAY PAY THESE CHARGES CAME IN THE MAIL NOW HAVE TO PAY TO SEND IT BACK. IF RIGHT ADDRESS TO SEND BACK. I AM SO SICK NO WTHIS MADE ME EVEN SICKER WE HAVE NOT EVEN A PENNY PLEASE HELP NEED MY MEDICINES -de
---
Q: Is this the same company for Renew Rejuvenating Eye scream? And if it is could give me the number for cancellations? Thank You! -Myla
---
Q: Recently I bought the anti-wrinkle cream promoted with Kelly Ripa. I was charged $495 and then an additional $1.95 for shipping, then I saw $4.95 four anti-aging facial serum from clearly perfect. Him I have never heard of. I called to question the anti-aging serum but never received an answer. So this past weekend there was a charge from my bank account $93.90 pending withdrawal from my account which I did not authorize and to be honest with you I didn't care for the product itself. Again no answer so I went to the bank yesterday and destroyed my card and they wrote a dispute letter that will be going to this company but what I need to find out is should I go ahead and try again to call the company and request the cancellation and demand my money even while the bank is now invetigsting? -Theresa
---
Q: I need the number to Aurora - need to stop the pending charges.. two items - each cost $89.77 (reshapery) and (skin beauty 89.71 - cant find a number - its was recommended by Dr. Oz Thank you in advance.. -Susan Kling
---
Q: Is Bella radiance a scam -
---
Q: I sent for the Allure products & paid the shipping. Am I obligated to buy more? -Helen Buxbaum
---
Q: What is the real name of the Shark Tank cream all of the investors got involved with. I saw so many companies who said they had their cream. I got caught up in a couple but they were scam companies and they all used the same models. That should have been my red flag!!! We are -Josephine
---
Q: I cannot believe I got scammed into this. What was I thinking?!?! I just ordered it tonight and I am trying to cancel. There isn't a phone number in the email. How do I find a number to call? This is what the email says. If you have any questions about this order or the products/services you've purchased, or you believe you have received this email in error, please feel free to call customer service at the number listed on our Contact Us page. Thank you for your business. *THE CHARGE WILL SHOW UP ON YOUR CREDIT CARD STAETMENT AS( 8442987481fitlifenow ) -Jayme
---
Q: Hi there. I was scammed with cream, and cancelation emails come back as undelivered. The creams are skinglow and allskins. I am struggling to get contact details to cancel. please help -sandra-lee wouda
---
Q: I just ordered skin care products from amore I ordered face cream, eye cream and mosturizer I was charge 45.91 Have you heard anything about them? I did receive confirmation notice via email on products with a the following contact info [email protected] 7 DAYS A WEEK, 24 HOURS A DAY (866) 981-5685 Amoré Customer Service Department [email protected] 7 Days a week, 24 hours a day (866) 981-5686 moré Vitamin C Customer Service Department [email protected] 7 Days a week, 24 hours a day (866) 981-5687 Each product has a different telephone number so I was concerned but I also received a email regarding the following on items I ordered Also I received the info below on items I ordered Enjoy peace of mind knowing your recent order includes protection from InsureShip, a 3rd-party shipping insurance agency. InsureShip gives you a money back guarantee should your order become lost, damaged, or stolen in transit. Need to file a claim? Not a problem! Complete our online claim form here to get started. Order information Policy ID: 707 Policy Issue Date: 09/25/2016 Order Number: 1970033 Expiration: 60 days from Shipment Date Questions? 866-701-3654 [email protected] www.insureship.com 3211 Cahuenga Blvd W, 2nd Floor, Los Angeles, CA 90068 LIC #0G03545 File Claim Coverage Terms FAQ Policy ID: 707 Policy Issue Date: 09/25/2016 Order Number: 1970033 Expiration: 60 days from Shipment Date Questions? 866-701-3654 [email protected] www.insureship.com Looking forward to hearing from you. -Christine
---
Q: Hi I stupidly applied for a free skin care trial. I say stupid now. I did check all information on page and there was no mention of further charges but now site gone. This was the so called Pauley Perrette cream. There are no names on the 2 shipping emails I got no contact numbers etc. Charges appearing on my bank statement are Skinny and SkinFresh and FreshSkin but cannot find ANY details I understand I've been scammed but how do I cancel a subscription if I cannot find any trace of this fake company. I am in Australia and the charge is over $200. Any idea of what the company could be called ? -Irene
---
Q: Do you have a phone number for Ziladerm -Beatricia
---
Q: Do you have any information on "Celine ageless moisturizer" my daughter gave me some, tried to find info on it, but had no luck finding any reviews -Dana
---
Q: Where do i find suisse renewal -Carol
---
Q: How do I get a phone number to cancel my sample cream -Marian
---
Q: Unfortunately, it has happened to me. Does anyone have a number to call to cancel reorder? Thank you. -Chandra
---
Q: Why does Visa, MasterCard etc accept these Scammers as merchants. My banks employees gave me the low down when I was a victim of these scams and the Banks DONT make it harder or even impossible to bilk the public. Doesn't this make the banks complicit in the fraud? -Layne
---
Q: I've ordered the free trial of facial revive and arrived today, at the same time, they've charged $130 in my account (debit card). I managed to call the customer service and cancel the products and ask for refund, they will refund 50% and need to take up to 10days, the rest of the 50% will only credit to my account once they receive the return products. I've received their confirmation email regarding the first 50% refund but not the remaining, what should I do? Should I call the bank to cancel the account and report as scam or should I wait for the refund? Please help. Thanks -Emily
---
Q: Am worried now sent postage fee how can I ensure no more payments are taken -gillian
---
Q: How does one select the best anti aging products.. -Sarah
---
Q: Please help me. I need to get out of pura Vida skin care free sample. I can't find any phone numbers -CLAIRE
---
Q: The business practice of refusing to refund the cost of a item that I returned is scathing to the practice or retail. I am sending notification to Dr. Oz, Shark Tank, Ophra Winfrey how you are using their names to dupe people in to "trying the item for free". -sicily
---
Q: Does anyone have phone number for investors? -Jerrine
---
Q: could you let me know if this cream is a scam dermaC address 207 regent st London w1b 3hh phone 44 203 1290 772 -joyce
---
Q: Do you have a review on South Beach Repair and Release Cream? -Janet
---
Q: Is Radiant Brilliance out of Tampa, Fl a scam? -Marilyn
---
Q: What is the cost of SkinNu Serum- I recieved EyeNu Cream? I didn't order it. -Donna Smith
---
Q: It's purely vital a scam? -Samantha
---
Q: I think I have been scammed as I ring a number there is no answer how to stop then what to do I bought free trial facial revive I'm worried as my time is up and I don't want to any more please help me the number they gave me for questions was 61240363038 and when I ring I get wrong number -Gabrielle
---
Q: I requested a sample of some beauty cream which were supposedly endorsed by Princess Kate and Dr Oz. I cancelled very soon and was then informed by email that I would get auto shipments every month at 99.95. If I hadn't been aware of what was going on my credit card would have been charged on the 15th day. When I said I did not want any more product they offered a 50% special customer rate. -June
---
Q: If I ordered but have not yet received the product, can I still cancel? I'm afraid that I will have the same thing happen to me and my card! Please help! -Heather
---
Q: Like a dope, I just signed up to pay a total of $10.82 for Decollage Hydrate Firming Cream and Decollage Levage Uplifting Serum.....they sent a confirmation email with a phone number (1-844-215-7226). I didn't see any fine print about a subscription. But, now that I've read up on face cream scams, I'm concerned. Of course, you can only call on weekdays. What do you think? Did I just get scammed?? Do you think they'll actually cancel if it is a subscription if I call nwxt week? -Dale
---
Q: I order some free samples from PREMIUM Brand snake venom peptide cream and/Anti-aging formula no where on the site did it say i will be charge for a month's supply i always look for the small print and there was none i got a alert from my bank asking if i made a purchase I'm just wondering if i got scam ?i got a email and the info is a order confirmation number my bank statement show PRIMARYCHTDY the other one is BetterNutraPlace.thank you karen -karen
---
Q: Juv -Jia
---
Q: I received a free trial of La Mirical anti wrinkle cream with snake venom peptides. I did not like the cream at all and now they've charged my checking acct $98.41 without my authorization. I was stupid in doing this, but I need to know how to get my money back... -Paula
---
Q: I ordered a free trial last night of Biossance billed through Merridian Enterprises. I paid with PayPal. Have you heard of them and do you think they could bill me again for any other charges since it went through paypall? -Margaret Wells
---
Q: Do you provide a phone number to cancel free trial? Thanks -Robin
---
Q: I ordered serum and cream yesterday from clearwater, Fl and received it today from Tampa. It's not the same brand I ordered, and there was no statement, instructions, or anything saying I'll be sent more or billed later. Can I just send it back, unopened? -Patricia
---
Q: The phone number to cancel Order for Dr Oz Regenerie Cream? -Jolynn
---
Q: Is the cream from shark Tank a fraud for the free offer -Janice smith
---
Q: I have ordered the Jubile product on the shark tank and they have billed me and will probably continue to do so even though I don't want the product and I want a refund and also there is no contact number....what can I do to contact these people and get my money back and cancel my order? -Maria Russo
---
Q: Can you tell me when the product aired on shark tank? I've read all the warnings about the cost, ect. But I didn't see the episode and would really like to -Jean
---
Q: Scam...Nova care......dermagen...do you have phone numbers so I can cancel -Beverly
---
Q: Are you shipping from Canadian warehouse also do you have keto max -Wendey Bowen
---
Q: can I get my free sample ? -valeri
---
Q: HI Rachel, I have just ordered a free trial product on 11/29/16 called the Revived youth renewal cream (not sure if this is the product name) on Ellen DeGeneres advertisement for paying $4.95 shipping and handling. I did not know this may be a scam. After I entered my personal and credit card information, there was no order or confirmation number, no term and conditions then the page is gone. I am not sure whether the order is accepted? Should I cancel my credit card now before the company make charges on my card? This is my first experience about this kind of scam! Thank you for your advise! -Rhoda
---
Q: Is dr.Oz. recommending Christie Brinkleys line of SKIN care or does he have a SKIN line?I have been burned and ripped off enough. -Victoria
---
Q: I was wondering on these face cream ads where do they get the people on the website to give great reviews? I kept thinking am I wrong for not getting it and thought I better check it out before I think about ordering anything and found your site. Thanks for the great information and help. -Dana
---
Q: Do you know of the mailing address for Dermafolia skin cream to return the product. I have not been able to get the address and my bank told me I must return the product. -Alfred
---
Q: funny I was about to get my c.c. out and buy christey Brinkleys wrinkle cream until I read your article. my question: is her skincare line a fraud as in your article? -Teresa
---
Q: I just purchased Kim Kardasians Borealis skin cream and eye serum. Is this also a scam. I just found your website just after I put my order in. -Linda
---
Q: I'm thinking about ordering plexaderm do you recommend it ? I'm on a limited income and cant afford to be scammed -marilyn phipps
---
Q: I was scammed by DermaNu and now they have sent me more product. I want to return the product but I do not have a return address. Do you have an address for them that I can send this back too or should I just do return to sender? -Kimberly
---
Q: Can you give me the phone number for Ombia Derma. I received the free trial a couple of days ago and decided to go online and research the product when it claimed to be Snake Venom Peptide Cream. That kind of scared me and then come to find out the whole thing is a scam. I want to cancel before anything gets charged to my credit card. -Sherry
---
Q: How do I get a refund? -Lila
---
Q: I got skin optics delivered, can I send box back and file dispute with my bank.. So money stops coming out. I'm on disability, I had no idea this was some scam, with boxes I didn't want or expect. Thanks for any advice. Janet -Janet
---
Q: Do you have the number for the Aurora eye serum & cream to cancel on your list? Needing to cancel -Carolyn
---
Q: Do you have customer service for Aurora Eye Serum - N want to return the unopened box, and have the P.O.Box # but I need the phone number? Thanks -Nan
---
Q: I need the PHONE NUMBER to RevYouth. I just got a anti wrinkle cream Saturday & I have never heard of this company. HELP PLEASE!!! -Kathy
---
Q: Trying to find number to cancel Derma Joie face and eye cream. Ordered the trial version and now they are charging 93.80 and 92.85 on my credit card -Sue
---
Q: have you tried the angellift from the shark tank show -michele germano
---
Q: phone number for Bellavel skin ..have to cancel free samples by tomorrow and number I have is not correct -cindy
---
Q: I'm afraid I fell for not 1, but 2 of these so called scams. I thought I was buying Christie Brinkley's line. When my packages came in the mail there was no contact information listed anywhere. I don't know how to cancel my subscription with the companies. Help! -Katla
---
Q: I got a free trial of ageing skin product , and I tried to cancel it but there is no address or anything . I cannot afford to buy the product .. is there any adrress to cancel ? -Gayle
---
Q: What number do I call to cancel this? I received HR-cream and Inherent beauty and can not find a phone number. -Diane Parks
---
Q: Why are such companies allow to operate under such misleading information/policies? -Marjorie
---
Q: I ordered a sample for the $4.95 shipping charge and refused the other products they pushed. I was led to believe this was the same product presented o The Shark Tank and the Dermaskin Labs were handling it. Is this another scam and can I call my credit card now, the same day I ordered it and tell them to be sure to only pay for the one time order of $5.00? -Sally
---
Q: Is Angelina Jolie's Skin Amour sample offer a scam? -Angie
---
Q: Is Crepe Eraser advertised by Jane Seymour a scam? -Linda
---
Q: I just ordered dr. Oz cream. I need a number to cancel. -Cheryl
---
Q: Hi Rachel, I got scammed with the ilium cream "rush" trial. Now that I go back to the website it says "tryparisianglow" - is this the same company? -Amy
---
Q: What is the story of dr Oz's backing these cream/serums every time I turn around? I must know what is in what I buy... -ellen
---
Q: Are any of really any better than oil of olay -patricia
---
Q: I have also been ripped-off of $ 94.56 from my debit card when I tried to file a scam rip-off report it asked for an address which I don't have cause I did transaction online -Steven
---
Q: I'm being scammed and cannot find how to cancel. I ordered 2 sample products called Ombia Derma and Renewed Advanced Eye Gel. They have charged my credit card $94.57 and $89.47 this month. I haven't even received the products for these charges, which I do not want. How do I find out how to call the company to cancel this? Thanks -Teresa
---
Q: I recently received a 'trial' offer of anti aging cream 'endorsed by Judge Judy'. BEFORE I read this. Am I in trouble? As I'm not sure yet if it really works. -Linda
---
Q: How to file a BBB complaint for Renue Derma -Emily Akins
---
Q: I need a phone number to call bc I never received my order -tessa
---
Q: is pure natural anti-aging cream a scam I can't find a phone number need to cancel this? thanks -Lynn
---
Q: How do I correspond with Ombia Derma to discontinue any products or charges from them? -Kay
---
Q: I need the phone number for Renew/Derma anti aging face cream.They have taken 400.00 dollars out of my account.Do you think I can get that money back and how? -Carol
---
Q: This product was supposed to be a free trial, but you have taken 174.87 from my bank account.It seems you are running a scam. -Shirley Richardson
---
Q: I ordered the Novacare but since there is no return address or phone no. How do I cancel the order? I used my bank card which is a debit card. I know what I'll do I'll just cancel my card out. -Kathy
---
Q: I need you guys stopped send it me those cream and charging me for somethings I didn't order or I'm going to report you guys with BBB is the last time I will ask you guys -Jazmin kisswani
---
Q: Is skin element by Christie brinkly a good one or will I be scammed as well I ordered it its a 30 day trial but I was bothered by that fact I never seen what it would charge me if I keep it Sincerely scared ? -Sarah
---
Q: Hi, I also got scammed. Ordered neuphoric ageless facial serum (sample) so I though. Come to find out also got charged for reawakening phytoceramide eye cream. Do you know if these are good products? Also got charged for an iBook somehow. I didn't even know what that was until I called to cancel it. -vicki
---
Q: I have been charged for 2 products I never ordered: one is Youth Skin Forever and Fabulous Skin. Never ordered these and received these products. The companies charged me $89.24 and $84.97. What can I do? - Carmen
---
Q: How do I get a hold of all skin to cancell, I can't find a toll free number anywhere -Valerie
---
Q: Kelly Ripa skin and eye care came as"Sin-opulent" and Eye -Opulent" products. After reading your expose', I called to cancel. They tried that half-price option just as you describe. When I pressed "o" I told the rep that I would pay no more, that it sounded like the scam you exposed, that I felt it was fraudulent etc. The rep assured me that I will be charged no further. The ph.no. For Skin opulent is877-7383861. For Eye-opulent ,877-734-6566. Callers have to insist that they do not want any half- priced deals, but to cancel totally. I'll see if I get billed further. Phyllis -Phyllis
---
Q: What about Nouveaulift and Radiant Visage being scams? I bought into this as well and had asked if this was a monthly reoccurring charge and was told no! -Marsha
---
Q: What number can I call to cancel thank you -Carol
---
Q: I have not used nor ordered any of these products, something always held me back from ordering (must be sixth sense). However I do wonder how they can make a video of someone putting this stuff on half their face and without the camera moving from the face all the bags and puffiness and lines are gone! How do they do this? -Jackie
---
Q: How can I return unused products or verify that I attempted to try with no address? I am very unsatisfied with this product that was advertised as being backed by Oprah and Dr. Oz Ive been billed $164.00 I want my money back. -Sonji Russell
---
Q: Why am I blacklisted from ordering? -Sharon
---
Q: I, like everyone else on this site, have been scammed by anti ageing cream companies. I have received RVTL anti aging and Equinox day and night serum to the cost of £205.87! I am devastated that I have been so silly. I have cancelled with my bank but is this enough? I will try and ring to cancel with company tomorrow as well. Do you know if they are two different companies? -suzanne
---
Q: Do you have Dermaology (skin and eye) and Renue Derma (snake venom peptide cream) company contact info. Please! Unable to get any help. Scam! Charged 14 daysafter purchase of a 30 day free trial. Ridiculous price! Tried calling four numbers. No help. Please after purchase of a 30 day free trial. Ridiculous price! Tried calling four numbers. No help.thank you! Debbie -Debbie
---
Q: I have been scammed cannot track the company the cream is called auralei.Hopefully you can help me await your reply.Have contacted the bank but they need proof that I have tried to contact them and to send the free trial back -Debra Kendall
---
Q: Even if the product is good and does work (or somewhat work) "AS PROMISED" I absolutely HATE the way all these online "wrinkle cream" companies operate: I ordered a product that "claims" to give you 60 days to return unused product for FULL REFUND but that sends you out THREE TIMES more product in 30 days-thus not actually giving you the 60 days to decide whether or not you wish to order THREE MONTHS WORTH OF PRODUCT all at once!!!! Maybe I would want to order 3 months worth of a certain product if I was actually given the full 60 days to make my decision after I had received the first kit at a greatly reduced rate. Even the seemingly more legitimate companies use these types of DECEPTIVE TO ME pressure tactics and I don't like it!!!! Who agrees with me that even if you like a product you will probably not order that product again-keep receiving product on a regular basis if you felt that you had in any way been a victim of false advertising or pressure tactics? What's with the having to order THREE MONTHS WORTH of a product you liked when you ordered it because it included 2 free gifts and had a money back guarantee if you were not completely satisfied? I actually did not return my first specially priced kit and request a full refund, but I did CANCEL with this company (& had NO PROBLEM doing so) because I really didn't like being FORCED to order 3 kits at once rather than just one kit at a time after I had received & tried out my first kit. -Alicia
---
Q: Is there a mailing address for CLARISKIN LTD? -Deborah Dawkins
---