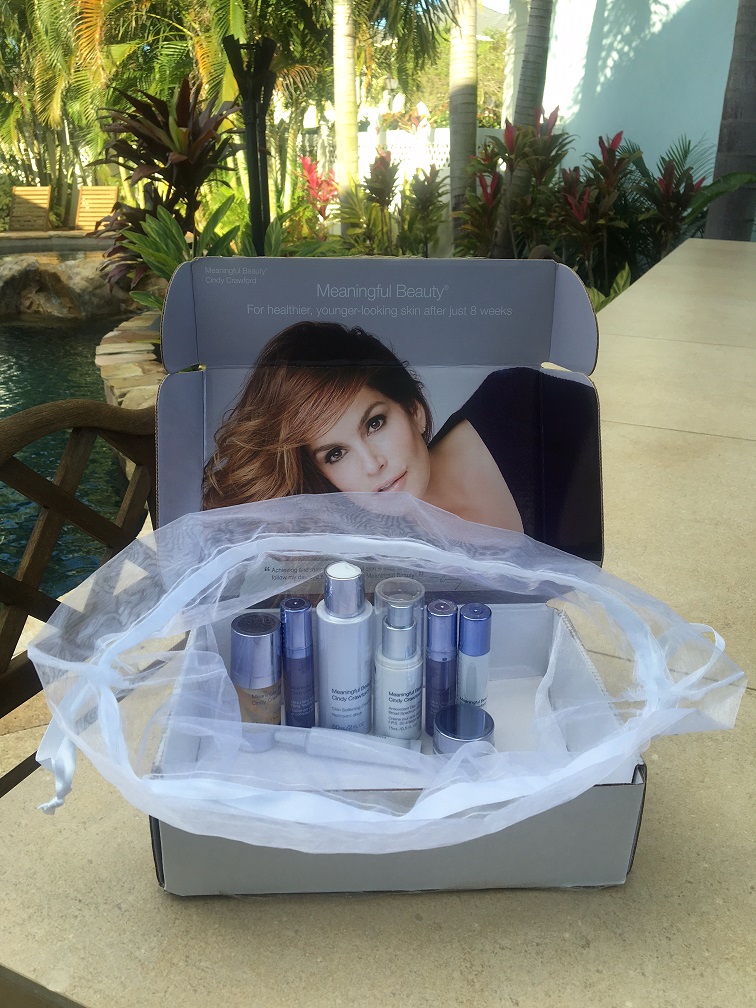 Meaningful Beauty – My Review of Cindy Crawford's Skin Care
Note: This is my personal review, Click Here to visit the official Meaningful Beauty website
I have two things to confess, one is I am absolutely LOVING Cindy Crawford's Meaningful Beauty skin care, and two, I can't believe it's been around for 10 years and I'm just now trying it!
I ordered the Meaningful Beauty 5-piece system online for $39.95 which also included two free products (how cute is that packaging?!)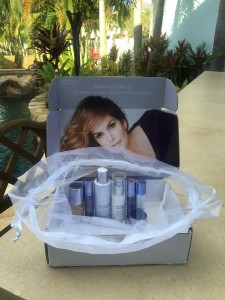 After I used them for a couple of weeks, I posted on Facebook about how much I liked them and how soft my skin was, and I couldn't believe all the comments I got!
Women of all ages commented on how much they love the Meaningful Beauty line and many of them have been using it 3, 5, even 8 years or more!! You can read these testimonials on my Facebook page.
I have over 1,000 product reviews on WomensBlogTalk.com and I have never gotten so much positive feedback on a skin care line.
To me this speaks volumes that women who try Meaningful Beauty love it, and often become loyal, lifelong customers.
The Meaningful Beauty Story
When I was a teenager, Cindy Crawford was one of the world's top supermodels. She was gorgeous then, and she's hardly aged at all! She's 48 years old and her skin looks astonishingly youthful and radiant.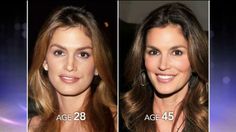 Her secret is her relationship with Dr. Jean-Louis Sebagh, known as a world expert in medical anti-aging, and the two revolutionary anti-aging ingredients he formulated exclusively for Meaningful Beauty.

Since its inception, Meaningful Beauty's claim to fame has been a powerful super anti-oxidant or "youth molecule" extracted from a rare melon from the southern coast of France.
More recently, Dr. Sebagh made a new discovery in the same region of a rare orchid known for thriving in harsh conditions. These rare and beautiful orchids often live for more than 100 years due to their remarkable longevity molecules.
They've been able to isolate these longevity molecules into "youth messengers" within the Meaningful Beauty line to give your skin the same benefit.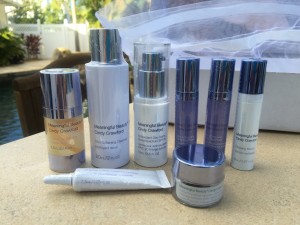 Meaningful Beauty 5-Piece System + 2 Free Gifts
Below is my review of each of the five pieces that I received, plus the two free gifts!
The first shipment I received had sizes equivalent for one month of use (larger than travel size, but not a full size, shown in the picture on the left, or above on mobile).
Since I signed up for a shipment every 90 days, my next package will be full sized (and I can't wait)!
Cindy's Daily Routine
I wanted to first show you the insert that came with my package. Click Here to show the picture. It's actually waterproof! So you can keep it in your bathroom and not worry about it getting wet.
This step by step guide shows you exactly what you should use in the morning and at night and is what I reference in my review.
Skin Softening Cleanser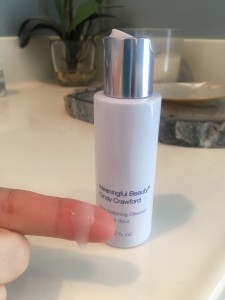 Everyone seems to love the Skin Softening Cleanser. It's a gentle, creamy cleanser that whisks away makeup and impurities while leaving the skin soft, hydrated and feeling refreshed!
The formula is oil-free and fragrance-free and contains a unique apple extract that helps minimize the signs of aging and is designed not to strip the skin of essential moisture.
It's gentle enough to be used alone as a makeup remover, yet strong enough to strip away dirt and debris.
This was the first product I tried in the Meaningful Beauty line, and I couldn't believe how soft and supple (and clean!) my face was.
You can either apply to a dry face and remove with a warm washcloth, or you can apply to wet skin.
I always like to mention that my eyes are extremely sensitive (I actually have rosacea/blepharitis of the eyes) so I have to be careful with what I cleanse my eyes with.
Washing my eyelids with this cleanser causes me no irritation whatsoever and it removes makeup really well! I'm actually thrilled to have a gentle cleanser that I can use on my entire face that maintains my skin's pH balance.
You will definitely notice your fine lines diminish after using the cleanser! I noticed it especially on my cheeks under my eyes, it just looks smoother and takes away any redness (I've heard from several women these products are also great for rosecea).

Crème de Sérum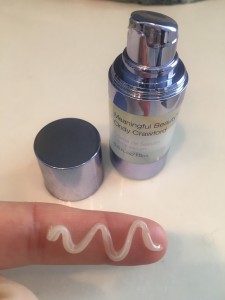 This is Cindy's most loved product! The presentation of this serum is a beautiful intertwined mix of both a potent serum and a rich, moisturizing cream.
Crème de Sérum contains the rare melon extract along with peptides, hyaluronic acid, collagen and Vitamin C, all of which are extremely beneficial for fighting the aging process and protecting from environmental elements.

I followed Cindy's instructions and used this one at night after cleansing. Two small pumps was all I needed to moisturize my entire face and neck.
It feels luxurious and has a very light, sweet smell. It's designed to promote a smoother, more even toned, radiant complexion while leaving the skin very soft and supple.
I absolutely love the light, silky texture of this cream. It's all you need for a nighttime treatment, although you can wear it during the day if you like.
Ultra Lifting and Filling Treatment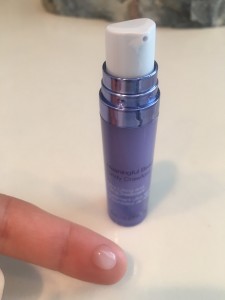 Here's where that rare orchid makes its appearance! The Ultra Lifting and Filling Treatment is a powerful, dual-action anti-aging serum that visibly lifts the skin while also acting as a line filler to smooth out the look of fine lines and wrinkles – yes please!
The exclusive orchid extract is designed to enhance collagen and elastin production in the skin for a firmer, more lifted look.
We all need help with collagen boosting – after you hit 30, collagen production is cut in half and it drops at an alarming rate from there.
This serum also contains the rare melon extract, along with the same ingredient most commonly used in injectable fillers to plump, hydrate and fill in the look of lines and wrinkles – a true youth serum to make you look younger!
This serum has the most delicate floral scent and just glides over the skin effortlessly and absorbs quickly. All of these products have a light, luxurious feel to them which I love!
I followed Cindy's instructions and used this serum during the day after cleansing and before applying the Wrinkle Smoothing Capsules and then the SPF 20 Antioxidant Day Cream over both.
Wrinkle Smoothing Capsules (Free Gift #1)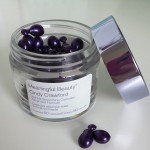 The Wrinkle Smoothing Capsules are absolutely AMAZING! I am so glad I chose this product as one of my gifts.
If I had to choose a favorite product of the entire line, this would probably be it!
These tiny "time capsules" leave your face feeling instantly smooth and hydrated and have a "blurring" effect that just makes your skin look fabulous even with no makeup on!
The only way I can describe how it makes your skin feel is "velvety with a flawless matte finish."
The advanced formula of the capsules contain the exclusive melon extract and work to target facial expression lines, visibly smooth, hydrate, plump, and fight free radical damage.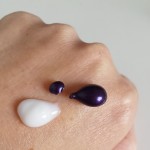 I used this in the morning after cleansing and after applying the Ultra Lifting and Filling Treatment.
It's super easy to apply – you just break one capsule apart and it gives you just the right amount for your face and neck.
I also like the capsule form because it keeps the ingredients fresh and potent – no air touches it until you open it.
I liked this one so much that I added it on to my 90 day regular shipment so that I'll receive the large, 60 capsule jar. So for an additional $24, I'll receive all 5 of the other essentials plus this one (you can omit products if you wish, and pick and choose – it's great!).
Antioxidant Day Crème Broad Spectrum SPF 20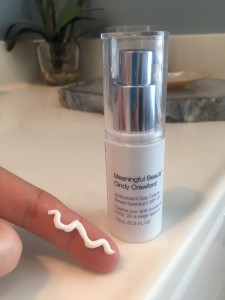 I can't stress enough the importance of using an SPF daily. Nothing will age you faster than the sun's harmful rays (aside from smoking). 
I live in South Florida and it's a must! I'm constantly battling the hyper-pigmentation along my jawline and upper neck (right under my ears) so a daily slathering of protection is my ritual.
The Meaningful Beauty Antioxidant Day Crème Broad Spectrum SPF 20 is perfect for daily use. It has a lightweight, micro-emulsion formula that not only protects your skin, but treats your skin with a powerful blend of antioxidants to protect against premature aging.
Of course I was happy to learn that it also contains the signature ingredient, the exclusive micro-encapsulated melon complex! It also does not smell like sunscreen – it smells similar to the Crème de Sérum and it does not leave you greasy at ALL.

Cindy's instructions for daytime is to cleanse, apply the Ultra Lifting and Filling Treatment, the Wrinkle Smoothing Capsule, and then the SPF Day Crème. It sounds like a lot, but it's not! These products are light and layer perfectly.
The last step is to apply the the Lifting Eye Crème, and voila! You are ready to apply your makeup to a flawless foundation.
Glowing Serum (Free Gift #2)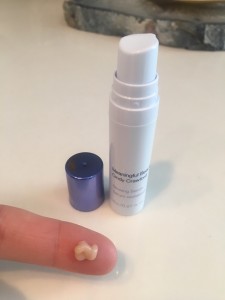 The Glowing Serum is a powerful lightweight serum designed to leave your complexion with an instant glow. Dr. Sebaugh calls this the "model's secret" since it gives an instant look of radiance!
The Glowing Serum contains pumpkin extract, potent firming agents, Vitamin C (powerful free radical scavenger) and soy protein for radiantly youthful looking skin.
The serum has a similar feel to the Ultra Lifting and Filling Treatment – lightweight and absorbs nicely into the skin. It definitely gives a boost to dull looking skin.
I used it one day when I was feeling/looking a little tired and it gave me a nice glow. It's subtle but you can tell a difference when you use it. Your skin will feel moisturized and a bit more dewy!
 Lifting Eye Crème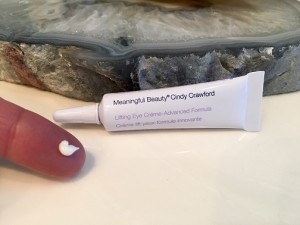 The Lifting Eye Crème is a multi tasking product designed to smooth fine lines and wrinkles, reduce puffiness, reduce dark circles, moisturize and firm.
This is a gentle but effective eye treatment that you can use both underneath your eyes and on the upper eyelids.
Trust me, if my sensitive eyes have no issue with this eye cream, no one will! It's fragrance free and doesn't bother my eyes the slightest bit.
This creme has a silky, light feel and absorbs nicely. It immediately plumps up those pesky fine lines around my eyes and creates the perfect palette to apply my concealer.
The Lifting Eye Crème contains its signature ingredient, the rare melon extract, which quenches dry skin and fights free radicals with its anti-oxidant powers, along with Omega 6 to strengthen skin, grape seed extract to soothe and moisturize, and an anti-puffiness agent.
Note: If you have deeper wrinkles or crow's feet, Meaningful Beauty also has an "Eye Enhancing Serum" that is meant to be used underneath the Lifting Eye Crème, or alone. So, you could swap out a product for this one, or add it on to make your special order perfect!
Where to Buy Meaningful Beauty
You can purchase the 5-piece set that I bought for $39.95 from the Meaningful Beauty Official Website. There is also a 7-piece set for $49.95 which is a great deal since you will receive 2 free gifts no matter which package you choose.
You can purchase limited items at Ulta but it's much cheaper online and you'll have access to the entire skin care line. The Skin Softening Cleanser alone is $30 at Ulta or $79 for the 5-piece set (vs $39.95 online), so you'll pay about 40% more buying it at Ulta.
Once you order the initial 30 day supply, they will later send you the larger sized products which you'll receive every 90 days, so be aware that this is a membership, however you can cancel at any time.
You have the choice of spreading the payments out (keeping on a monthly billing schedule) or just having them bill you every 90 days. It's just a personal preference.
They also offer a money back guarantee so even if you've used the products they will give you a full refund if you're not happy.
Helpful Hint: Once you receive your first shipment, you'll receive a  small catalog of all of the products available so you can pick and choose what else you might like, or omit. For example, you may want a skin lightener, an exfoliator, glycolic peel pads, a blemish treatment or mask! I love having options!
Recommendation
If you can't tell already, I think Meaningful Beauty is a fantastic skin care line, and an affordable one! They use high quality ingredients, and they have products to cater to every skin care need.

I would highly recommend this line to anyone, no matter what their skin type is. It's great for dry/aging skin, sensitive skin, those with rosacea, photo damaged skin, or even acne prone or oily skin since the products are so light weight.
There are some great options for every skin type or problem you're trying to treat, and they have amazing customer service! When I called to change my order, the agent was very patient and accommodating, going over every detail of my order and spelling it out in black and white.
I hope you enjoyed my review! 
Have you used Meaningful Beauty? Please leave a review, comment or question below!
Did you know that bright, even-toned complexion is the #1 skin trait that helps us look younger? Even if you have some wrinkles (don't we all?), keeping your skin bright and radiant is key!
This is exactly why all my favorites are all packed with antioxidants, plenty of vitamins and minerals, and of course hydrating and collagen-building ingredients to plump and nourish the skin!
How Women Found This Review:
and meaningful beauty official site, and yhsm-inucbr_001
Click here to submit your review.
---
Meaningful Beauty – My Review of Cindy Crawford's Skin Care
I just received my package. First thing I tried was eye serum. Unbelievable!!! Next was dark spot cream. Again, unbelievable. This is only five minutes. Can't wait for future results. Thank you.

---
My skin has done a 180
Meaningful Beauty – My Review of Cindy Crawford's Skin Care
Been using six months and it's completely changed my skin for the better. My redness is gone and my fine lines are non existent. People always ask me what I'm using! Won't use anything else.

---
Cindy Crowford's care.
Meaningful Beauty – My Review of Cindy Crawford's Skin Care
The best.Great looking ladies
They get youth youngers.

---
The best!!!
Meaningful Beauty – My Review of Cindy Crawford's Skin Care
I can't say enough about this line, I've used it 5 years. Once you try it, you'll never change your skin care again.

---
Cindy is gorgeous
Meaningful Beauty – My Review of Cindy Crawford's Skin Care
Just look at her! You know she's doing something right! I've tried her products now for about 6 months and I see a difference! My skin is softer, more supple and my wrinkles are less noticeable. I think it's a bargain for an ENTIRE skin care system. For sensitive skin her line is a winner! Thanks Cindy I hope you see this message, thanks for making a great skin care line that is easy to use.

---
Can't live without it
Meaningful Beauty – My Review of Cindy Crawford's Skin Care
I've been using Meaningful Beauty for 8 years, you read that right. Her skin care has been around a long time and it keeps getting better as she adds products to the line up. There's not one product in her line that I've used that I didn't like or didn't agree with my skin. My two faves are the skin softening cleanser, and the two eye treatments. Ok so that's three 🙂 My skin has never looked better.

---
Been using for 5 years
Meaningful Beauty – My Review of Cindy Crawford's Skin Care
I've used Meaningful Beauty for five years and there's been nothing better that I've tried. It leaves my skin soft and helps calm redness. I have mild rosacea and all the products are very gentle for my sensitive skin. Love the Creme de serum for night time and I often use it during the day as well.

---
Been using for years
Meaningful Beauty – My Review of Cindy Crawford's Skin Care
Best line! Been using it for 8 years and wouldn't use anything else. Love all the products, especially the skin softening cleanser and serums. Really good quality for the $.

---
User Questions and Answers
User Questions and Answers
---
Q: Hi Rachel, you recommend both Lifecell and Meaninful Beauty and share your love for both of them, but you don't actually use two different skin care regimes do you? Which do you prefer and actually use on a daily basis? thanks for this blog, its fantastic. -Lola
A:
Hi Lola, I just lost my entire message to you, arg!! :) So, I do like both, and I have been using Meaningful Beauty for a few months now and I think it's a great line. It's less expensive than Lifecell and if you like the idea of being able to swap out products depending on your skin type, this may be a better choice. However, I do feel Lifecell, and the other South Beach skin care it comes with  is a superior product if I had to pick just one (that's why I keep it at #1). Lately I've been pairing Ole Henriksen's Truth Serum (Vitamin C serum) with Lifecell for added moisture and I love these two together as well. For me, this combo just seems to lighten the dark spots better and give my face more radiance. However, you'll pay a lot more $$ for this combo. I think Meaningful Beauty is a great choice for an outstanding line of skin care especially if you're on a tighter budget and the serums come with the sets. I'm actually sitting here thinking very seriously about making Meaningful Beauty one of my top 3. They have great products, outstanding customer service, and they've been around for over a decade and have a ton of very happy customers. If you're torn between the two, tell me more about your skin and the issues you're trying to treat and I'll be happy to help you decide. They are both GREAT choices. Thanks! Rachel~WomensBlogTalk.com
Was this question helpful to you?
5 out of 5 people found this question helpful.
---
Q: So the Christie Brinkley is not good? I have used Life Cell before so which is the best in your opinion? -Peggy
A:
Hi Peggy, there are a ton of scams who use Christie Brinkley's name to sell their bogus products. She does actually have a legit skin care line (authenticskincare dot com) however I've tried her products and I didn't like them at all. They smell like Raid bug spray and irritated my eyes. Lifecell is probably better suited for mature skin with deeper wrinkles. I also like Cindy's Meaningful Beauty a lot! You can't go wrong with either one. Meaningful Beauty is a 5 step skin care line so you get everything you need. Lifecell is just the cream, so if you just want a cream go with Lifecell, or if you like the idea of using products that work nicely together, go with the Meaningful Beauty.  Hope that helps! Rachel
Was this question helpful to you?
4 out of 4 people found this question helpful.
---
Q: It seems to me that everything I have tried does not work for me. Do you have any photos and results of a person in their 70s who smoked for 30 years that this has worked for? My wrinkles are mainly around my mouth which I was told was due to my years of smoking. Otherwise many people think I am in my late 50s. I have also been a model for testing skin care products which they were trying to get on the market but I did not see a change. -Sindi
A:
Hi Sindi, thanks for your question. I don't have any before and after pics of anyone using Cindy's skin care in your situation. But did you read the Facebook comments when I posted about her skin care? The link is in my review. I had hundreds of women chime in to tell me they LOVED her skin care and have been using it years and years. Like 5, 8, 10 years of happy customers. I've never had a response like that about any skin care so to me that speaks volumes. Women seem to love Meaningful Beauty and are having great results or they wouldn't still be using it. My skin became really soft once I started using it, and those wrinkle smoothing capsules are awesome! It wouldn't hurt to give it a try, if you don't like it after the first shipment, just call and cancel. The cost is $39.95 for the five piece set. Rachel ~WomensBlogTalk.com
Was this question helpful to you?
5 out of 7 people found this question helpful.
---
Q: How do you pay for your Cindy Crawford box -Crystal
A:
Crystal, you would need to visit the Meaningful Beauty website at meaningfulbeauty.com and choose the package you want, and then enter your address and credit card info to ship. Rachel
Was this question helpful to you?
3 out of 3 people found this question helpful.
---
Q: Hi Rachel, I was wondering what skin care would be best for me. I have been searching and searching trying to not get scammed. I am 28 years old,and I have terrible crows feet and alot of laugh lines. I want to diminish my wrinkles. I heard about christey brinkleys line and now Cindy's line. I was wondering what one would be better or if there are other ones out there that would work. Also in regards to the auto ship that cindy requires how does that work? Thanks so much for your time -Jessica
A:
Hi Jessica, thanks for your question. Meaningful Beauty works just like this (I love the line!): if you buy the 5-piece set for $39.95, they'll also send you two free gifts (be sure and opt for the Glowing Serum and the Wrinkle Smoothing Capsules - they are awesome. They'll bill you right away for the $39.95. The sizes they send are not "travel sizes" they are quite large and plenty for a month. After 30 days, if you have not called to cancel, they send you a 90 day supply and the containers are larger. Then every month, they will bill you another $39.95 and they spread out those payments over the 90 days. They have a money back guarantee and great customer service, I've actually started/stopped just to test them. It's US based help desk. Christie's line is actually awful and there's so many scams pretending to be selling her creams you don't know what you're getting. It smells like Raid bug spray and bothered my eyes. Cindy's line is wonderful for sensitive skin and leaves skin really soft. Her products are great. I would give those a try and if you don't like them just be sure and cancel before 30 days is up. You can still return that for a refund. Good luck and let me know if you have more questions. ~Rachel
Was this question helpful to you?
2 out of 2 people found this question helpful.
---