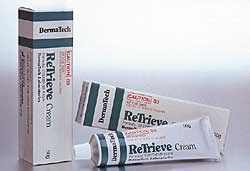 ReTrieve Cream Review – How Strong Is It?
ReTrieve Cream is used for those with dry and sun-damaged skin. It uses an acid form of Vitamin A as the main ingredient to help give back a youthful look by regrowing the outer layer of skin on the face.
How ReTrieve CreamWorks
ReTrieve Cream main ingredient is called tretinoin, which is the acid form of Vitamin A and is available by prescription only.
An alternative to prescription grade Vitamin A would be an anti-aging cream containing retinol, such as Kollagen Intensiv.
It works on the skin by helping to regulate the growth and regeneration of the outer layer of skin on those who have dry or sun-damaged skin. It is not meant to be used as a daily cream but only used for a few days at a time.
It includes the following ingredients along with tretinoin; cetyl alcohol, isopropyl palmitate, glyceryl stearate, sorbitan stearate, polysorbate, disodium edetate, tocopheryl acetate, retinyl palmitate, methyl and propyl hydroxybenzoates, diazolidinylurea, propylene glycol and water.
ReTrieve Cream Benefits
It actually takes off the damage that has been done to the skin and helps regrow new, healthy skin
There is a website on the Internet has explained about the product and its side effects thoroughly
You only use a small amount daily
ReTrieve Cream Drawbacks
There are a lot of side effects associated with ReTrieve Cream, including extreme sun sensitivity
Not everyone may use this product due to the strength of it
It can only be purchased with a prescription
Not recommended for sensitive skin
Where to Buy ReTrieve Cream
ReTrieve Cream can only be purchased through a doctor or online with a prescription.
Recommendation
ReTrieve Cream seems to be a very potent product and will help you if you have severely dry or sun-damaged skin.
There was no data posted about any clinical studies performed on ReTrieve Cream, though it is to be assumed there have been studies performed if you can only purchase this product with a prescription.
There are a lot of side effects and a lot of warnings if you are using this product, which causes a lot of people to not be able to use ReTrieve Cream.
If this cream is prescribed to you by your doctor, read all of the information on it carefully before you apply it to your skin. It is supposed to be used sparingly for the first few days and then as your skin gets used to it, it can be left on for longer.
If you are eligible to use ReTrieve Cream, it may work very well on your skin.
Have You Used ReTrieve Cream? Leave Your Review Below!
Our #1 Choice for Anti-Aging – Lifecell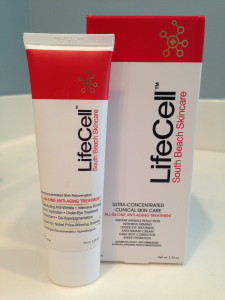 I haven't found a product yet that makes wrinkles vanish quicker than Lifecell – it works instantly to smooth those wrinkles!
Lifecell's Nobel Prize winning ingredients is unmatched, and you can try it for FREE for 30 days!
Read my Lifecell review here or visit the Lifecell website  

How Women Found This Review:
and retrieve cream, and retrieve cream reviews, and equal2hz
Click here to submit your review.
---
ReTrieve Cream Review – How Strong Is It?
Hi.....I have been using this cream for at least 8 years and I highly recommend it.... I'm 60 years of age and have been told constantly I look in my early 40s I have no wrinkles I keep out of the sun which is important when using this cream and always use a sunblock.

---
ReTrieve Cream
ReTrieve Cream Review – How Strong Is It?
I have been prescribed this cream for a sunspot. I have been using for approx. 5 weeks now and almost gone. Also using for sun damage on my décolletage and it is working like a dream. I don't use every night but at lease 3-4 times per week. I really love this cream.

---
Acne
ReTrieve Cream Review – How Strong Is It?
Hii
I have acne nd pigmented skin from ladt 6-7 years.. now m using retrieve cream from 1 month...I have no sign of improvement..even lokks more ugly face.. what should I do???

---
Retrieve cream
ReTrieve Cream Review – How Strong Is It?
I've been using retrieve as a night cream for 4 yrs at least, maybe longer. I love it, my skin is better than before I started using it, I am nearly wrinkle free and my skin is so clear. I'm 56 & fell my skin looks much younger due to this cream. I am vigilant about using broad spectrum una and uvb cream every day of the year and I reapply after exercise, summer, winter, always.

---
Retrieve cream
ReTrieve Cream Review – How Strong Is It?
I am approaching 60 and have been using Retrieve cream daily for over two years. My skin has never been finer nor clearer and is more youthful than it was a decade ago.

---
Great for me.....
ReTrieve Cream Review – How Strong Is It?
I was prescribed ReTrieve Cream for Rocasea . I had been taking Minomycin ( antibiotic ) daily for a few years which is not advised long term. 8 months ago I decided to stop the antibiotic and try the ReTrieve. It has been a great success for me , I have had no acne in 8 months. I am extremely careful with this product due to possible side effects, fortunately for me - none. My skin looks fantastic and I am constantly being told so. ??

---