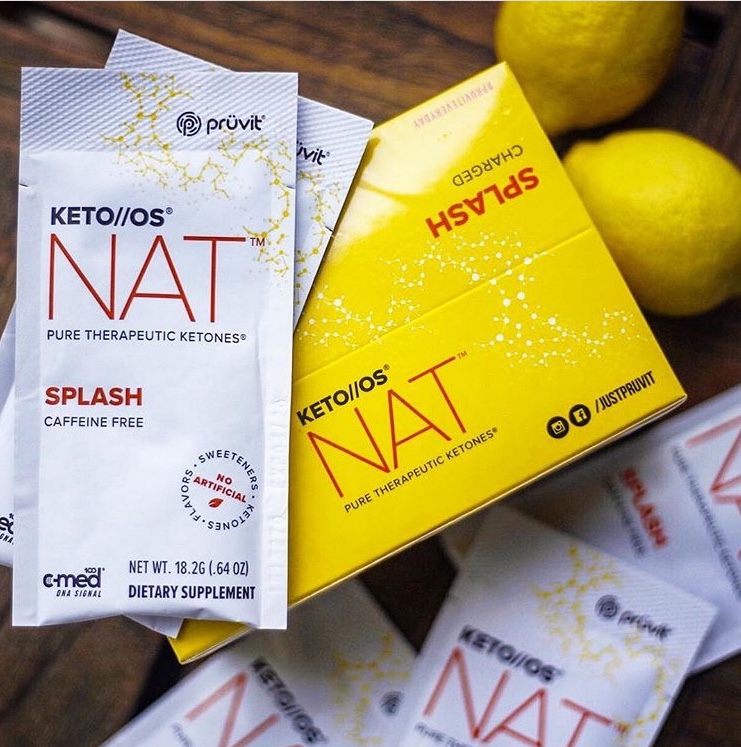 Keto NAT by Pruvit – All Natural Fermented Ketones (NEW!)
Pruvit's New Keto NAT
Pruvit released its new Keto NAT formula at its recent Keto Kademy event in Dallas, TX.  The new Pruvit Keto NAT™ trademark stands for Nutritionally Advanced Technology.
This next generation technology makes Keto NAT the first of its kind all natural exogenous ketones, bioidentical to the ketones your body makes.
Using a unique and proprietary all natural fermentation process, this new ketone technology brings greater bioavailability for maximum absorption.
Keto NAT is now a Pruvit mainstay!
All previous Keto Max flavors are now in the new Keto NAT formula – even BETTER!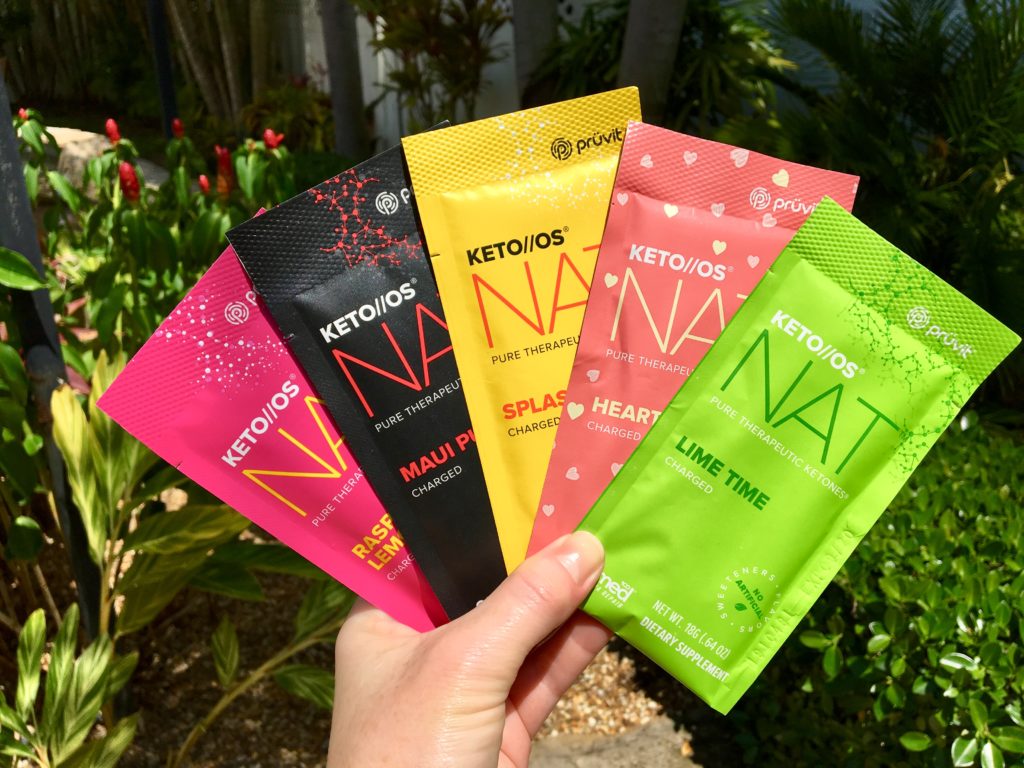 Keto NAT Details
First of its kind all natural pure therapeutic ketones
All natural fermentation process
Better Bioavailability/Quicker Ketosis
Increased appetite suppression
Favorable fat loss
Contains C-Med 100 (AC-11 DNA Repair)
Supports healthy cell function
Extends DNA telomere length
Rapidly repairs DNA
Elevates essential amino acids
Dairy-free and Gluten-free
Boosted immune function
Better performance
Keto NAT was released in two flavors to start: Raspberry Lemonade and Splash.
Now, all Pruvit Keto//OS products are in the NAT formula.
Comes in Charged (with caffeine) and Decaf
Keto NAT Ingredients
N8 Max NAT Blend 12.6 g –
KetoNAT™ (R-Beta Hydroxybutyrate, L-Taurine, Fermented L-Leucine, C-Med 100).
Other Ingredients: Erythritol, Citric Acid, Natural Flavor, Rebaudioside A (Stevia extract), Vegetable Juice Color, Xanthum Gum, Beta Carotene, Caffeine (if Charged version, Decaf available).
Charged Keto NAT Caffeine equivalent to a 16 oz coffee.
Supplement Facts – 
Calories: 45
Total Carbs 5 g
Sugar alcohol 4 g
Net carbs 1 g
Vitamin B6 294%, Vitamin B12 4167%, Calcium 270 mg, Sodium 910 mg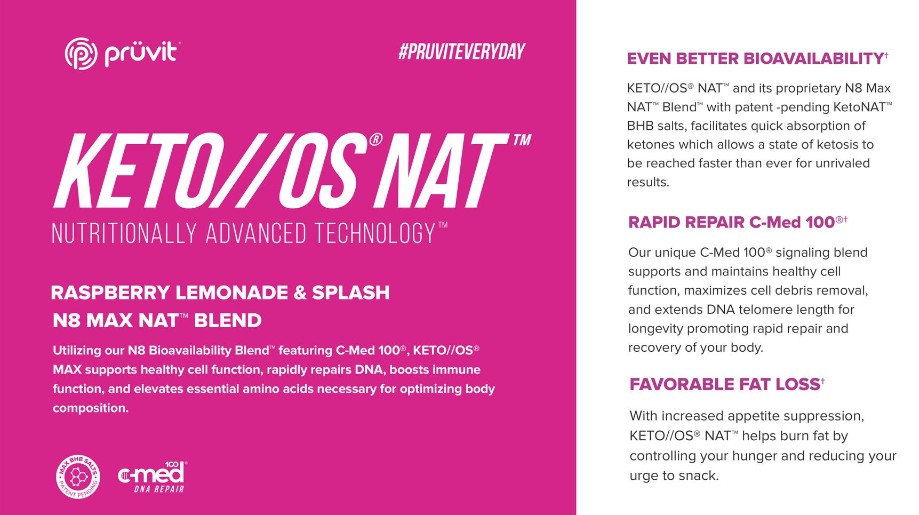 What is C-Med 100?
Pruvit ketones have been advancing for some time and the additional of AC-11 in the new Keto Max and Keto Kreme formulas was one such advancement.
C-Med 100 is the new trade name for the AC-11 DNA repair (Inner Bar of Uncaria Tomentosa) and Keto NAT contains a proprietary amount of C-Med 100.
The Keto Reboot Kit also contains AC-11 within its Signal OS pills.
What is R-Beta Hydroxybutyrate?
Beta Hydroxybutyrate (BHB) is the ketone body found in exogenous ketone supplements which are typically bound to salts and minerals. Pruvit's Keto OS, Keto MAX and Keto NAT formulas are all a bit different. (What are the effects of BHB? Link to study)
Pruvit's original Keto OS formula used a racemic blend of ketone salts using both the D+L isomers, and some with MCT.
The Keto Max formula used single isomer BHB which are bioidentical to the ketone bodies your liver makes. This is one reason why Keto Max was a much stronger formula, roughly 40% stronger than the OS. It has a quicker uptake, quicker spike and is more rapidly absorbed.
The new Keto NAT formula is a Max upgrade – more bioavailable and should provide a stronger effect i.e. more energy, better appetite control, and better performance. And there are no chemicals used to process the BHB – they are fermented.
There are no other exogenous ketones supplement on the market with this technology. Keto NAT is Pruvit's patent pending formula. 
Keto NAT vs Keto Max
The Keto NAT flavors have the same great taste as Keto Max, but the NAT gives me a little more energy, focus and the appetite suppression is better.  I love these benefits!
Since writing this I've tried the Fairy Dust, an amazing sugar plum/apple flavor, the new Unleashed Ruby Rush which is a ruby red grapefruit flavor, Unleashed Eclipse which tastes like blackberries, and the Keto NAT Celebration which is a pear flavor.
The new Keto Unleashed line is the NAT formula but is is amped with 30% more ketones + caffeine. Amazing all-day energy and high ketone levels!
When Will Keto NAT be for Sale?
Keto NAT is now the mainstay Pruvit formula and most of former favorite Keto Max flavors are now available in the new Keto NAT formula.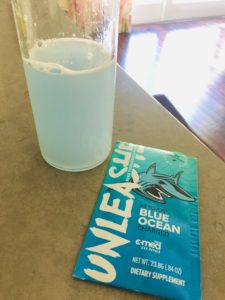 Please read my full Pruvit Keto//OS Review for more info on how to use therapeutic ketones. Pruvit's Keto OS and Keto Max are products I've been utilizing for almost 3 years with great results!
This is my personal review. This content is not the opinion of Pruvit Ventures, Inc. Pruvit Ventures, Inc, is not responsible for any of the information, view, or opinions expressed on this page. Please visit their official site for details. You can find links on this page. I am an independent Pruvit Promoter.

Disclaimer: These statements have not been evaluated by the Food and Drug Administration. Prüvit products are not intended to diagnose prevent treat or cure any disease. If you are under medical supervision for any allergy, disease, taking prescription medications or you are breastfeeding contact your medical provider before adding any new supplements to your daily regimen.
How Women Found This Review:
and NAT KETONES, and keto nat, and pruvit ketones
User Questions and Answers
User Questions and Answers
---
Q: what is the mg of c-med-100 in each packet? it also states very small on the back..."must be consumed with SIGNAL/OS for DNA repair". What is signal/OS? Is that already in the packet? Thanks! -kate
A:
Hi Kate, great question! c-Med100 is a new trade name for the AC-11 DNA repair element in Pruvit's products. You can read my blog post about AC-11 here. From the research I've done,  I believe there's 350 mg or less of AC-11 in a Keto NAT. Hard to say exactly since they don't list the exact mg since it's a proprietary formula (I've done some pretty thorough investigation on this subject).

Some studies show further benefits (ie. DNA telomere length) with 750mg of ac-11, thus the notice on the Pruvit packages. AC-11 is a pure water-soluble extract with an impeccable safety record that you could take a lot more of, but benefits seem to peak around 750 mg. 350 mg to 750 mg is the recommended dose with study data showing benefits. Most companies will not use 750 mg due to cost.

The Signal-OS pills from Pruvit also contain AC-11 but those are currently only available in the Keto Reboot kits, and not yet as a stand alone product. Signal OS pills also contain 350 mg of AC-11 (I'll attach a picture here of the Signal-OS ingredients label). However, you can purchase pure AC-11 (same source as Pruvit's) from Healthycell.

They offer Healthycell AC-11 pills, and I take the Healthycell Pro which is a multivitamin, they both have about 350 mgs AC-11 in each pill.  While it's certainly not required to supplement with additional AC-11 to receive a great benefit from Pruvit's products, if you're interested in maximizing the anti-aging benefit, then it's something to consider.

Hope this helps. I'm sure Pruvit will offer the Signal-OS pills by the bottle at some point, they recently did in the Keto Reboot Excel kits but those aren't available this month.

Thanks for your question, and feel free to email me directly if you want to chat further. My email is [email protected]. xo Rachel
Was this question helpful to you?

---
Q: Does it matter what time of the day you drink it? -Gina
A:
Hi Gina, some people like to drink first thing in the morning and then another serving early afternoon.. Others just drink it when they need the energy! Like after lunch for sustained energy the rest of the day. You can drink it anytime. I personally like to use it as an intermittent fasting tool and as a preworkout supplement, it gives me great energy all day no matter what I'm doing, I conquer the day with no crashes! Rachel
Was this question helpful to you?

---
Q: I understand that we should have Keto- Nat every morning. What is he product available when we are sick, or have to miss a meal that replaces a meal? Do you have Keto Nat for am and also Keto Nat for pm? Obviously, I am new, but want to order the correct starters. Thanks -Linda
A:
Hi Linda, there is a charged Keto NAT (with caffeine) for morning/daytime use and there's a decaf version you can use if you want a second serving, or if you're just sensitive to caffeine or avoiding it. Pruvit doesn't really make a meal replacement product per se, but the Keto Pro is great for a snack or as a post workout meal to hold you over. It's decaf and contains ketones, MCT, and protein. NAT and Pro are my two favorite products! You can check out what's available for sale here. The Top Picks box would be an amazing first purchase - so many yummy special flavors they don't normally sell as a mixed box. Thanks! xo Rachel
Was this question helpful to you?

---
Q: What does the Celebration flavor taste like? -Diann
A:
Hi, it tastes like pears. :)
Was this question helpful to you?

---
Q: I have an intolerance to gluten. Can I use this product? -Nichole
A:
Nichole, Keto NAT and Keto Unleashed are gluten free, dairy free, vegan and no artificial colors or flavors! Hope you'll give it a try! ~Rachel
Was this question helpful to you?

---