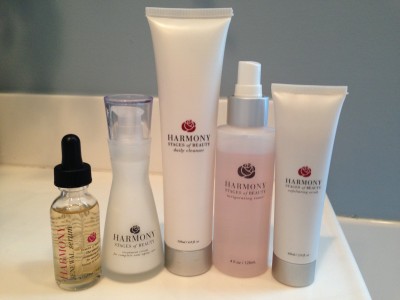 Stages of Beauty Review – Does It Work?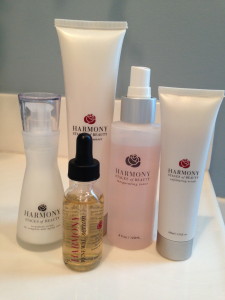 Stages of Beauty is a boutique skin care line with age specific product lines for your 20′s, 30′s, 40′s & 50′s (Radiance, Harmony, Elegance & Grace).
The "Harmony" line is for women in their 30′s and is unique to their skin care needs such as dullness, discoloration, and decreasing collagen production – the leading cause of wrinkles.
Each Stages of Beauty line includes a daily cleanser, exfoliating scrub, invigorating toner, renewal serum, and treatment cream which all work in sync with one another for a complete beauty routine which will leave you feeling pampered.
What's nice about having age specific products is that they are precisely in-tuned to what your skin needs at your particular age since your skin changes over the course of a lifetime.
Stages of Beauty promises great results in a short amount of time (in as little as two weeks) so I decided to try the "Harmony" line to see how it worked for me.
What I really like about Stages of Beauty is the quality of anti-aging ingredients and the overall "experience" using the products (appearance, texture, feel, smell), even the packaging is nice.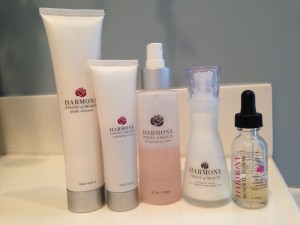 How Stages of Beauty was Formulated
I was immediately intrigued by the idea of a skin care line manufactured with the biological changes of your skin in mind.
There are no sulfates, parabens, petrochemicals, phthalates, GMOs or synthetic dyes in any of the product and they are dermatologist tested for safety, 100% fragrance free, formulated for sensitive skin and never tested on animals.

Step 1: Stages of Beauty Harmony Daily Cleanser – Cleanse & Brighten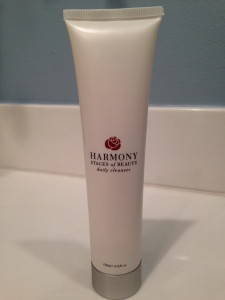 The Stages of Beauty Harmony Daily Cleanser feels very luxurious and lathers up nicely into a soft and silky texture.  It gently removes dirt, oil and makeup while evening out your skin tone by brightening and nourishing with fruit extracts high in anti-oxidants which protect and repair the skin.
The Harmony cleanser moisturizes, soothes and rejuvenates and contains effective ingredients including evening primrose oil and meadowfoam. It also helps fight the signs of aging with monk's pepper berry and rhubarb extracts encouraging a balanced, glowing complexion with increased hydration (more on monk's pepper berry in Step 5).
I found that a little bit of the cleanser goes a long way…I use less than a dime sized amount and it's plenty to cleanse my whole face, neck and chest.
I also use it to cleanse my eyes and it is extremely gentle causing no irritation. This is important to me in a cleanser, I don't like using makeup remover because it always seems to sting my eyes or leave an oily residue and cause my eyes to turn red.
Step 2: Stages of Beauty Harmony Exfoliating Scrub – Reveal Fresh Cells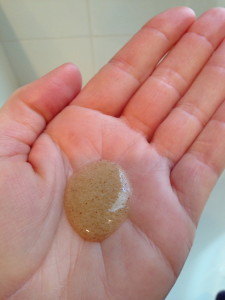 I can't stress enough the importance of exfoliating which you should do 2-3x per week.  You need to remove the dead layer of cells from your skin to encourage new cells to take their place, otherwise your skin will look dull and lifeless, and collagen production will not be encouraged.

Once you hit your 30′s, your skin's ability to regenerate itself is reduced by 50% so it needs a little help! Exfoliating encourages your skin to regenerate itself by removing dead cells and allowing fresh, new cells to rise to the surface revealing a much more youthful appearance.
It also enables your skin to breath so your anti-aging products are able to find the pathways to penetrate at a much deeper level rendering them more effective.
The Stages of Beauty Harmony Exfoliator has an invigorating blend of bamboo micro particles within its ingredients as well as pomegranate seed powder as its main physical exfoliating agent which go to work immediately to slough off dead skin cells.
The base of the product is chocked full of a blend of fruit extracts and seed oils which are not only effective, but soothing to the skin, including Camelina Oil which repairs and calms. If you've ever used Origin's "Never a Dull Moment" it's very similar in texture without the stickiness.
It also contains glycerin which aids in hydration as well as sugar and citrus extracts with natural occuring AHA's, reducing the appearance of wrinkling while smoothing and softening the skin. 
Perhaps the most notable ingredient within this exfoliant's impressive blend of fruit enzymes is Açaí Fruit Oil, a super berry with the ability to heal and moisturize since it's able to penetrate the skin deeply and quickly.
Step 3: Stages of Beauty Harmony Invigorating Toner – ph Balance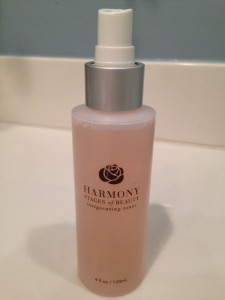 After cleansing and exfoliating, a toner is an important step in an anti-aging routine because it brings your skin back to the correct ph level which also helps to allow better absorption of products applied afterwards, and it's very refreshing!
The Stages of Beauty Harmony Invigorating Toner contains ingredients which balance and rejuvenate the skin using citrus antioxidants which help repair damage, while soothing wildflower botanicals and peptides help promote cellular renewal and fight fine lines and wrinkles.
I found this to be a very soothing toner leaving my skin feeling refreshed and balanced, and with the pump sprayer there is no spillage.  It contains no alcohol so it doesn't leave you with that stinging, burning feeling that many toners do.
A good toner is meant to "balance" your skin to the proper ph level, not strip it of its natural oils with harsh ingredients. It's the perfect prelude to applying the next step, which is the Renewal Serum.
Step 4: Stages of Beauty Harmony Renewal Serum "The Ultimate Revitalizing Serum"
After cleansing, toning and bringing your skin to the perfect ph balance, your skin will be properly primed for the anti-aging serum to be absorbed at the optimal level to bring results, and I think you'll love this serum.
The best part about this serum is how is feels being applied to your skin, it's like a refreshing drink of water! It's very light and liquidy and it's good to dab a bit just underneath your eyes as well.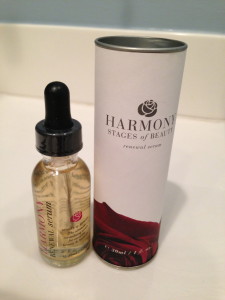 The quality and texture of this serum is amongst the best that I've ever used. It absorbs fully into your skin leaving no tacky residue and immediately calms the skin, providing essential moisture to immediately plump up wrinkles.
Since serums have much smaller molecules than a cream, it's able to absorb on a much deeper, cellular level which is very important in an anti-aging product.
This is the step that will make the most difference in wrinkles, texture and tone of your skin! And I love the fact that it comes in a glass bottle, keeping it fresh longer.
The Stages of Beauty Renewal Serum ingredients include a potent blend of active peptides and proteins and is specifically formulated to fight the processes that affect the quantity and quality of collagen as we age.
The serum acts in all three stages of the collagen life cycle to reduce the appearance of fine lines and wrinkles, while restoring a radiant and youthful glow.
The serum works extremely well to even your skin tone, reduce discoloration, fight wrinkles and protect against free radical damage. It contains Hyaluronic Acid  and Sea Botanicals which play a critical role in moisture retention, rapidly repairing skin damage and reducing the appearance of fine lines and wrinkles by smoothing and plumping the skin while also very calming and soothing.
Just like all the other steps in this product line, I use the serum twice daily, in the morning and at night, after cleansing and toning. The convenient dropper allows you to dispense just the right amount, about 4 drops per application and that's enough for your face, neck and chest.
Step 5: Stages of Beauty Harmony Treatment Cream – Complete Anti-Aging Care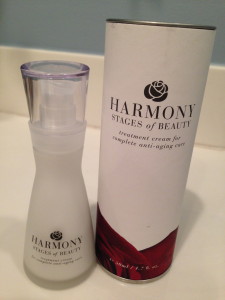 The final step is the Stages of Beauty Harmony Treatment Cream, a light weight and potent anti-aging moisturizer that plumps, firms, and fights all signs of aging.
Its ingredients include a powerful blend of peptides, algae and seaweed extracts, ceramides (water binding agents) and of course our best friend in a moisturizer: Hyaluronic Acid.
Did you know that Hyaluronic Acid can hold 1000x its weight in water? It helps your skin retain its moisture!
My skin does really well with this cream, it's very moisturizing and absorbs quickly, and makeup application is flawless after this final step. I have combination skin, and sometimes I can tend to be shiny by the afternoon with moisturizing products, but the treatment cream leaves my skin feeling supple, smooth and hydrated all day long with no greasy residue.
Stages of Beauty Treatment Cream uses "Microsphere Technology", which are small spherical particles that absorb oil, reduce shine, and provide a soft focus effect to reduce the appearance of imperfections.
And remember I mentioned "Monk's Pepper Berry Extract"? This is a high powered antioxidant complex shown to help dramatically improve the vitality and appearance of the skin, specifically fighting all signs of aging, increasing hydration and promoting a radiant healthy glow!
Furthermore, a triple peptide blend helps reduce dark circles, puffiness, and bags under the eye. It helps to activate the elimination of pigments responsible for dark circles and local inflammation while helping improve circulation in the area and improving firmness and elasticity of the skin.
The Stages of Beauty Harmony Treatment Cream really packs an anti-aging punch and I've been impressed with my results so far based on the softening of my wrinkles and a more evened skin tone free from redness and irritation.
It also comes in a comes in a glass bottle with a convenient pump (keeping its peptides fresh and contaminants out) which I love, and I'd like to mention that the directions call for 4-5 pumps per application and I only use 2 (I feel like 4 or 5 would be too much).
My Stages of Beauty Results and Recommendation
After using Stages of Beauty Harmony line for 6 weeks, I am very happy with my results and overall experience and found it to be very luxurious and very effective as a complete anti-aging system of skin care.  I have noticed an overall improvement in my skin tone -it seems lighter and brighter – and a renewed smoothness in the texture of my skin – it just feels softer.
I experienced no side effects from any of the products, no stinging, burning and no break outs. On the contrary, these products proved to be extremely soothing and great for my sensitive skin and I started seeing results after just a few applications.

Stages of Beauty is suitable for all skin types. I have no doubt that the other lines are just as fabulous so you should purchase according to your age group. They do use many of the same ingredients across the lines, adjusting them as needed but there are many differences as well targeting the specific ages of the skin.
The full Stages of Beauty Harmony Line for all 5 products will cost you $197.95, which is not bad for an entire skin care line! You can also buy each product individually but I recommend using the whole system as the ingredients in each component compliment one another nicely. Stages of Beauty will definitely be part of my regular routine for its effectiveness and enjoyment in using!
The only thing the Stages of Beauty line is missing is an eye treatment. I feel that Skinception's Eyelasticity Eye Therapy would compliment this line perfectly since it's very light serum that's gentle on the eyes and fragrance free.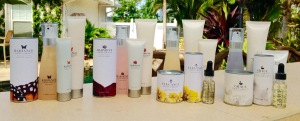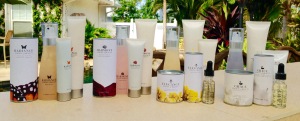 Have you tried Stages of Beauty? Leave your questions or comments below!
How Women Found This Review:
and stages of beauty
User Questions and Answers
User Questions and Answers
---
Q: Hi I have been trying to get a hold of some grace moisturizer and can't seem to find any HELP!! -Marie
Was this question helpful to you?

---