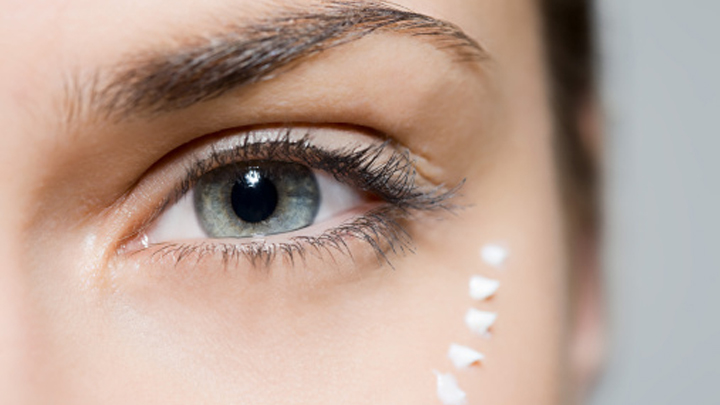 Why is a Separate Eye Treatment Important?
One of the earliest signs of aging can be seen around the eyes, so you must take care of this delicate skin starting early on. I'll never forget the first eye product I used when I was 18 – Clinique's Cooling Eye Gel.
I always loved the cooling factor and it worked well to reduce puffiness (my only complaint at that age), even though it had a bit of a tacky residue which gels can sometimes leave.
As I began to age, I started to notice those fine lines and wrinkles popping up around my eyes, and I realized that I needed something stronger, so I stepped up my game and started using serums and creams made specifically to target the eye area.
Let me tell you, it has made a difference over the years! I am now in my early 40's and I don't even want to imagine what my wrinkles would look like had I not taken care of my skin, especially the eye area.
Prevention is key, and continual pampering of the delicate eye area is imperative to keep your wrinkles at bay and your eyes looking young and perky!
Eye Treatments Put To the Test
Since every woman has different needs, we have rated our top eye treatments based on how they worked for:
Reducing Wrinkles
Reducing Under Eye Puffiness
Alleviating Dark Circles
Smoothing and Firming the delicate skin around the eye
Texture, because an eye treatment should feel soothing and be irritation free
My #1  Eye Treatment – Skinception Eyelasticity  Age-Defying Eye Therapy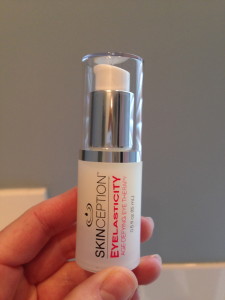 Price:  $59.95
Read My Personal Review On Eyelasticity…
Skinception Eyelasticity Website
Skinception's Eyelasticity Age-Defying Eye Therapy is my #1 choice for an eye treatment and works quickly and effectively to diminish the signs of aging and nourish the entire eye area.
It has a series of clinically proven active ingredients that boost elastin and collagen production while improving lymphatic circulation.
This works to drain away excess water and fight puffiness at the root of the problem. It also works very effectively to lighten those hard to treat dark under eye circles.
This product has eyes looking more youthful in as little as 14 days, smoothing away wrinkles, laugh lines, softening crows fee and transforming the delicate skin around the eye area to look more firm and youthful.
Skinception products all boast the most recent developments in skin care technology while using no parabens or synthetics, instead blending patented peptides like SYN®-COLL and Pro-Coll-One® with natural skin care ingredients like shea butter and retinol.
This particular eye treatment is well suited for women who have fine lines and wrinkles, under eye bags, dark circles, puffiness, and works very effectively to diminish all of these at once.
Eyelasticity comes in a bottle with a pump applicator which dispenses the perfect amount for your eye area with a little going a long way, while preserving the product's freshness.
Skinception's Eyelasticity worked very well for me, with my problem areas being puffiness in the morning, and fine lines and wrinkles. It's also gentle enough to use right on my eyelids to immediately diminish crepy lids!
I have extremely sensitive eyes (blepharitis/ocular rosacea) so using a product that doesn't irritate my eyes is very important!
Click Here to read my full personal review of Eyelasticity
My #2 Eye Treatment – Meaningful Beauty Eye Enhancing Serum & Lifting Eye Crème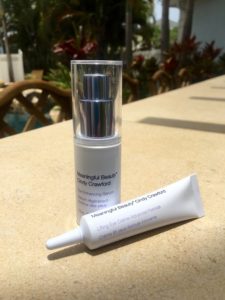 Price: $49.95 (for a 5 piece skin care set + 2 free gifts)
Read My Personal Review On Cindy Crawford's Meaningful Beauty…
Cindy Crawford's Meaningful Beauty has TWO eye treatments that I love using together. This powerful duo is my #2 recommended eye treatment!
The Eye Enhancing Serum is a nourishing lightweight creamy serum full of antioxidants and a unique dipeptide which helps reduce the appearance of deep set wrinkles and crow's feet while fighting off oxidative stress which causes premature aging.
This is a cream I can pat both underneath my eyes and right onto my eyelids and it works quickly to hydrate, plump and smooth out the delicate eye area.

The second treatment which I use on top is the Lifting Eye Crème. This is a multi-functional product designed to visibly reduce the appearance of puffiness and dark circles as well as smooth, lift and firm the eye area.
Using the Eye Enhancing Serum together with the Lifting Eye Crème gives me a great result and instantly makes my eyes look younger, hydrated and perky. They also create the perfect foundation to apply your primer or eye shadow for flawless looking eyes.
If you've read any of my reviews, you would know that my eyes are extremely sensitive and Meaningful Beauty is fragrance free, made with sensitive skin in mind.

The only downside to this recommendation is that these products aren't sold separately. For $49.95 you'll receive a 5 piece skin care set which will include the Lifting Eye cream, and one of the free gifts is the second eye product, the Eye Enhancing Serum, along with the Glowing Serum.
Cindy's Meaningful Beauty is a great deal for someone looking for not just an eye treatment, but an entire skin care collection that works beautifully together.
Click Here to read my review of Meaningful Beauty
My #3 Eye Treatment – Revitol Eye Cream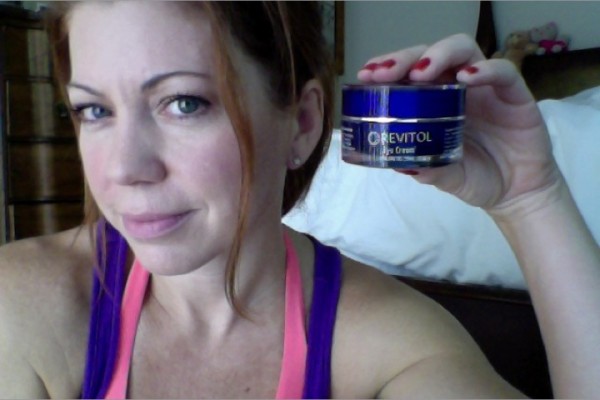 Price:  $39.95
Read My Personal Review on Revitol Eye Cream…
Revitol's Eye Cream is my #3 choice for an eye treatment and is highly moisturizing. You'll notice that my top two choices are serums, but if you prefer a creamy moisturizer, then you will love Revitol Eye Cream.
In my personal experience with using Revitol, I have noticed a marked improvement in the fine lines and wrinkles underneath my eyes, and it also helps to quickly reduce puffiness in the mornings – which are my two main complaints with my eye area!
Another reason why I love this product, is how it feels when you put it on. It has a nice light and creamy texture, which is absorbed quickly into the skin to give you that soft and supple feeling. It is not greasy, nor does it give you that feeling that it's sitting on top of your skin.
It works immediately to sooth your delicate eye areas, smoothing out lines and wrinkles, reducing puffiness, and giving your skin a nice foundation and protection for the day.
While I do prefer a more serum-type eye treatment like my top 2 choices, Revitol Eye Cream is a nice cream offering an alternative and a bit less expensive than the others.
Click here to read my full personal review of Revitol Eye Cream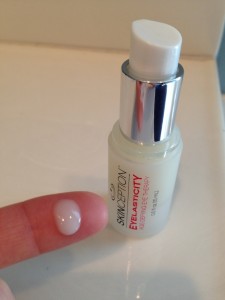 Skinception's Eyelasticity is a creamy, fast absorbing serum that works quickly to reduce puffiness, plump up fine lines and wrinkles, and lighten dark circles.
Fragrance free, no parabens, no synthetics and comes in a pump which keeps it fresh and free of bacteria.
It feels amazing and works fast to give you younger, more perky eyes!
Click here to submit your review.
---
Great for aging skin
Top 3 Eye Treatments
I'm 63 and I love these products and won't use anything else. My skin is softer and the Ultra Filling and Lifting Serum and Wrinkle Smoothing Capsules sure make a difference to smooth out my wrinkles! I do feel younger since I've been using. I love that I can swap out products for my shipment if I want to try something new like a face mask. She has a lot to choose from. Customer service is excellent and I'm a picky consumer.

---
Meaningful Beauty
Top 3 Eye Treatments
I love that you've made it your top product. I've been using Cindy's products for four years and my skin has never looked better. Your spot on with your review, her two eye treatments work great. My problem is puffiness and dark circles and these products have made a difference. I'm not crazy about the spf day cream but I'm sure it's making a difference as well. Nothing ages skin like the sun. ~Deb

---
Eye cream scam
Top 3 Eye Treatments
Hi Rachel, Thank you for the information about the eye cream scams. Unfortunately for me I had ordered the free trial before I saw your blogs. However, I just ordered 3 days ago and maybe I cant stop the future charges to my credit card. The company is called Revyve Skin. I looked it up and found they have two different addresses in Nevada. If I cant get them to cancel any future orders, I will definitely cancel my credit card. Thanks again for you insight.

---
Elite Serum works miracles for eye bags
Top 3 Eye Treatments
Rachel, thanks for your thorough review on Elite Serum. I have severe dark circles and puffiness and I am impressed with how quickly it works. You were right that it depuffs very quickly and feels as gentle as water going on. My dark circles are becoming lighter each day. Nothing has worked this well so thank you.

---