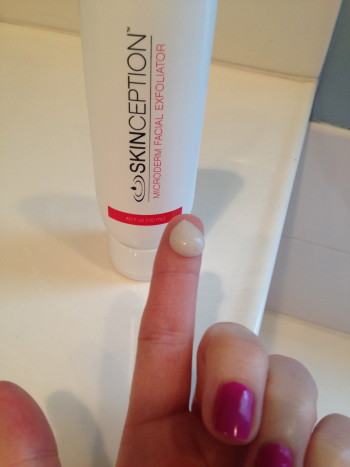 Skinception Microderm Facial Exfoliator Review – Microdermabrasion Results?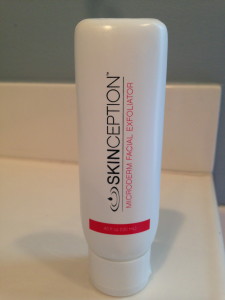 Note: This is my personal review, Click HereClick Here to visit the official Skinception Microderm Facial Exfoliator website
If you want your skin to look younger, there are a few steps that should be essential in your skin care routine and one of them is exfoliation.
It is important to remove the dead skin cells that build up on the outer layer of your skin and to unclog pores so your skin can breath and allow fresh new cells to rise to the surface. Exfoliation is the key to this process.
As the body ages, the skin's natural ability to do this on its own slows down, so you need to to encourage your skin to shed those lifeless cells, so they are replaced with fresh healthy cells.
Washing with a good cleanser is important, but exfoliating a few times per week is imperative to an anti-aging skin care regimen and for youthful looking skin.
Skinception Microderm Facial Exfoliator:  Microdermabrasion At Home
If you've ever had dermabrasion or microdermabrasion at a Dr.'s office, you know that the results are immediate:  soft, glowing skin and a feeling of youthful rejuvenation when you look in the mirror. While both treatments are quite simple and have no down time, they come with a high price tag.
During Dermabrasion, the Dr. uses a high-speed instrument with an abrasive wheel or brush to remove the outer layers of your skin. In the less aggressive option, Microdermabrasion, tiny crystals are sprayed onto the skin to gently remove the outer layers leaving the skin softer and brighter.
Skinception Microderm Facial Exfoliator is the closest thing to microdermabrasion that I've experienced without the high costs associated with it. In fact there is no reason why I would ever pay for those treatments again, I get the same results at home exfoliating 2-3 times a week as part of my normal skin care regime.
If you're familiar with my reviews on this site, then you know that there are very few products which I actually give accolades to as being part of my personal skincare routine, but this exfoliator is one of them.
I've been using this product for over a year now, and it is one of my favorites because it makes such a big difference in the overall texture and appearance of my skin. It also creates a fresh palette which allows my skin to receive the most benefits from my anti-aging moisturizer.
As a side note, if you've never heard of the Skinception line of products, they are a boutique line of natural skin care with a number of great products all boasting with the most recent developments in skin care technology while using no parabens or synthetics.
Click here to learn more about Skinception Microderm

Benefits of Using Skinception Microderm Facial Exfoliator
With a crisp and light citrus scent, Microderm Facial Exfoliator is a stand out product, and I attribute that specifically to the fine grit of the exfoliant, the anti-oxidant ingredients, and the results I've experienced.
Skinception Microderm Facial Exfoliator has superior exfoliating properties packed full of fruit enzymes that work to penetrate the skin on a deeper level to reveal the youthful skin that is just underneath the surface of all those dead skin cells.
Removes dull, lifeless skin cells
Reveals soft, youthful, healthy skin
Fights blemishes by unclogging pores and allowing skin to breath
Reduces dark spots by encouraging new skin cells to grow
Creates fresh skin for better penetration of other skin products (i.e. moisturizer, anti-aging, or acne products)
Skin will be less dry and more supple
Deep exfoliation smooths fine lines and wrinkles
As effective as microdermabrasion
Won't break the bank, $39.95 for a 4 oz bottle
90 day money back guarantee, and this is NOT a "free trial"
Skinception Microderm Facial Exfoliator includes fruit enzymes from the extracts of: Billberry, Garcinia, Pomegranate, Goji, Acai, Chilean Wineberry, Chokeberry (all of which have anti-oxidant properties), Morinda Citrifolia (a tree in the coffee family which helps to lighten and brighten), and soothing Lavendar.
Also, extracts from Grapefruit and Orange peel gives it a wonderful aroma and also aids in exfoliation while removing excess debris and oil.
Click here to see a picture of the ingredients in Skinception Microderm
Why the "Grit" of an Exfoliator is Important
When you choose an exfoliator, or when you've tried them in the past – what's the first thing you noticed about the product? It's how the grit of the exfoliator feels and whether it feels like it's exfoliating "deep enough" without damaging or scratching your skin of course.
While you don't want it to feel quite like sandpaper, you don't want it to feel too gentle either (like soft waxy beads doing more massaging than exfoliating).
You want it to pack a punch to remove those dull, dead layers of skin and reveal that glowing skin that's underneath!
The "grit" or texture of Skinception Microderm Facial Exfoliator is very effective and feels like fine, crystallized granules which do a very thorough job at exfoliating. 
Mixed in with the fruit enzymes, it has a very effective mix of "grit" which lends itself well for a deep exfoliation, and will leave you feeling like you just had dermabrasion at the Dr.'s office.
Click here to learn more about Skinception Microderm Facial Exfoliator benefits
 My Results Using Skinception Microderm Facial Exfoliator and Where to Buy
Using Skinception Microderm Facial Exfoliator has allowed me to step up my game when it comes to anti-aging. It works effectively to deeply exfoliate the outer layers of my skin which allows for new, fresh skin to surface.
Since I've been using it, I've noticed an increased softness and more youthful appearance in my skin, fine lines and wrinkles around my mouth and lips have diminished, brown spots along my jawline have decreased, and I no longer have any dry or flaky skin, ever! 
It also allows my anti-aging moisturizing treatment to work more effectively as it's able to absorb more deeply into the layers of my skin. I also use this product on my neck and décolleté for optimal anti-aging, and any leftover product I give my hands a little mini scrub which leaves them soft.
I highly recommend this product based on my personal experience and results using it, and also based on the price and the quality of the ingredients.
Skinception Microderm Facial Exfoliator is not found in retail stores or drug stores, however it can be purchased easily from their official website.
Click here to visit the official Skinception Microderm website
Skinception is offering a 1 month supply of Microderm Exfoliator for $39.95, with a 3 month's supply at a discount for $99.95 – a savings of $20!
Interested in other Skinception products? Here are a few of my latest reviews:
Have you used Skinception Microderm? Leave your questions and comments below!
Click here to submit your review.
---
High Quality Product
Skinception Microderm Facial Exfoliator Review – Microdermabrasion Results?
I'm loving the Microderm exfoliator - it works extremely well! It leaves my face really soft and I feel like my acne scars have improved. I use 3x per week. It's a huge bottle so will last a long time.

---
Microderm for acne scars
Skinception Microderm Facial Exfoliator Review – Microdermabrasion Results?
This product is amazing. I have bad acne scarring and wanted to improve the tone and texture of my skin. I've been using this product 3 times per week and I've seen a big improvement. My skin is softer with a more even tone. The scars seem not as deep as they were. It exfoliates very effectively. You weren't kidding when you said it's as good as microdermabrasion. I can save a lot of $$$ by just using this.

---
User Questions and Answers
User Questions and Answers
---
Q: Can it be use daily instead of 3 times per week? Will there be any outbreak if it was used daily? -Jocelyn
A:
Jocelyn, you can it you're gentle, you don't want to over exfoliate... that'll do more harm than good. Rachel
Was this question helpful to you?
1 out of 1 people found this question helpful.
---
Q: I've been using obagi skin care for 13 years. I've had great results, but would like to try a new line, or mix lines.i buy on line, so it's reasonable. I still have some of their retinol product left. I would like your affordable and best recommendations for face wash ( does this really matter?) than I'll admit I'm confused between when I use retinol products, AHA Products, and serums, and gee which one (s) the right one for me. I'm in my early 50, with deeper lines around my mouth, nice skin tone, but wrinkles are showing up and skin is losing it's once tautness. Thanks! -Joy
A:
Hi Joy, thanks for your questions. It does get confusing when it comes to skin care especially when you're talking about retinols vs. AHA's. My best advice would be to try each separately (for a couple weeks each), with a very gentle pH balanced cleanser, and see which one brings you the best result.  Obagi is a great line but they do include a lot of the bad chemicals. I reviewed their face wash after using it a while and discovered it had 5 different parabens in it. You can read my review here.

I much prefer the Image line vs. Obagi if you're comparing medical grade lines. If you're up for something totally different to try, you could try my top cream, Lifecell. It is a membership, and the best part about it is getting the other free skin care that comes along with it. The Lifecell pH balanced cleanser is amazing, it's very calming and leaves skin supple. It's a great cleanser to use in combination with retinols or AHA's.  I would cleanse, apply your topical retinol or AHA, then apply Lifecell on top. Lifecell is great for deeper lines because it also acts as a filler so it smooths out wrinkles really nicely. If you also have a serum for added moisture, apply that over the AHA and under the Lifecell. Let me know if you have any more questions. Rachel ~WomensBlogTalk.com
Was this question helpful to you?
1 out of 1 people found this question helpful.
---