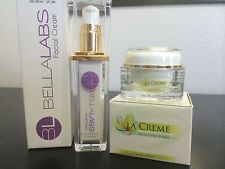 Bellalabs and LaCreme Combo – Ellen Degeneres and Dr. Oz Wrinkle Cream Scam
The Truth Behind the Bellalabs and LaCreme Combo Offer
By now you may have run across numerous ads and fake news reports with headlines such as "Ellen's Backstage Skincare Secret – Her Anti-Aging Trick Finally Exposed" or "I wish I would have watched the Dr. Oz show sooner" as if he is recommending these creams (not!).
These misleading ads quickly lead you to a combo skin care offer for short term free trials (14 days) of Bellalabs Instant Wrinkle Reducer and LaCreme Anti-Wrinkle Cream.

This is perhaps one of the biggest skin care scams running at the moment, so I wanted to take a closer look at this combo offer to reveal the truth behind these products and the tactics they're using to sucker people into buying not one, but two separate anti-wrinkle creams.
They suggest that by using one in the morning and one at night, that it brings "revolutionary" results, when the truth is they just want you to sign up for both free trials, which are not exactly "free." And any trial that is only 12 or 14 days is a HUGE red flag for these scams.
Does Ellen Really Use Bellalabs and LaCreme? And Does Dr. Oz Recommend it?
You've probably seen the before and after picture of Ellen Degeneres, and the claims that her age defying results came from using both of these creams, but it's nothing but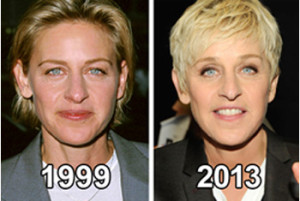 misleading advertising.
They also report it in a manner like it's a huge secret since she's still under contract with Cover Girl "Shhhh don't tell Covergirl."
They even link to a youtube video where Ellen jokes about starting to use eye cream and how it runs down her cheeks and gets in her eyes, but no where in the video does she say that she's using Bellalabs or LaCreme.
She's merely joking about being a klutz when it comes to applying eye cream in general. It's just a ploy to keep you on the page and make it "appear" that it's linked to the story.
There are countless variations of these ads on multiple different websites that have completely different looks, but they all lead to the same free trial ads to Bellalabs and LaCreme.
There's also a multitude of before and after pictures of various women with seemingly fake quotes alluding to these creams being "Dr. Oz recommended" when in fact they are not. Under a picture of Ellen, a caption reads "Dr. Oz calls it – the miracle anti-aging breakthrough – because it works!"
Let me tell you – Dr. Oz is possibly the MOST plagiarized person on the internet! He does not have a skin care line, so if you see an ad that says "Dr. Oz recommends this cream" – run quickly.
A Rundown of Bellalabs and LaCreme – Do They Even Work?
What these ads all seem to have in common is the story line that follows "One night, "Brenda" made an accidental discovery that would revolutionize the whole skin care industry: she combined them."
Let's take a closer look at what these two creams promise and their ingredients to see if they are really "revolutionary."
Bellalabs Instant Wrinkle Reducer promises to be the last moisturizer you will ever need.  According to their website, using  Bellalabs will plump and rejuvenate your skin for lasting beauty.  With their special formulation, you will see a 400% increase in moisturization in less than three days and a 200% increase in firmness after just a week.  And you will notice a 70% reduction of fine lines after just four weeks of use.
From what we can decipher, Bellalabs relies on two proprietary formulas to achieve these incredible results. First is the Elastin Formula, which includes peptides that turn back the effects of aging at the cellular level by reducing the appearance of wrinkles.
Next is the Collagen Formula which produces younger-looking skin within minutes of application which smooths, plumps, and firms your skin. Bellalabs also contains Vitamin E, an antioxidant to help protect skin from free radical damage and doubles as a rich moisturizer to help keep skin well-hydrated and looking soft and dewy.
LaCreme Anti Wrinkle Cream's website claims their product is "better than botox" and that you'll see an 83% decrease in wrinkles and fine lines, a 92% increase in collagen production, and a 65% decrease in the appearance of dark circles but it doesn't mention a time frame in which this will occur.
The only mention of ingredients for La Creme is that it includes peptides which helps reduce fine lines and wrinkles, promote collagen production, add skin firmness, and replenish vitamins and antioxidants.
Now, it's hard to compare products when the companies don't actually provide the actual ingredients, but at first glance, their ingredients seem very similar:  peptides and collagen boosters.
While both are advantageous ingredients within a wrinkle cream, I wouldn't call it "revolutionary" nor do I like the fact that they don't provide a full list of their ingredients and suggest that you need both creams to get results.
Furthermore, what's true for both of these products is that they claim there are clinical trials, but in fact there are none! If there were, they would provide the direct links to the clinical trials within their website, like Kollagen Intensiv does!
The Headache that a Short Term Free Trial Can Bring to an Uninformed Customer
So you've gotten to the page to accept your free trial offer for LaCreme (we'll use them as an example) and you only have to pay $4.95 for shipping yayyy!
Hold on a minute, did you read the terms and conditions? Probably not because they're buried on the bottom of the page. Did you give them your bank information and shipping address? Yes, because you were required to.
If you did read the fine print, you would've learned that you have 14 days from your original order date to see if LaCreme is right for you.
So you receive the cream maybe 12 days after ordering, use it for a couple days, and WHAM, your credit card is billed $87.63 for the initial order, you don't notice it, and then 30 days later (and each month thereafter) you're billed another $87.63 and sent another tub of LaCreme.
Bellalabs has the exact same terms and conditions, the price is the same, everything is the same. The problem is, for one the free trial period is only 14 days which is hardly enough time to make an informed decision if you like the products, and two, you may not have realized what you signed up for, and three, these two companies are notorious for being impossible to reach to cancel your free trial. Just take a look at the customer complaints sited on pissedconsumer.com.
Conclusion
Bellalabs and LaCreme are running very deceptive marketing campaigns to make you believe that Ellen Degeneres is using these creams and that they are her secret weapon to anti-aging, along with misleading quotes that allude to Dr. Oz recommending these products, both of which are false advertising.
I couldn't find any information on Ellen's or Dr. Oz's websites supporting or even mentioning Bellalabs or LaCreme.
While these two creams appear to be of decent quality (although hard to determine because they don't provide the ingredients) and would probably do a fine job at simply moisturizing, they seem to have very similar, if not identical ingredients so there's no reason you would need to order both.
It seems to be just a ploy to sucker you into signing up for not one, but two short-term free trial offers. I highly recommend you save your money and steer clear of the Bellalabs and LaCreme combo offer.
Recommendation
Don't accept free trials of this nature, it's always better to buy a cream outright that has a money back guarantee.
My top cream Kollagen Intensiv is very effective, I've used it for over 4 years with great results! It's worth a look.
Have you used Bellalabs or LaCreme? Leave your comments or questions below!
How Women Found This Review:
and bellalabs and la creme, and bella labs and la creme anti wrinkle cream, and bella labs, and Dr Oz Miracle Wrinkle Cream, and bella labs anti aging serum, and dr oz wrinkle cream combo
Click here to submit your review.
---
Prima belle
Bellalabs and LaCreme Combo – Ellen Degeneres and Dr. Oz Wrinkle Cream Scam
Scam scam they took 300.00 dollars 138 and 139 for 2 small little jars that they charged me to send them to me and supposed to have canceled next day after I received them don't try free trials or give you're debit card because bank won't refund you're money if you accepted the free trials so don't buy sitting that's tell you it's free.im so mad .

---
Packaging and free trial or of the worst parts
Bellalabs and LaCreme Combo – Ellen Degeneres and Dr. Oz Wrinkle Cream Scam
The worst thing about this product is the really small amount of it you actually get for your money. When no more cream would come out of the bottle, there was no way to get inside it to get all the product that the suction tube was missing. I cracked it open with a hammer and was appalled to see how much product still remained on the sides of the plastic insert inside the plastic bottle that would never have been dispersed through the pump / suction tube - a good few tablespoons. Absolutely no way to access it unless you take a hammer and crack the top off like I did. With a plastic tube or a jar that most creams are dispensed in, you can easily use up every last bit of it by cutting one end off the plastic tube. Just sayin!

---
Bellalabs and LaCreme Combo – Ellen Degeneres and Dr. Oz Wrinkle Cream Scam
this is def





This is truly a scam. I never received the products after months and they took the monies from my account. I definitely would not trust them.They would not after getting my money credit my card back or send me the merhandise. They said they had shipped the items but they had not. A BIG SCAM THEY ARE!

---
Read the reviews
Bellalabs and LaCreme Combo – Ellen Degeneres and Dr. Oz Wrinkle Cream Scam
I cannot believe how many people are disappointed in this and that Ellen put her name behind it it is such a shame because so many people believed in her and it is such a scam for so many people that don't have money to go in and get this done it's just want to look beautiful shame on you Ala Ellen it's really too bad that you would do this to the people who really thought so much of you

---
Bellalabs and LaCreme Combo – Ellen Degeneres and Dr. Oz Wrinkle Cream Scam
I did try the product...and it did ok for me. I was amazed when a make-up artist in the department store notice my skin and ask me what I am using...Bellabs facial cream is better than the La Creme for my experience.

---
Ridiculous scam
Bellalabs and LaCreme Combo – Ellen Degeneres and Dr. Oz Wrinkle Cream Scam
This is unbelievable to me. They charge you $1.95 for a 14-day trial then, the day after the 14-day return period is up, they hit your credit card for $98.41 -- it seems they sent a 30-day supply for which you now owe. I bought two "free samples" and they charged my card for $200 and they won't reverse the charge because I inadvertently accepted the 30-day samples. Can't believe I fell for this. Horrible people.

---
Bella Gold A BIG SCAM
Bellalabs and LaCreme Combo – Ellen Degeneres and Dr. Oz Wrinkle Cream Scam
This is absolutely a scam. Exactly what was stated about accepting and not knowing that my card would be credited without me authorizing an order is correct. I have only used this for (1) week, no instructions inside and today I look and I have money taken from my account. I am returning this and am reporting them to the BBB immediately and anyone else my bank suggests to put them on notice. If their product was any good; they would not have to work this way.
Lastly, there weren't even any instructions in the box discussing best way to use.
I hope plenty of people read this review as the are SCAM ARTISTS.

---
bellalabs
Bellalabs and LaCreme Combo – Ellen Degeneres and Dr. Oz Wrinkle Cream Scam
Actually found bellalabs when I was looking at a hilarious review of some stupid phone camera lens that claimed to have better image quality than a DSLR! It was obviously directed towards idiots who believe that kind of crap... I google maps'd the address and bellalabs came up... also found shadowhawk flash lights are also related... who knows what other products.. They are all bullshit scams that will steal your money...

---
Bellalabs and LaCreme Combo – Ellen Degeneres and Dr. Oz Wrinkle Cream Scam
Just read all the bad English on the webpage. I will not be buying the product.

---
Lacreme
Bellalabs and LaCreme Combo – Ellen Degeneres and Dr. Oz Wrinkle Cream Scam
Got taken for a ride. Company charged 4x more than they said the amount would be. Do not trust this company or Bella labs !disregard the 1 star. Had to do that to be able to submit

---
User Questions and Answers
User Questions and Answers
---
Q: How do I contact your company -deann moore
A:
Deann, hi...it's certainly not my company! :) I just wrote a review to warn people about Bellalabs and LaCreme since it's a scam. Bellalabs phone number is: (877)767-9942. LaCreme's phone number is: (855)464-4015. Call them each individually right away and cancel your trial. Rachel~WomensBlogTalk.com
Was this question helpful to you?
13 out of 14 people found this question helpful.
---
Q: How do I stop more aging cream coming from the Dr. Oz commercial after the 30 day trial, any phone number? -Lani downing
A:
Lani, call your bank and ask for the number of the company who is billing you.
Was this question helpful to you?

---