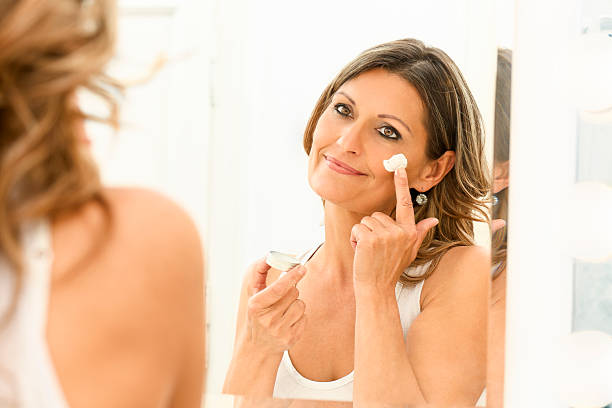 You'll Love my Top 3!
Let's face it, you've probably gone through tons of anti-aging creams with a similar promise…to reduce or even eliminate wrinkles.
Over the years, I've tried a plethora of creams that have turned out to be decent moisturizers, but do little for any real anti-aging effect.
You should also be realistic about your expectations with skin care, but a good one can definitely help keep your skin look and feel nourished, smoother, and more youthful looking.
I have sensitive, maturing skin that is often dehydrated and I battle with hyper-pigmentation (dark spots and melasma). I am also getting crepey skin on my neck and chest, no doubt from sun damage over the years.
So let's get to it!
What Makes My Top Creams Stand Out?
Long term and immediate benefits
Quality, strength and effectiveness of ingredients
My personal experience using these products
Reputation of manufacturer/customer service
Good for all skin types, even sensitive skin
Cruelty-free, no animal testing!
No harmful chemicals like parabens, phthalates or petroleums – clean beauty!
1. Lifecell Anti-Aging Treatment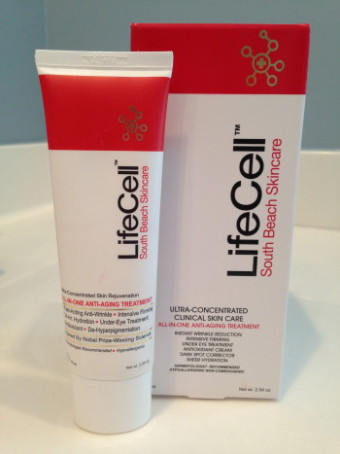 Read my personal review of Lifecell
Lifecell anti-aging treatment cream is something I've used for many years with great results! There's not too many products I would say give me instant results, but this is one of them.
Lifecell is like having 7 products in one! It's a simple solution for those who don't want a multi-step skin care routine. Literally just cleanse your face and apply Lifecell all over your face, lips, and even eyes!
My favorite thing about Lifecell is that it instantly gives you a more youthful look by smoothing out wrinkles.  It is the perfect primer for makeup, it makes things so smooth!
Lifecell is not just an instant wrinkle smoother – it's a multi-faceted treatment cream and packs a punch with anti-aging ingredients like DMAE (what is known as the "facelift in a jar"). It reduces dark spots, evens skin tone, plumps lips, and also doubles as an eye treatment.
Lifecell is a fabulous product for all skin types – even sensitive skin (like me).
The reason Lifecell is my #1 choice is quite simple, it works fast! It gives you the instant gratification of having smoother skin plus provides longer term anti-aging benefits that just keep improving over time with continued use.
2. Beautycounter Countermatch Adaptive Moisture Lotion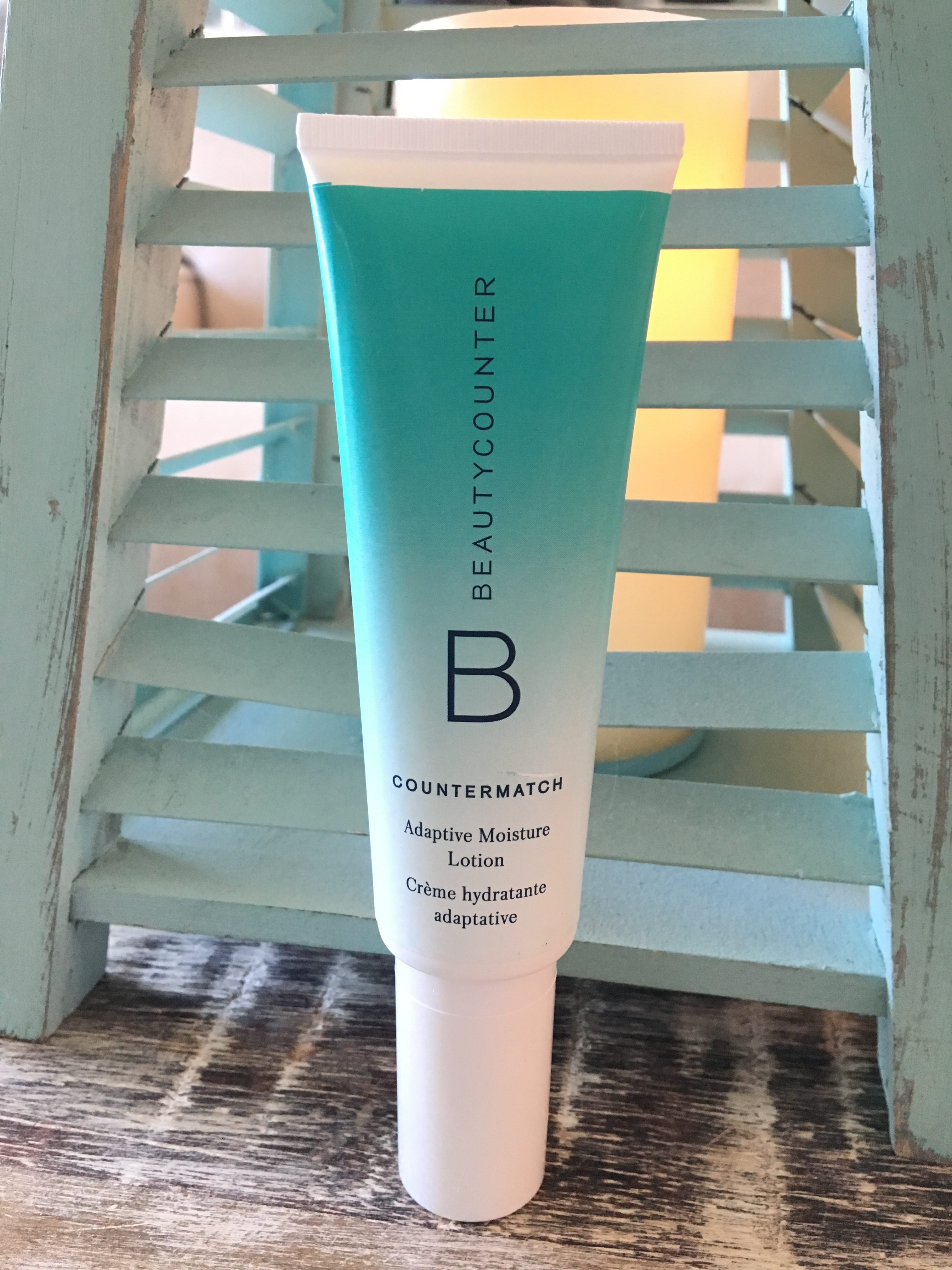 Read my personal review of Countermatch
View Countermatch on Beautycounter
Be sure to check out my Top 10 Beautycounter Favorites here!
Plant based, clean beauty at its best and suitable for all skin types, both day and night. 
Beautycounter Countermatch Adaptive Moisture Lotion is lightweight and helps the skin adapt to varying conditions by adjusting hydration and oxygen levels as you need it. Quit simply, it feels amazing on the skin! 
Bio-Mimic Technology captures the unique life-giving properties of plants to exactly match the structure of skin, giving it precisely what it needs and nothing it doesn't.
Countermatch gives me the perfect amount of hydration with its smooth, silky feel and light, natural smell (no added fragrance), plumps and smooths wrinkles, and reduces redness.
I love that it comes in a pump to preserve its freshness (no dipping your fingers in a tub) and easy to pack.
Beautycounter's mission is one of safer skin care: they simply do not use ANY toxic ingredients.  They adhere to a Never List of ingredients and they never test on animals.
2. Image Skincare Vital C Hydrating Repair Crème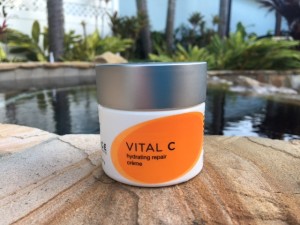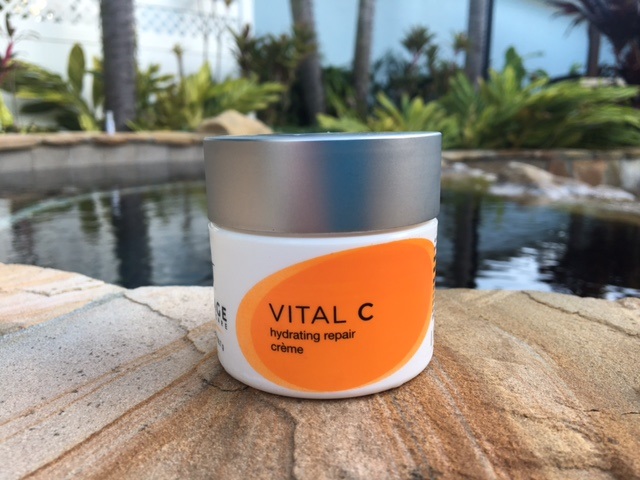 Read my Personal Review of the Vital C Line
Shop Image Skincare on their official Amazon Page
I've used Image Skincare for several years now, and they simply don't make a bad product – and they don't use harmful parabens! 
Image Skincare is medical grade with high concentrations of effective ingredients. Until recently, you could only purchase from a med spa or Dr.'s office. Vital C is their best selling and most popular line!
And the truth is, I have many favorites, and you'll see many Image Skincare products featured on Women's Blog Talk as top recommended products, all well deserved!
But as far as a daily anti-aging moisturizer that is great for all skin types, I could recommend this cream to anyone and they'd do backflips out of sheer happiness for how good their skin will feel and look.
Calms redness and irritation

Supports collagen synthesis and cell renewal

Nourishes and provides antioxidant protection

Intensely hydrates and provides lasting moisture
The Vital C Hydrating Repair Creme is packed full of powerful antioxidants. Formulated with high concentrations of Vitamins A, C, and E, this is a  daily moisturizer that nourishes and protects the skin for daily anti-aging benefits while promoting cell renewal.
The Vital C line is made for all skin types, dry/dehydrated, sensitive/rosacea, sun damaged/sun burned, oily/acne, Eczema, and post treatment skin.
3. Perfectly Posh – Moisturize 911 + Cann I Be CBD

Caffeinated face cream with Vitamin C for an energized complexion.
The Posh Moisturize 911 cream is one of their best sellers and is a fantastic moisturizer at a GREAT price point.
Perfect for normal/combo and oily skin types who crave hydration over oils in a water-based, vegan formula.
What makes it special is that it contains caffeine which immediately tightens the skin and vitamin C to lighten, brighten and hydrate. Soothing aloe and citrus essential oils also promote a radiant complexion.
While the Moisture 911 can be used just on its own as a daily moisturizer, I use it by mixing a few drops of the Posh Cann I Be CBD oil with it.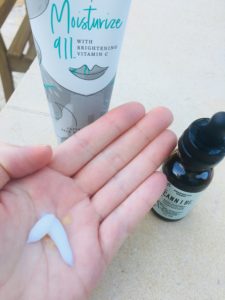 CBD is AMAZING for your skin. CBD has anti-inflammatory and skin healing properties and it's also great for acne prone skin. It gave my skin an added boost of moisture with no shine, cut the redness, and SHRUNK my nose pores!
It's easy to use, you just mix 4-5 drops of the Cann I Be with a little bit of the Moisture 911 and rub it together and just apply like any other moisturizer.
Cann I Be is a fabulous product you can use to enhance any Posh face or body products. I also love mixing it with the Fresh Creamy Milk Body Butter! It takes your pampering and relaxation to a whole new level!
How Women Found This Review:
and dermaliv intensive wrinkle reducer, and dermaliv reviews, and Nourish antiaging neck cream reviews, and revive derma review
Click here to submit your review.
---
Thank you Rachel!
Top 3 Anti-Aging Creams
Beautycounter does an outstanding job at smoothing wrinkles, I went for the Countermatch cream. I'm 54 and I really notice a big difference, my skin is much smoother when I use it and putting on foundation just looks better all around. The cream is gentle and has a nice slip to it. Thanks for the rec!



---
Kollagen Cream
Top 3 Anti-Aging Creams
Before using Kollagen skin cream, I always doubted if it really worked for those who allegedly changed their lives after using it. This was, I suppose, mainly because I had tried almost everything I could to do away with those ugly marks on my face. Thankfully, I was motivated after reading some unbelievable reviews by some users and decided to give it a try. I love it!



---
Countermatch Cream cleanser
Top 3 Anti-Aging Creams
Hi! I know it's not on your top list (maybe you have a different section for skin cleansers?) but I LOVE the Beautycounter Countermatch Pure Cleansing Milk - it feels great going on and leaves my skin so supple. I follow with the Countermatch lotion. My skin has turned around for the better.



---
Lifecell Anti-Aging Treatment
Top 3 Anti-Aging Creams
This is just awesome. It starts working from the beginning. Also, it works instantly. Love it!

---
Beautycounter
Top 3 Anti-Aging Creams
Best line for my skin ever! I love the Radiance serum, it leaves my skin glowing! And you can't beat the Rejuvenating cream for nighttime use. I really like that these products are safe to use, no bad chemicals.



---
Beautycounter skincare
Top 3 Anti-Aging Creams
I've been using this line for several years and love all the products. My skin looks better now than it ever has. They leave your skin soft and are very gentle. I use the Countermatch collection and sometimes use the Cleansing Balm. They feel great and my face always feels silky smooth and never dry. I'm 32 and my skin has always been combination.



---
Kollagen Intensiv is fantastic
Top 3 Anti-Aging Creams
I just received mine a couple of weeks ago and it's really helped calm my Rosacea and give me an even tone. Love the feel of it. Very soft and absorbs well.

---
Kollagen for older skin
Top 3 Anti-Aging Creams
Rachel, I ordered your top cream Kollagen Intensiv two months ago, and I am really happy how it's working for me. It's softened all my wrinkles, especially around my mouth and forehead, and it feels great and reduces puffiness underneath my eyes. I just wanted to thank you for your recommendation! I really have been enjoying your blog. Thank you for suggesting good products that work! Now if you could recommend something for my flabby thighs, that would be great -ha!

---
Beautycounter Countermatch
Top 3 Anti-Aging Creams
Can't live without it. I've been using it 2 years and my skin looks amazing. Love, love, love these products!



---
Kollagen Intensiv for redness
Top 3 Anti-Aging Creams
This product really helps the redness calm in my skin. I have borderline rosacea so I need calming products that don't irritate. This is a good one to try. Love the feel of my face now it's very soft and smooth.

---
User Questions and Answers
User Questions and Answers
---
Q: is there a review for ReviveDerma -sharyne
A:
Sharyne, avoid Revive Derma like the plague, it's a scam. I just went to their website and read the 1 mile long terms and conditions, arbitration waivers, class action lawsuit waivers, all this you must agree to to order the "10 day free trial + 4 days shipping" product. They will bill you $89.95 on the 14th day. I found typos throughout, and where they give their hours of operation where naturally a phone number would be, there was none. No list of ingredients, etc. It has all the indicators of every other short-term wrinkle cream I come across daily. You're smart to ask! Rachel~WomensBlogTalk.com
Was this question helpful to you?
29 out of 33 people found this question helpful.
---
Q: Has anyone 73 years old used any of these products? If so which one? Thanks! Glad you wrote about all the scams# -Anna Maria
A:
Anna Maria, hopefully some others will chime in to answer your question, but I will say that I feel like most of the women who email me about Lifecell are mostly over 50, with most probably being in their 60's or 70's. It's really a product that is best suited for someone who is in need of an advanced wrinkle treatment since it has a "filler" quality as well as anti-aging benefits. I think it would be great for someone your age. My mother in law also uses it and loves it, she's 62, and my mother as well, she's 67. However, I'm 43 and it's definitely a remarkable product for my skin as well. I'm getting fine lines around my eyes, and also on my neck and chest and it helps to camouflage them. Thanks for your question!  Rachel~WomensBlogTalk.com
Was this question helpful to you?
26 out of 27 people found this question helpful.
---
Q: Never bought online but did with SkinCompleRx trial and was told by friend that they will send you full amount with full price after you try it automatically cause they have your credit card info. Is that true should I return it before using? It said site discontinued now already! Do you know about this sort of thing? -kat
A:
Kat, this is one of those short term wrinkle cream scams I write about. Once people catch on, they flip to links to different creams, so that's why it disappeared. You should call right away and cancel. They will probably be charging you full price on the 12th or 14th day (day 1 is the day you order) so keep a close eye on your credit card statement. All these scams run about $93. I can't find anything under the name "SkinCompleRx" Rachel~WomensBlogTalk.com
Was this question helpful to you?
13 out of 13 people found this question helpful.
---
Q: Where do you find these products? Are they online orders only? -Debbie
A:
Debbie, you can follow the links within the reviews to the official sites for each cream. They are only sold online as of right now. Rachel~WomensBlogTalk.com
Was this question helpful to you?
11 out of 11 people found this question helpful.
---
Q: Pls recommend the best scrub n face serum to clear face blemishes n hyperpigmentation. Thks -Chrissy
A:
Hi Chrissy, sorry I'm so late getting back to you. I've been on the road and got a little backed up. I had really good results from Lifecell for the hyper pigmentation along my jaw line and it's not a heavy formula so shouldn't cause breakouts.  Are your dark spots from acne scarring or the sun? Either way it would help. I would also recommend using Skinceptions AHA Toner to help clear up your blemishes and for a good exfoliation. It's a very gentle blend of fruit acids (alphahydroxy's) so it won't strip your skin. You still need moisture even if you have acne because if you strip your skin of its essential oils, your skin will compensate by overproducing oil and that may cause more blemishes. What else have you tried for your acne? Let me know if you have more questions. Rachel~WomensBlogTalk.com
Was this question helpful to you?
6 out of 8 people found this question helpful.
---