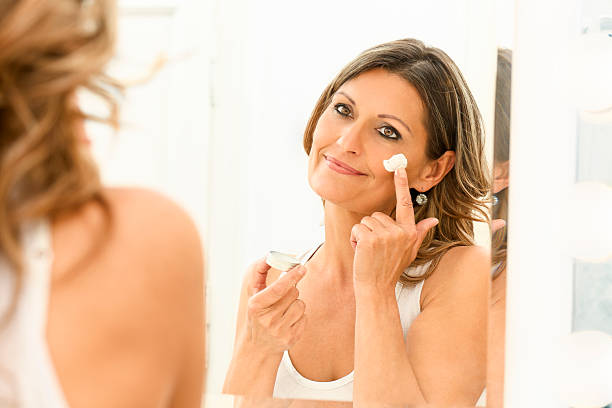 My Top 5 Favorite Moisturizers
You'll Love my Top 5 Favorites!
Let's face it ladies, you've probably gone through hundreds of jars and pumps of anti-aging products with a similar promise…to reduce or even eliminate wrinkles.
While a good moisturizer won't "erase" wrinkles altogether (don't we wish), they can definitely help you look younger by softening and plumping, improve the overall texture of the skin, and lighten those dark spots!
Having a bright, even skin tone is THE #1 thing that helps us look younger – that's why I love Vitamin C and antioxidants in skin care and ALL of my favorite moisturizers have it.
I have several favorites I'd like to share that I use on a consistent basis and enjoy using. I have sensitive, maturing skin that is often dehydrated and I battle with hyper-pigmentation and dark spots.
I love moisturizers that hydrate without leaving me feeling greasy which feel fabulous underneath my foundation! You should ENJOY using your skin care, and I enjoy using all of these!
What Makes My Favorite Moisturizers Stand Out?
Long Term and Immediate Benefits
Quality, Strength and Effectiveness of Ingredients
My personal experience and enjoyment using these products
Reputation of manufacturer/customer service
Good for all skin types, even sensitive skin
Cruelty-free, no animal testing!
No harmful chemicals like parabens, phthalates or petroleums
1. Perfectly Posh – Moisturize 911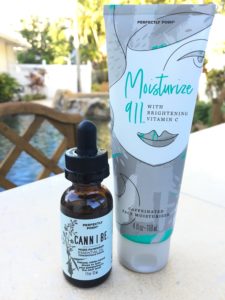 Caffeinated face cream for an energized complexion, with Vitamin C.
Price: $20
When you think of a youthful face, it's tight with an even skin tone right?
Have you ever used a product with caffeine? I hadn't, until I tried the Posh 911 Face Moisturizer and it's fabulous!
The Posh Moisturize 911 cream is one of their best sellers and is at a GREAT price point. Finding a $20 product that I love this much does not happen often!
Perfect for normal/combo and oily skin types who crave hydration over oils in a water-based, vegan formula.
What makes it special is that it contains caffeine which immediately tightens the skin and vitamin C to lighten, brighten and hydrate. Soothing aloe and citrus essential oils also promote a radiant complexion.
One of my favorite routines to perk up my skin and wake up, is to use the Posh BFF Facial Exfoliator (with grapefruit and mint which perks your senses right up!) and then follow by applying the Moisturize 911 cream.
The BFF Exfoliator is something I've been using EVERY day no matter which cream I'm using – pure love for this one! And this combo would make ANYONE happy about a skin care routine.
I also love using the Moisture 911 cream on my neck and décolletage because those areas often get neglected and I could sure use some tightening in those areas especially!
2. Perfectly Posh Cann I Be – Full Spectrum Topical CBD Oil
Price: $42 (you only need a few drops so this bottle will last a long time)
Check out my Youtube Video on using the Posh Cann I Be CBD Oil with the 911 Moisturizer – this is my new FAVORITE combo, it's working very well to soften my skin, especially the crepy skin on my neck and chest.
But who knew it would SHRINK my nose pores to be almost nonexistent? WOW! I've never experienced the anti-inflammatory and skin healing properties until now!
Cann I Be is a fabulous product you can use to enhance any Posh face or body products. I also love mixing it with the Fresh Creamy Milk Body Butter.
3. Perfectly Posh – Never Grow Up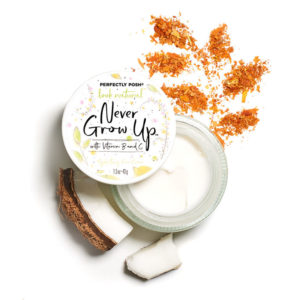 Antioxidant-loaded, daily face moisturizer.
Price: $24
Behold the Posh Never Grow Up Face Cream with Vitamin B & C!
This cream is great for dry skin and provides lasting moisture with aloe vera, coconut water and olive oil in a Shea butter, vegan base.
But don't let the fact that it's great for dry skin fool you into thinking it's got a heavy feel, it doesn't feel heavy or leave you with a shiny face!
Never Grow up contains 20 botanical extracts and 4 botanical oils to fight free radicals and prevent signs of aging like wrinkles, fine lines and uneven skin tone.
It's packed with Vitamin C which lightens and brightens the skin and has a light coconut and vanilla scent.
This cream has a soothing, protective feel that works quickly to plump and hydrate. It's GREAT for an everyday moisturizer for all skin types, but especially those who need some extra hydration!
This would also be a great choice to mix with the Cann I Be Topical CBD!
4. Perfectly Posh Defiant Gimme a Boost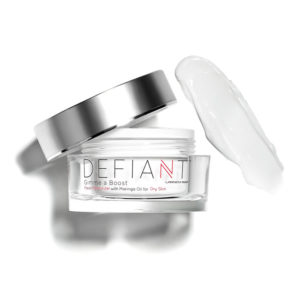 Forget your age with this moringa oil moisturizer for dry skin!
Price: $40
The Posh Defiant Gimme a Boost Moisturizer (and entire Defiant line) is specifically formulated with more powerful anti-aging ingredients that will significantly improve the look of fine lines, wrinkles and smooth and brighten an uneven skin tone.
With anti-oxidant loaded moringa and grapeseed oils, tripeptides to support younger looking skin, all whipped together in a moisturizing avocado and Shea butter base – this is what you'll want to use if you have signs of aging you want to reverse.
There are two version of the Defiant Gimme a Boost – one for Dry Skin and one for Normal/Combo Skin. Both very powerful anti-aging moisturizers and both formulated for two unique skin types.
I happen to LOVE the Gimme a Boost for Dry Skin. I generally have dehydrated skin (despite drinking tons of water) and never have an issue with oily skin or breakouts. I'm in my mid-40's so that generally doesn't happen anymore! When I was in my 30's, different story.
If your skin is more on the oily side, choose the Defiant Gimme a Boost for Normal/Combo Skin since it's a bit lighter on the oils.
Both of these creams pair perfectly by first using the BFF Exfoliator and/or the Set the Tone Balancing Toner.
5. Kollagen Intensiv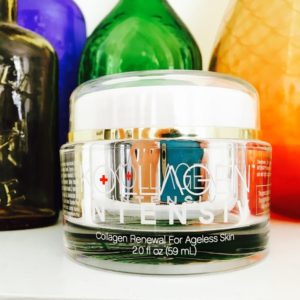 Read My Personal Review of Kollagen Intensiv
 Visit Kollagen Intensiv's Official Website
Price: $59.95
Something I've used on and off for years is Kollagen Intensiv, which was developed by researchers in Switzerland and is made by Skinception.
Kollagen Instensiv contains a unique patented peptide,  SYN®COL and is proven in clinical trials to reduce the appearance of wrinkles by 354%!  Not many creams back up their claims with clinical trials.
Kollagen Intensiv boosts collagen levels in your skin, improves elasticity, reduces redness and diminishes hyper-pigmentation.
It's a multi-purpose anti-aging treatment cream that works quickly and effectively to give you a more youthful look to your face, eyes, neck and chest.
Loss of collagen in the skin is what causes wrinkles, and our ability to produce collagen declines quickly with age.
I am in my 40's, and a loss of collagen and "plumpness" is the change I've noticed most in my skin over the past 5 years, so putting back lost collagen has become a priority for me and this cream makes a real difference.
Kollagen Intensiv is silky-feeling hydrating cream which absorbs nicely without feeling to rich or too heavy. It simply feels amazing on the the skin!
It has a light, natural smell and contains no harsh ingredients or fragrances- it's a great choice for aging, dry, sensitive skin, or rosacea.
Compared to a lot of other anti-wrinkle creams I have tried, this one gives me the right balance of moisture, plumpness, and gives my skin the perfect balance to apply my makeup.
Have questions? Or need a recommendation?
Contact me here to ask me any questions you have and I will personally respond to you. In your email, tell me about your skin! Is it dry, dehydrated, aging, red, acne, etc.? What are your main concerns with your skin?
How Women Found This Review:
and dermaliv intensive wrinkle reducer, and dermaliv reviews, and Nourish antiaging neck cream reviews, and revive derma review
Click here to submit your review.
---
Thank you Rachel!
My Top 5 Favorite Moisturizers
Lifecell does an outstanding job at filling in wrinkles. I'm 54 and I really notice a big difference, my skin is much smoother when I use it and putting on foundation just looks better all around. I've had the same tube of Lifecell for about 6 months because I tend to not use it every day, but I should. Thanks for the recommendation. What I did was just ordered the trial, and it billed me after 30 days (I knew it would because it is a membership), but I decided since I don't use it every day I would just cancel the membership. Their customer service was easy to reach and gave me no hassle whatsoever. Said if I wanted to resume at any time I could just call and I would be afforded the VIP reduced rate, so I'm sure I'll do that when I run out!



---
LifecCell Skin Cream Review
My Top 5 Favorite Moisturizers
Before using LifeCell skin cream, I always doubted if it really worked for those who allegedly changed their lives after using it. This was, I suppose, mainly because I had tried almost everything I could to do away with those ugly marks on my face. Frustrated, I was presuming Lifecell to be one of those bogus skin-care fads. Thankfully, I was motivated after reading some unbelievable reviews by some users and decided to give it a try.

---
shea butter body
My Top 5 Favorite Moisturizers
Hi! what a product! raw shea butter body lotion
Try it for sure

---
Lifecell Anti-Aging Treatment
My Top 5 Favorite Moisturizers
This is just awesome. It starts working from the beginning. Also, it works instantly. Love it!

---
Meaningful Beauty!
My Top 5 Favorite Moisturizers
Best line for my skin ever! I love the glowing serum, it leaves my skin so radiant! And you can't beat the Creme de Serum for nighttime use. I've read about the rare melon extract and the reason they use this is because all those antioxidants protect your skin from breaking down, which is how the melons last so long. That's why these products have such a good effect on the skin and all the products contain it.

---
Cindy Crawford's Meaningful Beauty Skincare
My Top 5 Favorite Moisturizers
I've been using this line for years and love all the products. My skin looks better now than it ever has. They leave your skin soft and are very gentle. I love the Ultra Lifting and Firming Serum for daytime use, with Wrinkle Smoothing Capsules over it, and I use the Creme de Melon at night. They feel great and my face always feels silky smooth and never dry. I'm 32 and my skin has always been combination.



---
Kollagen Intensiv is fantastic
My Top 5 Favorite Moisturizers
I just received mine a couple of weeks ago and it's really helped calm my Rosacea and give me an even tone. Love the feel of it. Very soft and absorbs well.

---
Kollagen for older skin
My Top 5 Favorite Moisturizers
Rachel, I ordered your top cream Kollagen Intensiv two months ago, and I am really happy how it's working for me. It's softened all my wrinkles, especially around my mouth and forehead, and it feels great and reduces puffiness underneath my eyes. I just wanted to thank you for your recommendation! I really have been enjoying your blog. Thank you for suggesting good products that work! Now if you could recommend something for my flabby thighs, that would be great -ha!

---
Meaningful Beauty
My Top 5 Favorite Moisturizers
Can't live without it. I've been using it 8 years and my skin looks amazing. Love, love, love these products!

---
Kollagen Intensiv for redness
My Top 5 Favorite Moisturizers
This product really helps the redness calm in my skin. I have borderline rosacea so I need calming products that don't irritate. This is a good one to try. Love the feel of my face now it's very soft and smooth.

---
User Questions and Answers
User Questions and Answers
---
Q: is there a review for ReviveDerma -sharyne
A:
Sharyne, avoid Revive Derma like the plague, it's a scam. I just went to their website and read the 1 mile long terms and conditions, arbitration waivers, class action lawsuit waivers, all this you must agree to to order the "10 day free trial + 4 days shipping" product. They will bill you $89.95 on the 14th day. I found typos throughout, and where they give their hours of operation where naturally a phone number would be, there was none. No list of ingredients, etc. It has all the indicators of every other short-term wrinkle cream I come across daily. You're smart to ask! Rachel~WomensBlogTalk.com
Was this question helpful to you?
29 out of 33 people found this question helpful.
---
Q: Has anyone 73 years old used any of these products? If so which one? Thanks! Glad you wrote about all the scams# -Anna Maria
A:
Anna Maria, hopefully some others will chime in to answer your question, but I will say that I feel like most of the women who email me about Lifecell are mostly over 50, with most probably being in their 60's or 70's. It's really a product that is best suited for someone who is in need of an advanced wrinkle treatment since it has a "filler" quality as well as anti-aging benefits. I think it would be great for someone your age. My mother in law also uses it and loves it, she's 62, and my mother as well, she's 67. However, I'm 43 and it's definitely a remarkable product for my skin as well. I'm getting fine lines around my eyes, and also on my neck and chest and it helps to camouflage them. Thanks for your question!  Rachel~WomensBlogTalk.com
Was this question helpful to you?
26 out of 27 people found this question helpful.
---
Q: Never bought online but did with SkinCompleRx trial and was told by friend that they will send you full amount with full price after you try it automatically cause they have your credit card info. Is that true should I return it before using? It said site discontinued now already! Do you know about this sort of thing? -kat
A:
Kat, this is one of those short term wrinkle cream scams I write about. Once people catch on, they flip to links to different creams, so that's why it disappeared. You should call right away and cancel. They will probably be charging you full price on the 12th or 14th day (day 1 is the day you order) so keep a close eye on your credit card statement. All these scams run about $93. I can't find anything under the name "SkinCompleRx" Rachel~WomensBlogTalk.com
Was this question helpful to you?
13 out of 13 people found this question helpful.
---
Q: Where do you find these products? Are they online orders only? -Debbie
A:
Debbie, you can follow the links within the reviews to the official sites for each cream. They are only sold online as of right now. Rachel~WomensBlogTalk.com
Was this question helpful to you?
11 out of 11 people found this question helpful.
---
Q: Pls recommend the best scrub n face serum to clear face blemishes n hyperpigmentation. Thks -Chrissy
A:
Hi Chrissy, sorry I'm so late getting back to you. I've been on the road and got a little backed up. I had really good results from Lifecell for the hyper pigmentation along my jaw line and it's not a heavy formula so shouldn't cause breakouts.  Are your dark spots from acne scarring or the sun? Either way it would help. I would also recommend using Skinceptions AHA Toner to help clear up your blemishes and for a good exfoliation. It's a very gentle blend of fruit acids (alphahydroxy's) so it won't strip your skin. You still need moisture even if you have acne because if you strip your skin of its essential oils, your skin will compensate by overproducing oil and that may cause more blemishes. What else have you tried for your acne? Let me know if you have more questions. Rachel~WomensBlogTalk.com
Was this question helpful to you?
6 out of 8 people found this question helpful.
---