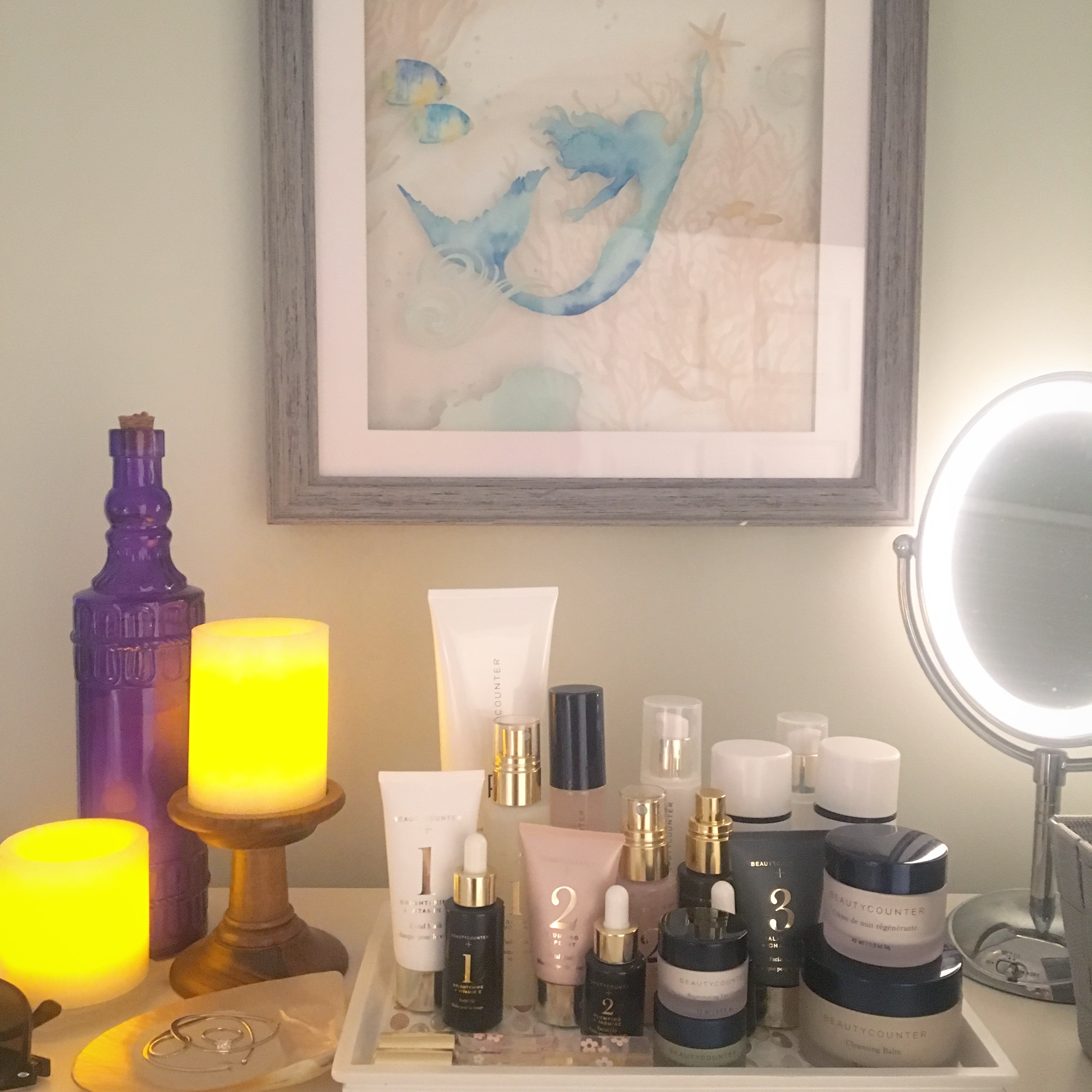 Beautycounter Favorites – Top 10 Skincare Products
Beautycounter Favorites – Hello Safe Skin Care! 
A few years ago, I went through fertility treatments and I learned a lot about toxins and what to avoid – probably more than I ever wanted to know.
For a time period, I wouldn't even touch a receipt from the grocery store to avoid the toxic chemical transmission of phthalates onto my skin. Who knew?
Phthalates, Parabens and added fragrance were at the top of my list to avoid. I needed skin care that I could trust that would not disrupt hormones, or worse.
The truth is we're exposed to harsh chemicals daily, so minimizing your exposure is always a good thing. Not only in foods, plastics, and household cleaners, but in skin care.
Our skin is our largest organ, and we absorb toxins at an alarming rate through our skin. When I found Beautycounter, it fit the bill ~ effective products, nothing toxic, and a joy to use. 
Why do I love Beautycounter? For one they have a Never List of 1,500 questionable or unsafe chemicals that they'll never use in their products, removing the guesswork for you and me.
Secondly, I LOVE most every single product I've tried so I wanted to share my Beautycounter favorites!
Their skin care is amazing and choc-full of plant based ingredients and anti-oxidants to nourish the skin for a more youthful appearance – with no worry of putting carcinogenic ingredients onto your skin or into your body.
Beautycounter also has a makeup line, baby care, kids care and even skin care for your man!
Beautycounter Favorites – Top 10
#1 Beautycounter Cleansing Balm
View Cleansing Balm on Beautycounter
Beautycounter's Cleansing Balm is their top seller and may be my most loved Beautycounter favorite product, I simply can't live without it, it's too versatile!
The Cleansing Balm is a miracle worker and if I had to pick just one product (say I was stranded on a desert island and actually had to make that choice, LOL) it would be the Cleansing Balm!
The balm melts into your skin to remove makeup and impurities and leaves your skin so soft, and it's like having 6 products in 1. You can use it as a daily cleanser, moisturizer, face mask, for lips, cuticles, hands, elbows and knees!
Flower oils, seed oils, cranberry fruit extracts, Vitamin C, E and Shea butter all make this balm a nourishing and antioxidant packed powerhouse for radiant skin.
It smells fantastic and sometimes I use it as an overnight mask and wake up to the most fabulous, plump and hydrated skin. Definitely a must have in my beauty arsenal, and I keep the travel size in my purse at all times!
#2 Beautycounter Countermatch Adaptive Moisture Lotion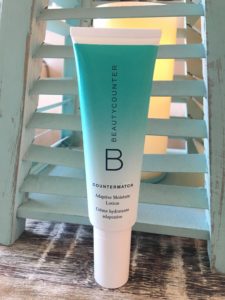 View Countermatch on Beautycounter
Read my review on Countermatch
Beautycounter's Countermatch Adaptive Moisture Lotion is lightweight and helps the skin adapt to varying conditions by adjusting hydration and oxygen levels as you need it. Quite simply it's a great moisturizer for any environment.
This is a lotion that I can use either am or pm for a smooth look that remains consistent throughout the day and night.
The Countermatch Lotion has a silky, smooth feel and glides over the skin effortlessly and it's extremely gentle and soothing! 
With plant based Bio-Mimic technology, it has the ability to exactly match the skin's structure to give it exactly what it needs, when it needs it.
The Countermatch lotion is high in vitamins E, A, C and D and is packed with anti-oxidants and nourishing ingredients. It even contains a little salicylic acid which is great for deeper absorption and cell turnover.
This is a great choice for an all around anti-aging treatment to smooth wrinkles and help the skin retain moisture. And I love that it comes in a pump which keeps the ingredients fresh!
The Countermatch Lotion is my Beautycounter favorite for an anti-aging daily moisturizer!
#3 Beautycounter No. 3 Balancing Facial Oil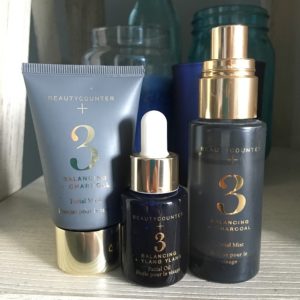 View No. 3 Balancing Oil on Beautycounter
Read my Review On Beautycounter Facial Oils & Masks
Beautycounter Facial Oils are food for the skin, and the No. 3 Balancing Facial Oil is my favorite! There are 3 to choose from so be sure and check out my review for an overview.
Lightweight and oh-so-silky-smooth, the No. 3 Oil contains a blend of seven natural oils to moisturize and smooth any skin type.
With wild chamomile to calm and sooth, and meadow foam seed oil to soften and restore balance, the Balancing Oil is great for all skin types, especially for anyone with finicky skin concerned with a skin clarity, calming and balancing.
I tend to have a lot of pinkness in my skin, and this helps cut the redness, but I also need hydration. It gives me that perfect moisture balance without feeling heavy or greasy.
If you've never tried facial oils, don't be afraid to!  Oftentimes those will oily or combination skin will try too hard to dry their skin out, but what you're actually doing is stripping the skin of essential moisture and signaling it to produce even more oil.  Don't be a skin "stripper."
Try to give your skin what it needs and watch it transform. The Beautycounter No. 3 Balancing Oil is amazing!
#4 Beautycounter No. 3 Balancing Mask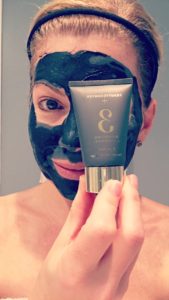 View Balancing Mask on Beautycounter
Read my Review On Beautycounter Facial Oils & Masks
Do you have 10 minutes? That's how long it takes to purify your complexion! This nutrient rich, kaolin clay mask deep cleans and balances the skin, drawing out impurities and absorbing excess oils.
Activated charcoal shrinks pores and salicylic acid encourages exfoliation and cell turnover, leaving you with smooth, detoxified skin.
The No. 3 Balancing Face mask is perfect for anyone with oily skin, congested skin, or when you just really need to "degunk" your skin from makeup build up.
It's my favorite mask to use after the beach (or when it's spa night at home) and prepares your skin to apply the Beautycounter facial oils, serums and moisturizers for the best effect.
Throw the No. 3 mask in your bag next time you go to the spa, skip the facial and get a massage instead. Use your charcoal mask while your relax by the whirlpool – I guarantee it will be your Beautycounter favorite as well!
#5 Beautycounter Nourishing Eye Cream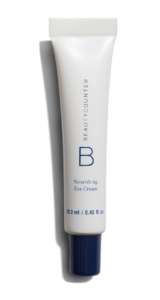 View Nourishing Eye Cream on Beautycounter
Can we talk gentle for a minute? And how important it is for me to avoid any harsh chemicals or fragrance, especially around my eyes?
I have an eye condition called Blepharitis/Rosacea of the eyes so I have to be very careful with my eyes or they'll become red, puffy and aggravated – not a good look!
The Nourishing Eye Cream pampers the delicate eye skin and is rich in aloe and organic coconut oil. It is unscented and absorbs easily offering an instant moisture boost and smooths away fine lines and wrinkles.
It also contains green tea leaf extract for tightening and brings crepy eyelids back to life for a more youthful appearance.
It's everything I need in a gentle eye treatment, and nothing more!
#6 Beautycounter Dew Skin Moisturizing Coverage SPF 20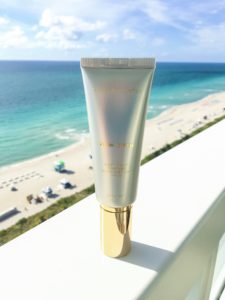 View Dew Skin Moisturizing Coverage on Beautycounter
If you typically don't wear a lot of makeup or just don't like a full coverage foundation, this is a must have. The Dew Skin Moisturizing coverage is a sheer tinted moisturizer with SPF 20 right in it and gives you a luminous, dewy glow.
The No. 2 shade is perfect for me. I have a fairly light complexion and honestly there's room for error since it's so sheer (I could probably get away with using 1-3 and be fine).
With Vitamin C to brighten, and sodium hyaluronate to hydrate and plump, it has the consistency of a liquid foundation mixed in with a little moisturizer, very silky and blends easily.
When I first tried it, my sister and I were on a trip to Miami. We took minimal makeup and used this for our daytime face protection for bopping around South Beach.
A little lip gloss, mascara, eyebrow pencil, bronzer/blush and our Dew Skin Moisturizer with a few dabs of concealer and we were out the door with a sun-kissed natural look.
When you're on vacation, or just like to live minimally on the daily – the Beautycounter Flawless in Five makeup routine is where it's at! Take a peek at that link and it will help you choose the perfect shades for you!
#7 Beautycounter Countersun Mineral Sunscreen Lotion 30 SPF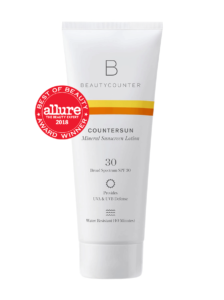 View Countersun Lotion SPF 30 on Beautycounter
The key to anti-aging is protecting your skin from harmful UVA and UVB sun rays. Having grown up in Florida, and being a beach volleyball player (well into my 40's), there is nothing more important for my lifestyle than a good SPF that's non-toxic. I use a lot of sunscreen so this one's a biggie!
If you're going to be spending any time at the beach or outdoors (more than 15 minutes) you need something stronger to protect your face and body from premature sun damage. No one needs dark spots!
Beautycounter makes their SPF formulas with non-nano zinc and anti-oxidant rich California poppy and this physical formulation provides an effective shield while feeling great on the skin.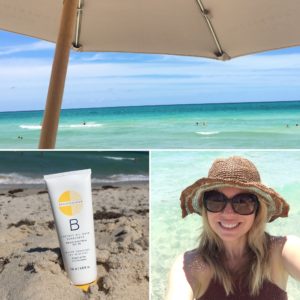 Countersun Lotion is mineral sunscreen meaning the zinc oxide sits on the surface of the skin to physically bounce and reflect the sun's rays away.
It is water resistant, but not waterproof. That's how they keep it non-toxic! So there is a need to reapply after a long swim sesh but it's worth it so you're not drowning in toxins.
Also, Beautycounter does NOT use the stuff that kills coral reefs! Octinoxate and Oxybenzone are the ingredients that contribute to this and did you know some sunscreens are BANNED from certain beaches?
Mineral sunscreens are also great for people with sensitive skin and for babies and kids. Safer for people and our Oceans!
It also comes in a spray and a stick for touch ups. Definitely a Beautycounter favorite for its effectiveness and non-toxic aspect.
#8 Beautycounter Lip Conditioner in Peppermint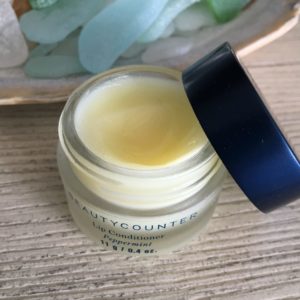 View Peppermint Lip Conditioner on Beautycounter
Everyone needs a good lip balm to keep those lips soft and kissable, and I've used this one morning and night for over two years. It's the last thing I put on before going to sleep every night!
Ultra moisturizing and made with soothing and softening avocado oil, shea butter, jojoba oil, meadowfoam seed oil and infused with peppermint and rosemary oils, you'll wonder why you didn't grab one sooner, and you'll be hooked.
There are so many lip balms I've tried that have a chemical taste – just no!
It doesn't leave any funk taste on your lips – trust me my husband is picky and he doesn't mind this one at all. If I try to use anything else, he's like "eww what do you have on your lips," LOL!
Love this little gem – it smells so good and keeps my lips juicy and plump!
#9 Beautycounter Nourishing Night & Day Cream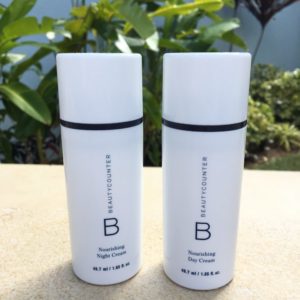 View Nourishing Night Cream on Beautycounter
View Nourishing Day Cream on Beautycounter
The Nourishing Night Cream is my go-to cream anytime my skin is feeling sensitive or after I've had a skin treatment (like micro needling or a stronger peel).
It's quite frankly the only thing I can put on my face that is completely soothing and doesn't sting or burn under any condition.
The Nourishing Night Cream is made with organic coconut oil, hydrating aloe, green tea and geranium which nourishes the skin and seals in moisture. It has a velvety, matte protective feel.
The Nourishing Day Cream is very similar, very lightweight and has similar ingredients only with safflower oil and antioxidant-rich Acai. It's very hard for me to tell the difference between the two formulas to be honest, I love them both.
My best advice is that if your skin needs a tad more moisture go for the Night Cream. If you want to stay on the lighter side, go with the Day Cream.
Neither contain any "active" ingredients such as Vitamin C, or any AHA's either, so it truly is the most gentle thing you could ever imagine putting on your face. Great for dry skin, sensitive skin or aging skin that needs moisture with very simple, effective ingredients.
Have you ever noticed your skin turning pinkish after applying certain moisturizers? These don't cause any type of skin reaction. Hallelujah!
These are healing creams that won't irritate or aggravate any skin condition. Truly makes your skin say ahhhhhh!!
#10 Beautycounter Charcoal Cleansing Bar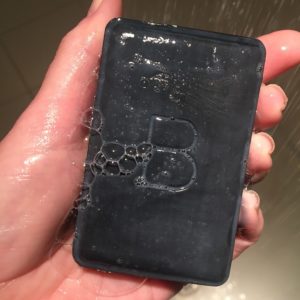 View Charcoal Cleansing Bar on Beautycounter
I simply could not leave the Charcoal Cleansing Bar off my list of Beautycounter favorites- it's one of their top sellers!
While it's ideal for oily or blemish prone skin since it detoxifies and absorbs impurities – it leaves your skin soft and does not dry it out. I was so pleasantly surprised when I tried it for the first time.
Made with purifying Japanese binchotan charcoal, hydrating organic coconut oil and anti-oxidant rich green tea, this gentle formula can be used on your body and face.
I sometimes get blemishes on my neck and shoulders from so much sweat and sunscreen, and this keeps me from having any breakouts. It's great for shaving as well and leaves my legs super soft!
I even sent some to my teenage niece who has acne prone skin (she's 12) and it's helped to minimize her breakouts on her face and body.
The Charcoal Cleansing Bar is great for all skin types to keep your skin healthy from head to toe!
#11 – Beautycounter Overnight Resurfacing Peel (New!)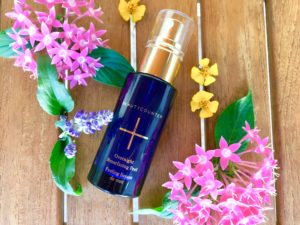 Read my Personal Review on the Overnight Resurfacing Peel
View Overnight Resurfacing Peel on Beautycounter
Surprise! I HAD to add this to my list of favorites because it is AMAZING (and it's relatively new)!
The Overnight Resurfacing Peel is definitely Beautycounter's strongest product. It's a serum that contains 15 AHA's/BHA's including glycolic acid, malic acid and lactic acid. 
Using acids transforms the skin, and it's done wonders for mine! My skin is lighter, brighter, and smoother! I've used glycolic acid products for some years, and this one is fantastic!
If you want to step up your anti-aging routine for rapid cell renewal and anti-aging benefits to REVERSE signs of aging – let this be your new friend.
You only have to use it 3-4x a week underneath your moisturizer so one bottle lasts for months! I use it on my face, neck, and chest and my skin looks and feels fantastic. One use and I saw results – you just wake up to instant radiance! 
Best of Beautycounter Limited Edition
A great way to try several of my faves is in the Best of Beautycounter collection. This is a limited release item so I'm not sure how long it will be available! It's a great deal for $89. These are not "trial" sizes, but they are not full-sized. It's a great deal to try a nice variety before committed to the large sizes. 
Countermatch Adaptive Moisture Lotion 1 oz
No. 3 Charcoal Mask 1 oz
No. 1 Brightening Facial Oil .3 oz
Cleansing Balm 1 oz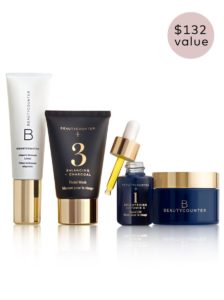 Why Beautycounter?
Safer Skincare that Makes your Skin Glow
I've been blogging about anti-aging products since 2011, so I've subjected myself to all types of skincare (sometimes toxic) for the sake of being able to give them an honest review.
I got to a point where I didn't want to use just anything anymore, and Beautycounter is the best natural skin care line I've tried that gives me results and is enjoyable to use!
I have loved working Beautycounter products into my skin care routine, and cannot rave enough about the makeup-free glow and more radiant, youthful skin I've noticed since using them.
If you have any questions on the Beautycounter favorite products mentioned, need a recommendation or want more information on the company or sharing these products, please reach out!
Beautycounter Return Policy
Beautycounter is so confident in their products that they offer a 60 day empty-bottle prepaid return option and they send YOU a prepaid return label. Amazing!
Questions or Comments about Beautycounter? Leave them Below!
User Questions and Answers
User Questions and Answers
No Questions Have Been Answered For This Article.