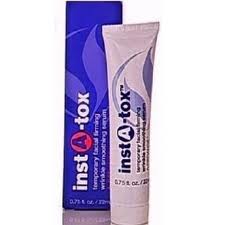 InstA-Tox Review – Needle-Free Wrinkle Relaxer?
Younger looking skin is big business in the United States.  Millions of Botox procedures are performed each year, and many women are looking for a cheaper, less invasive alternative. Serious Skincare offers InstA-Tox as its contribution to the erasing-wrinkles-without-needles movement.
Serious Skin Care is a joint effort between esthetician Lesa Stock and model Jennifer Flavin-Stallone.  They began their enterprise as an acne care line, then expanded out to other lines for all sorts of skincare issues.  Insta-Tox is their instant wrinkle reducing product.  The claim is that just a small amount goes on to make your skin look remarkably smoother and younger and your pores appear visibly smaller.  The effect is not permanent.  It is said that it can last up to 7 hours.
InstA-Tox Ingredients and How They Work
The Serious Skincare website does list the ingredients, but does not explain how they work to smooth wrinkles or make them disappear.  The complete list is Water, Sodium Silicate, Magnesium Aluminum Silicate, Magnesium Aspartate, Zinc Gluconate, Copper Glutonate, Camelia Oleifera Leaf Extract, Iron Oxides, Propulene Glycol, Retinyl Palmitate, Diasolidinyl Urea, Methlyparaben, and Propylparaben.
This list is full of minerals and parabens, and we're not really sure how these are supposed to get rid of wrinkles.  You also find Green Tea (Camelia Oleifera Leaf Extract) which is an antioxidant and Retinyl Palmitate which helps in the skin cell renewal process.
Instructions for how to use InstA-Tox are very specific.  You have to make sure to shake the tube before you use it.  Wash, rinse, and dry your face thoroughly.  Apply a small amount and briskly sweep it in one motion to make a very thin layer on the targeted wrinkled areas.  Then try to remain still and expressionless for a few minutes while it dries.  Once it is set, you can continue applying your makeup as usual.
Read about our Top Wrinkle Cream Dermology Wrinkle Repair Complex, which includes skin tightening and wrinkle relaxing Argirilene
InstA-Tox Pros and Cons
One of the best ways to figure out whether or not a product is worth your time and money is to compare the good and bad aspects of it side by side.
The Good About InstA-Tox
It smooths wrinkles and tightens pores.
A little goes a long way.
The company offers a 30-day money-back guarantee.
The Bad About InstA-Tox
The majority of

InstA-Tox

reviews are negative stating that it just doesn't work.
Many users say it leaves a white residue.
Customers who do get results say they don't last all day.
Where to Buy InstA-Tox
You cannot purchase InstA-Tox in stores, but you have several online options.  The Serious Skincare website sells the ¾ oz tube for $29.50.  Amazon sells it for $27.95.  But the best deal we found was from HSN online.  They sell a twin pack – 2 tubes – for $46.50.
Conclusion
With the popularity of non-surgical cosmetic procedures like Botox soaring, most anti aging skincare lines are starting to offer needle-free alternatives.  InstA-Tox is a product attempting to serve a real need, but we just don't think it hits the mark.  The buzz about InstA-Tox is overwhelmingly negative.  So if you're looking for an instant wrinkle reducer, we would recommend choosing something else.
Have You Used InstA-Tox?  Leave Your Review Below!
How Women Found This Review:
and https://www womensblogtalk com/insta-tox-review
Click here to submit your review.
---
Doesn't work with my makeupup
InstA-Tox Review – Needle-Free Wrinkle Relaxer?
I was excited to try it. When I put it on I was impressed with how it worked to erase my eye wrinkles,but when I applied my makeup the wrinkles could be seen. The company should suggest the kinds of make up that works

---
confused, granulation
InstA-Tox Review – Needle-Free Wrinkle Relaxer?
when I opened tube, clear liquid ran out, put lid on and kneaded it, opened again and applied, waited 10 minutes. Puffiness under eyes did not diminish and it appeared there were granules of sand or similar where I had applied it...my skin was very clean. Went to their site where reviews are posted, but no way to contact them to ask questions or concerns.

---
Disappointed
InstA-Tox Review – Needle-Free Wrinkle Relaxer?
After watching the video with Jennifer Stallone I really thought this could help me. Watching the videos which demonstrated instant tox were encouraging. But It did not work for me. Not even close ?

---
InstA-Tox Review – Needle-Free Wrinkle Relaxer?
Is the 3rd tile I bought this product I don't used until now that my sister told me is only water and is not working is now with water a lot
It's now very bad

---
Insta tox
InstA-Tox Review – Needle-Free Wrinkle Relaxer?
I've been a user for many years and it works great for me but I had to experiment using it to avoid the white residue. I use a small amount on the palm of my hand and mix it with the same amount of face moisturizer and swipe it across the under eye and the wrinkles and bags are gone until I wash it off. I don't have any extensive wrinkling so don't know how it would work with extensive wrinkling. I would not be without it especially compared with more expensive products that don't compare to insta tox.

---
User Questions and Answers
User Questions and Answers
---
Q: The written instructions that came with the product says to apply Insta-to to my skin and let it dry. Then apply makeup mixed with a dime size amount of Insta-tox. But on the box it says to apply product , let it settle for 3 minutes and then splash your face a few times with cold water. Please let me know how I am supposed to be using your product. Thank you! Maura Mcguinness -Maura McGuinness
A:
Hi Maura, this actually isn't my product - I just wrote an informational review about it. I'm sorry you got contradictory instructions from the actual company - I believe there is more than one way to use this product. However, based on my review and knowing how products tend to work for wrinkle reduction, I would go with the first instructions if you wear makeup. Apply, allow to dry, then apply makeup. Good luck! xo Rachel
Was this question helpful to you?

---
Q: does instatox have an expiration date. if i buy two tubes will it last -donna
A:
Hi Donna, Instatox is not something I recommend as it had poor reviews from users. Any anti-aging treatment will have an expiry date, probably a few months once it hits the air and depending on the ingredients.  If you want a great wrinkle smoother that will last a long time, check out my review on Lifecell. It's amazing and the 2 oz tube does last quite a while. I've never had an issue with it going bad. Thanks, Rachel
Was this question helpful to you?

---
Q: If you do not recommend Insta-tox then what would your #1 for wrinkle repair recommendation be? -Brenda
A:
Hi Brenda, check out my Top 5 Favorite Moisturizers, my fave is the topical CBD Oil plus the face cream. It's working wonders not only for the crepy skin on my neck and chest but it's shrank my nose pores to the point where I can barely see them!  Seriously blown away at the skin healing properties of the CBD. Thanks for your question! Rachel p.s. Instatox must be advertising... I've been getting traffic to this blog out of nowhere and this is an old product...
Was this question helpful to you?

---