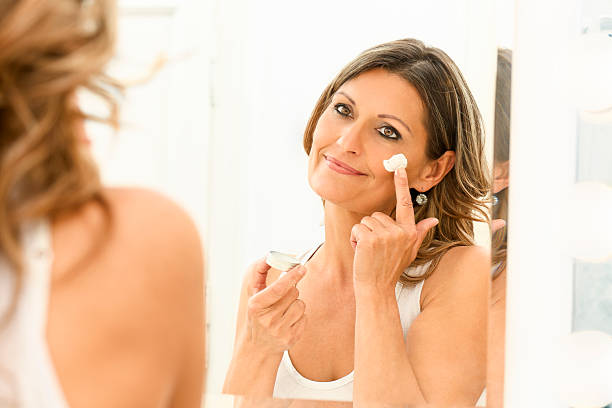 You'll Love my Top 3 Favorites!
Let's face it ladies, you've probably gone through hundreds of jars of anti-aging creams with a similar promise…to reduce or even eliminate wrinkles.
Over the years, I've likely tried hundreds of creams that have turned out to be decent moisturizers, but do little for any real anti-aging effect.
Having a bright, even skin tone is THE #1 thing that helps us look younger – that's why I love Vitamin C and antioxidants in skin care and ALL of my favorite anti-aging creams have it.
I have several favorites I'd like to share that I've used for long periods of time and enjoy using.
I have sensitive, maturing skin that is often dehydrated and I battle with hyper-pigmentation and dark spots.
You should ENJOY using your skin care, and I enjoy using all of these because they work!
What Makes My Top Creams Stand Out?
Long Term and Immediate Benefits
Quality, Strength and Effectiveness of Ingredients
My personal experience and enjoyment using these products
Reputation of manufacturer/customer service
Good for all skin types, even sensitive skin
Cruelty-free, no animal testing!
No harmful chemicals like parabens, phthalates or petroleums
1. Beautycounter Countermatch Adaptive Moisture Lotion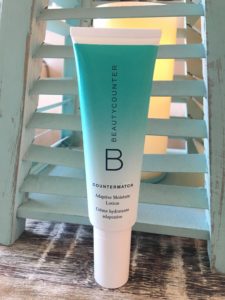 Read my personal review of Countermatch
View Countermatch on Beautycounter
Be sure to check out my Top 10 Beautycounter Favorites here!
Plant based, clean beauty at its best and suitable for all skin types, both day and night. 
Beautycounter Countermatch Adaptive Moisture Lotion is lightweight and helps the skin adapt to varying conditions by adjusting hydration and oxygen levels as you need it. Quit simply, it feels amazing on the skin! 
Bio-Mimic Technology captures the unique life-giving properties of plants to exactly match the structure of skin, giving it precisely what it needs and nothing it doesn't.
Countermatch gives me the perfect amount of hydration with its smooth, silky feel and light, natural smell (no added fragrance), plumps and smooths wrinkles, and reduces redness.
I love that it comes in a pump to preserve its freshness (no dipping your fingers in a tub) and easy to pack.
Beautycounter's mission is one of safer skin care: they simply do not use ANY toxic ingredients.  They adhere to a Never List of ingredients and they never test on animals.
2. Image Skincare Vital C Hydrating Repair Crème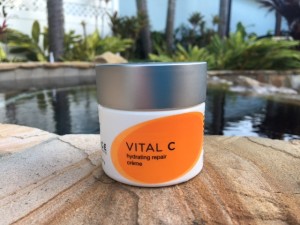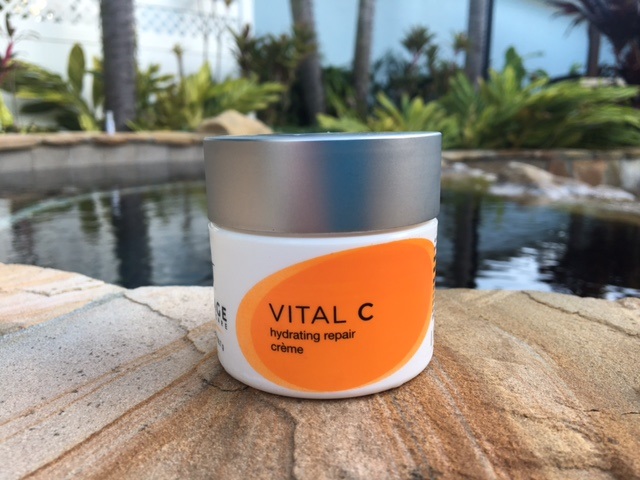 Read my Personal Review of the Vital C Line
Shop Image Skincare on their official Amazon Page
I've used Image Skincare for several years now, and they simply don't make a bad product – and they don't use harmful parabens! 
Image Skincare is medical grade with high concentrations of effective ingredients. Until recently, you could only purchase from a med spa or Dr.'s office. Vital C is their best selling and most popular line!
And the truth is, I have many favorites, and you'll see many Image Skincare products featured on Women's Blog Talk as top recommended products, all well deserved!
But as far as a daily anti-aging moisturizer that is great for all skin types, I could recommend this cream to anyone and they'd do backflips out of sheer happiness for how good their skin will feel and look.
Calms redness and irritation

Supports collagen synthesis and cell renewal

Nourishes and provides antioxidant protection

Intensely hydrates and provides lasting moisture
The Vital C Hydrating Repair Creme is packed full of powerful antioxidants. Formulated with high concentrations of Vitamins A, C, and E, this is a  daily moisturizer that nourishes and protects the skin for daily anti-aging benefits while promoting cell renewal.
The Vital C line is made for all skin types, dry/dehydrated, sensitive/rosacea, sun damaged/sun burned, oily/acne, Eczema, and post treatment skin.
3. Perfectly Posh – Moisturize 911 + Cann I Be CBD

Caffeinated face cream with Vitamin C for an energized complexion.
The Posh Moisturize 911 cream is one of their best sellers and is a fantastic moisturizer at a GREAT price point.
Perfect for normal/combo and oily skin types who crave hydration over oils in a water-based, vegan formula.
What makes it special is that it contains caffeine which immediately tightens the skin and vitamin C to lighten, brighten and hydrate. Soothing aloe and citrus essential oils also promote a radiant complexion.
While the Moisture 911 can be used just on its own as a daily moisturizer, I use it by mixing a few drops of the Posh Cann I Be CBD oil with it.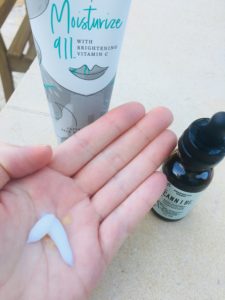 CBD is AMAZING for your skin. CBD has anti-inflammatory and skin healing properties and it's also great for acne prone skin. It gave my skin an added boost of moisture with no shine, cut the redness, and SHRUNK my nose pores!
It's easy to use, you just mix 4-5 drops of the Cann I Be with a little bit of the Moisture 911 and rub it together and just apply like any other moisturizer.
Cann I Be is a fabulous product you can use to enhance any Posh face or body products. I also love mixing it with the Fresh Creamy Milk Body Butter! It takes your pampering and relaxation to a whole new level!
How Women Found This Review:
and dermaliv intensive wrinkle reducer, and dermaliv reviews, and Nourish antiaging neck cream reviews, and revive derma review, and faitoz-25 reviews
User Questions and Answers
User Questions and Answers
---
Q: is there a review for ReviveDerma -sharyne
---
Q: Has anyone 73 years old used any of these products? If so which one? Thanks! Glad you wrote about all the scams# -Anna Maria
---
Q: Never bought online but did with SkinCompleRx trial and was told by friend that they will send you full amount with full price after you try it automatically cause they have your credit card info. Is that true should I return it before using? It said site discontinued now already! Do you know about this sort of thing? -kat
---
Q: Where do you find these products? Are they online orders only? -Debbie
---
Q: Pls recommend the best scrub n face serum to clear face blemishes n hyperpigmentation. Thks -Chrissy
---
Q: What about Retinal? Do you recommecd -Dianna
---
Q: I have sensitive skin that feels tight and dry. I have lines around my mouth and have some signs of sagging in jawline. Afraid to use anythi g harsh don't want side effe rd. I have a lot of i.mu e disorders and get hives on my face occasionally. Thank you. -Denise Toccaceli
---
Q: Can I use Illuminatural 6i Skin Lightener under Kollagen Intensiv? -Deborah
---
Q: Why not show results for women in their 80's? All the models you use are so young, it's hard to believe that any of the creams would help the older woman. I happen to like Eminence for my face, but their neck firming cream is only OK. Their eye cream and wrinkle filler do not seem to do the job. What do you recommend to tighten the sagging neck? I have tried several. My skin otherwise is good. After reading below about Revive, I'm hesitant to use again, although I can purchase locally. Revive Fermitif neck renewal cream seemed to be ok. Now I'm looking to Whole Foods for my creams, they are local, so if I'm not pleased, I can return, and there is no pushy salesperson. It takes time to see any results. -Gail
---
Q: Are Obagi products any better than those you recommend? -Karen
---
Q: Hi Rachel, great blog! I'm 45 and dealing with deep lines around my mouth (I've never been a smoker though), fine lines on my face and neck, and crepey skin on my knees and hands. What would you suggest? Thanks for your time and advice! -Angela
---
Q: Is there any kind of pore cleansing/ pore refining skin care treatment you can recomend? -Erinn
---
Q: Hello, Have you tried the AGE Stop Swiss serum or any products with the Red Snow Algae? Thank you, Lisa -Lisa
---
Q: Which cream is better for neck and chin sagging -Mercedes
---
Q: How can I cancel this -Barbara
---
Q: I keep getting "free trials" from Ideal vitality and dwant to cancel future ones but can't find a way to do so on their website. -Diane
---
Q: I'm 70 years old and my face is very wrinkled. I've tried many different products. I did try meaningful beauty a few years ago. I liked the product but felt wrinkles hadn't diminished that much. I've pretty much given up. I don't really believe there's a product that can significantly reduce my wrinkles. I can't afford a face lift or injections so I'll have to learn to live with my wrinkled face. Thanks for listening. -Pamela S
---
Q: Is Derma Joie a scam? It is supposedly a cream that Meghan Markle helped developed and, now that she is in the Royal Family, she had to "give away all her samples." I sent for the " free" sample. Am I going to have to pay for this every month now? Please let me know if you have any information about this product. -Cheryl
---
Q: What do u think of Z'Armour backed by princess Kate? -Susan
---
Q: What about New Life cream? Anyone try it? Thank you -Jan
---
Q: I need a phone number for AURA Revive cream. I looked for your skin care trials cancellation numbers. They kept sending me to offers. Please help. -Linda
---
Q: Is the La Cell by Diane Sawyer a scam. They will send you a free sample for 4.95. Our bank gave us a number but after calling the person told us they represented 800 companies. We are at a loss who to contact -Sharon
---
Q: I am 53 and have combination skin with oily t-zone. I want an all round product for wrinkles around eyes, face and chest. Which product would you recommend? -Vicky
---
Q: I'm interested in life cell cream for wrinkles n sagging esp the neck , can I gave sample to try it before I order ? Thank u so much -Mercedes
---
Q: What do you suggest for sagging jaw lines and sagging under the chin (turkey wattle)? Diane -Diane
---
Q: Hi.I am 41 and my skin has started signs of aging.I have deep fine lines on my forehead,sagging skin and very dark circles under my eyes.I have tried ROC,estee launder products but to no avail.Please suggest me one cream to overcome all the problems.Can I get delivery in India? Thanks and regards -Nandini Dhillon
---
Q: Please email your site so I may purchase from you , ty... -Andrea
---
Q: Do vitamin C-serums loose potency when they oxidise? -Brigid
---
Q: Have used it and want to replenish. How? -Teresa
---
Q: I've been scammed by essencia and can't get in touch to stop recieving more packages. I just recieved a second unrequested package. Now been charged over $400.00!! Need help tostop this, where to get a phone number? Thank you in advance for any assistance you can provide. -Karen
---
Q: You column must be a joke since you'really endorsing a collagen cream.A doctor on TV said that no collagend cream can go deep enough to renew collgen -Rosemary
---
Q: Hi Rachel, I have a very bad under eye bag. The puffiness is my major problem. Any recommendation? I am 53 yrs old by the way. Thanks and more power! -Eden
---
Q: I am interested in the Lifecell products as I have aging skin and brown spots. How do I get to their website from your blog. I really don't know if anything will help me at my age which is 82. I do have wrinkles on my cheek area, forehead and not that many around my eyes. Everyone says I look very good for my age and I'm sure it's due to my mothers good genes. I would appreciate any feedback you could give me. Maybe it's too late for me. Thank you in advance for your assistance. Pat -Pat
---
Q: I will be 66 and I have deep lines over my top lip, around my mouth and getting wrinkles on my cheeks. What's the best product to use? Thanks for your time. -Susan
---
Q: Dear RacheaI, I wrote you a note, way too long, and it disappeared in outer space. If it decides to land someday, it goes from the products,the mix up I had due mostly I could not remember Christie Brinkley and my brain was out getting a tune-up so I could put the correct products with Cindy Crawford. I am so glad I read your blog. It reinforced my ideas of what I wanted to purchase and from the correct person/place. Also, I hope to read your book tonight. I feel it will fill in many gaps in my very poor makeup knowledge. Well I will go and order my "goodies". Thank you for your help today and the help I am sure I will be getting from you regardless if it is from reading your blog, reading other people's questions or even asking my own question that you have answered (hopefully). Sincerely, Linda -Linda
---
Q: What would be the monthly cost for all the products needed. Would you have any discounts for low income disabled seniors ? Thank You -Darlene
---
Q: Dark spots -Sonia alvarez
---
Q: Pure radiance cream...what's the review...thinking scam? Said it was on today show and shark tank and oprah...not finding it on any shows -Debby
---
Q: Am I able to order any of these without the long term contract of receiving automatic monthly refills. I just want to try them and then make my OWN decision on ordering more. -Kathryn
---
Q: Have you tried Christie Brinkley's skin care products and do they work? Thank you -Ann
---
Q: Do you know anything about the SkinPeutics Line. I am especially interested in the Peptide Matrix Plumping Serum. Ingredients sound wonderful, but can't find a lot of info on them. I'm 68 and enjoy reading your questions & Answers, very informative. -Linda
---
Q: Have you researched the otc skin care system "REVITALIFT"? I was just curious as to results... Thank you -Erinn
---