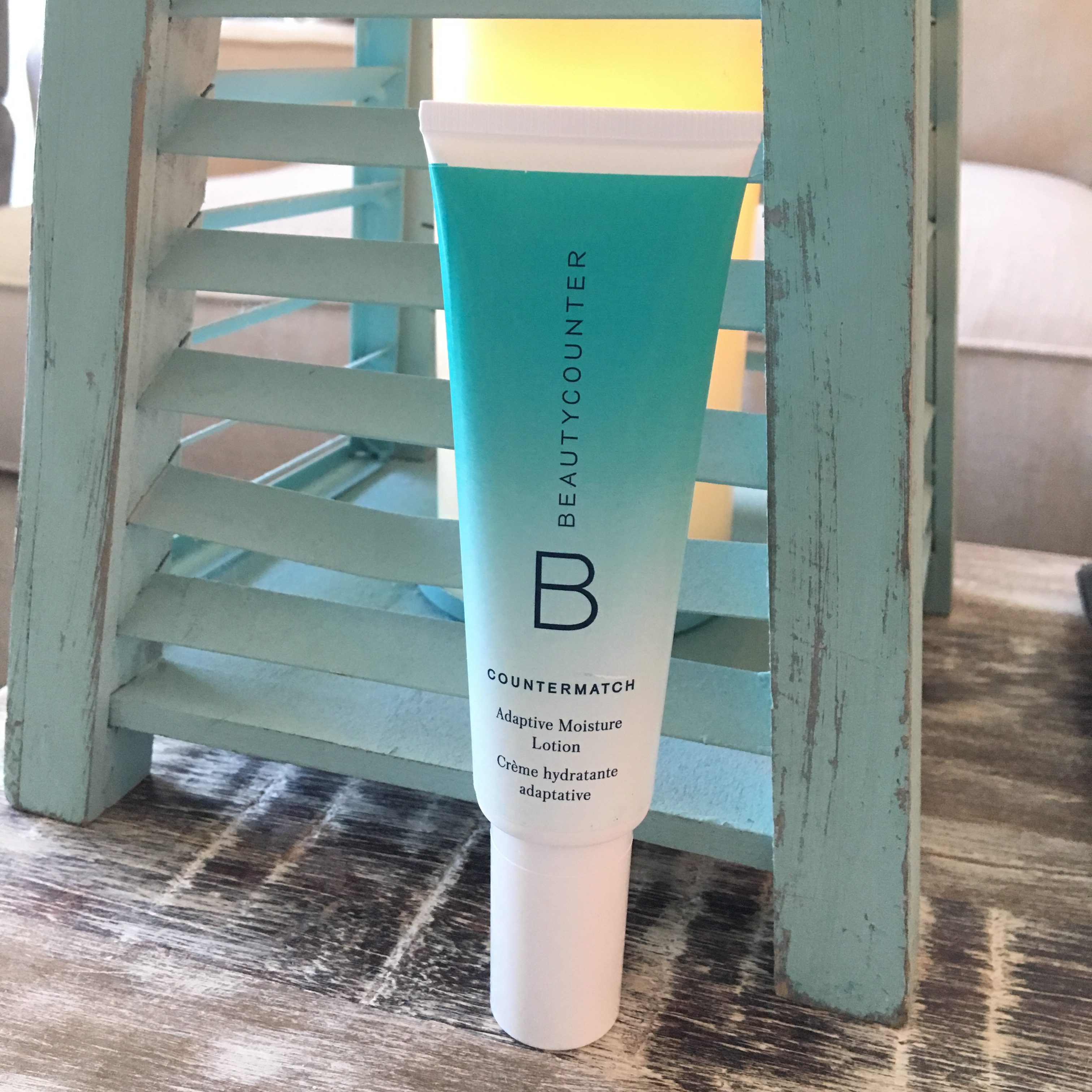 Beautycounter Countermatch Adaptive Moisture Lotion Review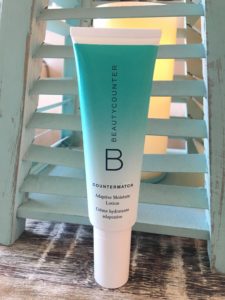 Beautycounter's Countermatch Adaptive Moisture Lotion is lightweight and helps the skin adapt to varying conditions by adjusting hydration and oxygen levels as you need it.
With breakthrough plant based Bio-Mimic technology, it has the ability to exactly match the skin's structure to give it exactly what it needs, when it needs it.
Doesn't this sound fantastic? A hydrating lotion that conforms to your ever-changing environment? I thought it did, so I decided to give it a try!
Let's take a closer look at this brand new Beautycounter product that sold out in just a few hours when it was first released.
Beautycounter Countermatch Adaptive Moisture Lotion Ingredients
Beautycounter's Countermatch Lotion is plant based, and contains bio-mimicking technology that mirrors the unique life-giving properties of plants to match the structure of our skin exactly.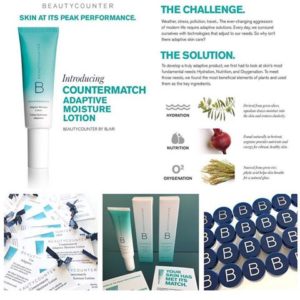 Here are the main ingredients of Beautycounter's Countermatch Lotion:
Plum seed extract – antioxidant, nourishes, moisturizes and improves skin elasticity
Shea butter – moisturizes and nourishes packed with vitamins and minerals, anti-inflammatory
Arginine – antioxidant that helps build collagen production, assists in hydration
Tocopherol (Vitamin E) – classic antioxidant with 8 different natural anti-aging compounds
Salicylic acid – reduces oil and inflammation, breaks up old skin cells, exfoliates, natural beta hydroxy acid – great for skin renewal
Aloe leaf juice – hydrating, wound healing, anti-inflammatory, soothing agent, gentle
Sunflower seed oil – wrinkle fighter, helps skin retain moisture, anti-oxidant, high in vitamins E, A, C, and D
I feel good using products that I know have nothing harmful in them. Everything good comes from nature!
Beautycounter Never List – Safer Beauty
If you're not familiar with Beautycounter's safer beauty standards, let me fill you in! This company leads the pack with their vision to get safer beauty and personal care products into the hands of everyone!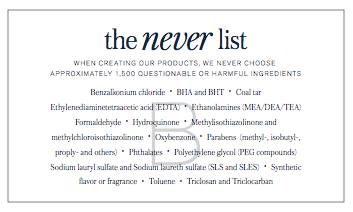 Beautycounter has a NEVER LIST of over 1,500 banned chemicals that are either harmful or questionable that they will never use in their products.
Pretty awesome right? I thought so, and quite frankly I'm tired of reading labels with confusing ingredients, and I'm not a scientist!
Beautycounter products are made WITHOUT any of the following (to name a few of the top offendors!)
Parabens: preservatives commonly used to prevent the growth of bacteria and mold. Parabens are endocrine (hormone) disruptors, which may alter important hormone mechanisms in our bodies.
Phthalates: a class of plasticizing chemicals used to make products more pliable or to make fragrances stick to skin. Phthalates disrupt the endocrine system and may cause birth defects.
Sodium Lauryl Sulfate and Sodium Laureth Sulfate: SLS and SLES are surfactants (sudsing agents) that can cause skin irritation or trigger allergies. These chemicals are often contaminated with a toxic byproduct (1,4-dioxane).
Beautycounter Countermatch Lotion Consumer Panel Test Results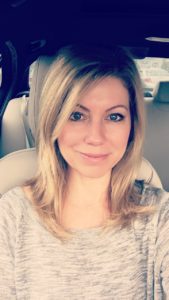 In an independent consumer study, after 2 weeks of use*:
93% said it provides instant and long lasting hydration.
93% noticed skin feels smoother.
90% said skin looks and feels healthier.
My Experience using Beautycounter
So I have a couple years under my belt so far using Beautycounter products, and I've tried them all!  I'm a bit of a skin care junkie and there is something special and unique about each product. I'm impressed with the entire line.
The Rejuvenating line contains more powerful anti-aging ingredients (including Vitamin C which I love), but the Nourishing line is coconut oil based and oh so gentle and soothing and great for sensitive skin or rosacea.
But what if you want just one cream to carry you through the day and night? This is where the Countermatch Lotion shines!
Countermatch Lotion for both a Day and Night Cream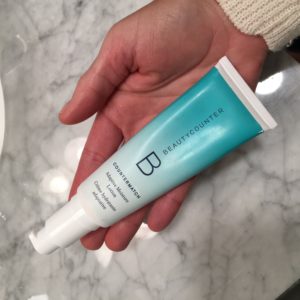 What attracted me to the Countermatch Lotion was it's adaptability.
My environment is constantly changing – I'm working in my home office (where my husband keeps it cold and dry with a dehumidifier), I'm going to the gym, I'm playing beach volleyball, hitting the grocery store, etc.
This is a lotion that I feel I can use either am or pm for a smooth look that remains consistent throughout the day and night.
It doesn't turn "greasy" when you get into a little humidity, and it keeps my skin hydrated in my freezing office!
The Countermatch Lotion has a silky, smooth feel and glides over the skin effortlessy.
Its fragrance is light and natural, almost like if you picked up a plum seed and smelled it! It's super hard for me to define smells, and I don't like overly fragrant skin care (I have sensitive eyes).
Countermatch Lotion is gentle and does not irritate my sensitive eyes. It gives my skin the perfect hydration level, and I don't even feel like I need a serum underneath it.
It moisturizes, hydrates, calms, and it comes in a pump which I love! A pump keeps the product fresh and the bacteria out.
My skin always looks fabulous when I use this lotion and it has plenty of anti-aging ingredients to keep my wrinkles at bay and my skin looking healthy, vibrant and youthful.
It creates a perfectly smooth base for makeup, and it's wonderful as a night time ritual that will meet your anti-aging needs.
Where is Beautycounter Sold and How much is the Countermatch Lotion?
Beautycounter is not a retail product so you won't find it in stores. You can purchase the Beautycounter Countermatch Lotion here from my Beautycounter online store.
My picture will come up, just click "start shopping." The price for a 1.7 oz tube (with a pump) is $48.
I've been looking for a skin care line to match not only my personal needs and wants in a skin care, but what my followers on Women's Blog Talk have been asking for.
It's becoming more and more important to women to choose safer skin care. Why would you choose otherwise?
The Beautycounter Countermatch Lotion is a great choice for all skin types. It's hydrating yet adaptable to any condition so it's perfect for all environments.
It can be used as both a day cream and a night cream and is packed with powerful anti-oxidants, vitamins and nourishing ingredients which will leave your skin more vibrant, radiant and refreshed!
NEW – Beautycounter Countermatch Collection
Beautycounter released a Countermatch Collection! This is exciting and I'll be ordering these today to try them and write a review.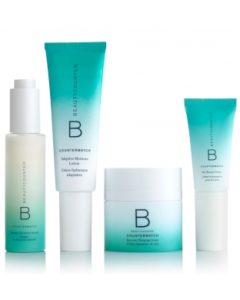 The Countermatch Collection is an effective solution for radiant, hydrated skin and is great for all skin types.
Each product contains the breakthrough Bio-Mimic Technology to give your skin just what it needs by matching the life giving properties of plants.
Here are some highlights about each new product:
Countermatch Intense Moisture Serum – concentrated formula of two types of hyaluronic acid, vitamins C, E antioxidant protection and Arginine naturally found in beet root for radiant, vibrant skin.
Countermatch Eye Rescue Cream – Squalane (derived from olives) hydrates while betaine (derived from sugar beets) and phytic acid increase oxygen product to refreshen tired eyes.
Countermatch Recovery Sleeping Cream – Seals in moisture and protects your skin from losing it while you sleep! Hyaluronic acid (holds 1,000x its weight in water), plum oil rich in omegas 6 & 9, vitamin E and other plant derived anti-oxidants to revitalize the skin.
You can take a look a the entire Beautycounter Countermatch Collection here.
Do you need a Beautycounter Personal Recommendation?
If you would like a personal Beautycounter recommendation, please feel free to contact me here.
I've used every Beautycounter product so I've really learned about each and every one, and what's suitable for certain skin types, or issues you may be trying to treat.
In addition to skin care, Beautycounter offers body care, baby and kids care, and makeup!
Visit My Beautycounter Online Store here – you'll see my picture come up, just click "shop now" – I appreciate your support!
Top 10 Favorite Beautycounter Products
Interested in More Beautycounter Reviews?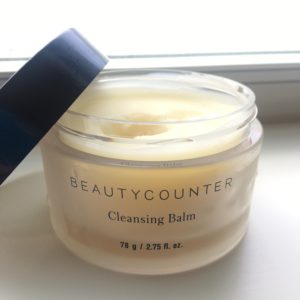 Questions or Comments about Beautycounter? Leave them below!
User Questions and Answers
User Questions and Answers
---
Q: Hi, would you be able to tell me the difference between the nourishing Day Cream and the Countermatch Adaptive Moisture Lotion. -Ursula
A:
Hi Ursula, the Nourishing Day Cream is about the most gentle product Beautycounter makes, it's made with coconut oil and is very soothing, would be best suited for sensitive skin or hydration. The Countermatch is more plant based and has some stronger anti-aging ingredients. They are both wonderful, I've actually used them both extensively. I think if I had to pick one it would be the Countermatch Collection - the cleansing milk and the eye rescue cream are AWESOME to use with the Countermatch cream!  Thanks! Rachel
Was this question helpful to you?
1 out of 1 people found this question helpful.
---
Q: How do I get free samples or order cleanser, etc.? -susan
A:
Hi Susan, I have some samples of the Nourishing and the Rejuvenating collection but not the Countermatch, and that one is my favorite! You can visit my Beautycounter website here to order anything you'd like. As far as cleansers go, I do love the Nourishing cleanser (it's very gentle) and the Beauty Balm is amazing, that one is a coconut oil based cleanser that melts away impurities and has a lot of uses. Let me know if you need help or you can email me at [email protected]. Thank you! ~Rachel
Was this question helpful to you?
1 out of 1 people found this question helpful.
---