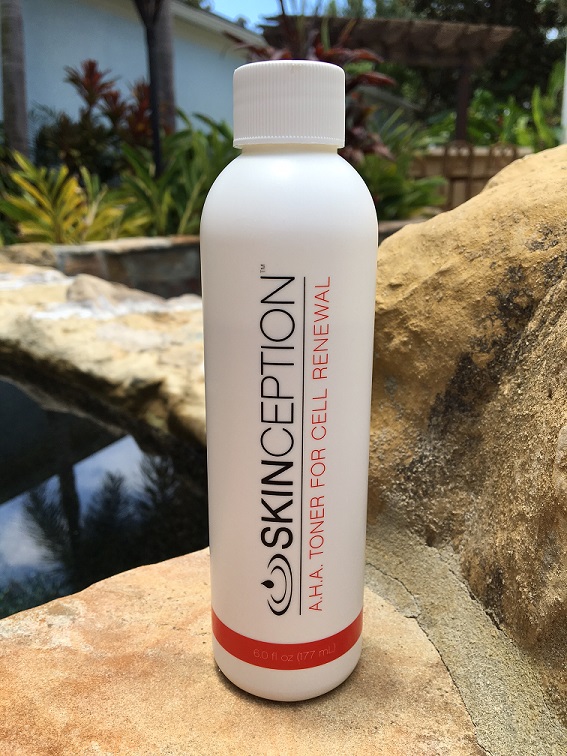 Skinception AHA Toner Review – Boost Your Anti Aging Results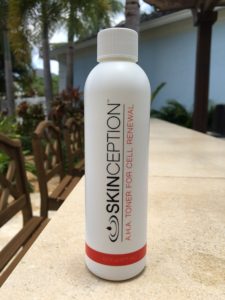 Note: This is my personal review, Click Here to visit the official site for Skinception AHA Toner
Throughout my quest for the best anti-aging products and finding new ones to enhance my results, I have learned that a solid anti-aging routine should include: a cleanser, exfoliator, toner, anti-aging moisturizer and an eye treatment.
I decided to give Skinception AHA Toner a try because I've been looking for ways to boost the results of my anti-aging treatment and I've used other Skinception products with great results.
A toner is an important step that is often overlooked and only recently (within the last few years) has it become a vital component of my own personal beauty regime.
I wish I wouldn't have waited so long to start using a toner regularly because it's really made a difference in my skin!
I like to think of a toner as "the deep cleaning crew." Do you clean your house every week? Possibly, but how often do you do a "deep cleaning" such as cleaning baseboards and such?
An effective toner does just that, it deep cleans what your normal cleansing routine leaves behind. Your baseboards can recover from sparse cleanings, but your skin should not be neglected!
Skinception AHA Toner is a Multi-Tasker
Skinception AHA Toner for Cell Renewal handles many tasks: it removes excess oil and makeup, brings your skin closer to a correct ph level, and shrinks unsightly pores!
Have you ever washed your face, and then used a toner only to see leftover grime on the cotton ball? This is exactly why a toner is important, because the leftover dirt and debris is what enlarges your pores, creating an environment where pimples love to form!
Using a toner removes what your cleanser leaves behind, allowing your skin to breath and allowing your anti-aging treatment to penetrate at a much deeper level. Skinception AHA Toner is not your average toner and I'll explain why.
Recently I tried using Kollagen Intensiv with Skinception AHA Toner and what I discovered was that the Skinception AHA Toner really boosted the anti-aging benefits of Kollagen Intensiv by allowing it to penetrate at a much deeper level, and it has anti-aging properties of its own.

Skinception AHA Toner Ingredients and How it Feels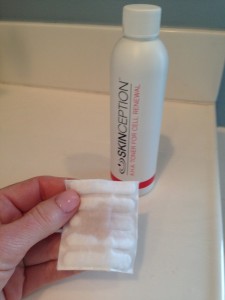 Skinception AHA Toner for Cell Renewal contains potent Alpha Hydroxy Acids  derived from fruit extracts such as goji, chokeberry and bilberry.
These acids have tiny molecules which penetrate at a cellular level in order to promote collagen and elastin production, enabling the skin to hang on to more water and become more elastic.
As we age, our ability to produce collagen drastically decreases so finding ways to put it back in your skin is imperative in an anti-aging regime.
Skinception AHA Toner Ingredients (link to my picture) also contain soothing aloe and cucumber to nurture your skin while protecting from harmful toxins which can cause premature aging.
It also contains grapefruit and orange peel oil which not only soothes, but gives it a nice light citrus scent. It feels very refreshing when you apply it and you can really feel it working!
After cleansing, I lightly soak a cotton pad and sweep it all over my face, neck and chest (I always hit those three areas – I consider my neck and chest to be JUST as important as my face as they show your age).
I do feel a cooling sensation (but no burning) and I allow it to dry just for a minute or two prior to applying my moisturizer.
During those couple of minutes, it does make my skin a tiny bit flushed, but it subsides quickly to leave a youthful glow!
I would say on a scale of 1-10, with 10 being a toner than tingles to the point where you have to fan your skin, this one is about a 3 or 4 as far as a sensation level so I wouldn't consider it harsh by any means and it has a minimal alcohol content.
If you've ever used a toner that does burn or tingle, such as a product with glycolic acid, you'll know what I mean. Those types of toners actually make my skin more oily causing me to be shiny through my makeup which I don't like.
Harsh toners have this effect because they strip the skin of its natural oils, so your skin rebels by overproducing it. Skinception AHA Toner does not have that effect on the skin and is one of the reasons that I like it.

Skinception AHA Toner Recommendation and Where to Buy
Skinception AHA Toner is cooling and refreshing and works to create the perfect ph balanced environment in which to apply your moisturizer or anti-aging treatment while increasing collagen and elastin production.
It deep cleans your pores allowing your skin to breath which creates an open pathway for your anti-aging treatments to penetrate deeper and work more effectively. I highly recommend Skinception AHA Toner based on quality of ingredients, the results I've experienced, and price.

Skinception AHA Toner deep cleans, shrinks my pores, and fights hyper-pigmentation by increasing the effectiveness of my anti-aging treatment.  My skin has an improved texture with a more evened skin tone, and my wrinkles have softened giving me a more youthful appearance.
You can purchase Skinception AHA Toner from their official website for $39.95 for a 6 ounce bottle. It's not sold in retail stores.
I use it morning and night after cleansing and before applying my moisturizer. You can also throw this product in your beach bag and use it as an on-the-go cleanser!
Interested in other Skinception Products? Here are some of my latest reviews:
Have you tried Skinception AHA Toner? Leave your questions and comments below!
Click here to submit your review.
---
Toner by Skinception
Skinception AHA Toner Review – Boost Your Anti Aging Results
I love this toner. I like that it has AHA's but it doesn't sting or burn. Leaves my skin very fresh and clean and has improved the texture. Skin is softer and brighter. Less dark spots.

---
User Questions and Answers
User Questions and Answers
---
Q: Am in Ghana, how do I get the toner -Rejoice
A:
Rejoice, did you try going through the check out on the Skinception web site? If they don't have your country on the drop down where you enter your address, then they probably don't ship there. I would just go through the motions as if you're going to buy and see if it accepts your address. This part comes before entering your credit card info, so you can try. ~Rachel
Was this question helpful to you?

---