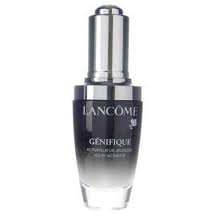 Lancome Genifique Overview
The health and beauty industry has created countless skincare products over the years to combat the effects of age.  Many ingredients have been tried and tested.  Some have proven to work well, others not at all.  Lancome is a well established and trusted name in cosmetics and skincare.  They've created Lancome Genifique, a line of anti-aging products, using a new technology that claims to boost the activity of your genes and stimulate the production of youth proteins.
The result is supposed to be soft, radiant skin that looks like it's lit from within.  The line includes the flagship product, Youth Activating Concentrate and well as Youth Activating Eye Concentrate, Youth Activating Cream Serum, and Youth Activating Night Cream.  We'll concentrate here on the Youth Activating Concentrate.  What are these new ingredients and do they work as well as Lancome would have you believe?
Lancome Genifique Ingredients and How They Work
There are four main ingredients in Lancome Genifique Youth Activating Concentrate.  Bio-Lysat is a bacteria found in many probiotic supplements.  The claim is that it balances the microbes in your skin cells, but there have been no scientific studies performed on the effectiveness of applying it topically.  Hepes is an acid that helps even out dark spots.  Phystosphingosine-SLC helps soothe skin and improve its texture.  Denatured alcohol is the fourth ingredient listed.  This is puzzling to many skin care enthusiasts as alcohol is very drying to the skin.  Its presence requires that you apply moisturizer after using Lancome Genifique.
The list lacks all of the ingredients already known to reduce the look of lines and wrinkles, such as peptides, antioxidants, and alpha hydroxy acids.  Instead, it promises a reactivation of genes, but this claim is not supported by an explanation of how the ingredients work to do this.  Without this kind of data, we need to rely on customer reviews to help us figure it out.  Unfortunately, in the case of Lancome Genifique, the reviews are primarily pretty mediocre.
Pros and Cons of Lancome Genifique
When making this kind of purchase, it helps to weigh the benefits and drawbacks you can expect to find.
Benefits of Lancome Genifique
It was developed over 7 years of testing, and has several patents pending for its formula.
It is widely available at department store Lancome counters, such as you may find at Macy's.
Lancome Genifique samples are usually offered at Lancome counters, so you can try them out before purchasing.
Drawbacks of Lancome Genifique
It doesn't contain any of the ingredients known to minimize the effects of aging on your skin.
At about $80 per ounce, it is quite expensive.
Lancome Genifique reviews are mostly negative and lukewarm, with some users claiming that they experience breakouts and other noticing significant dryness.
Where to Buy Lancome Genifique
Lancome Genifique is available at department stores and online for $78 for a 1 oz. bottle.  Some sites offer free shipping either on all purchases, or on purchases over a certain dollar amount.  Look around, and you should be able to get your shipping for free.
Conclusion
Lancome Genifique makes some pretty big promises with its claims of  boosting the activity of genes and producing youthful proteins.  While they may be on to something groundbreaking in the future, it doesn't seem to have panned out just yet.  The ingredient list is available, but there is no real explanation of how these ingredients work to do what they say they do.  It would seem that if this product were indeed so revolutionary, they would want potential customers to understand how it works.
If the reviews were all very positive, that might make up for the lack of real information available, but they are not.  $78 is a lot of money to spend on something that has a good chance of not being effective for you.  With all of that said, if you want to try Lancome Genifique, I would recommend going to a department store, such as Macy's or Nordstrom, and asking for a free sample.  Then you'll know for sure whether or not it's worth paying for.
Have You Used Lancome Genifique? Leave Your Review Below!
Click here to submit your review.
---
Chemical burn?
Lancome Genifique Review
I purchased a big ones after using it for 7 days im noticing dryness n burn n few days it break out my skin n i got bumps ... I dint went out of my house for 20 days??i went to hospital n doctor said its a chemical burn n i applied 1%hydrocortisone now im feeling better?

---
Doesn't work
Lancome Genifique Review
The high level of glycerin left my skin sticky and I noticed no difference in anything after using the whole bottle

---
User Questions and Answers
User Questions and Answers
No Questions Have Been Answered For This Article.