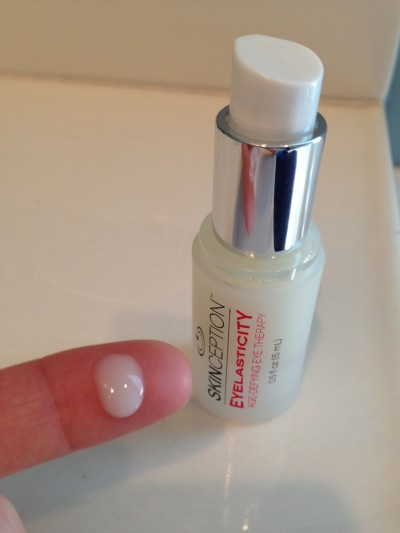 Skinception Eyelasticity Review – Age Defying Eye Therapy
Note: This is my personal review, Click HereClick Here to visit the official Skinception Eyelasticity website.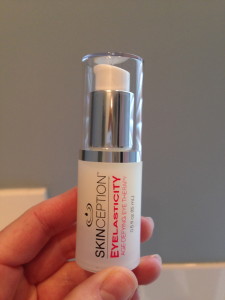 Skinception Eyelasticity Age-Defying Eye Therapy easily found a spot in my Top 3 Eye Treatments!
Eyelasticity is a soothing eye treatment in the form of a creamy, fast absorbing serum that works well for women who want to reduce wrinkles, dark circles, puffiness, and is effective at treating all of these conditions at once.
Eyelasticity has a unique ability to increase lymphatic drainage to those dreaded under eye bags! 
With an effective ingredient list, Skinception uses no parabens and no synthetics in any of their products, which is favorable when deciding on a skin care product.
Parabens are added to many cosmetic products to increase shelf life, but the downside to these toxins is that they can also mimic hormones in the body and become stored in fat cells, which can disrupt functions of the endocrine system.
If you've never heard of Skinception, they are a boutique beauty product line boasting the most recent developments in skin care technology, blending patented peptides with natural skin care ingredients like shea butter, retinol and aloe.
Skinception has a wide variety of outstanding products in the anti-aging arena, including wrinkle creams, eye creams, exfoliators, toners, creams for scars, stretch marks, and even hair removal.
Skinception Eyelasticity has eyes looking more youthful in as little as 14 days, softening crows feet, smoothing away wrinkles, laugh lines, and transforming the delicate skin around the eye area to be lifted, firmed and bright!
Skinception Eyelasticity Improves Lymphatic Circulation to Reduce Puffiness and Dark Circles
Skinception Eyelasticity is unique in its ability to reduce puffiness and dark circles (which is very hard to treat by the way) by using a series of clinically proven active ingredients which boosts elastin and collagen production while improving lymphatic circulation.
This works to drain away excess water and fight puffiness at the root of the problem. It also works very effectively to lighten those hard to treat dark under eye circles.
Let's talk about the powerful peptide responsible for drainage for the under eye area and how it works.  Eyeseryl® is an ingredient patented and manufactured to be used in a variety of anti-aging products.
The technical name, anti-oedema (or anti-inflammatory), was designed to help the body drain excess fluids by increasing blood flow and circulation, bringing oxygen to the skin's surface and also functioning as a decongestant for the under eye area.
By improving the function of drainage around the eye,  puffy under eye bags are reduced, and dark circles are diminished, both of which can be very noticeable when you wake up in the morning.
Skinception Eyelasticity also includes soothing agents, such as Aloe Vera and Grape Seed Oil which work to calm the skin while Green Tea Leaf and Gingko Biloba extracts, Billberry and Milk Thistle all help to firm, plump, and brighten the eye area.
Click here to learn more about the ingredients in Skinception Eyelasticity
My Experience and Results Using Skinception Eyelasticity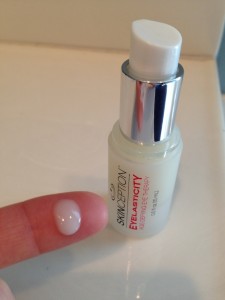 I used Skinception Eyelasticity for a full month prior to coming to any conclusion, and I'm very happy with my results!
I really enjoyed the texture and feel of this product, it's very soothing and works fast to calm the skin and firm and plump the eye area, noticeably reducing the appearance of wrinkles.
Eyelasticity is an eye serum, not a cream, and I personally prefer serums when it comes to eye treatments since serums have the ability to absorb at a deeper level.
The molecules of a serum are smaller than a cream, and deeper penetration of the ingredients allows them to work at a more cellular level which brings more effective results. Creams can sometimes feel superficial, and feel like they are sitting on top of the skin.
What I liked most about this product is its ability to reduce puffiness. It worked quickly in the mornings to flatten out the area underneath my eyes and is very hydrating to the delicate skin around the eyes.
Skinception Eyelasticity serum is odorless and for the most part colorless (it's a milky white serum), lending itself suitable for very sensitive eyes and I even used it on my eyelids!
As I've said in my other eye treatment reviews,  I think it's very important that you're able to use eye treatment products not only underneath your eye, but on your eyelids as well.
The eyelids need help with moisture, collagen production and sometimes de-puffing just as much as the under eye area, and you need a plump, moisturized foundation to apply your makeup to.
I flat out don't recommend products that give me any reaction on my eyelids such as redness, stinging, or watery eyes. Eye treatments should make you look younger – not tired with red, irritated eyes.
Skinception Eyelasticity perks your eyes up to make you look and feel more youthful!
Click here to learn how Skinception Eyelasticity brings youth back to your eye area in 14 days
Benefits of Skinception Eyelasticity
You can expect the following benefits from Eyelasticity:
Reduced Puffiness and Swelling
Reduced Dark Circles
Softening of Crows Feet and Laugh Line Wrinkles
Delicate Skin Looks More Youthful and Firm
90 day Money Back Guarantee
Skinception Eyelasticity Recommendation & How to Buy
Skinception Eyelasticity worked very well for me, with my problem areas being puffiness in the morning, and fine lines and wrinkles. I had such good results from it, that I have categorized it as one of my top eye treatments.
The price is $59.95 for a 0.5 oz bottle which has a convenient pump dispenser allowing for just the right amount with each use and also keeps the product contaminant free.
The only place to buy this product is from the Skinception Eyelasticity official website to ensure the 90 day money back guarantee.
I recommend using this eye treatment both morning and night, underneath any other products. You won't need a separate moisturizer for the eye – Skinception Eyelasticity is a very hydrating moisturizer, and effective anti-ager all in one.
Skinception Eyelasticity cannot be purchased in a drug store or department store, and it's definitely a far cry from any drug store brand.
Have you used Skinception Eyelasticity? Leave your questions or comments below!
User Questions and Answers
User Questions and Answers
No Questions Have Been Answered For This Article.