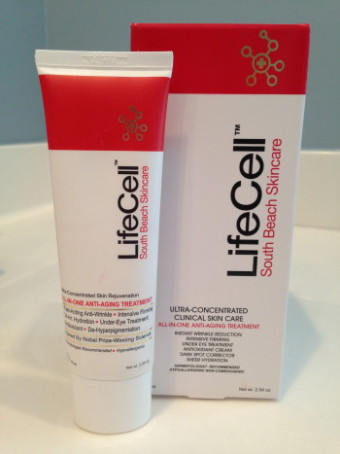 Lifecell Review – Does it Really Make Wrinkles Vanish?
Lifecell Review
Hello beauties! I am so excited to bring you my latest Lifecell Anti-Aging Treatment cream review which has been one of my go-to moisturizers since 2010 (yes, over ten years!), it's simply an amazing product!
Lifecell is an ultra concentrated formula of clinical skincare, a multi-purpose anti-aging treatment that's like having 7 products in one!
Lifecell diminishes the fine lines and wrinkles around my eyes, forehead, lips, and reduces dark spots (hyper-pigmentation) to give me smoother and more youthful complexion.
It's creamy, lightweight formula is fragrance free, hypo-allergenic, and very soothing to sensitive skin, and it fills in wrinkles much like a facial primer for an instantly smoother face. 
It works so well, that my sister (a pro makeup artist), uses Lifecell on her brides and models to get them photo-fabulous ready! We're talking FLAWLESS FINISH!
Visit the Lifecell website here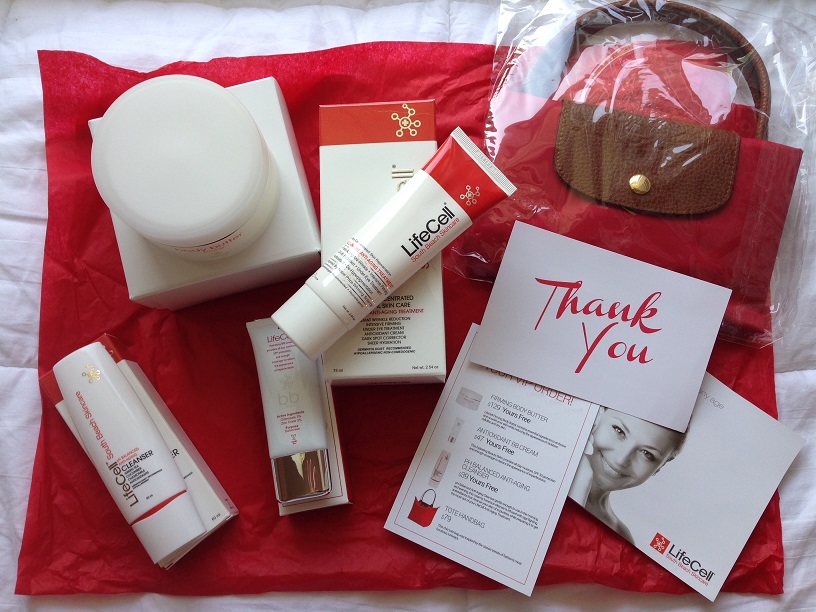 How Lifecell Works – Wrinkles Vanish
The most immediate result of Lifecell is how it fills in the lines and wrinkles on your face making them far less noticeable, instantly! 
When your wrinkles are "filled up" with Lifecell (or crepey eyelid skin smoothed out with the product), it removes the shadow of the wrinkles, causing them to be much less noticeable to the eye, and creating a smooth base for makeup application.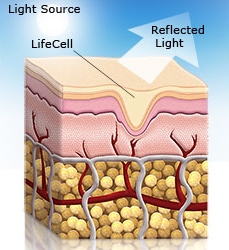 Applying Lifecell to the face, neck and chest works quickly to smooth out wrinkles and also reduce any dark spots you might have in that area, and it also works great to firm and lift the neck!
Its ingredients work at a deeper level to increase collagen and elastin production to create a more supple and youthful complexion with lasting results.
Click here to learn more about Lifecell
How Lifecell Helps My Eyes
Lifecell is also an Eye Treatment and it's gentle enough that I can use it on my entire eye area, lids and all.
I use it underneath my eyes and it fills in those annoying fine lines and wrinkles, reduces puffiness, and diminishes those dreaded dark circles.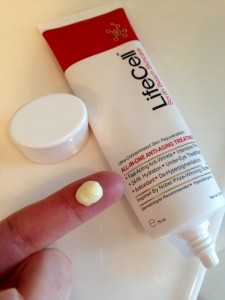 My eyes happen to be very sensitive (I have an inflammatory eye condition), and sometimes even products specifically suited for the eye area cause my eyelids to sting or get puffy – not a good look when you're trying to look younger!
Lifecell does not cause any stinging or burning, is very gentle on the eyes and works great as an eye shadow primer.
It works fast to perk up the whole eye area and smooth out the wrinkles so you can apply your concealer and eyeshadow (which is what I personally like to use after).
Lifecell Reduces Hyper-Pigmentation – Kiss Brown Spots Goodbye
Lifecell drastically reduced the hyper-pigmentation along my jaw line to the point of almost disappearing.
Being raised in Florida, and at the beach just about every weekend playing volleyball, I'm no stranger to the sun.  Unfortunately, UV damage is the main culprit for aging, dark spots and freckles, which is what happened to me.
Over the years, the hyper-pigmentation along my jaw line and neck became darker each year and it was a huge source of insecurity when it came to my face, and nothing will make those pesky dark spots pop more quickly than a day out in the sun.
I've tried glycolic peels, retinoids, alpha-hydroxy, hydroquinone and many other products promising results but nothing seemed to work, and those ingredients were highly irritating to my skin.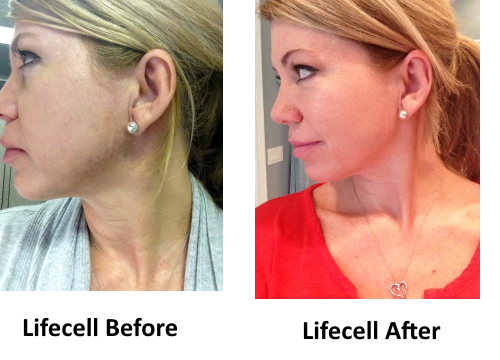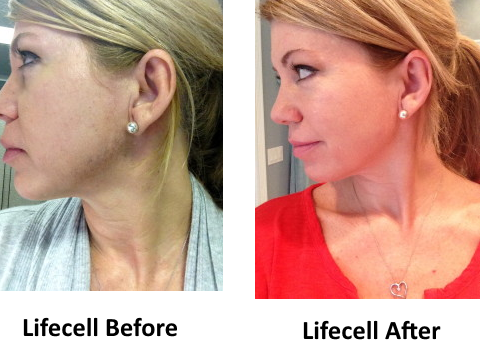 Lifecell Anti-Aging Treatment reduced my dark spots within a few weeks, and after a full three months, I could barely see them anymore. Sorry about the lighting in these photos – but you can see that the dark spots have been diminished in the photo on the right. 
You must wear SPF to maintain your results which is true for any skin lightening treatment and you should anyway to block those damaging rays!
I always wear a minimum of SPF 30 on a daily basis over Lifecell, and SPF 50 or higher when I am in the sun, and I encourage you to do the same.
Other factors including hormones, medications, and acne scarring can also cause hyper-pigmentation, post inflammatory pigmentation or melasma.
However, it doesn't matter what the cause of the brown spots are, the treatment is the same – to halt melanin production in its tracks.

Pro's & Con's of using Lifecell
Pro's
Diminishes Fine Lines and Wrinkles instantly since it "fills in" wrinkles
24 hour Moisture
Increases Blood Flow to Re-energize Skin
Reduces Hyper-Pigmentation
Lifts, Firms and Smoothes
Plumps Lips and smooths lip lines
Reduces Dark Circles and Fights Puffiness
Effective eye treatment for the whole eye area
Reduces Crows Feet
It's like having 7 beauty products in one
Hypo-Allergenic, fragrance free, dye free, paraben free!
Certified 100% Cruelty Free by PETA
120 day money back guarantee
You can try it free for 30 days
Large, 2.54 oz tube of product (2 month supply)
Made in the U.S.A. in Miami, FL and ships worldwide
Con's
You can't buy at a drug store or department store.
A bit expensive, but worth it.
The Science Behind Lifecell
Blood Flow = Youthful Looking Skin
So here's my geek moment about the Nobel Prize-winning science behind how Lifecell works on a cellular level to boost collagen and elastin production.
Nitric Oxide dilates your capillaries to increase blood flow circulation giving your skin an instant youthful "boost," but you can't put nitric oxide directly onto your skin because it's a gas, so it needs a messenger.
That messenger must  be topically administered to your skin through Dithiolane-3-Pentanoic Acid (D3PA) – a naturally occurring compound produced in your body which decreases with age.
Lifecell has a high concentration of D3PA which produces an environment for which the nitric oxide can do it's magic.
This little miracle, i.e. nitric oxide, was discovered in 1998 by three Nobel Prize winning scientists and is exactly one of the reasons why Lifecell is uniquely formulated. Hooray for bloodflow!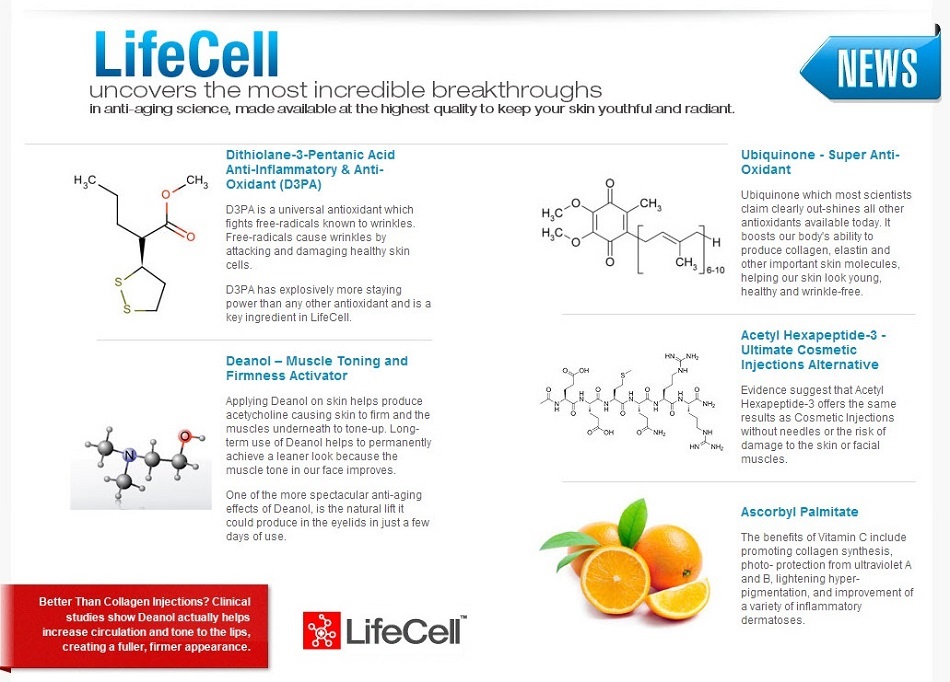 Lifecell also contains DMAE (dimethylaminoethanol), also known as "the facelift in a jar." This powerful substance is known to prevent aging, liver spots and firms loose and sagging skin.
DMAE is one of the most potent ingredients in Lifecell which creates that immediate tightening effect on your face to lift and firm sagging skin.

Lifecell also contains moisturizing and soothing agents from natural sources such as oat kernel extract, shea butter, and hyaluronic acid which plump the skin full of moisture without feeling greasy.
I have dry skin but I don't like heavy moisturizers that don't fully absorb and feel like they're sitting on top of my skin like a film. Lifecell has a lightweight, creamy texture that feels wonderful.
Click here for a picture of the label with a full list of the ingredients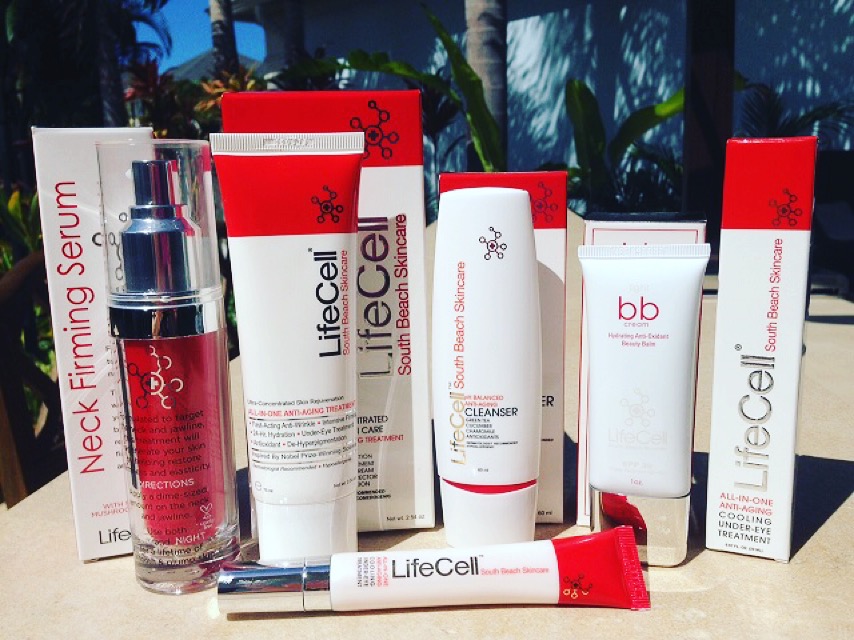 Conclusion & Recommendation
To recap my Lifecell review, I want to mention that I've used high end products for over 15 years. I have never skimped on good skin care!
Lifecell Anti-Aging Treatment has proven itself to be one of my all time favorites based on my results and how gentle it is on my skin.
It makes me look and feel younger by instantly smoothing my face of wrinkles – I love the wrinkle filling effect! 
Even with no makeup, my skin looks flawless, which I love for before bedtime when my husband sees me with no makeup on! He always tell me how young I look. I just turned 50 but most people guess my age to be in my 30's!
Lifecell's 120 Day Money Back Guarantee & Risk Free Trial

You can try Lifecell for FREE for 30 days before billing (all you pay is shipping & handling) and it has a 120 day money back guarantee.
The best place to order Lifecell is directly from the manufacturer's official website to ensure the freshness, and the money back guarantee. They ship worldwide!
I get a new Lifecell every 60 days on their replenishment program, this way I'm never without. But they do have other options (like every 90 days), so you can always make changes to your delivery if you wish.
Purchases made on Amazon or E-bay etc. will not come with the 120 day money back guarantee (and may not even be the real thing), so I always recommend buying skin care from the source for this reason, and also to ensure its freshness.
I get emails daily from women asking me what my BEST recommendation is for wrinkles, and Lifecell is my #1 choice! I  I hope you enjoyed my Lifecell review!
Have you used Lifecell? Leave your comments or Lifecell Review below!
How Women Found This Review:
and https://www womensblogtalk com/lifecell-review
Click here to submit your review.
---
Lifecell
Lifecell Review – Does it Really Make Wrinkles Vanish?
I saw some ads on Facebook so decided to see what the hype was about, but a bit skeptical since.. well Facebook ads can be hit or miss. I signed up for the free trial and got my product about 4 days later. Wow, this stuff works! It did a good job at smoothing my wrinkles and crows feet, even with no makeup I felt much happier about my complexion. The following shipment I got their anti-aging face wash for free which I wasn't expecting. It's very gentle and leaves my skin soft. I'm very pleased with these products! A bit pricey, but worth it since it lasts a long time and a little goes a long way.

---
It Works as it Says!
Lifecell Review – Does it Really Make Wrinkles Vanish?
My daughter in law purchased Lifecell for me last year and I swear I was hoarding it for special occasions because it works so well! It gives me an instantly smoother face with less wrinkles (I'm 65). She convinced me to use it daily and not treat it like 24 kt gold and I'm really loving my results! Great for mature skin, and this is coming from someone who's had way too much sun in her life!

---
Wrinkles are disguised
Lifecell Review – Does it Really Make Wrinkles Vanish?
I'm pleased with Lifecell. It fills in my lines and wrinkles making my face look smoother. Even though yes it does wash off, applying makeup is much easier using this product. I used to use a separate product for "wrinkle filling." This is anti aging at its finest as well as being a filler. I do feel younger and I've used it for several months. Happy, happy.

---
Lifecell skincare line
Lifecell Review – Does it Really Make Wrinkles Vanish?
I use the ph balanced face wash, anti aging treatment and eye cream daily and have for two years. My skin has improved. My wrinkles are less noticeable, and my redness and dryness have gone away. I am a happy customer. The neck firming cream also helps with crepey skin and lifts and firms my neck.

---
Lifecell products
Lifecell Review – Does it Really Make Wrinkles Vanish?
I am receiving these products every 60 days. I am impressed with how they are working for me. I do have deeper wrinkles around my eyes and the Lifecell does a good job at smoothing them out. I received the Neck Firming treatment and have been using it on my neck and chest. It firms up the "turkey neck" for lack of a better term. The face wash is gentle and I can use to remove eye makeup. I enjoy the free gifts that they send with the membership. I am a happy customer so I wanted to share my experience. Thank you.

---
Lifecell is working for me
Lifecell Review – Does it Really Make Wrinkles Vanish?
I ordered the 30 day trial of Lifecell and I have to say, this cream works like nothing I have ever tried. I am impressed with how it smooths my under eye wrinkles the moment I apply. I have been using it about 3 weeks and I don't plan on cancelling the trial. I am already seeing a better skin tone, my redness has decreased. I wish to try the other products they offer with the special VIP membership, including the face wash and neck firming cream. Lifecell has exceeded my expectations and I'm an older gal! Thank you Rachel

---
Worth every penny
Lifecell Review – Does it Really Make Wrinkles Vanish?
Hi Rachel... I'm almost 70 years old and have been using LifeCell for about 18 months now, my skin looks amazing, so many compliments... This skin care line is fabulous and worth every cent, so glad to see it's your #1 pick. I also like the fact South Beach Skincare has no problem with customizing orders to suit the requirement of the client and not the other way around.

---
User Questions and Answers
User Questions and Answers
---
Q: Please tell me how much this costs? -barbara
A:
Barbara, Lifecell is a membership, so the first shipment of a 2.54 oz bottle is $189 (this isn't billed until the 30 day trial is up and you can cancel at anytime before that and not be charged), then every 60 days they will ship you a new supply but the price drops to $149 and you'll be a VIP Member. Starting with that second shipment and the reduced price, they will include four other items free with your shipment. VIP perks. You'll receive the pH balanced face wash, BB spf 20 Tinted Moisturizer, the Cooling Under Eye Cream, and another product (either the Neck Firming Cream or the Firming Body Butter). All great products, and that's exactly how it works (no surprises) :) Rachel ~WomensBlogTalk.com
Was this question helpful to you?
14 out of 14 people found this question helpful.
---
Q: I've used LifeCell for a year and love it; however, sometime my face feels like it needs more moisture. Any suggestions? -Darlene
A:
Darlene, glad to hear you're happy using Lifecell!  I know what you mean though, sometimes we just need more moisture. Sometimes I use a Vitamin C serum under the Lifecell  and sometimes I also use my #2 cream, Kollagen Intensiv instead of Lifecell, but I know it's easier for me because I always have both on hand :) Oz Naturals has a good Vit C serum that comes in a dropper form that is reasonably priced off Amazon. It's nice because it gives you extra moisture without being heavy, and then you can seal it in with Lifecell. I also sometimes use the Image Skincare Vitamin C Hydrating serum. This you have to purchase from a spa though so it's a little hard to come by. Good luck! Rachel~Womensblogtalk.com
Was this question helpful to you?
7 out of 7 people found this question helpful.
---
Q: How do you think Lifecell works on deep wrinkles are the eyes? I read your review about skin cream marketing in general and that most free trial/celebrity endorsed creams are fraudulent...but Lifecell seems to have the same marketing strategy and are offering a "free trial". It has the same appearance as tru belleza and all the others. Is it different somehow? Thanks so much, Deborah -Deborah
A:
Hi Deborah, Lifecell works great on deeper wrinkles because it also acts as a filler. So the more shallow the wrinkle is, it will show less of a shadow which is what makes the wrinkle appear.

I want to explain in detail why the Lifecell trial shouldn't be compared to these short term wrinkle cream scams because I do get asked this question a lot. Lifecell is offered as a 30 day trial, and I could count on one hand the creams that actually offer a legitimate, 30 day trial - there are very few of them. However there are HUNDREDS of these 12 day wrinkle cream scams (such as Tru Belleza - just read their terms and conditions).

I've been recommending Lifecell for almost 5 years, long before all these short-term free trial scams started popping up everywhere on the internet using Dr. Oz and other celebrities for their misleading advertising. South Beach Skincare is a reputable manufacturer that has been around for almost a decade. They have quality skin care and their product is amazing!

You have 30 days (not 12 days) to try Lifecell. If you are unhappy at any time during that 30 days, you can call Lifecell 24 hours a day, and be answered by a friendly customer service rep right here in the U.S.A.  Lifecell also comes with a 120 day money back guarantee (that's four months to try it risk free for a full refund if you're not happy).

If you decide you love the cream, you'll be sent the product every two months and the price drops to $149, plus you'll be sent a ton of free skin care with every VIP shipment (face wash, BB cream, cooling eye treatment, neck firming cream and/or body butter).

I've been a Lifecell VIP member for years now and I absolutely love their products and getting my package every two months.  I feel that a 30 day trial (with a reputable company) gives you plenty of time to try the product to see if you actually like it. And when you need customer service, they are available. Not like these scam companies that give bad phone numbers, have no refund policy, have poor quality ingredients (who knows what's even in them because they don't publish their ingredients), and keep changing the name of their products and flipping the links because ultimately they are just scam artists.

I never used to get questions like this before these scams tarnished the image of a true trial. Anyhow, I hope this clears things up. I wouldn't be recommending a product that didn't live up to its promise with great customer service standards. My blog would not survive! :) Rachel~WomensBlogTalk.com
Was this question helpful to you?
7 out of 9 people found this question helpful.
---
Q: Hi Rachel, I had a question about Lifecell. I am interested in receiving Lifecell's other skin care through VIP membership. I want to try their face wash and cooling eye treatment and the spf cream would be good for those days where I'm outside. I have sensitive, dry skin and I'm almost 50 so I'm fighting wrinkles and would like to reduce them. How will those other products do with my skin type? Thanks so much, I'm looking forward to trying these products. I don't mind receiving a shipment every 60 days, especially if they're sending other good products. It'll keep me from having to run out to the mall to buy skin care. I don't have time.... -Linda B
A:
Hi Linda, the South Beach Skincare line (Lifecell brand) is amazing. I really love it all and it works very well when used together. The pH Balanced Facial Cleanser has calming cucumber and green tea and other anti-oxidant and anti-aging ingredients. It's fragrance free and leaves the skin feeling supple and soft and not stripped. It's perfect to use with a clarisonic a couple times a week as well for a deeper cleanse. It's very gentle I even use it on my eyes. The Cooling Under Eye Cream has a special metal tip that feels cold to the touch, so it's great for puffy eyes and reduces dark circles and wrinkles. The BB Cream is spf 20 and it has a nice consistency. If you have dry skin you will love it. It also contains anti-aging ingredients so if you want, you can just throw that on for the day and not even need to wear foundation over it if you're in a no-fuss mood. All of their products are made with sensitive skin in mind, fragrance free and have no irritating botanicals or scents. I also have sensitive, dry skin and my skin loves these products. There is absolutely nothing irritating about them...you'll feel pampered. Rachel-WomensBlogTalk.com
Was this question helpful to you?
5 out of 6 people found this question helpful.
---
Q: Do you receive any compensation or kickbacks for recommending lifecell products? -Stacy
A:
Stacy, a small compensation, yes. But I also am enrolled in their VIP program so every two months I'm billed $149 to keep receiving Lifecell and their other skin care so it's probably a wash.  You'd think they'd give it to me free, but they do not.  Any extra funds I mainly use to buy more skin care i.e. at Sephora, Ulta, etc. so I can review those products and that can get pricey. I'm just being honest. I could link to practically any product and get a commission, but it doesn't change my recommendations.  There are many products that pay that are horrific that I absolutely won't recommend.... For example, have you ever heard of Juenesse? It's one of those MLM companies that pays big commissions to sell their products, but I don't like their products at all! This is more of a hobby for me, definitely not a huge money maker :)
Was this question helpful to you?
3 out of 3 people found this question helpful.
---
Q: Can I cancel anytime after using it for a couple of months. Any time limit for canceling -Trish
A:
Hi Trish, yes just call them and cancel so they don't mail you anymore. Here is their contact info:

+1 954.606.5057 / 1.866.977.1412
9:00 am - 6:00 pm EST (Mon-Fri)
10:00 am - 2:00 pm EST (Sat)
Was this question helpful to you?
2 out of 2 people found this question helpful.
---
Q: I just found your site. Love it!!! So much info. I have a question, if your are using, more than one product, how do you know which one is doing all the work? You said you use, Kollagen, and Lifecell, Crepe Erase, you speak highly of each product. How do you know they are each doing something great? Cheryl Maekovitz -Cheryl
A:
Hi Cheryl, thanks!! I've used both Lifecell and Kollagen Intensiv separately for long periods of time each so I know those both work well individually ( I've used both extensively for the past 4 years). Currently I use Kollagen Intensiv more regularly because it's more hydrating than Lifecell and my skin has become more dry as I age (I'm 44). Crepe Erase has shown me best results on the body (legs, arms) but I also saw results on my neck.  If your having trouble choosing, my vote would be use Kollagen Intensiv for face and Crepe Erase for body, neck and chest. There are a lot of products out there that I do love, but the ones I find myself going back to are the ones I feature as my top products. Sometimes I'll try products for reviews and I find my skin not looking as good and when I go back to my favorites my skin improves. It is tough sometimes to skip around but I do have a bit of an anti aging obsession! :) I know the average person can't possibly try so many things so that's why I like to give top choices for products that do work. Let me know if you have more questions. Rachel~WomensBlogTalk
Was this question helpful to you?
2 out of 2 people found this question helpful.
---
Q: This product comes from the US so the cost is US$. With the exchange to Canadian, this gets pricey, plus there would be shipping costs and customs fees. Is there a Canadian outlet that might carry it? -Diana
A:
Diana, thanks for your question. Lifecell is based out of Miami, so there is no Canadian outlet. My #2 anti-aging treatment, Kollagen Intensiv, is a Canadian based company so it may be a better option for you? Maybe go through the cart and see what comes up to compare the shipping. They are both wonderful choices. Kollagen Intensiv is a bit more hydrating if your skin is on the dry side. Rachel~WomensBlogTalk.com
Was this question helpful to you?
1 out of 1 people found this question helpful.
---
Q: Should I use a serum underneath Lifecell? If so, which one do you recommend? -Janine
A:
Janine, thanks for your question. While you don't have to use a serum underneath Lifecell, I like using serums and I always use one because I tend to be on the dry side. Lately I've been using Ole Henriksen's Truth Serum, which is a vitamin C serum and collagen booster. It's very light and absorbs full into the skin and they pair very nicely together. I wait just a minute or two before applying Lifecell. Rachel~WomensBlogTalk.com
Was this question helpful to you?
1 out of 1 people found this question helpful.
---
Q: Rachel, it was advertised that lifecell has enough ingredients that you didn't need additional products; that you would have all in one. I liked that. But now after reading your blog I'm kinda confused. I just received my order and I have brown oily skin I'm 61 years old, I'm African American and other than a few neck wrinkles and folds I still look like I'm in my middle 40s...so what will this cream alone do for my neck -Clifford Peacock
A:
Hi Clifford, thanks for your message. You're exactly right, Lifecell is like having 7 products in one, tightens, firms, reduces wrinkles, eye treatment, lip treatment, reduces dark spots, and also works as a wrinkle filler for an instantly smooth finish. It's not a heavy product at all, so it should work just fine with your skin. It will help the neck area as an anti-aging treatment just the same as it will help the face. If you have any crepy skin there or loose or sagging skin, it should help firm it up. Thanks, and good luck with the Lifecell! Rachel
Was this question helpful to you?
1 out of 1 people found this question helpful.
---
Q: Do I have to Use Sunscreen before Lifecell anti-aging cream ? Plz let me know the steps of using it. -Abida
A:
Hi Abida, you would want to use your Lifecell FIRST, then if you're going to be outside in the sun, use some SPF over it... or use a foundation with spf for daily use. Thanks! Rachel
Was this question helpful to you?
1 out of 1 people found this question helpful.
---
Q: Hi Rachel, I have just ordered my free trial and am very much looking forward to a great product! Also, just wondering if you have tried the "Bye Bye" line sold on tv? -Karen
A:
Hi Karen, thanks for your message. You're going to love Lifecell! I have been trying out a new product and my face got all irritated, so I went back to my Lifecell last night and it was great to use it again, it calmed all my redness and nothing smooths my wrinkles as fast. Re: the Bye Bye line - I think that's the "It Cosmetics" line, right? I love their SPF 50 CC Foundation and powder. It's provides great coverage without being too heavy and gives you all the sunscreen you need for the day. This is a great product to use over Lifecell if you don't like using a separate spf cream over it. I use this combo often and really like it. I know you can buy from the TV ad probably at a discount, but I buy mine at Ulta. I use the "light" color and it's perfect. I hope I'm talking about the same line, I do believe she has some products called Bye Bye. Let me know how you like the Lifecell. The second shipment you receive will be your first VIP shipment which will include all the other free skin care, pH balanced face wash, BB spf 20 cream, cooling eye cream and neck firming cream or the firming body butter. All great products. Rachel~WomensBlogTalk.com
Was this question helpful to you?
1 out of 1 people found this question helpful.
---
Q: Hi Rachel, I have written you once and your reply was if I was having trouble choosing that you would go with Kollagen & Crepe erase. Then I stated reading others questions, on Kim you suggested Life Cell and said it was great with crepiness. Now I'm really confused on which to try. I'm 67, but people think im in my 50's. Over the past 16 mo. I have lost 65 lbs. so my skin crepier then it used to be, and my face is droopier. Also do these companies only sell on the Auto plan?? I'd rather just purchase and order when I'm ready, not when they choose to send it. Thank you for your help. I LOVE your site!!! -Cheryl
A:
Hi Cheryl, Thanks for your question. To clarify, Lifecell used to be my #1 anti-aging treatment (for the past 4-5 years) and I still love the product, it's amazing. However, they only way to purchase is via their 30 day trial which becomes a membership unless you call to cancel.

Great products, and great arrangement if you enjoy receiving product every 60 days. If you go to my home page and read my post about Lifecell, the reason why I decided to stop promoting it so heavily was because all of these short term 12 day free trials starting popping up everywhere over the past couple of years and they really tarnished the nature of a free trial. I'm talking about those Dr. Oz and celebrity SCAMS you see everywhere. There are only a couple of 30 day free trial products that I recommend, and Lifecell is one of them.

Kollagen Intensiv has also been a favorite of mine for years. It was in my #2 spot so I decided to move it to my #1 spot since you have the option to just buy it outright without signing up for a membership. As I've gotten older I've noticed I need more moisture and Kollagen Intensiv is more hydrating than Lifecell. However Lifecell also acts as a temporary "wrinkle filler" which Kollagen does not. So there's a difference between the two. Both are great options, I just found I was using Kollagen Intensiv more and more, and I got tired of people emailing me asking why I was recommend a free trial product (Lifecell) when I had posted about avoiding the Dr. Oz free trial scams. Obviously they are not the same at ALL, but many people just don't stop to read and learn the difference between them before they assume things.

So.... I believe you had mentioned that you also have crepy skin on other body parts (arms, legs, chest?) so that's why I recommend the combination of Kollagen Intensiv for your face and Crepe Erase for the rest of your body. Crepe Erase also has the awesome little eye serum that you can use on your face in combination with the Kollagen.

I hope that answers all your questions. If not, feel free to reach out to me here on the blog or email me directly at i[email protected]. Thanks Cheryl! Rachel~WomensBlogTalk.com
Was this question helpful to you?
1 out of 1 people found this question helpful.
---
Q: Hi Rachel, I'd like to try out Lifecell but would prefer to pay via "PayPal" rather than giving my AMEX credit card number via the internet. Is this possible? -jean
A:
Hi Jean, I wasn't sure so I went through the whole checkout process and they don't accept PayPal, I'm sorry! Rachel~ WomensBlogTalk.com
Was this question helpful to you?

---
Q: CAN YOU GIVE ME A DEAL OF LIFE CELL FREE OF SAMPLES -FRANKIE
A:
I'm sorry I don't have samples...but you can try it free for 30 days and if you don't like it, just call before that to cancel. Rachel
Was this question helpful to you?

---
Q: If it says it will not accept used or opened merchandise, does that include the trial order too? -Holly
A:
Hi Holly! Thanks for your question. I'm going to copy Lifecell's Terms & Conditions right from their website below. They are very black and white with their terms so there are no surprises. As long as you cancel within the 30 days and send back the unused portion (even if it's completely empty), you won't be billed on the 30th day when the trial is over. This is a great trial offer, there aren't many 30 day trials out there. Lifecell offers it for 30 days because they are confident in their product and women love it! Let me know if you have any more questions. Rachel~WomensBlogTalk.com

1. TRIAL ORDER TERMS AND CONDITIONS

Your 30 day Trial Period will start when the product is shipped. You will be responsible to pay Shipping and Handling charges for your first shipment of LifeCell. If you wish to cancel your order within your Trial Period, simply call 1-866-977-1412 and return your tube (even if it's empty!) within 30 days from shipping date and you will not be charged anything other than the shipping and handling fee. If you enjoy LifeCell, do nothing and at the end of your Trial Period your credit card provided today will be charged $189.00 and you will automatically be enrolled in the LifeCell VIP Discount Club. This means that in approximately 30 days from the end of your Trial Period and every 60 days thereafter, you will be shipped a new 2 months supply of LifeCell for the low VIP price of $149.00 per tube with FREE shipping for domestic customers.
Was this question helpful to you?

---
Q: Let me get this straight, you've been recommending this cream for 5 years but have only used it for 3 years? I'm sorry but that to me looks like a red flag. -Adriana
A:
Adriana, I started recommending Lifecell close to 5 years ago when I started this blog in 2011. I guess I should state the year I started using it in my review so I don't have to worry about updating the number of years I've been using it. No red flag here, just semantics. Sorry. I have over 1,100 reviews on WomensBlogTalk so updating all of them to be 100% accurate and up to date is a chore :) I try.... Thanks for your comment. Rachel
Was this question helpful to you?

---
Q: This still looks like a scam. Pictures of celebrities are photo shopped. Where are terms and conditions? Can't find it on their website? -Denise
A:
Hi Denise, Lifecell does give some TV personalities products to use i.e. all of the the "America's Next Top Model" contestants received some, so there are some pictures on their website. But it's not like they're running ads like those scam creams saying "Dr. Oz recommends this cream" or Oprah, "as seen on shark tank"  or whatever... it's a great product. If you go to sign up for the trial, once you put in your name and address a big box will pop up on your screen with the terms and conditions in black and white, BEFORE you enter your credit card. Don't worry you'll see them, you won't have to search for them as they do not try to hide them. :) Good luck! Rachel
Was this question helpful to you?

---
Q: Hi! I notice you recommend both Lifecell and Kollagen Intensiv. Do you use them in conjunction with each other? What does that look like? -Desiree
A:
Desiree, thanks for your question. I don't normally use both at one time. Lately I've been using Kollagen Intensiv regularly, 2x per day. It has a little more moisture than Lifecell and as I've gotten older my skin has become more dry. However, if I'm going out or want to look my best I'll smooth a little Lifecell over the Kollagen (or use it alone) since it works as a wrinkle filler and smooths everything out really nice. You could also use a primer for this, I just choose to use Lifecell since I have it around.  I also sometimes use Lifecell as my eye shadow primer.  You definitely don't need both depending on your skin and what other products you use, but this is how it looks for me, and I'm also a product junkie. :) ~Rachel
Was this question helpful to you?

---
Q: Can you wear fountain on top of lifecell? -Sherri
A:
Absolutely! It works so good as a smoothing primer as well as moisturizer. You can try it here. xo Rachel
Was this question helpful to you?

---
Q: How can i get this Anti-aging products? Cos i lives in Nigeria. -Irene
A:
Irene, thanks for your question. The only African country which Lifecell currently ships to is Zambia. I'm sorry! Rachel~WomensBlogTalk.com
Was this question helpful to you?
1 out of 2 people found this question helpful.
---
Q: I see in your reviews you really love Lifecell and Collagen Intensiv. What is the difference between the two? Do you use both? -Nancy
A:
Hi Nancy, I do use both depending on how my skin is feeling. Lifecell works better to smooth wrinkles and as a makeup prep, but the Kollagen Intensiv is more hydrating. Both are wonderful. If I had to pick one I'd choose Lifecell since it's literally like having 7 products in one and works as a wrinkle filler/lip plumper, reduces dark spots, and it's gentle enough I can even use on my eyes as a primer. You can do a 30 day trial of Lifecell here, but just be aware that if you don't like it, cancel it before the 30 days is up. This is the only free trial I recommend since it's a full 30 days and a reputable company. xo Rachel
Was this question helpful to you?

---
Q: I have looked at two different places where you claim to use lifecell in one and you claim to use meaningful beauty in the other. One may be old. I am 52 years old. I feel that I have premature aging. I have forehead wrinkles, the number 11 sign, some jowls, wrinkles around my lips even though I have never smoked a day in my life and also my neck is starting to look crepey. Which would you recommend for me? -Michelle Campbell
A:
Hi Michelle, yes I've used both product lines extensively and only recommend products that I've used personally and experienced results with :) Lifecell is best for mature skin that needs tightening and it works great on the neck as well. Lifecell is going back to my #1 recommendation as soon as I can update my blog. It's a great choice. Thank you ~Rachel
Was this question helpful to you?

---
Q: I can't seem to find many comments about the body butter for use on the stomach. I have had 5 children and have old stretch marks along with some loosening skin. What is the best product for my troubled spot? And can I see the before and after pictures from customers please? -Linda
A:
Hi Linda, I would recommend Skinception's Stretch Mark Therapy (read my review there) or you can view on the Skinception anti-aging store here. I have used it and can attest that it has a great feel to it and you can use on your whole body as a body butter, or just to spot treat your tummy. I had my step daughter use it and it worked great to bounce her back from her pregnancy (I used her before and after pics in the review). The Lifecell product is great as a body butter, but it's super pricey ($124) and I feel the Skinception product is more suitable as a stretch mark therapy treatment, it's $69 for a big tub. Good luck! Rachel
Was this question helpful to you?

---
Q: Do you recommend any skin cleansers for mature skin? -Diane
A:
Hi Diane, thanks for your question. The Lifecell pH balanced face wash is a great choice as it's very soothing and doesn't strip the skin. My skin is always soft and supple when I use it and it also removes eye makeup. If you need a good anti-aging treatment you could order Lifecell, which comes with the other skin care as well, as that's the only way to also get the cleanser.  I also really like the Image The Max Cleanser (it's my #2), but you have to order this through a spa. You can go to the Image Skincare website and use their map to see who sells it in your area. If you can find a place, you could just walk in and buy it. That may be a hassle for you, but it really is lovely skin care. I also love the Image Vital C line cleanser which is a cream, lotion like cleanser which leaves the skin really soft as well. You can't go wrong with any of these three choices and I could see myself using these for a lifetime! (I'm 44 now and my skin is dry and starting to age more and more each year so good products are a must). If you don't want to order online and you have an Ulta nearby, I also really like the Exuviance foaming cleanser but it's a bit more "deep cleansing" and doesn't leave the skin as soft and supple as the others. Thanks! And let me know if you have questions. Rachel~WomensBlogTalk.com
Was this question helpful to you?

---
Q: I'm on a fixed income, is there a way you can work with me on the price? -Cathy
A:
Cathy, I wish I could. I don't sell the cream directly; it comes from the manufacturer, South Beach Skin Care. Rachel~WomensBlogTalk.com
Was this question helpful to you?

---
Q: Hi Rachel, I have a question on this skin care regimine and the Rodans & Fields skin care. What's your opinions on Rodans & Fields, Redefine? I wasn't sure I could ask on this site. I really need some guidance because this stuff is expensive. I am 55 and have that dreaded nasty neck everyone complains about. I have some wrinkles but my neck is the thing that's brings me down. I feel so ugly with this neck. What ever advice you can give is greatly appreciated. Thanks Kim. -Kim
A:
Hi Kim, thanks for your question. I actually have never tried the Rodan & Fields skin care line. I just did a quick look at it and I don't recognize most of the ingredients and I've never heard much feedback (good or bad) on this line. That doesn't mean it's bad, but I like seeing a lot of peptides, antioxidants, DMAE for firming, etc and all I really see at first glance is a lot of synthetics plus added fragrance which I do not like (parfum). The price I found on their website was $193 for the four pieces in the Redefine line. In my opinion you're better off with Lifecell - it's $189 for the first shipment of just the anti-aging treatment, and then your next shipment would be VIP where the price drops to $149 and you get all the other skin care for free (face wash, BB spf cream, eye cream, neck firming cream and/or the firming body butter). You continue to receive it after that every 60 days. Lifecell is great on crepiness of the neck and the neck firming cream is a great addition. Mine's just starting to get bad so I totally know what you mean about feeling down about it. Actually my chest is what brings me down the most (too much sun!). Lifecell also has the ability to work as a filler so it really does a great job of smoothing everything out. If you do decide to try the Redefine line, I'd love to hear what you think about it. If you do order, make sure they have a good return policy (at least 60 days).  Rachel~WomensBlogTalk.com
Was this question helpful to you?

---
Q: Hello, here is my question: I have been using LifeCell now for at least 6-8 mths, I have noticed that when I do not use it my skin looks awful. I never had any of these things before I started to use it, such as black under my eyes and crepey neck skin like a 6 yr old and Im only 40. Has anyone else said as much? Almost like you HAVE to use it now because without it things start to fall apart that much quicker. Sincerely, Tracy -Tracy
A:
Tracy, I think you're addicted to Lifecell! :) Just kidding....in all seriousness your question intrigues me. Whenever I stop using my Lifecell regime (the face wash, cream and eye cream), my skin doesn't look as good either. When I stop my routine to try different products to review, sometimes my skin gets all out of whack.

Depending upon the ingredients of the new product I'm trying, sometimes I get more red, blotchy, and my eyes especially will get puffy and red. I have very sensitive skin, so when I stick with the Lifecell routine, my skin is calm, my redness goes away, and my eyes calm down.

I think the changes you see in your skin when you switch could be allergy related, or it could be that your skin is changing. And yes, it could be craving the Lifecell ingredients - it seems to work well for you so I would stick with it.  I know what you mean about the crepey neck. I just turned 44 last week, and I swear that in the last year my neck skin has changed. I notice it in the mirror when I'm driving in my car - it's just crepey and I feel like I have to constantly moisturize. It sucks, but as we get older our skin loses its ability to regenerate collagen and it breaks down.

My advice would be stick with the skincare routine that works for you, stick with Lifecell. One of the main reasons why I love these products is that they are so calming and non-irritating to the skin. I absolutely love the face wash.  Have you tried the Lifecell Neck Firming cream on your neck? I like using that and then sealing it all in with a bit of Lifecell so it smooths the wrinkles.

Rachel~WomensBlogTalk.com
Was this question helpful to you?

---
Q: Have you heard anything about Mediderm MD-12 Anti-Wrinkle Neck Cream Moisturizer! My biggest issue is my neck and jawline. -Becky
A:
Becky, I'm not familiar with these, but Lifecell is great for firming the neck and jawline and for crepiness. They also have a Neck Firming cream that's awesome - you would get that free with your membership. I believe it would come in the 2nd VIP shipment. Rachel~WomensBlogTalk.com
Was this question helpful to you?

---
Q: how long before u see results ? -Nancy
A:
Hi Nancy, you'll see results instantly with Lifecell since it also works as a wrinkle filler, so you get that smooth instant feel, along with the many longer term anti-aging benefits it contains. The wrinkle smoothing effect does wash off when you wash your face, but it makes for a great foundation either with or without makeup. My sister is a makeup artist and she uses Lifecell on her brides for the smoothness factor. Let me know if you have questions. Did you read my review in total? I love Lifecell but I also like making sure people understand it's a membership. Thanks! Rachel
Was this question helpful to you?

---