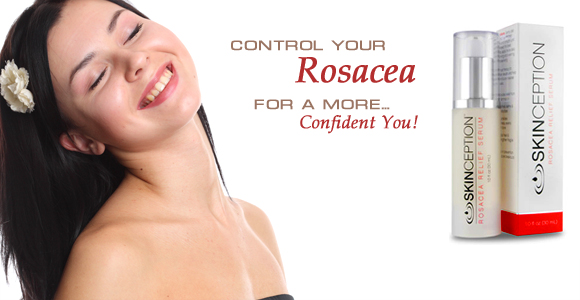 Skinception Rosacea Relief Serum Review – Calms and Prevents Outbreaks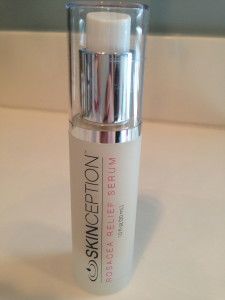 Note: This is my personal review, Click Here for the official site for Skinception Rosacea Relief Serum
What is Rosacea?  Rosacea is a chronic skin disorder which affects over 16 million people in the US alone and a whopping 45 million worldwide.
Rosacea is three times more common in women than in men, however usually men have more severe cases. There are actually four subtypes of rosacea, but the most common type is flushed skin with veins being visible and usually occurring on the nose, forehead, chin and on the apple of the cheeks.
Anything that increases blood flow to the cheeks can trigger rosacea (i.e. diet, stress, hormones), and while there is currently no cure, relief can be found in topical treatments to reduce redness, swelling, and the visibility of spider veins.
Today I'm reviewing a product called Skinception Rosacea Relief Serum, which can help rosacea sufferers soothe and calm their inflamed skin and help prevent future flare ups!
If you're not familiar with Skinception, they specialize in anti-aging skin care and have many of the latest scientific formulations. I use many of their products regularly, and while I don't personally suffer from rosacea, I can vouch for the effectiveness of their products because they work!
Skinception Rosacea Relief Serum Ingredients and How They Work
Skinception Rosacea Relief Serum has been scientifically formulated with a series of ingredients that work together to reduce the symptoms associated with rosacea outbreaks including facial redness, inflammation, and prickling heat.
Along with many all-natural moisturizing and calming agents, there are 4 active ingredients in Skinception Rosacea Relief Serum, as follows:
Renovage™ – A trade name for teprenone, Renovage prolongs the life of DNA cells and prevents DNA strands from unraveling which leads to skin cell death. This ingredient is an anti-aging skin care breakthrough, and in a clinical trial of rosacea sufferers, 90% experienced reduced redness of up to 30%.
Actiflow® – Also known as baker's or brewer's yeast, Actiflow is an extract from saccharomyces cerevisiae and helps improve blood circulation just below the skins surface as well as improve vascular congestion, both of which are contributing factors of rosacea. Actiflow is clinically proven to have anti-inflammatory and anti-redness properties and is specifically formulated to calm and sooth sensitive skin.
Mediacalm® – Hailed as the "neurocosmetic answer for sensitive skin," Mediacalm has an active ingredient of Boerhavia Difussa Root Extract which significantly restores a normal sensitivity threshold to the skin by greatly reducing inflammation and soothing red, irritated skin. This is what also reduces the sensation of "prickling skin.
Allantoin – Also known as Vitamin U, Allantoin has been used since the 16th century to treat dry and damaged skin. It softens the keratin in the skin allowing the skin to not only heal more quickly, but to absorb moisture more effectively. Also a natural anti-irritant, it helps to regenerate healthy skin cells by assisting the sloughing off of dead skin cells and allowing healthy, fresh cells to surface.

Skinception Rosacea Relief Serum has a light, creamy texture that absorbs quickly to calm the skin and reduce redness.
Delivery of the active ingredients:
Hydrolite 5 – clinically proven to increase the skin's moisture by 100% in a 14 day period, Hydrolite 5 is a moisturizer aiding in the bioavailability of the active ingredients.
Symglucan – This moisture agent permeates the skin by moving between cells rather than through the cells directly. It's clinically proven to promote collagen production, reduce deep wrinkles, promote moisture retention, protect against UV damage and smooth the skin's surface.
Skinception Rosacea Relief Serum contains many other soothing and anti-inflammatory agents such as extracts from the  green tea leaf, grape seed, gingko biloba, bilberry, milk thistle, maritime pine, and many other vitamins and minerals conducive to calming and soothing sensitive skin.
Click Here to learn more about the ingredients in Skinception Rosacea Relief Serum
Benefits of Using Skinception Rosacea Relief Serum
Skinception Rosacea Relief Serum has a cutting edge, effective ingredients list to treat rosacea. Using it will provide both immediate and long term relief.
While I can't think of any cons to this product (other than not being able to buy it in a retail store), the benefits to using this product are many:
Inflamed skin is calmed and soothed
Discoloration and redness fade
Blood circulation is improved causing red and purple spider veins to fade
A normal sensitivity threshold to the skin is restored
Burning and prickling is reduced
Thick skin is softened
Tone, elasticity and firmness is improved
Moisturizes sensitive skin without aggravating or causing flare ups
How Skinception Rosacea Relief Serum Feels and Smells
I have a bottle of Skinception Rosacea Relief Serum, and while I don't have rosacea, I tried the product on my face for a couple of days to see what it feels like and how it smells.
It has a very light, creamy texture that absorbs quickly into the skin and feels very soothing going on, leaving no sticky residue at all and it's also not greasy. It also has a barely there smell which was formulated with hyper-sensitive skin in mind. It feels very silky and lovely on the skin.
The instructions are to apply this cream both morning and night to a cleansed face for best results. The texture is so nice, that you may not even need a separate moisturizer prior to applying makeup, and it has a lot of anti-aging properties in it as well which is a big plus.
Personally, I think if you just used the rosacea serum along with your favorite eye treatment and then applied your make up you'd be set for the day! Or, if you just have a few problem spots that tend to break out, just use the rosacea serum on those areas and apply your favorite moisturizer for sensitive skin on the remainder of your face.
Where to Buy Skinception Rosacea Relief Serum
You can only purchase Skinception Rosacea Relief Serum exclusively through their official website. The price for a one month supply is $59.95, however we recommend you buy at least a four months supply, which would cost you $199.95 (savings of $40 plus $80 in gifts) which would entitle you to receive a FREE bottle of Rosacea Relief Serum AND a FREE bottle of Skinception Eyelasticity Eye Treatment (one of my top eye treatments!) along with FREE shipping (that's a total of 5 bottles of rosacea serum and 1 bottle of Eyelasticity).
Note: If you buy at least a 3 months supply, it has a full 97 day money back guarantee – so you can try it absolutely risk free!
Skinception Rosacea Relief Serum Conclusion & Recommendation
Remember, there is no cure for rosacea, but it's been clinically proven that you can minimize flare-ups and the potential long-term effects that come with them, it just takes a commitment to a treatment program!
We highly recommend this product as ongoing treatment if you suffer from rosacea so that you can:
Keep your flare- ups in check,
Reduce the severity of symptoms when symptoms do show themselves, and
Minimize your risk of long-term skin damage and premature aging as a result of ongoing outbreaks!
Click here to visit the official Skinception Rosacea Relief Serum website
Have you used Skinception Rosacea Relief Serum? Leave your review below!
Click here to submit your review.
---
This calming cream works!
Skinception Rosacea Relief Serum Review – Calms and Prevents Outbreaks
I have rosacea around my nose and on my cheeks. I tried this serum and I am seeing an improvement after just a week. Redness is less and my face is soft and smooth. It feels like a light moisturizing lotion and is calming right away.

---
User Questions and Answers
User Questions and Answers
---
Q: Have you seen the story on 67 yr old grandma that was divorced for being to old ( wrinkles) and saved by Dr. Oz's 2 magic ingredients found in Purella's (SP) Skin Cream ? What's the truth behind this cream that photos show as absolute miracle? I need an affordable wrinkle and firming cream so badly, on fixed income and look 10 yrs older in last 3 yrs. PLEASE HELP. NONI -Noni
A:
Hi Noni, thanks for your question. Purella is a wrinkle cream scam, don't order it. Dr. Oz does not really recommend it, they use flat out lies on their marketing pages. There is no such thing as  a "miracle" cream that will work that quickly. You can, however, definitely improve your skin greatly, especially after using a good product and sticking with it. If firming and wrinkles are your main concern, I would try my #1 cream, Lifecell, or if you skin is more dry, try my #2 cream, Kollagen Intensiv. Read about my top 3 creams here. Please let me know if you have any questions. Rachel~WomensBlogTalk.com
Was this question helpful to you?

---