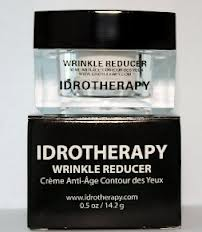 Idrotherapy Review – Is It Worth It?
Solving the problem of aging skin is certainly not easy. Some women go through dozens of creams and serums before finding one that works for them. That's what's so great about these reviews.
Hopefully, they save you the expense and heartache of trying something new without much prior information. You can read about what's in a product and how well it works before investing your own hopes and money.
Idrotherapy is an anti-wrinkle product available online. It claims to be clinically proven to provide all sorts of benefits, like:
A more youthful appearance
A reduction in wrinkles and fine lines
Prevention of future signs of aging
Confidence in the way you look.
The information on the website is a bit confusing. The pictured product is clearly labeled as an eye cream, but none of the text supports that notion. It talks about wrinkle reduction, but not about anything specifically related to the skin around the eyes, like dark circles and puffiness, and there are no instructions as to how to use it.
Idrotherapy Ingredients and How They Work
The Idrotherapy formula relies on two primary active ingredients:
Renovage works at the cellular level to prevent breakdown and damage by maintaining a sufficient level of telomeres, which prevent cellular deterioration.
Matrixyl is a peptide that encourages the production of new collagen, which is what makes skin firm, flexible and resilient. As we age, we lose collagen that matrixyl works to replace.
While some of the claims are very specific (decreases surface wrinkles up to 68%, decreases sunspots up to 56%) they are not backed up by any clinical trials.
One of the claims, repeated a number of times throughout the website, contains a pretty significant typo – "increase epridemal barrier up to 58%". In our research, the old saying "where there's smoke, there's fire" rings true when it comes to typos.
Usually if there are typos, this indicates a free trial scam based out of a foreign country with little recourse when it comes to cancelling the trial or receiving a refund if you're unhappy.
Idrotherapy Pros and Cons
It helps to look at the potential benefits and drawbacks when deciding on purchasing a product.
Advantages of Idrotherapy
It contains Matrixyl peptide blend
Disadvantages of Idrotherapy
It is more expensive than comparable brands
We found no independent Idrotherapy reviews
Clinical results are claimed, but no studies are cited
The website contains spelling and grammatical errors which usually indicates a "free trial scam"
There may be no money back guarantee and it's difficult to cancel free trial products
The purchasing site is not secure or "not a trusted site" – we got an error message to be careful proceeding once we clicked "purchase"
Is Idrotherapy a Wrinkle Cream Scam?
Idrotherapy reminds me exactly of my recent review on Regenere Facelift Complex, where I exposed their bogus claims of clinical trials and explain how typos are a red flag to indicate a scam and why.  It's worth reading to educate yourself.
*UPDATE – SCAM ALERT*
YES, this is a SCAM. I get fake "great reviews" by fake gmail accounts every day trying to be approved on my blog. I can detect them a mile away.
Where to Buy
If you're interested in purchasing Idrotherapy, you can do so through their official website, and you have a few different options. You can sign up for a free trial, but this will sign you up to receive more product each month and automatically re-billed unless you cancel within 18 days of placing your order.
Given the fact that the website states you should allow 45 days for best results, this is hardly enough time to make an informed decision.
Alternately, you can buy Idrotherapy by the jar for $99.99. This should be a one month supply. If you buy 2 jars, you'll get 1 free. You can also find Idrotherapy on Amazon. It is currently selling for $83.90 there.
Conclusion & Recommendation
Don't accept free trials of this nature, it's always better to buy a cream outright that has a money back guarantee.
My top cream Kollagen Intensiv is very effective, I've used it for over 4 years with great results! It's worth a look.
We see nothing to justify spending $100 on Idrotherapy, and  we'd recommend against entering into their free trial agreement. Many customers have had trouble canceling these kinds of setups with other skin care free trial offers.
Matrixyl and Renovage are two ingredients that might be beneficial to aging skin, but you can get them cheaper and from better established companies. We think you should look to one of your other options before spending money on Idrotherapy.
Have You Used Idrotherapy? Leave Your Review Below!
How Women Found This Review:
and idrotherapy, and idrotherapy reviews
Click here to submit your review.
---
BIG TIME SCAM
Idrotherapy Review – Is It Worth It?
I wouldn't give this company any stars do not order the trial. The small print for their terms is ridiculous. I had to cancel my credit card because of the fraudulent charges this company was doing. DO NOT ORDER ANYTHING UNLESS YOU HAVE MORE MONEY THAN BRAINS.

---
Disgusting Scammers. Just remember what you do to others comes back to you! It's called Kama.
Idrotherapy Review – Is It Worth It?
Be aware that the trial purchase is a total scam. I am a senior pensioner and during my late husbands last 2 months before he passed away from a brain cancer, I was not checking my credit card account until a few days after his funeral. So, be vigilant as I will now be as I was ripped of almost 1,800 in two months. I went to the Westpac bank, but they informed me that nothing can be done as I
agreed to the terms. (which I could not
read due to cateracts on both eyes.) However, I will not buy anything on the internet again. The interesting thing is that the cost varied from $143.34m, That was the Argon Oil also part of the Idrotherapy deal. 7th Dec, then $161.19 on 23rd Dec, MyIdrotherapy, 6th Jan, Argan $155.85, then 7th Jan $170.46.
I tried to cancel the order, but the website stated it does not accept email msgs. THe phone number on the website rang out then hung up. the address is a P.O. Box address at Narellan NSW. but on my statement is is from a foreign country. (CYP?) So, trying to contact them does not work either. Where to from here?

---
Scam
Idrotherapy Review – Is It Worth It?
Do not order this product it is a scam and the company is corrupt! They advertise as free trial but will charge you €250 PER MONTH!

---
Never order - SCAM
Idrotherapy Review – Is It Worth It?
DO NOT order a free trial. I made the mistake or doing so and am now €600 out of pocket. No refunds and no returns. Avoid at all costs

---
Don't get sucked in
Idrotherapy Review – Is It Worth It?
Do not get sucked into this SCAM. I thought I was getting a free trial and got charged $166 AUD. I phoned & cancelled only to see a 2nd $166 taken from my card 2 weeks later. I phoned again to be told the previous consultant FORGOT to cancel my order even though I had email confirmation.It was cancelled again and told my credit card would be refunded within 3-5 business days, It did not happen so I phoned AGAIN today and told exactly the same as the last consultant. If it is not refunded this time I am going to Consumer Affairs.

---
Good Product but READ well
Idrotherapy Review – Is It Worth It?
My story with Idrotherapy company started when I wanted to make my mom happy and order it for her, I got an email under my promotions Tab highlighting this Free trial offer. Of course like everyone , I thought to myself , I won't loose anything if I pay only 6 Dollars. So I placed the order successfully and everything was so smooth ,until I received an email with their terms in fine prints. Upon reading , I saw that within 16 days I will be enrolled to a monthly subscription of 100 dollars a month or so. I panicked and I imediately decided to call, but all lines were busy or not working (could not figure out) so I left a VM. The next day one of their agents called me to follow up and I told her that I wanted to cancel but she said that my order was shipped already , she extended my trial period with 3 more weeks and advised me to try and return even if empty ! or simply to get some Return number and return it immediately. Upon getting it, I gave it to my mom to try it out as I believed if I can return it empty why not try it and check it out. My mom applied it twice a day for 2 weeks and she was satisfied , so I called to check if there is a possibility to get a one-time order whenever we want. and Yes! it was possible if you pay the full price and we were okay with it. but the Agent there offered us a 50% discount with the possibility to get one supply every 6 months which was fine by us . so We enrolled. Now whenever we need we simply call them to ship another supply with that discount.You can use a prepaid card if you want to avoid many billings but if you can really follow up on all your offers and orders like me then giving your CC would be fine. It would be a personal choice. Just read everything before you just sign. I was lucky enough to read it in their first email. Good luck

---
scam
Idrotherapy Review – Is It Worth It?
i called to let them know thatthe price was extremely expensive and told that they would drop the price from 159.75 to 29.99. sounded great until I notice what the charge was for delivery nearly 9 times what the post office charged.

---
Idrotherapy Review – Is It Worth It?
This product does not work for certain skin tones.
You still get charged for product you did not order. They give you their phone number except for last number so you cannot call them to complain and say NO

---
Idrotherapy Review – Is It Worth It?
This product does not work for certain skin tones.
You still get charged for product you did not order. They give you their phone number except for last number so you cannot call them to complain and say NO

---
Scam - auto subscription with free sample
Idrotherapy Review – Is It Worth It?
Do not sign up for their "free sample" - it automatically enrols you in a $99 monthly subscription and the only way to cancel is by calling.

---
User Questions and Answers
User Questions and Answers
---
Q: What is the website to order idiotherapy anti wrinkle cream?! -marilyn
A:
Marilyn, you probably won't find one. These scams don't last long and the links are always flipping. This is not a cream I recommend. Did you see an ad for it? Rachel~WomensBlogTalk.com
Was this question helpful to you?
7 out of 8 people found this question helpful.
---
Q: how much idrotherapy to apply to fase @ how often please -susan
A:
Hi Susan, with any anti-aging cream, you should apply twice per day after cleansing, am and pm. Idrotherapy is not a cream I recommend since it's offered as one of those short term (14 day) free trials that I warn about. I'm hoping you realize they're going to send it to you every 30 days and keep billing you. Let me know if you have questions.  If you wish to call an cancel the ongoing subscription, you can call Idrotherapy at (888)449-7005. Thank you, Rachel
Was this question helpful to you?
5 out of 5 people found this question helpful.
---
Q: What is the best product for dark circles and very puffy eyes and what is the best product for jowls? I prefer as natural as possible.thank you. (No botox) -dionne
A:
I would pair Elite Serum for the eyes, and Lifecell as an anti-aging treatment which helps to firm and tighten. Those are my top two products in those categories and it's a great combo. Rachel~WomensBlogTalk.com
Was this question helpful to you?
3 out of 3 people found this question helpful.
---
Q: Contact no. For hydrotherapy also address. Thank you -Ann
Was this question helpful to you?

---
Q: I fell for the feee sample. I have been overseas , on return 4 pkts that I didn't order! No email and phone number not connected. ! -Robyn
A:
Hi Robyn, definitely give your bank a call and see if they can assist you with a phone number or disputing the charges altogether as fraud. Good luck! Rachel
Was this question helpful to you?

---