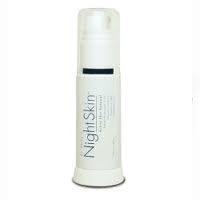 NightSkin Review – Good Nutrition for Your Skin?
NightSkin Overview
NightSkin was formulated by renown plastic surgeon, Dr. Arthur Perry. He calls it "a multivitamin for your skin". The product is going through a bit of a transition period at the moment. Dr. Perry used to work with a company called New Vitality, and NightSkin was sold through them. The two entities have split up, Dr. Perry created Perry Skindustries Inc., and he took the formula for NightSkin with him. To make things even more confusing, New Vitality also has a product with the same name, but it is a completely different product with a very different formula.
Dr. Perry's idea behind his products is to make good skin care easy, believing that as is true with diets, the more simple it is, the more likely you are to stick with it. You put NightSkin on before going to bed, and you wake up with softer, smoother, healthier skin. It's that simple.
NightSkin Ingredients and How They Work
In keeping with the theme of simple is best, NightSkin only uses a few very targeted good skin ingredients:
Vitamin A in a less irritating form than is usually found. This will help rejuvenate the skin's cells without causing redness or breakouts.
Vitamin C to heal and protect against environmental free radical damage. The antioxidant properties of Vitamin C are well-known, and using it in its active form, as NightSkin does, is critical.
Glycolic Acid to gently exfoliate skin, revealing fresh new skin and allowing the other ingredients to better penetrate the layers of skin where they are needed.
Licorice Extract to help even tone and lighten hyperpigmentation.
These ingredients were specifically used in NightSkin because their breakdown is accelerated by sunshine. So it only makes sense to use them in a nighttime regimen, allowing the full benefit to emerge.
NightSkin Pros and Cons
Recognizing the good as well as the bad will give you a clearer picture of whether or not a particular product will work for you.
Advantages of NightSkin
It was created by a plastic surgeon and skin specialist.
The

NightSkin

reviews we found indicate were very favorable.
It contains good ingredients.
The pump packaging will keep the ingredients stable.
Disadvantages of NightSkin
It is fairly expensive.
The fact that there are 2 products of the same name that used to be related but no longer are could be confusing.
There is no money-back guarantee.
Where to Buy
If you want Dr. Perry's NightSkin, you can find it on the Dr. Perry website or at Amazon. It retails for about $50 in both places. The website does have a buy 2 get 1 free offer, however, but you might not want to go that route until after you decide you've found the nighttime wrinkle cream for you.
Conclusion
Overall, we think NightSkin shows some promise as an effective night cream. It was designed to give you highly effective ingredients to simply and easily infuse your skin with anti-aging benefits each night. It is Dr. Perry's opinion that using NightSkin at night in conjunction with DaySkin during the day is all you need to do to heal and protect your skin. While $50 is a bit steep, we think NightSkin could be worth it. Just be sure you're getting the right product.
Have You Used NightSkin? Leave Your Review Below!
User Questions and Answers
User Questions and Answers
No Questions Have Been Answered For This Article.