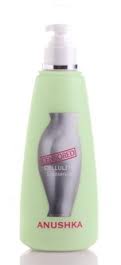 Anushka Censored Cellulite Serum Review – Does It Work?
Anushka Censored Cellulite Serum Overview
Anushka has a nickname, "The Cellulite Guru". She is a nutritionist, and has founded spas and cellulite clinics in both New York City and West Palm Beach, FL. She's gained a reputation in the beauty industry for offering the rich and famous her luxurious and effective in-spa cellulite treatments. For those of us unable to attend or afford her spas, she offers anti-cellulite products for in-home use as well.
Anushka Censored Cellulite Serum is touted as a medical innovation for body renovations. The promise is that it searches for unsightly lumps and bumps, and gets rid of them quicker than any other product available. Its claim to fame is its advanced delivery system that mimics the body's lipid matrix so the ingredients can more easily penetrate and go to work exactly where they are needed.
Anushka Censored Cellulite Serum Ingredients and How They Work
The list of active ingredients is long and includes:
Butcher's Broom to improve circulation.
Carnitine to increase thermogenesis.
Caffeine to increase thermogenesis and reduce water retention.
Coleus Forskohlii Root to increase metabolism.
Peptides to help build collagen for skin elasticity.
Iodine to stimulate fat burning.
Ivy to strengthen blood vessels.
Taken together, the formula stimulates circulation, flushes fat and eliminates toxins. You should use Anushka Censored Cellulite Serum daily by massaging it into the affected areas using an upwardly motion. The website claims that you will see real results in just 3 weeks.
Anushka Censored Cellulite Serum Pros and Cons
Comparing the relative good and bad aspects of a product can help you come to the best possible decision about whether or not to buy.
Advantages of Anushka Censored Cellulite Serum
It contains ingredients known to improve the appearance of cellulite.
It was created by a cellulite expert.
It is less expensive than spa treatments.
It has been recommended by major beauty magazines.
Disadvantages of Anushka Censored Cellulite Serum
It is expensive.
We were unable to find any independent Anushka Censored Cellulite Serum reviews from women who've use the product.
There are no clinical studies cited.
Where to Buy
You can find Anushka Censored Cellulite Serum online through the Anushka website and a few other online retailers. The cost is a pricy $85 for a 6.75 oz tube pretty much anywhere you go.
Conclusion
Anushka Censored Cellulite Serum is definitely marketed toward women who needn't think twice about spending $85 for a beauty product. The trouble is, expensive doesn't always mean good. Without clinical studies or even real customer reviews, we have no way of knowing whether or not it actually works. Unless money is truly no object, we recommend you go with something that can show proven results.
Have You Used Anushka Censored Cellulite Serum? Leave Your Review Below!
User Questions and Answers
User Questions and Answers
---
Q: Where can I purchase this cellulite serum and how fast can I get it -Pat kolarcik
Was this question helpful to you?

---