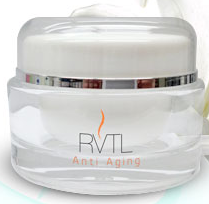 The internet is abuzz with "miracle" anti-aging products.  It seems like new ones come out every day, and believe me, it's hard to keep up.
A reader recently asked us what we knew about a new one she'd heard about.  It's called RVTL Anti-Aging.  Truthfully, We hadn't heard about it, so we told her we'd give it a look.
RVTL Anti-Aging says that it "powerfully and effectively reduces wrinkles for good."  And there are tons of additional benefits promised as well.
After using RVTL Anti-Aging, you'll find yourself with:
Reduced under eye puffiness and dark circles.
Minimized dark spots and discolorations.
Soft, supple, well-hydrated skin.
Healthy, young-looking skin.
These, of course, are fabulous promises, but what we're really concerned with is what RVTL Anti-Aging can actually deliver.  So we look beyond the promises to ingredients and customer reaction.
RVTL Anti-Aging Ingredients and How They Work
Unfortunately, the RVTL Anti-Aging website does not offer a complete ingredient list.  They do, however, mention a few of the highlights:
Extract from the Terminalia Chebula fruit which helps support and protect the moisture balance of the skin.  It performs triple duty by detoxifying, nourishing, and strengthening.
Collagen and Elastin to help repair and maintain the support structure of the skin.
Vitamin A which encourages skin cell regeneration for fresh new skin all the time.
The instructions are simple.  You can use RVTL Anti-Aging as an eye cream as well as a face cream, as it addresses puffiness and dark circles as well as wrinkles.  Just apply it after cleansing and allow a few minutes for it to absorb before apply any additional products.
RVTL Anti-Aging Reviews
Here's where we run into a little trouble.  The only real customer reaction we could find came in the form of complaint about how RVTL Anti-Aging is a scam.  You see, this product is only sold using that deceptive "trial offer" we see so often.
They offer you a trial bottle for which you pay only a small shipping charge.  Only in the fine print do they let you know that by accepting the offer, you're agreeing to join their monthly program where you'll be sent a new jar of product each month for the charge of $99.95, and you'll even be charged for that initial trial bottle.
Lots of customers have complained that they didn't understand the terms when signing up, and that they've had trouble canceling their membership once they do realize what's going on.
RVTL Anti-Aging Pros and Cons
Advantages of RVTL Anti-Aging
Disadvantages of RVTL Anti-Aging
The ingredient list is not revealed.
It's expensive.
There are no favorable RVTL Anti-Aging reviews other than website testimonials which we don't tend to give much credence to.
The only way to purchase it is through the deceptive trial offer.
Conclusion
We can't find one single reason to recommend that you try RVTL Anti-Aging.  There are good skincare products available, and some are even sold over the internet.  But RVTL Anti-Aging just isn't one of them.  Don't trust a product when they won't even tell you what it's made of.
I also encourage you to read my latest article Beware of Free Trials for Anti Aging Products – an Investigative Report
Have You Used RVTL Anti-Aging?  Leave Your Review Below!
Most of us have wrinkles that bother us, and we want an effective product that brings fast results. Kollagen Intensiv contains collagen-boosting SYN®COL, a patented peptide proven in clinic trials to reduce the appearance of wrinkles by up to 354%. I've used this cream for over four years with great results – it does a great job of making me look and feel younger! Read my review of Kollagen Intensiv
How Women Found This Review:
and rvtl anti aging, and rvtl anti aging cream, and rvtl, and rvtl reviews, and rvtl anti aging cream reviews, and rvtl anti-aging cream scam
Click here to submit your review.
---
RVTL Anti-Aging Review – Is RVTL Anti-Aging a Scam?
I tried this product and liked it but was shocked at the price of £99.93p !
I only found out the price when it appeared on my bank statement.
I phoned the company as I still had the advert on my phone. When I phoned to cancel they said as I like the product they can sell it to me at a monthly price of $49
which I thought was just about affordable
so agreed to continue receiving it at this new price but to my shock another £99.93p has just been deducted from my account. My bank has agreed to stop further payments but said as this has already been deducted I cannot stop this one! I am so angry that they lied to me! If they said they will now refund me the extra money I will not believe them.

---
Scam scam scam
RVTL Anti-Aging Review – Is RVTL Anti-Aging a Scam?
I fell for this scam …. it says free trial offer ,you pay postage ,but before you complete offer they offer another product … letting yoy think they will send thus as well , with in the postage already agreed … NO yoy pay another £4.34 . I recieved one product but not the other when I rang customer services , they then toldf me abt the charge of £99 … I cancelled straight away and sent the product back… costing another £4.45 . Please please be aware of this scam …

---
They got me
RVTL Anti-Aging Review – Is RVTL Anti-Aging a Scam?
This company doesn't deserve a one star rating.
Like everyone else, they completely got me. This company has taken £200 out of my bank account and left my bank account in minus. I feel angry, upset and disappointed that I fell for this but also how on earth is this acceptable? £200 for a pot of cream, I'm speechless……and skint.
Ladies beware and go to the shop for your cream!! Robbing Bastards.

---
rvtl cream
RVTL Anti-Aging Review – Is RVTL Anti-Aging a Scam?
Total rubbish, total scam! do not buy it. Got 2 bills for £90 each. Not paying, changed all my bank detail and they will not get anything from me. not really one star, needs to be a zero in there

---
REJUVOLYTE
RVTL Anti-Aging Review – Is RVTL Anti-Aging a Scam?
I won't even give this product a one star 1/2 is to good for this company. Rejuvolite

This product sucks. I got this product last week Thursday 14 Apr 2016 on a 14 day FREE TRIAL, paid for the S&H, I got to try the product for 9 days and nothing. It at best is just another cream you can go to Walmart and buy for 500 X less. Then today 23 Apr 2016 I had 2 charges on my bank account one 89.92 and 84.95, BEWARE the free trail is not a free trial they say it is a 14 day free trail on the product. How can it be a free 14 day trial but get to only try for 8 days and then get charged full price. Oh no they start the 14 day trial the day you ordered so you get roped into paying full price of 174.87 and really don't get to try it. I talked to an agent named Brittany agent # 300 and she was defending the product and the company telling me now that I want to send it back and get a refund I have to pay a restock fee (ON A USED PRODUCT) of 15%. RIPOFF don't waist your hard earned money.

---
Do you want to give your money away for free?
RVTL Anti-Aging Review – Is RVTL Anti-Aging a Scam?
This is legalised fraud with breach of contract.
There are four companies – so far! (No doubt new aliases will follow).
smartserumxtra, pureskin, ultradermaserum and silky-skin-serum.
You buy a risk free trial and inadvertently sign up to a conglomerate of companies all of which will debit your bank account even if you cancel within the 14 day cancellation period.
You will only receive the trial product – which under the terms you can return for a refund – but you will not get one!
Your account will be debited by around £300.00 and you will not receive any product for the charge.
The banks will not support you.
Trading Standards will not help as the company is based in Cyprus and therefore not a part of the EU.
Also – just to rub salt into the wound – it doesn't work according to the girls I bought it for!!!

---
RTVL SCAM!
RVTL Anti-Aging Review – Is RVTL Anti-Aging a Scam?
I was conned into ordering this product. When I read the fine print I realized I would be charged $103 a month for this tiny jar of cream! I called to cancel and told the man I could not afford $103 a month and he offered it to me for $58. He asked me to try it and he extended the return date by a couple of weeks. It felt nice on my skin and I didn't break out but I saw NO visible signs of improvement. I called to cancel a second time and the woman told me I had to return the trial jar or they were going to charge me $103. I spent $28 sending it back ups second day and they still charged me $103. I had to call them again give them the tracking number so they could track it and return my money. So to recap I spent $2.99 shipping Plus $28 to return the jar to them. One final note I was told I had to have a return number marked on the package or they would not accept it. I wrote it in sharpie on every side of the box. Don't waste your time or money on this product. It is definitely a scam and not worth the time, aggravation or money! I should give it no stars!

---
Beauty & Truth
RVTL Anti-Aging Review – Is RVTL Anti-Aging a Scam?
I placed an order for my friend for her birthday But then had a feeling that something was wrong, after I had completeed the order form. for the were NO contact emails or telephone numbers to call, also there was No debit amount in the form any where, once you had placed the order. So I dug a little deeper and realised that I have just been scammed. Because as there was no set charge amount on the form, they can charge what they like irrelevant of what the trial offer has stated. so I will try to cancel the order with my bank. But they took out a lot more than was stated in the trial offer. So beware this is a total scam.

---
User Questions and Answers
User Questions and Answers
---
Q: RvtL customer service telephone# -todd
Was this question helpful to you?
5 out of 5 people found this question helpful.
---
Q: i have got some rvtl anti aging cream abd I was wondering how to use it.is it once in the morning and once when I go to bed or something different.many thanks mrs janet martin -janet
A:
Janet, most anti aging creams you'll want to use twice a day after cleansing, once in the morning and once before bed. Let me know how you like this cream. This scam has been circulating for quite some time. Be advised they're going to bill you the full price on the 14th day when the free trial is over, and  bill you about $90, then send it to you every 30 days and it's hard to cancel. Rachel
Was this question helpful to you?
2 out of 2 people found this question helpful.
---
Q: Does rvtl have anything to do with the other large face cream company Olay? As one of their adverts says that Olay have sued them and won the case and it states that the cream is an okay cream, then proceeds to offer the free trial offers with only paying postage and packing etc, but from then in has no mention of Olay at all. Is this a further extension of their scam or does Olay really own this product now? -Susie
A:
Susie, this is a scam, don't buy into that. I am always amazed at the stuff they come up with. Olay doesn't have anything to do with RVTL. Rachel
Was this question helpful to you?
1 out of 1 people found this question helpful.
---
Q: Já enganaram muita gente? -Maria
A:
Sim!

Por favor, não pedir.

Eu não falo português,

mas eu recomendo pelo creme topo Kollagen Intensiv.
Tenha uma boa noite

. Rachel~WomensBlogTalk.com
Was this question helpful to you?

---