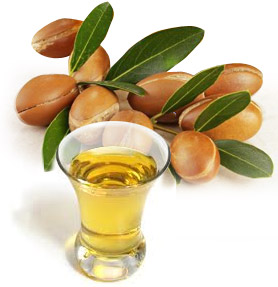 Skinception Argan Oil Review – Organic Skin Care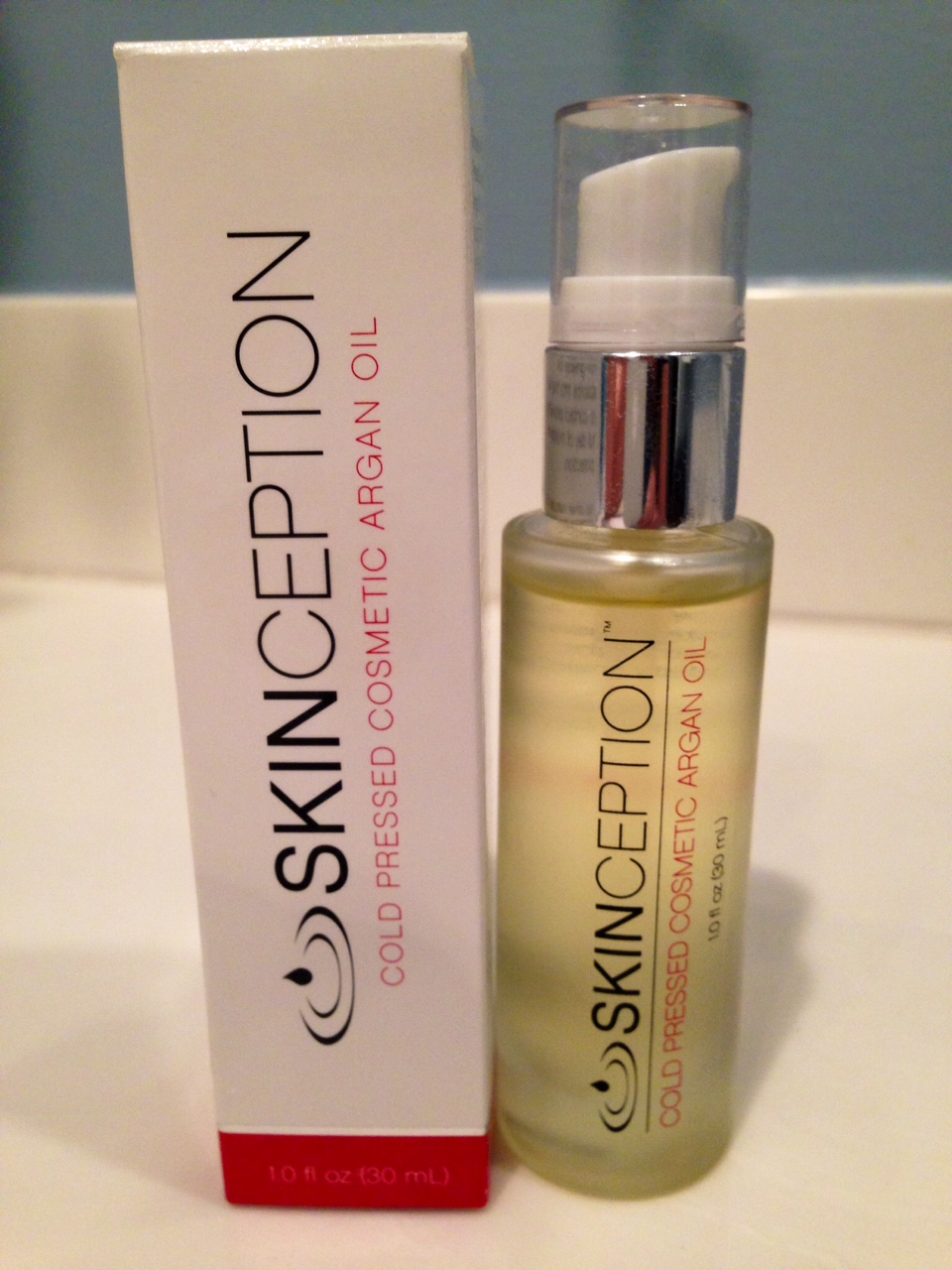 Note:  This is my personal review.  Click Here to visit the official website for Skinception Argan Oil
If you've avoided trying oils on your skin because you fear it will clog your pores and cause breakouts, you've been missing out!
Your skin actually needs oil, that's why it produces oil in the first place, but you need the *right* oil for cosmetic use, so I decided to give Skinception Argan Oil a try to see the benefits for myself.
I have tried other oils on my skin, nails and hair in the past with great results, in fact avocado oil is one of my favorites for my face and hair, but Argan Oil intrigued me since it's been used by the women of Morocco for thousands of years to maintain healthy, youthful-looking skin and to reverse the signs of aging and is 100% ORGANIC.

Is Argan Oil the Same as Moroccan Oil?
Argan Oil should not be confused with Moroccan oil. Skinception Cold Pressed Cosmetic Argan Oil is 100% pure with no additives or preservatives, whereas Moroccan Oil is a name brand product combined with many other ingredients.
Studies have shown that you actually DEGRADE the effects of argan oil when you combine it with other ingredients (so don't be fooled by those pricey skincare brands that include argan oil in a list of 20+ ingredients… because it's actually less effective this way)!
Skinception Argan Oil is a potent anti-aging skin conditioner and moisturizer, with 200% more vitamin E than olive oil and bursting with antioxidants, fatty acids and polyphenols.
Benefits of Skinception Argan Oil
Skinception Argan Oil has many benefits and you can use it on your face, eyes, nails, hair, elbows, knees – wherever you need healing and repairing hydration.
The anti-aging benefits of argan oil are plenty and if you like simple, no fuss skin care with minimal products cluttering up your cabinet, argan oil may be for you!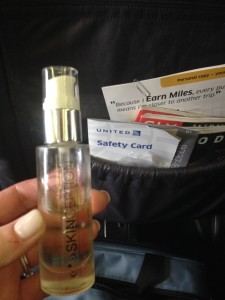 Deep Skin Hydration
Fights Lines and Wrinkles
Helps Stop Premature Skin Aging
Collagen and Elastin Repair
Eczema & Psoriasis Relief
Fights Sun Damage and Photo Aging
Fewer Acne Breakouts
Strengthens Brittle Nails
Smooths and Tames Frizzy Hair and Split Ends
Click here to learn more about the benefits of Skinception Argan Oil
My Full Body Experience Using Skinception Argan Oil
Body
Skinception Argan Oil is a pleasure to use. It's a "dry" oil, meaning it absorbs quickly and deeply into the skin leaving no heavy or greasy residue.
I decided to try the argan oil at night the first time I used it, because I wasn't yet convinced it wouldn't leave me feeling greasy. Still wet from the shower, I used a couple of pumps and slathered it all over my legs, arms neck and chest.
It's almost completely odorless, with an almost faint nutty scent. I patted dry with a towel so as not to rub it all off and my whole body felt very silky and moisturized.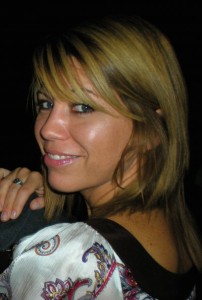 Face
Next I applied the Skinception Argan Oil to my face – I only used a few drops of the oil (not even a full pump) and applied it lightly all over my face and underneath and around my eyes.
It's rather light compared to other beauty oils and it quickly absorbed into my skin and felt very soothing. I was afraid that when I went to bed my hubby would go in for a kiss and probably ask why I was greasy, but after just a couple of minutes it had fully absorbed and my face felt very soft and plumped up from all the moisture.
It softened the fine lines and wrinkles around my eyes and I was pleased that it gave me no reaction or irritation.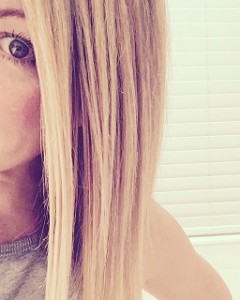 Hair
My next application was on my hair, I used about half of a pump and ran it through the bottom two thirds of my hair and then flipped my hair upside down and worked it through the underside with my fingers.
It works great as a detangler as it was definitely easier to comb through my hair using this product! After blow drying my hair in my usual way with a round brush, I was impressed with how soft and silky my hair was with no frizzies at all and my hair actually seemed to hold a curl better than it normally does.
This product works better than any of my hair smoothing serums!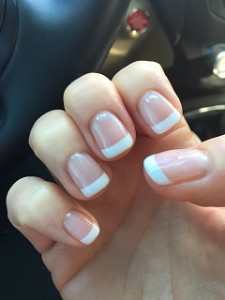 Nails
My final application was to apply the Skinception Argan Oil on my hands and cuticles. I put one tiny drop on one finger and spread it around to all my cuticles and rubbed the rest into my hands.
I have to admit  that I have an embarrassing bad habit of picking at the skin around my cuticles which sometimes causes them to bleed a little, and overnight all those little nicks and dry spots had healed considerable, and within just a few days they were completely healed.
Now I keep a bottle on my desk and apply it a couple of times a day and by keeping my cuticles nourished and healthy, I have pretty much kicked that habit!
Anti-Aging Benefits of Skinception Argan Oil
Aside from being a wonderful full body moisturizer, healing and soothing from head to toe, adding body and shine to my hair and helping me kick the cuticle picking habit, Skinception Argan Oil has some serious anti-aging benefits that deserve some attention.
Skinception Argan Oil dramatically boosts moisture retention, increases collagen and elastin production, strengthens your skin's barrier function, includes an impressive series of healing agents, and more!
But most important, it completely transforms dry, aging, lackluster skin to give you a refined, dewy, radiant look – with fewer visible lines and wrinkles.
Skinception Argan Oil is 100% natural! Some women don't like using products with parabens, preservatives or chemicals, and argan oil provides complete organic anti-aging and beauty benefits in its purest form.
Pure argan oil is able to work as an effective anti-ager because it naturally has vitamins, essential fatty acids, anti-oxidants and moisture retention properties which are hard to beat.
It also contains many wound healing & antibacterial properties, excellent for eczema, psoriasis, and acne because it contains anti-inflammatory properties.
Recommendation & Conclusion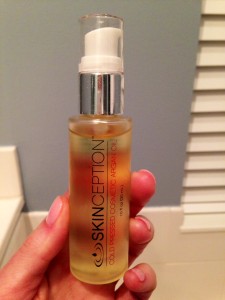 I loved using Skinception Argan Oil and was pleasantly surprised with how well it absorbed into my skin leaving no greasy residue at all.
It softened my skin, plumped my wrinkles and I even used it around my eyes with no irritation whatsoever. It made my whole body silky smooth, my hair was de-frizzed and held its style, and I was impressed with how quickly it healed my cuticles.
This product will definitely be making the rounds into my regular beauty routine!
If you've been thinking about trying argan oil for your beauty and anti-aging needs, I highly recommend trying Skinception Argan Oil which is 100% pure.
Don't be fooled by products listing argan oil among many other ingredients such as Moroccan Oil as its healing properties are diminished.
Where To Buy Skinception Argan Oil
As of this review, Skinception Argan Oil is only available on their official site.  I searched around on Amazon, Walmart, and other online merchants, and it doesn't appear for sale on their sites at all.
Priced at $59.95 for a 1.7 oz bottle, Skinception Argan Oil is affordable and has a 90 day money back guarantee. Since a little goes a long way, one bottle will last you quite a while!
Click here to visit the official website for Skinception Argan Oil
Have you used Skinception Argan Oil? Leave your questions or comments below!
Click here to submit your review.
---
Why do you look so young?
Skinception Argan Oil Review – Organic Skin Care
I heard about Skinception Argan oil about 5 years ago. I regularly use on my face, hands etc. People ask my why I dont age. Its the best. Any when you buy 4 you get 2 free. Lasts a long time.

---
Argan oil head to toe
Skinception Argan Oil Review – Organic Skin Care
I love this stuff. I use it on my face, hair, hails, arms, legs everywhere! It's not greasy at all. It's nice and light and absorbs well.

---
I love this Argan Oil!
Skinception Argan Oil Review – Organic Skin Care
I have dry/combo skin with some acne breakouts. I was afraid to put oil on my face but I was wrong. My dry spots are gone and my skin actually feels more balanced with fewer breakouts. I was reading in your article that it has antiseptic properties. I also love using what's leftover on my hands to rub through the ends of my hair. Tames the frizzies! I love this organic argan oil.

---
User Questions and Answers
User Questions and Answers
No Questions Have Been Answered For This Article.