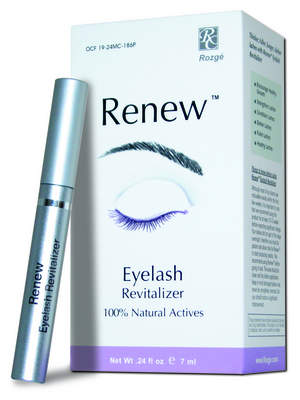 Renew Eyelash Revitalizer Review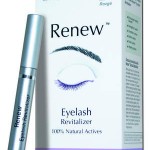 When we read of the pharmaceutical sounding Renew Eyelash Revitalizer, and yet also learned that it was all-natural, hypoallergenic, and free of the parabens and prostaglandins that had given so many consumers trouble, we knew we wanted to check it out. This product describes itself as a revitalizer that promotes thicker and longer eyelashes to those who have lost them due to illness, age or prolonged use of cosmetics.
How Renew Eyelash Revitalizer Works and Ingredients
The manufacturer of Renew Eyelash Revitalizer is Rozge Cosmeceutical, and they describe this product as "one of a kind" thanks to its special ingredients that have been professionally formulated to be non-comedogenic, hypoallergenic, effective for men and women, and ideal for those with sensitivity or who wear contacts. That is a lot for a single formula to claim, and yet when we looked at the ingredients we could see that it was likely to be an effective and safe formula. For instance, it relies on biotin, apigenin, soy proteins, and proanthocyanidin to stimulate growth and serve as an eyelash enhancement and conditioning product.
User Reviews
When we began scouting around for professional and consumer feedback we were a bit surprised by the, initially, negative tone we discovered. When we read the reviews in greater detail we realized that the only negative responses had to do with one thing – time. Unlike many other formulations on the market, the Renew Eyelash Revitalizer claims to take from ten to twelve weeks for initial effects, and some of the users said that full effects didn't show up until around three to six months after they began using this product on a daily basis.
A sample review of Renew Eyelash Revitalizer we found:
"It was easy to apply, needed only a morning and bedtime 'swipe' to use, but it took around 120 days before I could see really major changes in how my lashes looked."
Sally, ME
Where to Buy Renew Eyelash Revitalizer
There were also some negative comments about the price which could range from $80 to $115 depending upon the vendor. When purchased directly from the maker's website the product runs $80 for a one month supply – which even we feel is a bit high.
Recommendation
Though we do recommend this product due to its all natural ingredients, careful and effective formulation, and noted effectiveness. If you are looking for very fast and affordable treatments, this is not the one for you.
Have You Used Renew Eyelash Revitalizer?  Please Leave Your Review Below!
How Women Found This Review:
and lash renew reviews, and lash renew scam
Click here to submit your review.
---
Lash renew is a SCAM!!!!
Renew Eyelash Revitalizer Review
Should be zero stars this company is a scam they keep charging your credit card for unauthorized amounts then refuse to give you a refund and I kept calling and the customer service just hangs up on you and tell you and you can't get anywhere with them to get your money back....it's a SCAM don't try their crappy product!

---
LASH RENEW SCAM
Renew Eyelash Revitalizer Review
I HAD TO GIVE THIS A ONE STAR...JUST TO POST THIS OR IT WOULD HAVE BEEN 0 STARS!
RECEIVED AN ORDER AFTER THE TRIAL, WHICH TOOK ALMOST THREE WEEKS TO GET TO ME ACCORDING TO THE POSTMARK. THIS DIDN'T GIVE ME TIME TO RETURN IT IN THEIR 14 DAY WINDOW...TRIED TO CALL BUT WAS ON THE LINE FOREVER AND TRIED TO LEAVE A MESSAGE BUT THE PHONE WAS CUT OFF. VERY CHEAP PRODUCT AND VERY SHIFTY BECAUSE THEY DON'T SEND RETURN INSTRUCTIONS, YOU HAVE TO GO READ THE FINE PRINT.
ITS ALL A SCAM TO CHARGE YOUR CREDIT CARD!!!!!

---
freedomcreator
Renew Eyelash Revitalizer Review
? from freedom creator on October 19, 2015

Scam

Awful experience- No instructions came with the lash renew and when I opened it, the watered down contents spilled all over. I called to cancel and they said I had to send it back and they had to have it by October 28 - I just got it on Oct 19 or I would be charged over $100 - WHAT A RIPOFF
that's about $15 in postage both ways.

---
User Questions and Answers
User Questions and Answers
No Questions Have Been Answered For This Article.