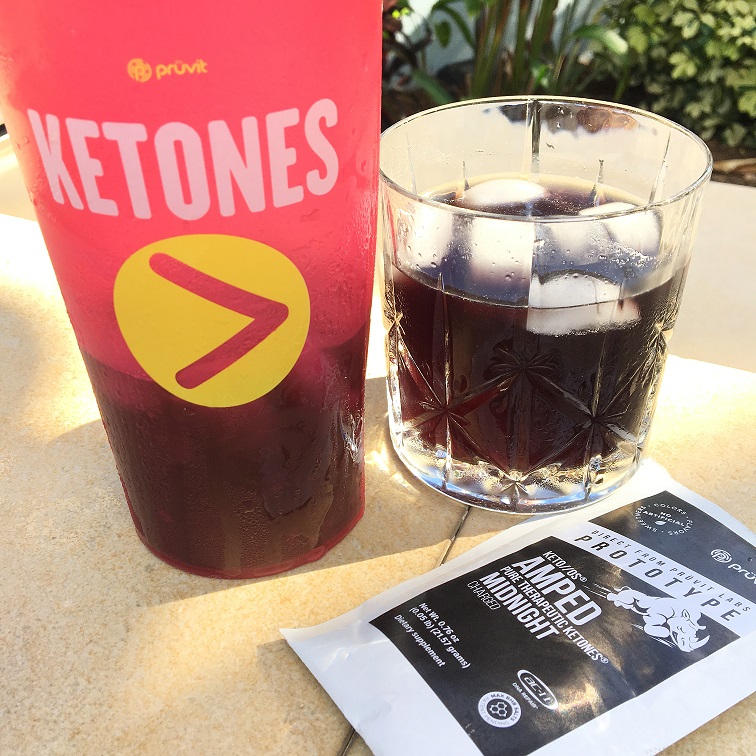 Pruvit's White Midnight Unleashed Review – Amped Ketones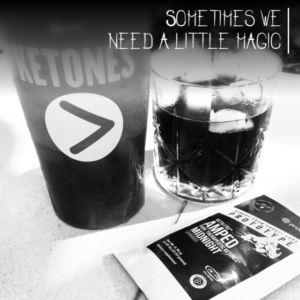 There has been a huge buzz about Pruvit's new #mysterymax flavor – AMPED MIDNIGHT! Now officially "White Midnight Unleashed." 
Pictures of mysterious "magical" ketones and trying to guess this new flavor has both customers and promoters in a tizzy, including myself!
Unless you're a promoter who attended their last Dallas Charged event in October where you got to taste it, everything's been very hush-hush.
Pruvit definitely knows how to build the anticipation of a new release! Their marketing and products are genius.
So what do we know about Pruvit's new Amped Midnight?
The Build Up of Pruvit's Amped Midnight – Amped Ketones
In recent weeks we've seen the enticing images on the @justpruvit Facebook and Instagram pages of a new #mysterymax flavor, and it's got everyone chomping at the bit.
With a theme of black and white for a Black Friday release, my first guess was that is was a new Keto OS flavor.
There are only two Keto OS flavors, Orange Dream and Chocolate Swirl.
The Keto Max flavors are Maui Punch, Raspberry Lemonade and Swiss Cacao, and you can read about those in my Pruvit Keto//OS review.
But there was something more dark and powerful behind the marketing of Mystery Max, it had to be something stronger!
Update! Check out my Youtube Vid on the Amped Midnight

Keto Amped Midnight Black Cherry Vanilla Has Arrived!
You guys, the new Keto Amped Midnight has arrived and it's awesome!
The Amped Midnight flavor is Black Cherry Vanilla and it reminds me of a cherry Dr. Pepper, but more fruity.

Except there's no sugar, nothing artificial, and one serving puts you into the fat burning state of ketosis in under an hour. Can Dr. Pepper do that? 😉
Hints of cherry, grape, and it's so smooth! MMM!
It gave me all the awesome energy I expected just like the Amped Blue Ocean and turned me into an energy powerhouse, like super hero status.
My productivity triples when I drink the Amped, it's INSANE in the best way ever, and it has the coveted AC-11 DNA Repair! Hello anti-aging.
Why did Pruvit change the Amped Midnight Formula?
The original Amped Midnight was almost black and its color came from beet powder. I can only guess that they changed it to White Midnight Unleashed because it sort of would stain your teeth purple!
It tastes the same however and the new formula is even better – 30% stronger ketones than the original. Woohoo!
The White Midnight Unleashed and the Blue Ocean Unleashed are the STRONGEST exogenous ketones drink on the market, they are amped with more caffeine and stronger ketones.
The Max salts they use are biodentcial to the ketones your liver makes when in nutritional ketosis and Pruvit has a patent pending for this, you won't find stronger ketones…. don't waste your money on cheap stuff.
How to Buy Pruvit White Midnight Unleashed
Pruvit's White Midnight Unleashed and Blue Ocean Unleashed have not been added to the permanent menu….yet.
However they do have flash sales about once a month so it's best to become a customer, get started on some other flavors and wait for these special ones to go on sale.
For now, if you'd like to try samples of White Midnight Unleashed or Blue Ocean Unleashed,  I do sell samples on my Keto Samples and Specials blog and you can check out via PayPal.
Learn More About What Pruvit has to Offer:
Pruvit Keto//OS Testimonial and Before and After Pics
Pruvit Keto//OS Sales, Specials and Samples!
Pruvit Keto//OS Amped Blue Ocean
Pruvit AC-11 DNA Repair and why it should be part of your anti-aging routine
My Families Results on Pruvit Keto//OS (My Mom and my Brother)
Becoming a Pruvit Promoter – Bootcamp
Our #1 Choice for Fat Loss – Keto//OS
Keto-OS is a powder you mix with water that puts you into a fat burning state of ketosis in under an hour, no strict diet required.
Drinking ketones facilitate fat loss while suppressing appetite, increasing energy, focus, endurance, fighting chronic inflammation and improving insulin sensitivity.
It's a very safe and effective means to feel GREAT while you lose weight and tastes amazing!