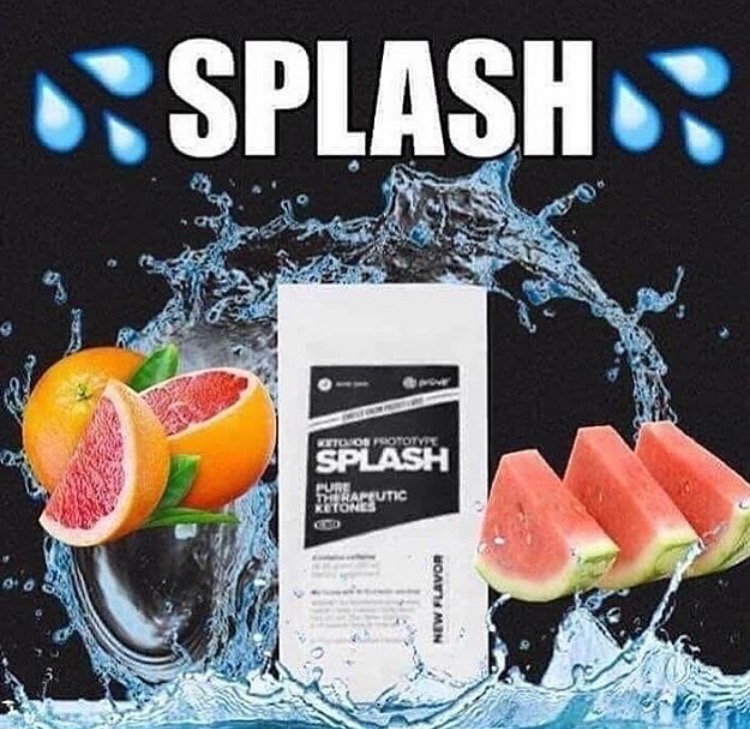 Pruvit's New Keto Splash is Making Headlines! Watermelon Grapefruit is here to Stay
Pruvit's Keto Splash is here to stay!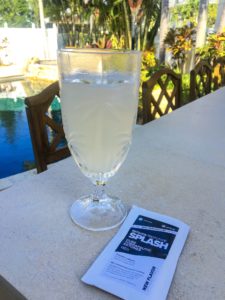 Pruvit has done it AGAIN with the release of Keto Splash!
How they continue to come out with new flavors that trump the last is exactly why they're the leader when it comes to exogenous ketones.
Bottom line, Pruvit knows how to make ketones taste ahh-mazing!
Pruvit's latest flavor is Keto Max Splash which is a watermelon-grapefruit flavor, how refreshing and yummy does that sound?
Keep reading to learn all about the new Keto Splash and I'll just tell you up front, it's delicious!
BIG NEWS: Pruvit released Keto Max Splash to the permanent menu effective March 18, 2018!
What's Different about Pruvit's New Keto Max Splash?
The new Keto Splash is similiar to Pruvit's new Keto AMPED Blue Ocean flavor in that it contains Pruvit's patented AC-11 DNA repair and of course BHB (Betahydroxybuterate i.e. ketones).
BHB is the common factor in all of Pruvit's Keto OS, Keto Max, and Amped Blue Ocean drinks – this creates the magic in these drinks!
However, the Keto Splash has something different – three added essential B Vitamins (Vitamin B3, B6 and B12).
This is great news because Vitamin B is a common vitamin deficiency and helps with energy. Vitamin B is also responsible for helping make your DNA and red blood cells.
I, myself am deficient in Vitamin B and my tongue starts to look weird if I'm low (sounds strange but the tongue can tell you a lot about your health).

Aside from the AC-11 and added Vitamin B, Keto Splash has a similar base blend and caffeine level as the other Max flavors, which is about as much as a cup of Starbuck's coffee (120 mg).
My Experience Drinking the New Keto Splash!
It went down today, and the new Keto Splash flavor tastes delicious!
It tastes like you dropped a watermelon grapefruit jolly rancher in your water except not as sweet.

Like all the Pruvit flavors, they are sweetened with all natural Stevia which comes from a plant. There are no artificial colors, flavors or sweeteners in Pruvit's products. 
The Splash was very refreshing, easy to drink and gave me the same energy boost as the Max, even a little more with the B vitamins.
I didn't eat too much today (wasn't hungry), and powered through a very intense Orange Theory Fitness workout (HIIT tranining) and felt great!
I actually ran faster than I ever have before. Usually on the all-out runs I max out at 8.5 – today I got up to 9.2 and felt very strong.
This is one of the main reasons I love fueling on ketones, they make you feel so strong!
What Happens when you Drink Ketones?
You go into the metabolic state of ketosis (fat burning mode) in under an hour, without having to follow a strict ketogenic diet.
Ketosis is a natural state and our bodies make ketones naturally when in nutritional ketosis.
I also tested my ketone levels with a keto stick (you can buy at any drug store), and look at that result!
I encourage you to watch the campfire video on Pruvit's website to fully understand ketones and ketosis, and how you're body uses ketones for fuel.
Pruvit's New Flavor: Keto//OS Max Splash
Here are some quick facts on Pruvit's new Keto Max Splash: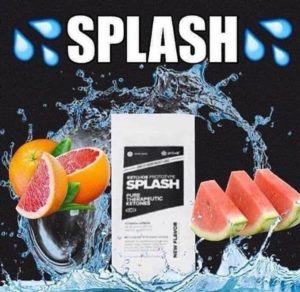 Watermelon-Grapefruit flavor
Patented AC-11 DNA repair (anti-aging!)
Three added B Vitamins (B3, B6, B12)
It's a Max formula so it's got a quicker uptake, faster peak, and lasts longer
Keto Splash is not on the permanent menu yet, and probably won't be for a couple months
Pruvit will have periodic flash sales of the new Keto Splash
Keto Max Flavors – They're My Jam
With the Keto OS Max flavors being 40% stronger than the original Keto OS Orange Dream and Chocolate Swirl, I'm all about the Max Flavors!
I started drinking the Keto Max Maui Punch in January and drank that for six months until the new Keto Max Raspberry Lemonade Flavor came out, then I was hooked.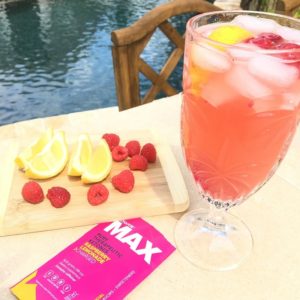 I absolutely LOVE the Raspberry Lemonade!  I've been drinking ketones daily now for over a year and it's been life changing!
Keto Max also comes in Swiss Cacao flavor which is made with real cocoa and tastes like iced hot chocolate. So if you're a chocolate lover over fruity flavors, it tastes delicious as well!
I talk about all the flavors and my personal results and experience in more detail and answer a ton of questions that you may be thinking about right now.
How to Buy Pruvit's Keto Splash

If I have any advice, it's become a customer, like yesterday!
Not only so you can get into ketosis in under an hour WITHOUT having to follow a ketogenic diet, but these initial sales of new flavors are usually offered to current promoters and customers only.

At least for a while, then they offer it up to the general public. It's a bit tricky trying to quickly become a customer when you want to get your hands on a new flavor.
Bottom line there's no reason to wait to start drinking ketones until Keto Splash is part of the permanent menu.
Benefits of Exogenous Ketones
Be sure and check out my full testimonial on Pruvit's Keto OS and Keto Max here, including my before and after pics.
I provide a ton of info on how ketosis works, all the different flavors, and what to expect when drinking ketones.
There are many, many health benefits to drinking ketones, here are some:
Benefits of ketones:
FAT LOSS
MUSCLE PRESERVATION
FAST & SUSTAINED ENERGY
REDUCES BRAIN FOG
INCREASED FOCUS
APPETITE SUPPRESSION
STRENGTH GAIN
BETTER MOOD
BETTER SLEEP
BETTER DIGESTION
I hope you enjoyed my review of the new Keto Splash. If you've gotten this far, that probably means you're genuinely interested in the benefits of ketones. Get started today and get to feeling #better!
Learn More About What Pruvit has to Offer:
Pruvit Keto//OS Testimonial and Before and After Pics
Pruvit Keto//OS Sales, Specials and Samples!
Pruvit Keto//OS Amped Blue Ocean
Pruvit Keto//OS Amped Midnight
Pruvit AC-11 DNA Repair and why it should be part of your anti-aging routine
My Families Results on Pruvit Keto//OS (My Mom and my Brother)
Becoming a Pruvit Promoter – Bootcamp
Our #1 Choice for Fat Loss – Keto//OS
Keto-OS is a powder you mix with water that puts you into a fat burning state of ketosis in under an hour, no strict diet required.
Drinking ketones facilitate fat loss while suppressing appetite, increasing energy, focus, endurance, fighting chronic inflammation and improving insulin sensitivity.
It's a very safe and effective means to feel GREAT while you lose weight and tastes amazing!
How Women Found This Review:
and ketones splash