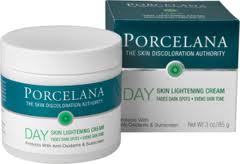 Porcelana Day Skin Lightening Cream Review – Good Buy?
Porcelana Day Skin Lightening Cream Overview
If you've got discolorations on your skin from aging, acne scars, sun damage, birth control pills, or pregnancy, there are many skin lightening and brightening products that you can use to lighten and even remove them.  Women have been using Porcelana Cream, both day and night formulations, for 40 years, and many find that they work to fade dark spots while evening out, toning, nourishing, and protecting their skin.  In this review, we're going to be discussing the Porcelana Day Skin Lightening Cream.
Porcelana Day Skin Lightening Cream Ingredients and How They Work
The main active ingredient in Porcelana Day Skin Lightening Cream is hydroquinone, which is widely believed to be the most effective lightening agent available.  It is, however, not without controversy.  It is banned in several countries and in 2006, the FDA considered banning it in the United States.  In the end, they decided not to, but concerns over its safety remain.  Hydroquinone has been shown to increase cancer rates in rats, though it has not been studied in humans.  It is also known to be an irritant to some people.  Dermatologists as a whole, however, continue to recommend hydroquinone as the best way to lighten skin.
Added to the hydroquinone are botanicals and antioxidants to moisturize and protect skin.  Retinyl Palmitate helps to exfoliate skin and encourage cell turnover, while citric acid helps the lightening process and protects skin from free radical damage.  Perhaps most importantly, Porcelana Day Skin Lightening Cream also contains sunscreen to protect skin from sun damage as well as prevent further discoloration.  It is also necessary because hydroquinone  can increase photo-sensitivity of the skin.
Porcelana Cream also comes in a formula for nighttime use.  It is recommended that you use them concurrently to get the most from each.  The instructions indicate that you should smooth a small amount over the discolored area each morning.  You can apply makeup right over Porcelana Day Skin Lightening Cream as well.
Porcelana Day Skin Lightening Cream Pros and Cons
Advantages
It is very affordable.
It has been around and trusted for over 40 years.
Porcelana Day Skin Lightening Cream reviews are more positive than negative, with the majority of users getting results.
Disadvantages
Many users find that it goes on thick and greasy.
Some customers have had bad reactions to the hydroquinone in the product.
Where to Buy
If you'd like to try Porcelana Day Skin Lightening Cream, you have plenty of options, and they are all affordable.  You can get it at Amazon and any number of other online retailers for $5-$8 for a 3 oz jar.  You may also be able to get it from your local drugstore or beauty supply store at a similar price point.
Conclusion
Porcelana Day Skin Lightening Cream is a staple for many women who experience dark spots from freckles to liver spots.  While we would always recommend caution when it comes to hydroquinone, Porcelana is a product that, for many women, delivers what it promises.  Given that and the low price point, we think Porcelana Day Skin Lightening Cream is a product worth trying.  Just make sure to test it on a discreet area first in case you are one of the unlucky few that can have a bad reaction to the hydroquinone.
Have You Used Porcelana Day Skin Lightening Cream?  Leave Your Review Below!
User Questions and Answers
User Questions and Answers
---
Q: How long before you see improvement? -Savita
A:
Hi Savita, the Porcelena contains hydroquinone, something I avoid since it's a hormone disruptor (some consider it unsafe) and it gives me an itchy rash anyway. I would say you should see an improvement within a few weeks, and you need to use SPF daily if you're trying to lighten to protect your results and also to not get further sun. Even 15 minutes in the sun unprotected can make any dark spots pop. I like a more natural solution for lightening and I use a lot of products with Vitamin C. The Beautycounter Brightening Oil is a good one (you can read my review there), and also read about the benefits of Vitamin C for skin. I use a lot of Vitamin C and spf and it keeps my spots light. Thanks! Rachel
Was this question helpful to you?

---