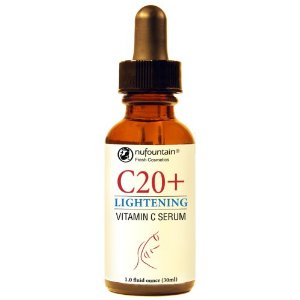 C20+ Lightening Serum Review –Should You Try It?
As we age, in addition to fine lines and wrinkles, crows feet, and sagging skin, we may also get dark spots on our face.  These may simply be age spots (or liver spots), or they may be damage left behind from acne or too much sun.  Whatever the reason, they can be unsightly and we want them gone.  There are plenty of options when looking for skin brighteners and lighteners, and they cover a wide range of effectiveness and price.
C20+ Lightening Serum from Nufountain Fresh Cosmetics takes a healthy skincare approach.  It is a simple Vitamin C serum that promises to improve the health and look of your skin over time.  Good for all skin types, C20+ Lightening Serum promises to lighten, firm, smooth, protect, and repair skin in as little as 2 months.  The most interesting thing about C20+ Lightening Serum is perhaps that it is made fresh to order.  Vitamin C is notoriously unstable, so sitting on a shelf waiting to be sold is not the ideal situation for this serum.  Nufountain makes each bottle to order when you make a purchase.
C20+ Lightening Serum Ingredients and How They Work
C20+ Lightening Serum keeps it simple with 3 active ingredients:
L-Ascorbic Acid 20% – This is the form of Vitamin C that is best able to penetrate skin and have the lightening effect you want.  It works because of its antioxidant properties and because it facilitates the production of gluthathione, which regulates skin pigmentation.  It also helps firm and protect skin by encouraging collagen production and pairing up free radicals.
Alpha Arbutin 6%-  This is extracted from the Bearberry Tree, and it is a natural alternative to hydroquinone.  It inhibits melanin production and thereby lightens skin.
Niacinamide (Vitamin B3) 6% – This vitamin doesn't inhibit melanin production, but it does keep it from acting on skin and causing it to darken.
Made to order, C20+ Lightening Serum is always fresh.  It comes in an amber colored glass bottle, and you'll want to keep it in a cool, dark place to slow the oxidation process of the vitamin c.  Instructions are to apply 5 or 6 drops to face and neck and to let it dry before applying moisturizer or sunscreen.  You may feel a warm, tingling sensations, but if you experience irritation, you should discontinue use.  You should also discontinue use if C20+ Lightening Serum turns a dark amber color.  This would indicate that the Vitamin C has oxidized, and Vitamin C in this state could cause more harm than good for your skin.
C20+ Lightening Serum Pros and Cons
The Good About C20+ Lightening Serum
It is made fresh to order.
It is relatively affordable.
C20+ Lightening Serum reviews are overwhelmingly positive.
The Bad About C20+ Lightening Serum
The L-Ascorbic Acid is unstable and may oxidize quickly if not taken care of properly.
Where to Buy
Because they make it fresh to order, C20+ Lightening Serum is not widely available through many retailers.  Your options are limited to Amazon and the Nufountain Fresh Cosmetics website.   Both stores offer 1 bottle for $22.99, with a special buy 2 get 1 free deal.  There is no explicit guarantee, but the website's contact page specifies where to send returns, so if you find yourself wanting to return it, call and discuss this with the company.
Conclusions
We review a lot of products, and we rarely come across something that has such overwhelmingly positive feedback.  From the customer service to the pricing to the made-to-order product, Nufountain Fresh Cosmetics seems to be doing everything right with its C20+ Lightening Serum.  We feel quite comfortable recommending this skin lightening product and this company.
Read about our Top Skin Lighteners
Have You Used C20+ Lightening Serum?  Leave Your Review Below!
User Questions and Answers
User Questions and Answers
No Questions Have Been Answered For This Article.