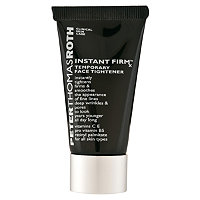 Peter Thomas Roth Instant FirmX Review – Does it Work?
Peter Thomas Roth Instant FirmX Overview
People are obsessed with looking young and nature is their worst enemy.  As we age, our skin naturally loses its youthful firmness and begins to sag and wrinkle.  There are hundreds of products on the market that claim to be able to resolve that problem, at least temporarily.  One such product is Peter Thomas Roth Instant FirmX Temporary Face Tightener.  It is said to instantly tighten, smooth, and firm skin, making wrinkles practically disappear and concealing large pores.  The effects allegedly last for several hours. Does it really work or are these just pretty promises?
Peter Thomas Roth Instant FirmX- How it Works
Although Peter Thoma Roth manufactures numerous skin care products, the PTR Instant FirmX has its own official website.  One of its active ingredients is Retinyl Palmitate, which is used to smooth wrinkles and increase elasticity and moisture.  It also contains urea, an ingredient that exfoliates skin and has water-binding properties.  Another key ingredient is carrageenan to lock in moisture.  There are several parabens included in the complete list of ingredients, which is available on the website.
Peter Thomas Roth Instant FirmX is applied to clean, dry skin.  You can use it daily or just for those special occasions when you truly want to look your best.  The directions say to shake well and apply a small amount of Peter Thomas Roth Instant FirmX where you want to disguise any wrinkles.  You are directed to allow the serum to dry, which takes 3-7 minutes, and you're suppose to remain expressionless during that time.  Next, use a damp cloth or Q-tip to remove any visible white residue.  You may feel your skin tightening or tingling during the process.
Unfortunately, many consumer reviews of Peter Thomas Roth Instant FirmX complain that they struggled to get the product to work correctly.  Many of them report that when they apply anything over the top of the serum (water, moisturizer, make up) that the wrinkles immediately reappear.  Others say that it is impossible to remove all of the residual white residue without washing the product off entirely.  I don't know if this is because they are not following the directions to a T or is a result of not shaking the bottle enough before applying.  I only know that this was mentioned repeatedly in reviews.  Of course, there were also many reviews that gave Peter Thomas Roth Instant FirmX an excellent score and swore they would be buying this product again.
Where to Buy Peter Thomas Roth Instant FirmX
You can order this product from the official secure website where it is sold for $35 for 1.7 ounces.  It is also available at numerous other websites for $48 for 3.4 ounces. You can buy Peter Thomas Roth Instant FirmX at several fine department stores as well.
Peter Thomas Roth Instant FirmX Pros
Official website
Instant results
30 day satisfaction guarantee
Reputable manufacturer
Peter Thomas Roth Instant FirmX Cons
Numerous comments mention white residue
Numerous comments complain makeup reverses results
Must wait for product to dry before proceeding
Contains several parabens, which are found in many skin care products but have been linked to skin irritations and may be connected to cancer
Our Conclusions
Although Peter Thomas Roth has become a respected name in the skin care industry over the past two decades, we are disappointed with the consumer reviews regarding this product.  Yes, many customers really did appreciate the fact that this worked quite well for them but just as many had complaints about the inability to completely remove the white residue without washing off the product and reversing the effects.  Until the company is able to resolve this problem, I cannot put my full support behind Peter Thomas Roth Instant FirmX.
Have You Tried Peter Thomas Roth Instant FirmX? Leave Your Review Below!
Click here to submit your review.
---
Mixed bag
Peter Thomas Roth Instant FirmX Review – Does it Work?
It does tighten the skin helps to remove winkles. However, other than the person using it can see the benefit. Whether following directions to a T, or applying with cotton swab, with or without moisturizer on top, there is no way around the white residue that ALWAYS appears afterwards. Then, removing the white residue ends up removing the entire product and all benefit is lost. I haven't found a way to use it and get the benefits without removing it completely. Way too expensive to just put on and immediately take off. I cannot recommend this product. I gave two stars for its ability to tighten the skin. If it didn't leave highly noticable residue without a way to remove it and keep the skin tight, I would have rated it higher

---
Disappointed
Peter Thomas Roth Instant FirmX Review – Does it Work?
Tried it and it worked put moisture on it back to normal. Tried mixing in with moisturrizer. Still did not work. Regret spending 48 dollars at Ulta beauty.

---
Peterthomasroth fx
Peter Thomas Roth Instant FirmX Review – Does it Work?
Its great at first, then the white film. Even the girl at Sephora put it on me and the white film occured. Ive tried several different ways to use this, still white film. If any one has suggestions, please give them to me and all who have this issue. Other than that, product is pretty good.

---
User Questions and Answers
User Questions and Answers
---
Q: I used it as a mask. Left it on for an hour. It got very very tight. I washed it off with clear water and my skin is burnt red it the area's I applied ( forhead, cheeks and neck) beet red. Is this normal?? -Candace
A:
Hi Candace, this product contains retinol, and many people are very sensitive to it causing redness and irritation. I can't use retinol for this reason as well, I'm way too sensitive to it. Not a good look when you're trying to look younger. I would avoid products with retinol in the future... I do very well with glycolic over retinol for anti-aging for a more effective result. Check out my review on the Beautycounter Overnight Peel...it's an amazing product that will help lighten, brighten, and build collagen which will tighten and firm the skin over time. It's also very gentle. I have sensitive skin and it doesn't cause me any redness and my skin has been looking fantastic! I would try returning the Peter Thomas Roth. I used to love PTR but I found many of the products to be too harsh for my skin.  Good luck! Rachel
Was this question helpful to you?

---