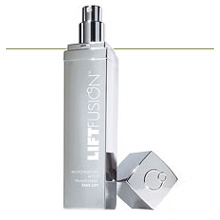 Liftfusion Face Lift Review – Does This Work?
LiftFusion Face Lift Overview
LiftFusion is Fusion Beauty's version of Botox in a bottle.  The manufacturer claims that LiftFusion Face Lift will erase expression lines and wrinkles temporarily and also work to improve the long term appearance and health of your skin .  It is said to address the three main causes of wrinkles: decrease of the body's natural collagen, elastin, and hyaluronic acid.  This product's manufactured suggested retail price is $140.  Is it worth it?
LiftFusion Face Lift – How it Works and Its Ingredients
Since neither LiftFusion or its manufacturer (the Fusion Beauty site has a notice up that it's receiving a facelift)  has a functional website at the time of this writing, information here must be sourced from other reviewers and websites.  This makes it difficult to fully discuss details about the product, but I'll share with you what I have learned.
It is said that since the introduction of LiftFusion Face Lift it has gained the approval of numerous beauty experts and built a following of celebrities, though none of the names of these celebrities was divulged.  Apparently, however, they find this needle-free, scalpel-free alternative to doctor administered injections or an actual facelift to be an excellent option.
Numerous retailers' websites do provide the full list of ingredients found in LiftFusion Face Lift.  Those include  "breakthrough Micro-Injected M-Tox™ nanospheres, created to deliver immediate and cumulative decreased wrinkle visibility.  The formula is said to be both a fast acting wrinkle relaxant and a collagen booster.  Wrinkle erasing effects are promised to  be immediate and last up to 24 hours while the boost in collagen production serves as more long term solution to aging skin. The usage instructions say to apply the serum twice a day, morning and evening, though if the effects supposedly last for 24 hours, I must question why you are told to use it twice a day instead of once.
Where to Buy LiftFusion Face Lift
LiftFusion Face Lift is available at numerous retailers online and is also available in some retail stores.  The price really was $140 for a 1.7 ounce bottle at many of those online retailers, but it was also seen at deeply discounted prices.  In fact, Amazon was offering the product for just under $12.  This price discrepancy immediately sets off alarm bells in my head.  Is it being discontinued?  Is the manufacturer in financial trouble?  I don't know the reason for such a big pricing variance, I just know it makes me uneasy.
LiftFusion Face Lift Pros
Claims immediate results
Promised long term results
Full ingredients list available
LiftFusion Face Lift Cons
No website available at this time
Few consumer reviews
No clinical trials
Wide swing in price range from one website to another
Our Conclusions
Since I was unable to visit the product's website I feel uncomfortable recommending this product.  There were no clinical trials available and although the ingredients are fully listed there is no explanation of how each one benefits the skin.  At this time, without further information, I cannot confidently recommend purchasing LiftFusion Face Lift.  There are simply too many unknowns.
Have You Tried LiftFusion Face Lift?  Leave Your Review Below!
User Questions and Answers
User Questions and Answers
No Questions Have Been Answered For This Article.