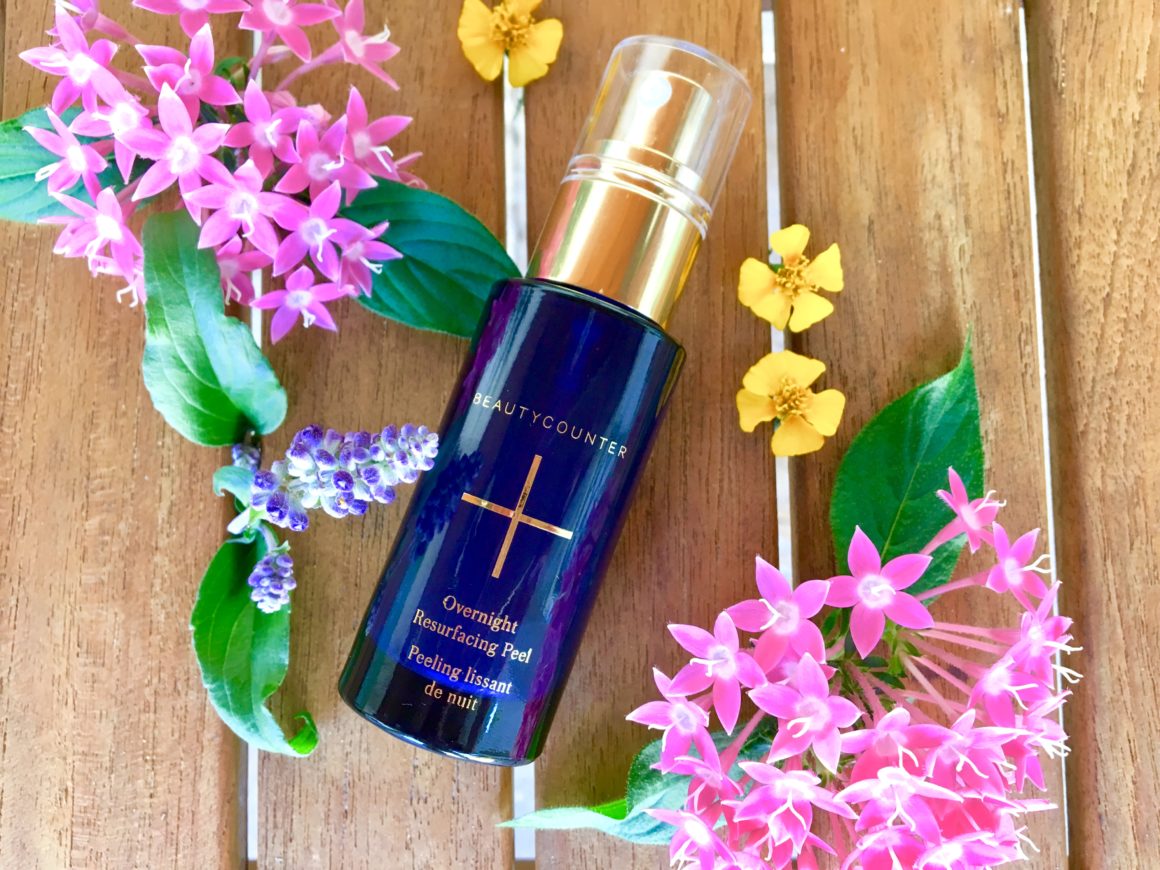 Beautycounter Overnight Resurfacing Peel Review – YES to AHA's!
Skin responds beautifully to glycolic acid (the holy grail of AHA's), and the Beautycounter Overnight Resurfacing Peel contains a mix of both AHA's and BHA's.
If you want to add something to your anti-aging routine that packs a punch, let it be acids! Using this product has transformed my skin! 
Not that my skin didn't look good before, but now my skin glows even without makeup and has a much more even tone.
My skin is lighter, brighter, and has a smooth, even texture. Makeup application feels flawless and I feel like I look more refreshed!
For aging skin, these are the results you want to report!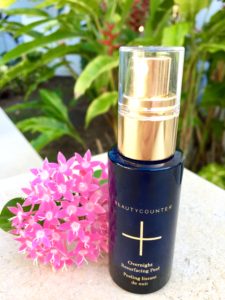 I've used Beautycounter for several years now and love their products.  I haven't found a clean beauty line that I love more and I've tried TONS!
However, the one thing that I felt was missing from their skincare line was something a bit stronger. Specifically something with AHA's for a deeper exfoliation and cell turn over.
I was sooo excited when the Beautycounter Overnight Resurfacing Peel was released, in fact I was chomping at the bit to try it and I've been hooked ever since!
Beautycounter Overnight Resurfacing Peel – How it Works
The Beautycounter Overnight Resurfacing Peel's formula contains 15 different acids derived from botanicals.
This is a peel you leave on overnight that improves the skin's texture, minimizes fine lines, shrinks pores, and lightens up dark spots.
It contains glycolic, malic, and lactic acids (AHA's) which rapidly increases cell turnover to gently exfoliate away dull skin cells, while hydrating the skin with hyaluronic acid and essential fatty acids (BHA's).
AHA's & BHA's (alpha-hydroxy acids and beta-hydroxy acids) in the Overnight Resurfacing Peel regenerate, nourish, and protect the skin to reveal a glowing, brighter, and more youthful complexion.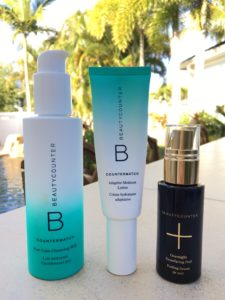 Benefits of AHA's & BHA's – Exfoliation
An exfoliant helps to restore the skin by removing dead skin cells, which is a natural process but one that is sped up by using AHA's/BHA's.
By removing dead skin cells, and using acids which are able to penetrate well below the superficial layers of the skin, you can stop pores from becoming clogged, help stop breakouts, visibly lessen the depth of wrinkles, and rehydrate the skin. You will instantly look younger.
AHA & BHA exfoliants work by:
minimizing the appearance of wrinkles
clarifying dull/uneven skin tone
lightening dark spots
smoothing rough or bumpy skin
unclogging pores
increasing hydration (yes, even increasing hydration!)
AHA's and BHA's help to reduce wrinkles. They stimulate the production of collagen and strengthen the skin.
Collagen loss is what weakens the skin and causes signs of aging. By stimulating collagen production, your skin will look more youthful and plump.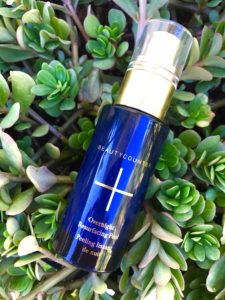 How the Overnight Resurfacing Peel Feels & Smells
The Beautycounter Overnight Resurfacing Peel has a light, lemony smell (I think it smells great!). The texture is that of a creamy serum, very easy to apply with a nice slip. It absorbs nicely and leaves a supple feeling, no stickiness at all.
The peel has a bit of a tingle to it (you can feel it working), but it doesn't cause me any redness or irritation. I have sensitive skin so it should be tolerated well by most skin types.
You'll almost feel like you don't need a moisturizer after applying since it does such a nice job hydrating. However, it is recommended to follow with a moisturizer, and I never miss a step!
As far as actual "peeling" you won't notice your skin flaking off, this isn't like an intense chemical peel where you will have down time.
It works by sloughing off and dissolving those dead layers of skin gradually while also protecting and hydrating.
So there's no worse before getting better, just better!
What it's Formulated Without & Why It's Safe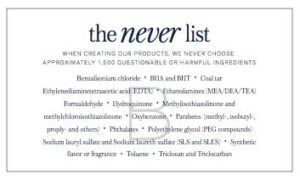 Beautycounter adheres to a Never List of questionable and toxic ingredients, making their skincare line a safer choice for beauty.
We are exposed to enough environmental toxins, why put them on your skin where they are absorbed?
The Overnight Resurfacing Peel does not contain any formaldehyde based preservatives which are commonly found in AHA peels, nor any needless synthetic fragrances and no PEG's (preservatives on the dirty dozen list).
The pH level of the peel is formulated to optimize performance to hydrate, protect and replenish the skin, without causing irritation.
Beautycounter Overnight Resurfacing Peel Results
Here's a recent picture of me (on the left) with my sister. I'm very careful to protect my skin with plenty of SPF and using the Beautycounter Overnight Resurfacing Peel 3-4x per week, along with other Beautycounter products.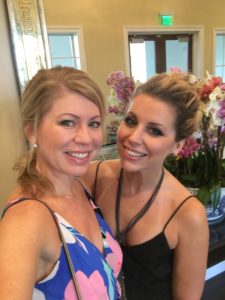 Dark spotting and the sun have always been my enemy, as I live in South Florida and beach volleyball is my sport. So I go to great lengths to protect!
I think I do a good job with my skin, I'm in my mid 40's and still get carded sometimes for wine. Flattery will get you everywhere! 😉
My results with the peel have been fantastic and I'm feeling more confident about my skin. Not only is my skin lighter, brighter, with an even, smooth tone, but my makeup application feels much easier. Everything goes on so smoothly!
It's really helped to lighten up some dark spots along my jawline and upper neck. I always seem to get spots there, it's just where my skin loves to produce melanin!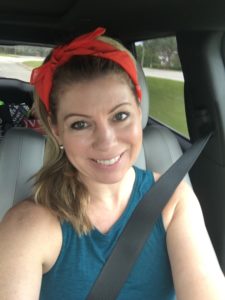 My skin just seems to have a glow and a plump to it now that it didn't have before, and I've noticed fewer fine lines and wrinkles. My skin looks and feels great – even without makeup.
I'm very pleased with the results of using this peel on a regular basis and it will continue to be a part of my anti-aging routine.
Is the Beautycounter Overnight Resurfacing Peel Good for Acne?
Yes, absolutely. While I don't suffer from breakouts, I'm in a private Beautycounter group on Facebook where we share skincare regimen's and what's working.
The peel is one of the most raved about products not only for anti-aging, but for clearing up acne, reducing dark spots from acne scarring, and overall skin health.
While the Beautycounter Countercontrol Collection is made specifically for acne prone skin (and uses salicylic acid as its main AHA), many ladies have added the Overnight Resurfacing Peel as part of their treatment and have seen great results.
The peel does contain salicylic acid which is the AHA that keeps those pores clear!
How to Apply the Overnight Resurfacing Peel
Apply 1 to 2 pumps to clean face and neck 3 to 4 times per week. May tingle upon application. Allow product to fully absorb (3 to 5 minutes), then follow with a moisturizer.
While you can certainly add the Overnight Resurfacing Peel to any existing routine to ramp things up, I want to share exactly how I use it in harmony with other Beautycounter skincare products.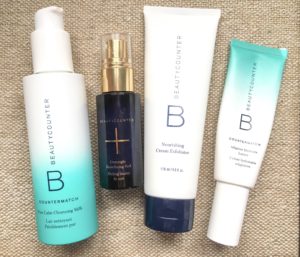 My Beautycounter Night Time Skincare Routine:
Ahhh, I love the routine of it all, and we deserve to pamper ourselves! Some may think this is excessive, but I don't and I love every single step! 
Step 1: Remove eye makeup with the Instant Eye Makeup Remover. Made with coconut and macadamia oils to break down pigments, and soothing cornflower extract to sooth delicate eye skin (no mineral oil or silicones).
Step 2: Cleanse with Countermatch Pure Calm Cleansing Milk. This is a milky, oil based cleanser with plum oil, coconut oil, and jojoba seeds which leaves the skin soft, hydrated, and calm. Massage onto dry skin and rinse with warm water.
Step 3: On the nights I use the peel, I exfoliate with the Nourishing Cream Exfoliator. It's formulated with coconut oil, aloe, and non-abrasive jojoba beads which gives a gentle exfoliation and prepares my skin for the peel for optimal absorption.
Step 4: Pat small dab of Countermatch Eye Rescue Cream below eyes and on upper eyelids. Applying the eye cream first avoids spreading the peel too close to the eyes.
Step 5 (3-4x week): Apply 2 pumps of the Beautycounter Overnight Resurfacing Peel to clean face, neck and chest. Allow it to fully absorb for 3-5 minutes. Never neglect your neck and chest. 
Step 6: Apply one pump of the Countermatch Adaptive Moisture Lotion to face, neck and chest. Also botanically based, this a perfect day or night cream that gives a perfect level of hydration without feeling heavy.
Step 7: Don't forget your lips!! Swipe on the Lip Conditioner in Peppermint to soften and hydrate those lips.
Optional Step, Treat for the skin: About 3x week after sports or beach, I love to use the Cleansing Balm to melt away all the makeup and impurities. I apply onto dry skin all over my face and neck (avoiding the eyes) and rub in a circular motion for about a minute and remove with a warm washcloth.
It doubles as an overnight mask when you need extra hydration and smells fabulous! It contains raspberry and cranberry seed oils and lots of Vitamin C which all help to brighten. Sometimes I'll just us this as my nightly moisturizer in place of the lotion – you only need a tiny bit!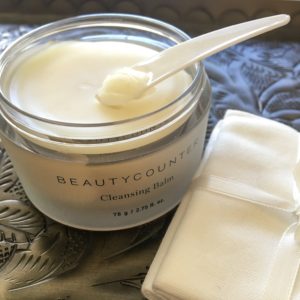 My Beautycounter Morning Skincare Routine
Step 1: Cleanse with Cleansing Milk
Step 2: Pat small dab of Countermatch Eye Rescue Cream below eyes and on upper eyelids.
Step 3: Apply Countermatch Adaptive Moisture Lotion for my day cream, SPF on top or I use makeup with SPF.
How to Purchase Beautycounter
Beautycounter can be purchased online from a consultant (like me), although they do have a stand alone store in NYC if you're lucky enough to live nearby or to visit!
I feel very good about recommending Beautycounter products on Women's Blog Talk. The skincare is very effective for anti-aging, made with safe and sustainable ingredients, and absolutely pampering.
If you add one thing to your anti-aging routine, let it be the Beautycounter Overnight Resurfacing Peel – you won't be disappointed! You can work this product into any skin care routine!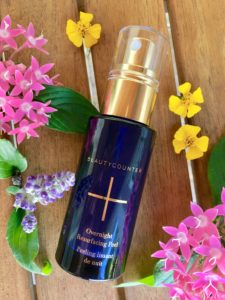 User Questions and Answers
User Questions and Answers
No Questions Have Been Answered For This Article.