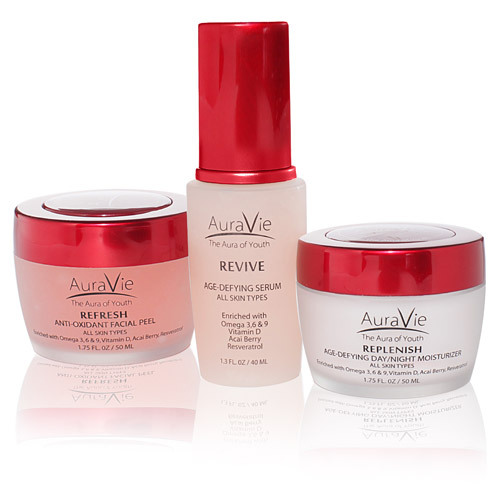 Nue Science and Auravie Wrinkle Reducer Review
Sometimes we feel like we can't keep up with these supposed "miracle combinations" that help to reduce your wrinkles and turn back the hands of time.  It seems like everyday I check my local weather over a cup of coffee, and there is the ad staring at me in the face that says that same thing everyday "Mom makes Botox Doctors Furious!" screams the headline.  Today's miracle is Nue Science and Auravie Wrinkle Reducer, 2 skin creams we have touched on before.  Since we already wrote about these products heavily before, we feel there is no need to touch on them in detail again, but for those who are unaware, here is the scoop on these two products.
What is Nue Science?
Nue Science promises the usual reduction in wrinkles, and also says it will reduce the volume and depth of wrinkles by as much as 40%.  It actually comes in a 3 step process including a firming toner, which is supposed to restore fullness to the face and plump up your face to reduce the appearance of wrinkles.  The 2nd step is an Age Repair Serum, which is used to reduce the depth, volume, and density of wrinkles.  The 3rd step is an Age Defense Moisturizer, which contains spf 30 and is used to prevent future breakouts of wrinkles.
What is Auravie Wrinkle Reducer?
Auravie is a wrinkle reducer that is also designed with its own 3 step system, which is designed to eliminate fine lines and wrinkles.  The first step is and anti-oxidant face peel, which micro cleanses and stimulates surface skin cell renewal.  You use this 1-2 times weekly, and is combined with the 2nd step, which is an age defying serum that lifts and firms the eye area, face and neck.  It's all capped off with a Day/Night Moisturizer, designed to increase moisture retention, smooth skin texture, and encourage natural cell regeneration. I actually had a horrible experience when trying Auravie and wouldn't recommend it. *Update* Auravie has been pulled from the shelves and you can no longer buy it! Too many complaints apparently.
Read about my personal experience trying Auravie and how it stuck to my face!!
The Bottom Line
There is no conclusive proof that if you use Nue Science with Auravie that you will experience some sort of magical results.  We have read through countless reviews and could not find any woman who has used both Nue Science and Auravie the way it was described in the ad we came across.  If you are looking to try something that does what these 2 creams do on their own, but is an all in one product, you should check out Lifecell.  It has been scientifically proven to reduce wrinkles dramatically, and is endorsed by celebrities around the world.
Read my personal review of Lifecell Anti-Aging Treatment with before and after pics, I've been using it over two years!
User Questions and Answers
User Questions and Answers
No Questions Have Been Answered For This Article.