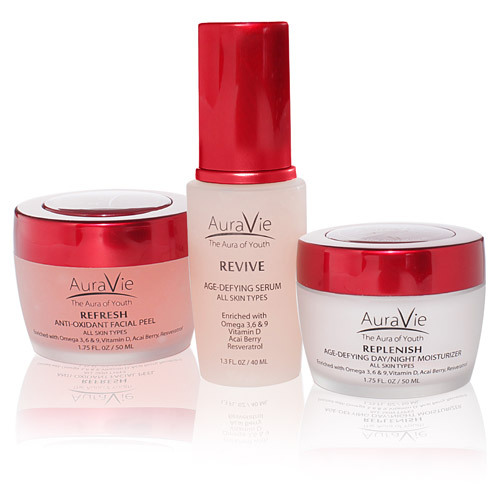 Auravie Reviews – Does Auravie Really Work?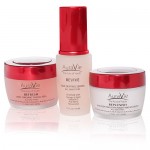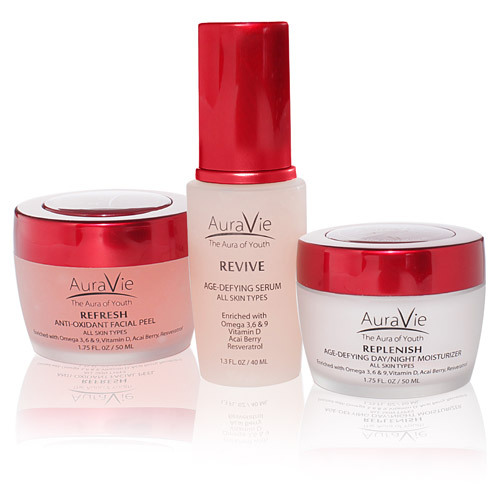 *Update* This product has actually been pulled from the shelves and can no longer be purchased. Too many complaints and it has an "F" rating with the Better Business Bureau!
Rejuvenating the skin can be a great deal of work, and for those who spend their money buying chemical laden products from the local store, it can also feel like an impossible task.  Lifting and toning the skin, improving hydration, and destroying free radicals are all part of proper skin care, and when we saw the AuraVie skincare system, we decided that it looked comprehensive enough to warrant some research into whether or not it would work.  The makers present some pretty lofty claims, but they don't promise perfection or make over-the-top promises that this product will turn you back into your teenage self.
How It Works and Ingredients
With any review, the first thing you want to do is see whether the product is even designed to work, so that is where we started with AuraVie.  The products are actually fairly packed with beneficial ingredients, such as Vitamin D, Omega 3, 6, and 9, Resveratrol, Hyaluronic Acid, and more.  Between them, the ingredients in the three components of this skin care system are designed to hydrate, firm, lift, tone, and nourish the skin.  In short, these products seem to have all of the components needed to deliver the promised results.
Where To Buy
The AuraVie product line is available directly from the company itself.  The three-in-one kit with all of the products included sells for $220.  You can also purchase it on many online retailers such as Amazon, Ebay, and others. *Update* This product has actually been pulled from the shelves and can no longer be purchased.
My Experience Using Auravie
Overall I had a horrible experience using Auravie. The serum was nice, however when I tried the peel, it actually got stuck to my face! I tried it twice, thinking that maybe I didn't follow the directions correctly, but I had the same reaction.
It was like I had tiny balls of glue stuck to my face and it was actually really painful trying to get it off. It stuck to all the little hairs on my face and I had to really wash hard with a washcloth to get it off, I was not a happy camper to say the least.  The moisturizer was very heavy and I was shiny soon after I applied my makeup so I didn't like these products overall.
Recommendation
With my research and reviewing done, I have to be honest when I say that I do not recommend these products and I would never use them again!  I have never in my life had a product get stuck to my face to the point I probably actually did damage trying to remove it. Save your money on this one and be very careful if you do decide to try it.

Click here to read about my #1 Anti-Aging Treatment
Have you tried Auravie? Leave your questions and comments below!
How Women Found This Review:
and mira vie skin care reviews
Click here to submit your review.
---
Auravie Reviews – Does Auravie Really Work?
I have used your mire vie cream for 5 days now, an my face has never felt this good before. I don't understand why people would be say that the cream does not work, because it does work. An I am 74 years old an don'look a day over 50

---
User Questions and Answers
User Questions and Answers
No Questions Have Been Answered For This Article.