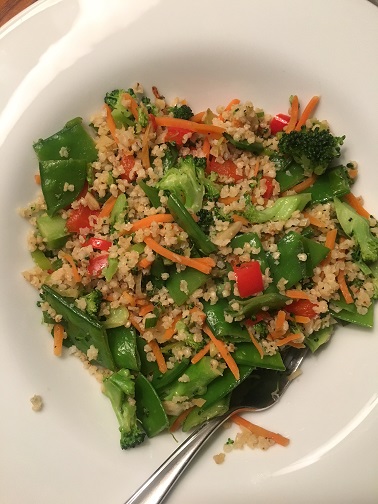 Millet & Veggie Stir Fry – Vegetarian recipe with lots of protein
Millet & Veggie Stir Fry Recipe
Chances are, you've probably never heard of millet. Millet is a non-gluten grain that contains 22 grams of protein and 17 grams of fiber in a one cup serving! It's an alternative to wheat but should be eaten in moderation (like anything).
It's packed with calcium, magnesium, Vitamin B, fiber and antioxidants. Niacin (Vit B3) in millet helps lower cholesterol and lower the risk of type 2 diabetes. Phosphorus helps rev metabolism, repair body tissue, and create energy in the body (ATP).
This is one of my favorite recipes for an all vegetarian meal with lots of protein! It's good in stir fry, or on it's own with a little salt and pepper (even for breakfast). I recently tried millet while doing a liver cleanse, and found it to be very tasty!
Ingredients:
2 Tablespoons of coconut oil
2 cups of water
3 green onions (just the first 2/3 of it, starting with the white part, I don't use the whole tops)
1 small head of broccoli (about 1 cup)
1 large handful of snow peas
1/4 of a large red pepper, or 1/2 of a small one
2 cloves of garlic
1 teaspoon fresh ginger, peeled and grated
1-2 dashes of soy sauce
fresh ground pepper
1 Tablespoon Tahini (ground sesame seeds)
Directions:
Brown one cup of millet in 1 Tbls of coconut oil until brown and toasty (a few minutes at least – you'll see it browning up and it kinda smells like popcorn mmm)
Add 2 cups of water and bring to a boil, cover and simmer on low 20-25 minutes (turn it up enough so it's lightly boiling).
Chop and saute the veggies, including the garlic and ginger, in a separate pan with 1 Tbls coconut oil. Don't overcook the veggies until they're mushy, they should be slightly crispy. Add the soy sauce and pepper, stir.
Combine roughly 1 1/2 cups of the millet into the veggie pan and mix together. Once it's nice and hot and ready to serve, mix in 1 Tbls of Tahini for a little added flavor and a healthy fat source.  I wanted more veggies than grains but you can adjust the millet ratio to your liking.
What do I do with all this leftover millet?
You will have leftover millet. Millet is an excellent source of protein and it's gluten free. It's great for liver cleansing and is a non-inflammatory grain. If you like grits, you will love millet and it's a great breakfast food on it's own.
User Questions and Answers
User Questions and Answers
No Questions Have Been Answered For This Article.