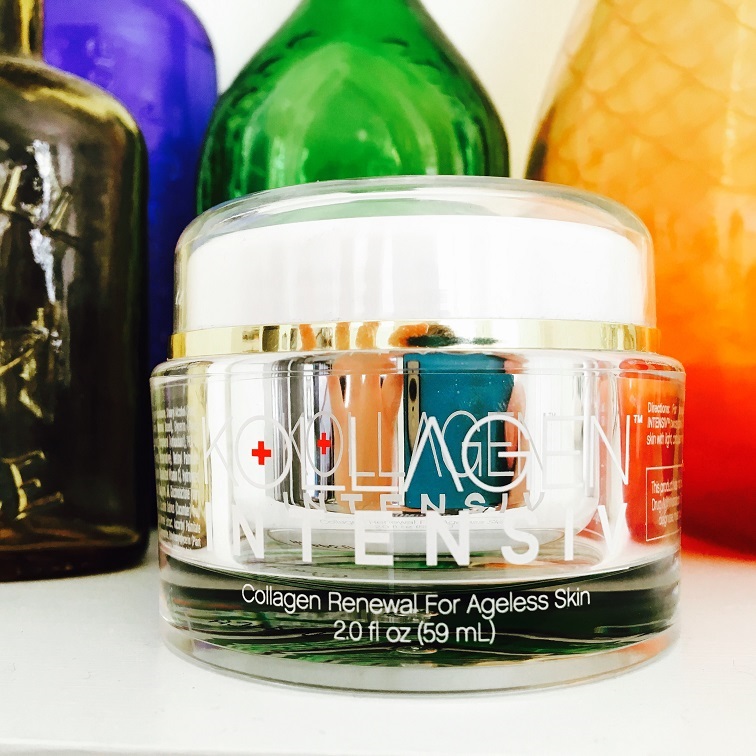 My Kollagen Intensiv Review – the Need for Collagen
This is my personal review, visit the official Kollagen Intensiv website here: Skinception Anti-Aging Store
Hello Beauties! Today I'm sharing my experience on using Kollagen Instensiv – Collagen Renewal for Ageless Skin.
I've made Kollagen Intensiv my top recommended anti-aging treatment because it's proven itself to be my go-to cream over the past 4 years.
It works by naturally boosting collagen production in your skin to reverse the aging process and it contains no harsh chemicals or parabens!
It works wonders to keep my skin looking fresh, perky and youthful!

My Results Using Kollagen Intensiv & Why it's Special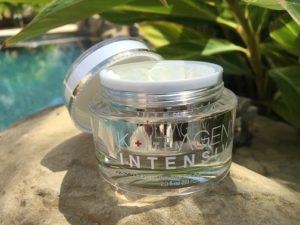 I first started using Kollagen Intensiv four years ago – I used it for 6 months straight to really experience the long term benefits it claims to provide:
fewer wrinkles & fine lines
brighter complexion
hydration and moisture retention
thicker, more resilient skin
less sun damage and age spots
It's been on the front lines of my beauty repertoire ever since – I was blown away by how much my skin just loved this formula!
I found that it works extremely well to moisturize, reduce fine lines, wrinkles and puffiness, as well as lighten hyper-pigmentation – those dreaded dark spots we get as we age.
It evens my skin tone by cutting redness, hydrates without feeling too rich or causing breakouts, and smooths the crepey skin on my neck and chest.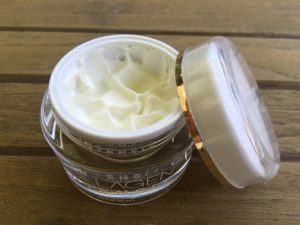 As an eye treatment, it helps de-puff and smooth my under eye area. I have extremely sensitive eyes (blepharitis/rosacea) and this cream does not irritate.

Kollagen Intensiv has a very light, natural smell, and a soft, silky feel with a good amount of moisture.
It absorbs nicely and works immediately to plump up the skin to give you a more youthful appearance. It just feels soooo good on the skin!
I've also used this cream after micro-dermabrasion and more recently, microneedling. You're required to use gentle products with no harsh chemicals for post-treament skin, so it's perfect for that as well.
Collagen Loss and How it Effects Your Skin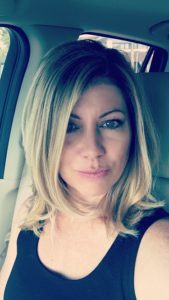 I am in my 40's (44 to be exact), and a loss of collagen and "plumpness" is the change I've noticed most in my skin over the last decade.
However, people don't believe me when I tell them my age, and I firmly believe it's because of the products I use.
It's a depressing fact that once you hit your 30′s, your skin's ability to regenerate itself drastically increases from 14 to 32 days! That's almost 50%!
Putting back this lost collagen into my skin has become a priority, and maybe even a bit of an obsession. I mean, who doesn't want to stay youthful-looking?!
As we age, the loss of collagen in our skin is the main cause for wrinkles.
Because of this unfortunate decrease, it's imperative that we find a way to put this back into our skin, or else the skin will break down and wrinkles will become more and more prevalent.

Kollagen Instensiv works by reversing this aging process. By stimulating collagen production, it improves the strength and elasticity in the skin which reduces wrinkles.
How to Use Kollagen Intensiv
For best results, use morning and night after you cleanse. If you have a serum you like, use that first.
I always use a small spoon to scoop out – you don't want to use your fingers to prevent  bacteria from getting in.
You also don't need a separate eye treatment, you can use Kollagen Intensiv for your entire eye area.
Using it underneath and around your eyes will fight puffiness, dark circles and crows feet and take years off your eyes!
How Does Kollagen Intensiv Work?
Parabens are out. Natural skin care ingredients only!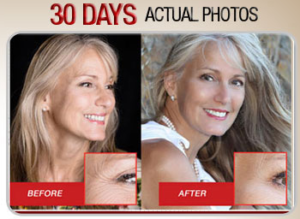 The key ingredient in Kollagen Intensiv is a patented peptide called SYN®COL, which is what makes this product unique.
It has been proven in clinical studies over an 84 day period, that the active peptide SYN®COL:
reduces the appearance of wrinkles by up to 354%

improves the skin's texture by 201%
Most creams don't have actual clinical trials to back up their claims. You can read about the SYN®COL clinical trial here.
Kollagen Intensiv is also full of many other anti-aging properties and the ingredients (picture here) include rejuvenating vitamins, peptides, anti-oxidants, fatty acids, trace minerals, essential oils, and enzymes which all work together to nourish and repair your skin while reducing wrinkles and dark spots.
Kollagen Intensiv also contains Retinol (Vitamin A) which is great for smoothing skin and fighting aging. Here's a good article on why Retinol is a very good ingredient to look for in skin care.
Benefits of Using Kollagen Intensiv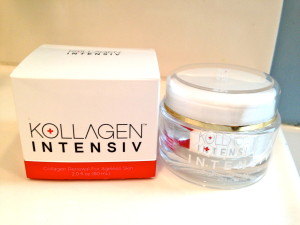 Increases your skin's natural production of collagen with SYN®COL, a peptide able to mimic the body's mechanism to produce collagen
Retinol (derivative of Vitamin A) is a key ingredient in Kollagen Intensiv, to keep skin beautiful and smooth
Reduces the appearance of deep lines and wrinkles
Firms and tones the skin for a more youthful appearance
Moisturizes and hydrates
Repairs sun damaged skin and reduces hyper-pigmentation
Reduces crows feet, dark circles and puffiness by increasing collagen around the delicate eye area
Very soothing and non-irritating
Calms redness and evens skin tone
How to Increase Your Results with Kollagen Intensiv
This is just a suggestion, but recently I found that using Kollagen Intensiv with Skinception's AHA Toner noticeably increased the anti-aging benefits of the Kollagen Intensiv.
Pairing a collagen stimulating toner with collagen boosting Kollagen Intensiv made my skin remarkably softer, smoother and shrank my pores.
This is hands down the best toner I've ever used, since it's gentle yet so effective.

By removing the dead skin cells and debris with the toner, your pores are able to breath, opening up the pathways leading down into the deepest layers of your skin which gives the moisturizer an easy route to follow in order to work most effectively.
The gentle, fruit based alpha-hydroxy acid formula leaves the skin smooth, improves skin tone, reduces dark spots, and brings the skin to a proper pH balance.
This is just an awesome combo. The AHA toner alone brings so many anti-aging benefits, but if you're really looking to step up your anti-aging game, I highly recommend using these two products together.
I've also used Kollagen Intensiv post treatment, after microneedling and microdermabrasion and had fantastic results, you can read about that here.
Recommendation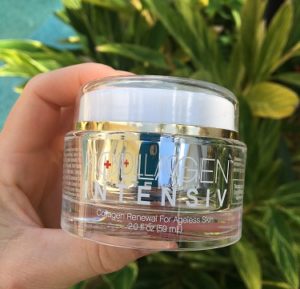 I am very picky when it comes to skin care, but Kollagen Intensiv is a cream I'm happy to recommend!  
First and foremost, it naturally builds the collagen back up in your skin to diminish wrinkles, cut redness, treat crepey skin on the neck and chest, lighten dark spots and reduces puffiness and hard to treat crow's feet, softening your whole look.
Your all over skin tone will improve and your face will have a more plump, youthful glow.
After just one use – you will definitely see a difference in your skin! After two months, you'll be amazed at your transformation! You'll look and feel 10 years younger.
Where to Buy Kollagen Intensiv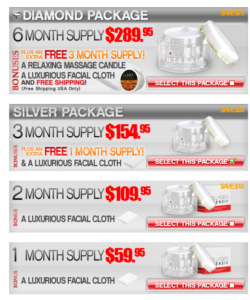 The best place to purchase Kollagen Intensiv is from their official distributor website Skinception Anti-Aging Store. And at $59.95 for a 2.0 oz tub, it won't break the bank!
Kollagen Intensiv is not a retail product, so you can't purchase in stores. Buying directly from the manufacturer guarantees its authenticity, freshness and a 90-day money back guarantee.
The picture here shows the current prices; if you buy more than one jar you can save some bucks, and they automatically send you a $25 gift card with your first purchase which you can use at the Skinception store in the future.
If you're interested in using Kollagen Intensiv with the Skinception AHA Toner I mentioned, you can browse and purchase both of these products at once by visiting the Skinception Anti-Aging Store.
Skinception products are amazing, many of my top products are made by this line because they bring results and they aren't overpriced.
Have you tried Kollagen Intensiv? Leave your review, question or comment below!
How Women Found This Review:
and https://www womensblogtalk com/kollagen-intensiv-review
User Questions and Answers
User Questions and Answers
---
Q: What about weight loss sample drugs for small shipping fees? These a scam too? -Anita
---
Q: How effective is this product on minimizing the facial sagging often called parentheses? This is my biggest problem. I am 59. -Linda
---
Q: Hi Rachel! Was wondering if they offer discounts on Kollagen Intensiv? I want some! I think I used this cream once before and loved it, then forgot where I bought it. Thanks, Pam -Pam
---
Q: I am 69 years old and have liver spots on my cheeks as well as some crepiness. Will Kollagen help with these issues? I would like to try one of your recommendations. Let me know which one would be best. Thanks. -Kay
---
Q: Can I use Kollagen Intensiv on neck and chest? And the AHA toner you recommend in your review, can I use that on my neck and chest too? Looking for skin renewal, I have some brown spots that I'd like to treat as well as I would like plumper skin. Thank you. -Dorothy
---
Q: Is kollagen intensiv non-comedogenic and oil free? -Vera
---
Q: I recently purchased the kollagen intensive cream but when i put it on it leaves white residue on my face and it feels very sticky, it can't be used under make up because the white film/ residue shows. Is this normal? I'm conserned that i got an old or expired product. None of the reviews i read mentions this issue, please let me know. Thank you -Isabel
---
Q: Is Kollagen Intensiv sold anywhere in Canada -Pierrette
---
Q: What about kollagen Intensiv vs Lifecell?? -Deborah
---
Q: I went on the Kollagen Intensiv website like you suggested and when you try to find out under the tab Who We Are you get information on the products again. Also, when I went under to try to find the ingredients in the Kollagen Intensiv cream there was another ad showing "results" and Top Model ad but nothing mentioned about the ingredients. I am skeptical of this like many of the other ads that you have mentioned to us. Can you tell me why this product or company is better than others, besides the fact that you endorse it, which is helpful, but I want to know who developed these products and the ingredients. Thank you -Deb
---
Q: How much does your product cost? -Joanne
---
Q: Are you invested in this cream and making any money off of it? Also did you design the cream or chemists. You never say who actually created it. And what IS The discounted price when I order a second jar. And you didn't say how much the toner is. Viki -Viki
---
Q: I asked for the free trial to see if it would be good for me and i didn"t want the eye serum you ordered and it charged me for it,I only want the winkle one for 4.94,please do not charge me for the one I tried to say no to. thx -jill flanagan
---
Q: Does this product help to firm the neck area as well? -Diane
---
Q: What is the cost for 1 bottle? I don't want to sign up for repeat deliveries. I would like to buy 1 bottle and if it works, I will buy another. -Corliss
---
Q: I still haven't received my free cream which i paid postage for -martine
---
Q: I'm interested in trying Kollagen Intensiv. I'm in my 60's and this product sounds perfect for more hydration. What product do you recommend for a sunscreen to wear with this? My face is very sensitive to sunscreen and I usually use a product made for babies. -betsy
---
Q: i'm 52 n i have MS can i use it?! -mareya
---
Q: Does this cream have added fragrance? My eyes are very allergic. Thanks -Carolyn
---
Q: I am wondering if the Kollagen is a pure and natural chemical Free product? I am dealing with Cancer and don't want To use anything harmful on my skin. -Alicia
---
Q: I have used moisturizer for years (Zia Ultimate, apparently no longer available), but I've noticed a lot more lines, creases, etc. (at 68). I've tried a couple of things (the $4.99 trial type, which I was able to cancel) and there was some improvement. I used MyChelle Supreme Peptide Cream and that seems to be help. I'm looking for something better, more potent. I'm happy to try Kollagen Intensiv bur I don't know a lot about the various other things one should do for the face and neck. Do I need a moisturizer after applying this? I am expecting to cleanse, apply this, but don't know what else. Sorry, a guy dines't have the same background and knowledge, so your help would be appreciated. Thanks. -Jason
---
Q: Is Life Cell or Kollagen you favorite product? -Pam
---
Q: Does this product tighten sagging jaw/chins, also does it have any suv protection -karen
---
Q: Curious whether you've had opportunityt -Lori
---
Q: So what about a few age spots on arms or legs. I have a coulee that are pea sized or a little bigger from days I forgot sunscreen. Also suggestion for best item for a little crepy skin on legs & belly for weight loss at 53. Thanks sooooo very much. Love your site. Will order the facial creme & toner today. And maybe some lash stuff too. Thank you!!! -Cindy Holder
---
Q: I'm having problems with crepe skin on my arms.Is this a good product for that? -Sherry
---
Q: Is this product available in Phillipines? -Naomi
---
Q: Your favored product does not show a price unless you submit your name and email etc.. Very annoying so I have no idea how much it is or if it's too much to wven look at. Up front marketing is the only way to go. Sorry will not be taking your suggestions as you are also probably paid to send people! -Ellen
---
Q: I'm 81 & the wrinkles on my chin have emerged; have a special date in Nov for granddaughter's wedding; will this product help my appearance? -sue
---
Q: Where can i purchase Kollagen Intensive -Greta
---
Q: Does this cream reduce saggy skin on jawline of face -Kay Durrah
---
Q: Does your product reduce lines on the face and above the lip? -Veronica
---
Q: What's the cost of getting the toner with the kollagen intensive -Veronica
---
Q: Is kelly ripa's anti wrinkle worth trying -Nancy
---
Q: I would love to buy your wrinkle cream is that I've heard it's wonderful but you don't accept American Express cards and that's the only card I have so tell me what I can do -Theresa
---
Q: Can the Kollagen Intensiv go bad? Collagen renewal for ageless skin -Tricia
---
Q: I'm just looking for a product that I can afford I have a few wrinkles out a lot 60 years old my skin is oily so I'm looking for something that I can afford to buy if you can help me please send me an e-mail thank you -Cindy sheets
---