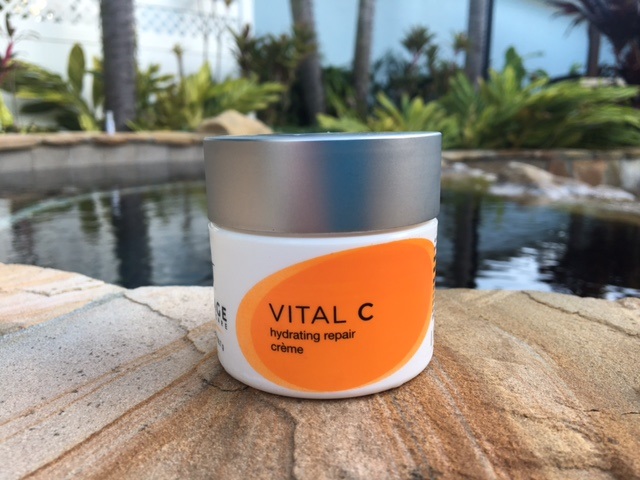 Image Skincare Vital C Review – Why it's their Best Selling line!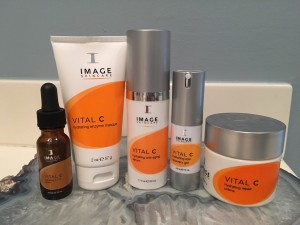 This review was written after using Image Skincare Vital C for 8 weeks straight but I update it frequently!
Who knew I'd fall in love with the products and still being using them years later ~ you simply cannot go wrong with using Image!
If you're not familiar with the Image Skincare, it may be because until about 2016 you could only purchase their products from a spa, high end salon, or Dr.'s office.
You can now purchase from their website or right from Amazon – but make sure you use their official page. There are third party distributors selling fakes at reduced prices (that should be a red flag).
Why Did I Try Image Skincare?
I got lucky on this one since my sister Katie McCaskill, of Hair and Makeup of the Palm Beaches is a licensed esthetician and cosmetologist and she was trained on Image Skincare at the Palm Beach Academy of Health & Beauty.
Image Skincare is an innovative brand based out of West Palm Beach, Florida providing professional skincare with a higher concentration of active ingredients, and all of their skin care is paraben-free!
The Image Skincare Vital C lineup is absolutely fabulous – and there hasn't been a Vital C product that I've tried that I haven't loved!
Image Skincare Vital C – Why I Needed It
My sister primarily recommended Image Skincare Vital C for me as my skin is sensitive, dry, and I also have a lot of pinkness in my skin.
Although I don't have rosacea, I do have rosacea of the eyes, and apparently when you have this condition, you can develop facial rosacea (oh joy!).
I also spend a lot of time in the sun playing beach volleyball so I'm always in a cycle of both sun prevention (lots of SPF), exfoliating away all the gunk and sunscreen, re-hydrating my skin, and trying to repair any sun damage I may have incurred (dark spots).
I also wanted something soothing since I had just tried micro-dermabrasion for the first time. This is a deep exfoliation where they use a diamond-crystal tip attached to a vacuum to exfoliate and remove the dead top layer of facial skin. So that left me a little pink.
I did try a few other Image products along with with Vital C during this time, so I will add some comments about them as I go along…
During my eight week trial, I mainly used the Image Skincare The Max Cleanser, since it's gentle on post treatment skin (and Image didn't yet have the Vital C Cleanser).
As my skin healed (but not before the 4 week mark), I also tried the Ageless Total Facial Cleanser with glycolic which exfoliates really nicely – but you definitely don't want to use this on post treatment skin since it contains AHA's!
Image Skincare Vital C – About the Line
Just as its name might imply, the Image Skincare Vital C Skin Care line boasts a yummy citrus scent and is packed full of antioxidants.
The Vital C line is made for all skin types, dry/dehydrated, sensitive/rosacea, sun damaged/sun burned, oily/acne, Eczema, and post treatment skin.

The Vital C line contains a rich blend of natural botanicals, is high in antioxidants for ultimate skin nutrition and protection, and creates a soothing and healthy way to improve skin.
I was lucky enough to eventually try all 8 of the Vital C line products, and the benefits of Vitamin C for the skin are incredible, so here we go!
Vital C Hydrating Anti-Aging Serum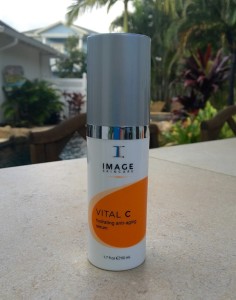 I have to say up front – the Vital C Hydrating Serum is my absolute FAVORITE product in the Vital C line! This alone would be a fantastic addition to just about anyone's skin care routine!
A serum is where you're going to find the most concentrated ingredients, so you don't want to skip this step!
The Vital C Hydrating Serum feels more like a silky lotion, which surprised me at first as most serums are more liquid-y.
It's a concentrated serum that contains a 15% blend of oil soluble Vitamin C enabling the highest bio-availability to immediately sooth the visible effects of environmentally damaged skin. 
Its formula also contains Vitamins A and E, hyaluronic acid and green tea + meadowsweet which are both anti-inflammatories.
I used this directly after having microdermabrasion (as an example of post treatment skin) and it was wonderfully soothing to my red, irritated skin, and it gave me needed moisture.
The Vital C Hydrating Angi-Aging Serum feels amazing. I love that it comes in a pump so the ingredients remain stable and I love the scent – it smells like fresh squeezed orange juice.
Any redness I would have in my skin would calm down pretty quickly after using this serum, and it keeps my skin light and bright – it really helps to lighten up dark spots. 
Vital C Hydrating Repair Crème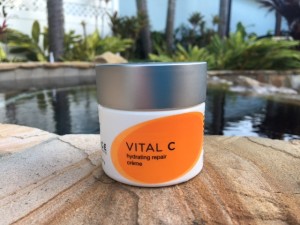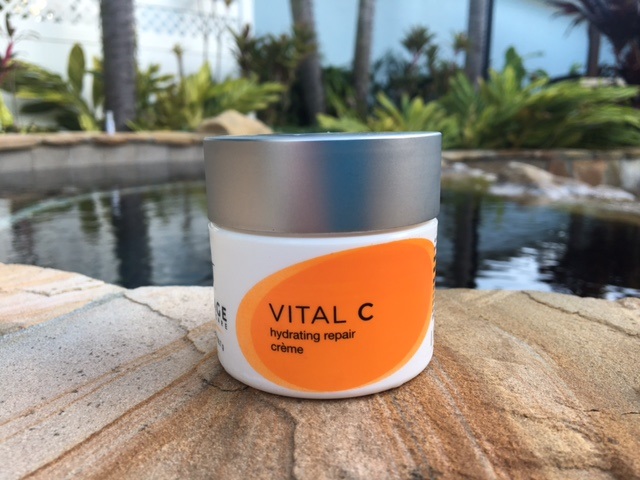 The Vital C Hydrating Repair Crème is an ultra-hydrating anti-oxidant moisturizer that repairs the skin. One of the BEST creams I've ever used.
I love it so much that I have it featured as one of my Top 3 Anti-aging Creams.
It contains Vitamins A, C, and E to nourish and protect the skin for daily anti-aging benefits while promoting cell renewal.
The consistency of the Vital C Crème is just what you'd expect – it has a rich emollient formula that will quench the thirst of dry, dehydrated skin.
Like the other Vital C products, the Hydrating Repair Cream has a light, fresh, citrus-y scent, very similar to the Anti-Aging Serum – so yummy!
After cleansing my face, I apply one of the two Vital C serums, wait a few minutes, then apply the cream. It's a fantastic combination if you need hydration, repair, or wish to reduce redness.
The Vital C line, used in combination, never left me feeling greasy. It absorbs very well and leaves your skin feeling smooth, fresh-faced and perky!
I also want to add that I've also been using the Iluma Intense Brightening Cream. Since I do have some dark spots I'm constantly battling, I wanted to also give my skin some lightening ingredients (and try some other Image products).
The Iluma is not as hydrating, so if dryness or rosacea is your issue, stick to the Vital C line. If your main complaint is age spots or hyper-pigmentation, you may want to use the Iluma line over the Vital C, but both lighten the skin!
Vital C Hydrating ACE Serum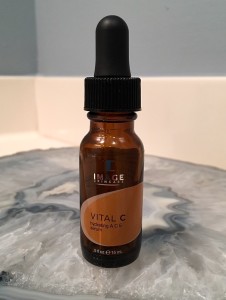 The Vital C Hydrating ACE Serum is more of a traditional serum – a liquid you dispense with a dropper. I love that it comes in a dark bottle to keep the sunlight from degrading the ingredients.
The ACE serum boasts an advanced polypeptide/antioxidant formula and a 20% blend of Vitamins, A, C and E to promote hydration and reduce the signs of aging. It also contains anti-inflammatory green tea + meadowsweet.
I am absolutely in love with this serum, my only complaint is that I blew through it so quickly!
During my trial, I alternated using the Vital C Hydrating Serum at night and the ACE Serum during the day, so that I could try both.
The ACE Serum is more liquidy, so it seems to absorb more quickly and it definitely feels "lighter." It is immediately hydrating, soothing and feels amazing on the skin.
You can feel the anti-inflammatory properties working right away and it also has a light scent.

The ACE Serum doesn't leave your skin feeling quite as "moisturized" as the Anti-Aging Serum, so if your skin is more dry, you may like the Hydrating Serum better, or layer them for an intense night time skin treatment.
Vital C Hydrating Eye Recovery Gel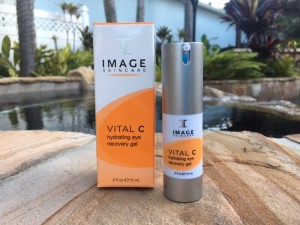 As the name describes, this is a gel vs. a cream for the entire eye area, and is extremely soothing and gentle.
This little gem is a super-hydrating, anti-aging eye gel with a nourishing blend of antioxidants and peptides that reduces the appearance of fine lines, wrinkles, dark circles, puffiness, and perks up tired eyes.
I have extremely sensitive eyes, in fact as I mentioned before, I actually have rosacea/blepharitis of the eye so I have to be really careful what I put around my eye area.
I had no issues using the Vital C Eye Gel both underneath my eyes and on the top of my eyelids, it's very soothing and non-irritating.
It does feel a bit tacky at first (most gels do), but it does absorb fully. I usually go back and add a second tiny pat underneath my eyes after finishing my makeup just to give myself a little added moisture to those pesky fine lines – it seems to help.
To be honest, I prefer the Image Skincare Iluma Intense Brightening Eye Cream over the Vital C Hydrating Recovery Gel. It just has a more creamy consistency that feels better on my eyelids.
If I ever do any deeper skin treatments or Image peels, the Vital C gel is the one that's recommended, so I keep this one on hand.
Vital C Hydrating Enzyme Masque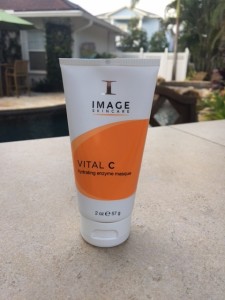 Ahhh! The Vital C Hydrating Enzyme Masque is definitely one of my favorite Vital C products!
Right after my microdermabrasion, I needed moisture, pampering, and to sooth my redness. The Vital C Hydrating Enzyme Masque was just what I needed.
Indications for use are for dry, dehydrated, or post treatment skin.
You apply this mask liberally onto cleansed skin and leave for 5-30 minutes – I always leave it on for the full 30 minutes.
This is a hydrating mask that gently exfoliates the build up of dull, dry skin with nourishing Vitamins A, C, and E promoting more healthy, radiant skin.
The feel of this mask is luxurious and it has the same, yummy, fresh orange scent as the other Vital C products. It has the consistency of a lotion and it remains soft on your face (doesn't harden like some masks).
Sometimes I like to take a bath and just soak while I have this mask on. My skin always feels moisturized, plump and just radiant looking after one use. It does a great job of gently exfoliating!
Update: I've since used this mask post treatment after doing the Image Perfection Lift peel and it did an amazing job of sloughing off all that peeling skin!
Here's a picture of me on day 4 after the peel (I'll be blogging about this soon…I just did the peel the week of May 20, 2019!)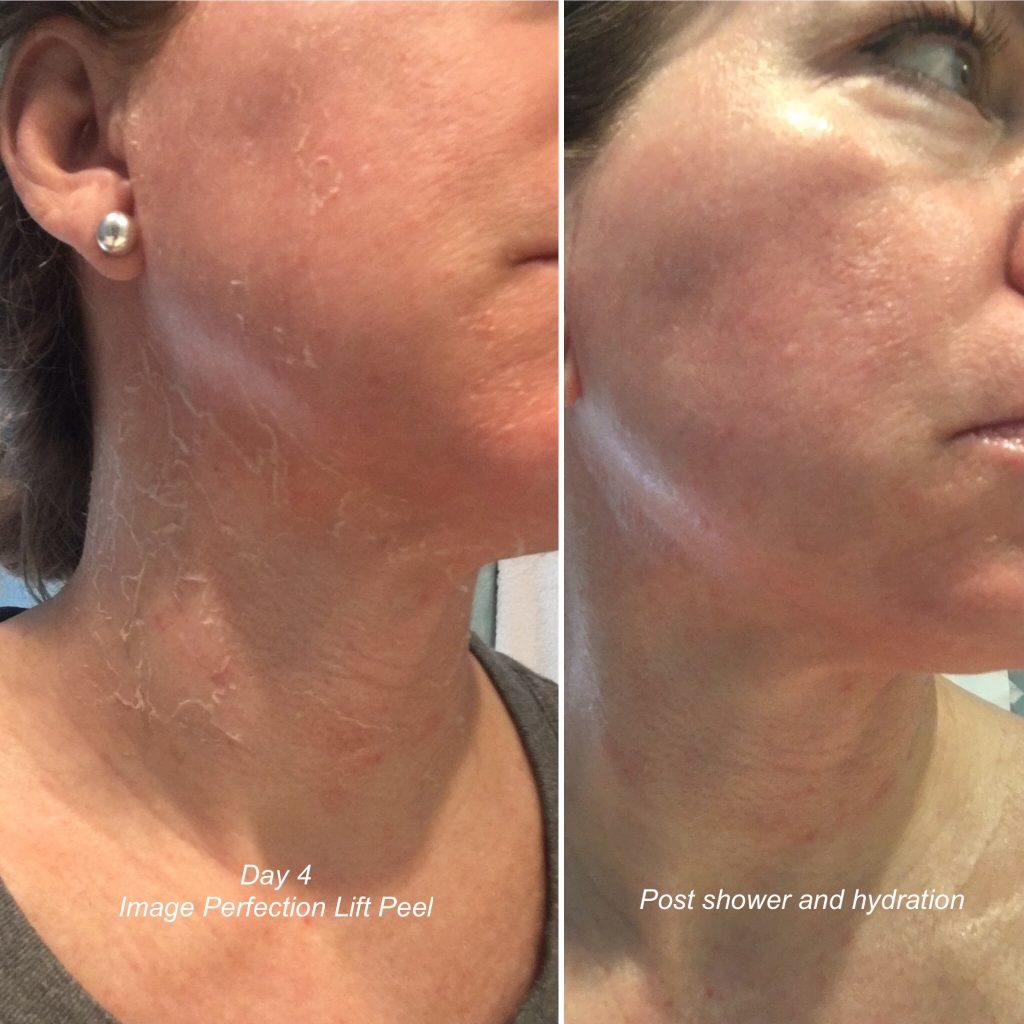 Vital C Hydrating Facial Cleanser
I'm in love with this cleanser – it leaves my skin incredibly soft and plump!
The Vital C Hydrating Facial Cleanser feels like a lotion and pampers your skin like lotion, but it gently cleanses and removes makeup and impurities without stripping the skin of essential moisture.
It contains a potent (15%), pharmaceutical-grade level of Vitamin C, peptides, hyaluronic acid, and other anti-inflammatory and lightening ingredients.
You can use this cleanser on your face and body, and it's excellent for shaving sensitive skin.
I love using this cleanser both day and night and I can even use it on my eyes to remove eye makeup (it doesn't bother my sensitive eyes).
Smells and feels fantastic and my dry skin loves this stuff! I definitely noticed an improvement to the overall softness and plumpness to my skin using it regularly.
Vital C Hydrating Intense Moisturizer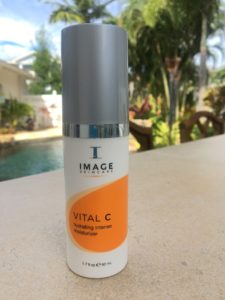 Since I already knew I loved the Vital C Hydrating Repair Crème, I wanted to know what was different about the Vital C Hydrating Intense Moisturizer so I decided to give it a try.
This is an ultra-hydrating creme that replenishes moisture for all day smoothness and hydration.
If you need extra hydration or have dry/dehydrated, sensitive skin – THIS is a miracle worker.
Tons of Vitamin C, hylauronic acid (binding 1000x its weight in water), peptides and packed with anti-oxidants like resveratrol (grape seed extract which lightens).
I've ordered this moisturizer twice now – I absolutely love it. It keeps my skin hydrated all day long and gives my skin a velvety smooth finish.
The Vital C Hydrating Intense Moisturizer is more rich and creamy than the tub cream, and actually has a completely different feel, a thicker more "protective" feeling, creating a moisture barrier from the outside elements.
I love traveling with it because the pump takes up less room than the tub and keeps the ingredients fresh and bacteria out!
Vital C Hydrating Hand and Body Lotion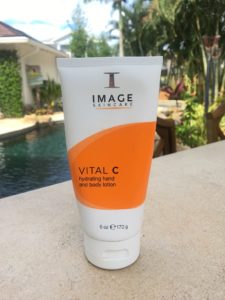 Finally! I've been waiting for Image to come out with a body lotion that smelled as good as all the other Vital C products, and they've captured it perfectly in this lotion!
They've exceeded my expectations with this one. I'm picky about a body lotion because I don't like any lingering sticky feeling and I don't like anything overly fragrant or perfumy.
It has a perfectly light, lovely citrus scent and absorbs nicely to leave your skin perfectly hydrated.
It's works well to repair dry, damaged skin and is packed with all the anti-aging goodness as the rest of the line.
The Vital C Hydrating Hand and Body Lotion is made with a unique blend of four potent forms of Vitamin C and plant stem cells and clinically proven to improve hydration by 40%.
I use this on my legs everyday and my once dry "alligator" skin is a thing of the past. It's really helped to improve the overall texture and tone of my legs. I also love using it on arms and hands before bedtime.
How to Buy Image Skincare
Until recently, Image Skincare was sold exclusively in spas, salons and medical offices in over 40 countries all over the world. Now, you can buy certain products, including the Vital C line, directly from the Image Skincare website. I am not affiliated with Image Skincare, unfortunately! I just LOVE their products.
Image Skincare Vital C – Conclusion and Recommendation
If it's not obvious already, I love the Image Skincare Vital C line of products! It doesn't surprise me it's their most popular line.
The Vital C products calm the redness in my skin and give me the proper hydration to replenish, nourish, protect and repair.
Having used their entire line for the 8 weeks during my initial trial, I saw an improvement in my skin. It's not as dry and irritated overall, and my cheeks have a more even skin tone with fewer fine lines. Dark spots reduced. I'm still using some of these products years later regularly. The Vital C Hydrating serum I will never be without….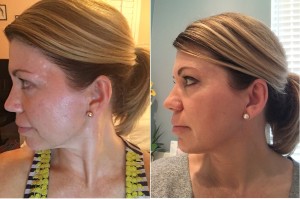 The picture here shows my skin, red, inflamed and dry, the day of microdermabrasion (left).
The after picture (on the right) was taken about two weeks after starting the Image Skincare Vital C line (sprinkled in with the other products I mentioned).
It's different lighting I know….but you can still see the improvement.
I hope you enjoyed my Image Skincare Vital C review!
Want to Read More of My Image Skincare Reviews? Check These Out!
Image Skincare Clear Cell Line for Acne
Image Skincare Ormedic Balancing Lip Enhancement Complex
Image Skincare Body Spa Cellulift Firming Creme
Image Skincare The Max Stem Cell Facial Cleanser
How Women Found This Review:
and image skincare reviews, and skincare reviews
User Questions and Answers
User Questions and Answers
---
Q: I just started using the image products (not the vital C line) the ageless total repair cream and ageless total facial cleanser. These are both burning my face and eyes, should I start using these gradually or not use on my eyes at all? thanks -Sherri
A:
Hi Sherri, I'm very familiar with the Ageless line both cleansers and cream. First of all, you should not be using the cleanser on your eyes at all since it contains glycolic acid and other acids. As far as the Image line cleansers you can use on your eyes, The Max is great and also Vital C creme cleanser. Or, if you don't want to buy something too expensive, just use Cetaphil cleanser on your eyes and the Ageless cleanser everywhere else on your face. The Ageless cleanser also contains menthol which can be highly irritating. I found that I didn't like using both together, it was just too much and I had irritations as well. The cream wasn't as irritating but the cleanser was. And when you use the cream, you should also be avoiding your eye area. The Ageless cream is not meant for your eyes. They do make an Ageless eye cream but it was slightly irritating for me as it also contains glycolic. I just don't do well with too much glycolic. If I use the Ageless cream, I have to use either my Max or Vital C cleanser. I pretty much stopped using the Ageless cleanser because it was too irritating. Try using a gentle cleanser with just the cream and see how you do. ~Rachel
Was this question helpful to you?
4 out of 4 people found this question helpful.
---
Q: Do he have samples -Sarah Donoghue
A:
Hi Sarah, I'm sorry I don't carry samples of Image Skincare. Trust me, it's amazing. :) Maybe visit a spa or salon who carries it so you can try some or they may have samples.  Rachel
Was this question helpful to you?
2 out of 2 people found this question helpful.
---
Q: Brilliant review, thank you! I am a big advocate for the Vital C range, actually I highly rate all of the Image Skincare products, they are high quality and seem to suit my skin type. I usually stock up on my Image Skincare supply on from www.trafficattic.com -Barbara
A:
Barbara, thank you. I hope those products are real from that site - those bottles look fake to me, looks different and I buy directly from the manufacturer (through my sister). Be careful, Image warns people on their website not to buy from Amazon, ebay or any other outlet because there is so much fraud with their line. Maybe try buying a bottle from your local spa and see if you can tell the difference. The real stuff is amazing! I wish I could sell it and offer it to my followers! Rachel~WomensBlogTalk.com
Was this question helpful to you?
1 out of 1 people found this question helpful.
---
Q: Does vital c hydrating eye recovery gel help to heal scars -Beverley
A:
Hi Beverly, it may help in the very long run, but a better choice to treat scars would be DermaffaceFX7 and this is a link to my personal review. This is a cream that is made by Skinception which is one of my favorite skin care lines (they also manufacture Kollagen Intensiv and the AHA toner I love so much). I actually gave some of this cream to my father in law after he had a stint put in and they had to cut his neck. He started using as his scar was still healing and you can't even see it anymore at all. I highly recommend DermaffaceFX7 to reduce scars, and it feels more like a serum than a cream, it's a lovely product.  You can visit Dermafface's official website here. If you order one bottle it's $59.95 plus you get a free Microderm Exfoliator which I love! (here's my review of Microderm). It's actually nice that they give you a free exfoliator because that will help the cell turnover and it will allow the Dermafface to absorb better and bring you faster results. ~Rachel
Was this question helpful to you?
1 out of 1 people found this question helpful.
---
Q: I found the image ageless trial kit at Walmart, is that fake? -Shawna
A:
That's crazy. Was it Walmart online? All this stuff is not actually offered by Walmart, but independents which could be fake yes. If you look at the Image Skincare website, it says the only trusted source should come from salons and spas who carry the line which are purchased directly from the retailer. I can't say for sure if they're fake. Rachel
Was this question helpful to you?
1 out of 1 people found this question helpful.
---
Q: I graduated from college wirh my esthetician license and am opening my own shop on aprx March 1st. I'm not sure where to start. I will need some products for the facials but don't want to buy too much inventory. Any suggestions? Do you have starter kits? -colleen
A:
Hi Colleen! Congrats on your new license! I'm not an Image Skincare consultant..I am lucky to get the Image products at wholesale through my sister when she orders with her license. I would visit the Image Skincare website and I believe you can simply apply through them since you have a license and you'd be eligible to buy wholesale! Image is amazing...my sis and I have tried a couple of their peels and they're wonderful... she was taught at school with Image here in Palm Beach County and the company itself is right out of West Palm Beach. I'm not sure if they have starter kits but with the discount you'll likely just have to load up at least on which facials you want to offer and build up from there. Good luck! Rachel
Was this question helpful to you?

---
Q: Hi, I recently started using Image. I'm using the Vital C line as well as ageless eye lift cream at night. You said the ageless eye lift cream was irritating to you - I'm wondering how and where, ie, under the eyes, in the eyes? I ask because it's been about a week since I began using the ageless eye cream at night and each morning I wake up and my eyes are watering and a little irritated feeling. It's got to be the cream. So, any help from your time using it would be great help! -Susana
A:
Hi Susana, great choice on the Image Skincare! I have blepharitis of the eyes and generally just very sensitive eyeballs so I have to be real careful, but I have given the Ageless eye another try....I just have to pat it gently under my eyes and not get too close to my eyelashes, and if I pat it way up high just on my brow bone I seem to have no issues. Any eye cream is going to "travel" at least half an inch so maybe try using it more carefully and see how you do. I can use the Iluma eye or the Max eye with no irritations. But the Ageless one has Glycolic acid and retinol so if it seeps into your eyes it can be VERY irritating. Good luck and if you can't make it work, I would recommend the Max eye cream for upper lids and try to just use the Ageless underneath and even around your lips. Don't let it go to waste, it's a great product! :)  Good luck, I just ordered a boat load of new Image Skincare and can't wait for it to arrive! If you're ever up for trying something stronger, try the Ageless serum under the Vital C - it's amazing! Thanks for stopping by! xo ~Rachel
Was this question helpful to you?

---
Q: Where can I buy image vital c hydrating repair cream -Angie
A:
Hey Angie, go to the Image Skin care website and use their locator map to find a salon or a spa near you. Vital C is the most popular line so they should have it on hand or can order whatever you want. Don't buy from Amazon or ebay, there are a ton of fake Image products floating around. It's an awesome line and worth the trip. Bet you have one near you! ~Rachel
Was this question helpful to you?
1 out of 2 people found this question helpful.
---