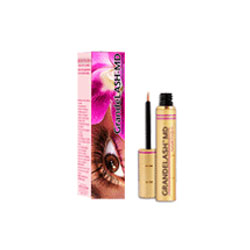 GrandeLASH MD Review – Should You Try it?
Thick, lush eyelashes and well-defined eyebrows make eyes look special, catching attention and attracting compliments. Unfortunately, we weren't all blessed with those features and as we age, our lashes and brows can grow thinner, become sparse, and break off more easily.
GrandeLASH MD claims to overcome those problems and make your lashes longer and lusher than ever. Is GrandeLASH MD safe and does it really enhance your lashes and brows? Here's what we found out.
GrandeLASH MD – Its Ingredients and How it Works
Grandelash MD is an enhancing treatment for eyelashes and brows. It may be used by both men and women and promises results within 4-6 weeks.
The product is produced by GrandeNaturals LLC that is based in White Plains, NY. Unfortunately, there is not much else known about the company.
If you visit the official GrandeLASH MD website, you'll find there is some good information there, but there is not a lot about its ingredients. We are told that it is produced from all natural ingredients, a variety of natural extracts, peptides, vitamins, and amino acids.
This combination is reported to encourage longer, thicker growth, help repair and restore the health and condition of lashes and brows, and moisturize and protect the follicles. There are no parabens in the formula.
Results of a clinical trial are published on the GrandeLASH MD website, reporting that 89% of the trial's 55 participants experienced "definitive improvement in density, length, thickness" within 30 – 40 days. Only two patients reported minimal eye discomfort which disappeared within a few days.
The website says to apply GrandeLASH MD as you would liquid eyeliner, running a single stroke along the edge of the lashes. If you are under 30 years of age, it is suggested that you use the treatment at night just before you go to bed.
If you are over 30, apply again in the morning. You may wear makeup with this product, but allow a minute for the treatment to dry before applying cosmetics. Younger users usually see results sooner than consumers who are older.
You'll find before and after pictures at the GrandeLASH MD website, complete with audio.
Where to Buy GrandeLASH MD
You can order a 3-month supply of GrandeLASH MD from the official website. The website is secure and the company does provide complete contact information. The price of this lash enhancer is $59.95 and there is a 90-day money back guarantee.
GrandeLASH MD Pros
All natural ingredients
Secure website
Clinical evidence provided
90-day money back guarantee
Paraben free
GrandeLASH MD Cons
Company is not well-known
Should not be used by pregnant women or people undergoing chemotherapy
Our Conclusions
GrandeLASH MD is an eyelash enhancing treatment that does seem promising. We like the fact that it is made from all natural ingredients and that the company stands behind their product with a lengthy guarantee.
We would like to more facts about the clinical trials and about the manufacturer itself, but feel that there is enough known about GrandeLASH MD that you should be able to try it without worry.
Check out our Top Eyelash Enhancers
Have You Tried GrandeLASH MD? Leave Your Review Below!
How Women Found This Review:
and grandelash md reviews
Click here to submit your review.
---
Can cause a bad reaction
GrandeLASH MD Review – Should You Try it?
I also woke up with bloodshot and irritated eyes. Threw it away.

---
Beware of bad reaction
GrandeLASH MD Review – Should You Try it?
Both my daughter, age 17, and I used it as instructed, before we went to sleep. We both woke up with blood shot eyes. In fact we even had discoloration around the eyes and mine were swollen. Maybe we both had an allergic reaction but too coincidental since she does not have sensitive skin. Overall I would be cautious with this product.

---
Reaction
GrandeLASH MD Review – Should You Try it?
I used this product once before bed. I woke up with bloodshot eyes and red circles around my eyes. my eyes were very swollen aswell and it took a lot of makeup to conceal this. I do NOT recommend this product for anyone with sensitive skin at all or anyone who used any kind of topical acne cream. the rash on my eyes lasted for days.

---
Longer than ever!
GrandeLASH MD Review – Should You Try it?
Been using this stuff for four months, my lashes are soooo long!! No lie!

---
Amazing
GrandeLASH MD Review – Should You Try it?
I love this product, I have been using Le grande lash for just under a year now and it absolutely works!!!! After about 4-6weeks of just putting it on like liquid eye liner across your eye lash line you will have amazing eye lashes. I have had countless people ask if I have extensions!! I tell them about this product. They cannot believe it. The only down side is that when I put mascara on I have tiny dots under my eyebrows from my amazing eye lashes touching my skin there. Not a bad issue. Get this product it works!!

---
Amazing!
GrandeLASH MD Review – Should You Try it?
This product was recommended to me by my eyelash extension professional. I have been using Grande Lash for four months now and I swear by this. My eye lashes are double the length, double the thickness and have a much stronger root. I use it twice a day and it took about 8 weeks to really see the results, so be patient because it's so worth it! I would recommend this product to anyone and will continue to be a customer to Grande Lash.

---
GrandeLASH-MD is AWESOME!!!
GrandeLASH MD Review – Should You Try it?
I'm in my 40s and my natural lashes were thinning to the point where a few spots were even bald. I began using GrandeLASH-MD, and within 3 months, my lashes were longer and thicker than they have ever been in my entire life. People ask me all the time if they're real or not, and it's excting to tell them that they're 100% real! More of my story: I began using GrandeLASH-MD less than a year ago. At first, the solution caused mild irritation to the application site (mild burning sensation, mild itchiness and dry eyes), which seemed to go away, for the most part, with continuous use. The key is to put it on right before you go to sleep (I keep it on my nightstand and literally put it on after I've turned out the lights), where you don't have to open your eyes until after it completely dries (as not to get it in your eyes). It seems that that solution will make your weak lashes shed before growing new, stronger, longer and fuller ones. I use it every night before bed and wash it off in the morning. My eyes feel a bit dry every morning, but a few moisturizing eye drops in each eye takes the discomfort away. I stopped using the solution for a few weeks while on vacation and after a few days, I noticed that my lashes began shedding. I thought a break from using the solution would be good and my lashes shed and went back to how they were before I started using GrandeLASH-MD. I started using it again and within about 2 months, my lashes were growing long and full again. I must use it every night, or my lashes will begin thinning again. The product is totally worth the $80 for a 6-month supply, I only worry that I might have to use it for the rest of my life. If that's what it takes to have long, lush, beautiful lashes, opposed to having almost no lashes at all, it's a small price to pay.

---
User Questions and Answers
User Questions and Answers
---
Q: I've only been using for two days, but for 2 days my eyes have been bloodshot red. I don't have any discomfort whatsoever. I have been asked twice if I have pink eye. Should I discontinue? I am not sure if it's related, but it symptom started the day I started using. -Blanca
A:
Blanca, I would stop using it right away, it sounds like you're having an allergic reaction for sure. You could try stopping for a week and see if it clears up, then try the GrandLash one more time, and if you have the same reaction, you'll know it's something in the ingredients. Eyes are very sensitive. Good luck, Rachel
Was this question helpful to you?
4 out of 4 people found this question helpful.
---
Q: I have heard that there is a danger of possible eye color change with lash extention products. Would that apply to yours? -Maggie
A:
Hi Maggie, Grand Lash MD is not a product that I promote, although I did give it a decent review. I'm not sure if this product contains the same ingredient that the FDA warns about being in Latisse Eyelash Enhancer, but I tend to doubt it because Latisse is prescription only. Apparently something in there can cause inflammation and cause light eyes to develop some brown pigment within the iris of the eye. I do know that Idol Lash, my top recommended eyelash enhancer does not contain that harmful ingredient - they use all natural ingredients. Rachel~WomensBlogTalk.com
Was this question helpful to you?
5 out of 7 people found this question helpful.
---
Q: Can you use GrandeLash MD on eyebrows to stimulate growth? -Kari
A:
Kari, yes you can. The one I recommend is Idol Lash, you can use on brows and eyelashes, I've used it before and it works. One bottle is $39.95 and if you buy two you get one free.  I like the natural ingredients in Idol lash. ~Rachel
Was this question helpful to you?
1 out of 1 people found this question helpful.
---
Q: I do have dry eyes but have not noticed a problem. Should I stop using Grande lash -Cecile
A:
Hi Cecile, if you're not experiencing any bad side effects, there's no reason to stop using it - if it's helping. Good luck! xo Rachel
Was this question helpful to you?

---
Q: Can I use it if I have a restless sleep..? -Taryn
A:
Taryn, GrandeLash is not a product I recommend for various reasons, but I don't think there would be anything in an eyelash enhancer that would keep you up to my knowledge. Here are my Top 3 Eyelash Enhancers. Idol Lash is the most popular online enhancer. Thanks for your question! Rachel
Was this question helpful to you?

---
Q: My mom uses Grande Lash and it's working! Her lashes are so long now and it made me want to use it too... but I'm still 13 and I'm not sure if it is safe for me to use it... do you think I can use it? - Stacie -Stacie
A:
Stacie, I don't see why not as long as you have your Mom's permission...
Was this question helpful to you?

---
Q: Can I use grande lash me on my eyebrows? How should I apply it? -Jackie
A:
Jackie, I've tried using lash enhancers on my brows and it didn't really do much. If your issue is over plucking (like me from the 90's), those hair follicles can die and there's no bringing them back. If yours still grow but just slow, you may benefit from trying it on your brows. Just apply with the wand to your brows at night. Good luck! Rachel
Was this question helpful to you?

---
Q: Will the grande lash md change color of my eyes?? -Mn
A:
Mn, from what I've heard it's that prescription strength lash enhancer Latisse that can do that. I'm not sure that Grand Lash MD has that ingredient. Rachel
Was this question helpful to you?

---
Q: I ran out of grande lash and was wondering if I can use my grande brow on lashes? -Tia
A:
Tia, I'd be careful of that, the brow formula is likely a little different and maybe not gentle enough for the eyelashes. I would contact the manufacturer and ask them, I'm not affiliated with them. xo Rachel
Was this question helpful to you?

---
Q: I naturally have short eyelashes. Will it make it grow longer and thicker or is it only good for people who had long and thick lashes before and just lost them? -Lori
A:
Lori, it's said to grow longer and thicker, fuller - all the above, it's really a huge dose of vitamins. I haven't tried GrandeLash personally. Idol Lash is the one I recommend. Be careful if you have sensitive eyes with any of these...:) Thanks! Rachel
Was this question helpful to you?

---
Q: My eyelashes are in good shape. A friend sent me this as a gift. What happens if I stop using the product?will my good eyelashes fall out Or have any problems? If I have dry eyes will this have any effect? -Trudy
A:
Trudy, I would try it for a night or two and see how your eyes tolerate it, if you don't have any allergic reaction such as redness or inflammation, you could continue it and see if it helps with volume and length. I have not heard of side effects such as eyelashes falling out, and I have not used GrandLash personally. The one I have used is Idol Lash. I did not have any negative side effects when I stopped using it. Good luck! Rachel
Was this question helpful to you?

---
Q: Why do you have to be over 18 to use this product -Layla
A:
Because some of these products can be damaging to the eye and change their color, I'm guessing. Rachel
Was this question helpful to you?
0 out of 1 people found this question helpful.
---