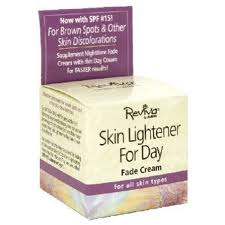 Reviva Skin Lightener Review – Is It Effective?
Reviva Skin Lightener Overview
Dark spots from aging, hormones, freckles, and scars can be stubborn and difficult to get rid of.  The first thing you need to do is find a product you can trust to work.  Then you need to make sure you use it properly and consistently.  Finally, and perhaps most importantly,  you need to be patient as results can take as long as a few months to reveal themselves.
Reviva Skin Lightener for Day Fade Cream is a skin brightener made by Reviva Labs.  It comes in two formulas, one with Hydroquinone and one with Kojic Acid.  Both promise to fade dark spots with their precise blending of ingredients including SPF 15 sunscreen.  For faster results, they recommend you use it in conjunction with the Brown Spot Skin Lightening Night Cream also from Reviva.
Reviva Skin Lightener Ingredients and How They Work
The two different versions use two distinct main active ingredients:
Reviva Skin Lightener for Day Fade Cream contains Hydroquinone at a mild concentration of 1%.  Hydroquinone is the skin lightening ingredient most recommended by dermatologists.  It inhibits the production of melanin which is what causes skin pigmentation.
Reviva Skin Lightener for Day Fade Cream with Kojic Acid contains Kojic Acid instead of Hydroquinone, for those who prefer not to use the controversial chemical.  (Hydroquinone can cause irritation, and it has been linked to cancer in rats).  Kojic Acid works similarly to Hydroquinone, though it is a natural ingredient as opposed to a synthetic chemical.
Both versions contain identical additional ingredients such as Mulberry and Lime Extracts, Glycerin, and Citric Acid.  And they are fortified with SPF 15 sunscreen protection to help improve and maintain your results.
You are directed to use Reviva Skin Lightener each morning and to achieve faster results, use the night cream at night as well.  The website does not specify how long it should take to see results, but if it's like other fade creams, you should expect it to take weeks.
Reviva Skin Lightener Pros and Cons
Advantages of Reviva Skin Lightener
It is inexpensive.
You can choose from two formulas based on personal preference.
Disadvantages of Reviva Skin Lightener
The majority of Reviva Skin Lightener reviews are negative, with most customers noting that they did not achieve the desired results.
The website does not explain how the product and the ingredients work.
Where to Buy
You can buy Reviva Skin Lightener and other Reviva products online through dozens of retailers. Prices are pretty consistent at about $7 – $10 plus shipping for a total cost of $13 to $17.
The Reviva Labs website has it for $13 and offers a money-back guarantee.
Conclusion
When it comes to skin brighteners, you have enough choices to make it unnecessary to waste your time (or money) on products that aren't likely to give you the results you want.  We believe Reviva Skin Lightener would be one of those time and money wasting products.  The ingredients are nothing special and the reviews demonstrate that customers who have tried it have not been satisfied.  We think you can do better than Revive Skin Lightener.
Have You Used Reviva Skin Lightener?  Leave Your Review Below!
User Questions and Answers
User Questions and Answers
---
Q: Is this cream safe to use on skin -Zaynah
A:
Zayhah, there is a lot of evidence that hydroquinone is unsafe (I myself get a bad reaction if I try to use, rash and itchy bumps) and I don't recommend Reviva, it has bad reviews. My recommendation is Illuminatural 6i (you can read my review there) which contains all natural lightening ingredients and it's an effective treatment for dark spots, melasma or general lightening and brightening of the complexion. Please reach out if you have questions. Thanks! Rachel
Was this question helpful to you?

---