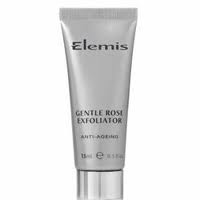 Elemis Gentle Rose Exfoliator Review
If you aren't convinced that your skin needs exfoliation, then you haven't been paying attention.  There's chemical exfoliation and manual exfoliation, and both kinds have their advantages and disadvantages.  But whichever you choose, you cannot ignore the fact that good skin needs at least one or the other.  It serves a few very important purposes.  It removes old dead skin to reveal the fresh and new layers.  And it preps skin to better receive the moisture and treatments that follow.  So if you want smooth, younger-looking skin, you need to exfoliate.
Elemis Gentle Rose Exfoliator is the option we're looking at today.  It's a cleanser meant to be used nightly to provide gentle manual exfoliation to your skin, so it looks smooth and new all the time. With one common exception, almost all the comments on Elemis Gentle Rose Exfoliator we've found have been positive, and that prompted us to have a closer look at the ingredient list.
Elemis Gentle Rose Exfoliator Ingredients and How They Work
The exfoliation is provided by gentle Jojoba beads.  The formula also includes cucumber to soothe and soften skin, and for hydration and antioxidant protection.
You should apply a small amount to damp skin nightly, massage gently, then rinse with warm water.  Follow up with toner, treatment if necessary, and moisturizer.  You probably don't want to use it both morning and night, as you don't need more exfoliation than once per day.
Elemis Gentle Rose Exfoliator Pros and Cons
There are good and bad aspects to all things.  Knowing this and listing out both sides is a great way to be sure you come to the best decision about whether or not to buy and use something.
Advantages of Elemis Gentle Rose Exfoliator
It won't strip natural oils from your skin
The Jojoba beads are gentle yet exfoliating.
According to all the Elemis Gentle Rose Exfoliator reviews we've seen, it smells wonderful.
Disadvantages of Elemis Gentle Rose Exfoliator
It's expensive.
Many reviewers state that there just aren't enough beads to be an effective exfoliator.
It may not clean deeply enough for oily or combination skin.
Where to Buy
You can purchase Elemis Gentle Rose Exfoliator at department stores or online.  The 1.7 ounce tube sells for $40 most places we've seen.
Conclusion
If you have dry or mature skin, Elemis Gentle Rose Exfoliator is probably a good, effective cleanser with an anti-aging advantage.  On the other hand, we're not sure you should have to spend $40 on a cleanser that arguably isn't all that special.
Check out our Top Exfoliator for microdermabrasion results.
Have You Used Elemis Gentle Rose Exfoliator?  Leave Your Review Below!
User Questions and Answers
User Questions and Answers
No Questions Have Been Answered For This Article.