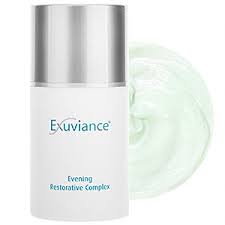 Exuviance Evening Restorative Complex Review
Exuviance Evening Restorative Complex Overview
We love it when a product has been clinically tested.  Customer reviews are great and super helpful, but when the they are bolstered by real, tangible results in a clinical setting, it's just that much better.  This is the case with Exuviance Evening Restorative Complex from NeoStrata.  It looks like the skincare company known for its great exfoliation products may have just struck again.
The results of the clinical testing were impressive:
85% of users saw that they had smoother skin.
82% said that their skin's elasticity had improved.
82% reported a decrease in fine lines.
90% saw softer, more velvety skin.
Okay, so what goes into this potentially powerhouse formula?
Exuviance Evening Restorative Complex Ingredients and How They Work
The formula starts out with the Polyhydroxy Acid Gluconolactone in the proper pH level to be cause effective exfoliation.  You can believe this to be true because chemical exfoliation is the backbone of the NeoStrata line of anti-aging products.
Next is lactobionic acid which provides powerful antioxidant protection and inhibits wrinkles from forming and plumps out the ones you already have.
Vitamin A and Vitamin C encourage new skin cell regeneration and provide antioxidant protection.
You should use Exuviance Evening Restorative Complex at night after cleansing and toning, and it is specifically formulated to be gentle enough for use after glycolic acid peels and microdermabrasion.
Exuviance Evening Restorative Complex Pros and Cons
Advantages of Exuviance Evening Restorative Complex
It contains effective chemical exfoliants at proper pH levels.

Exuviance Evening Restorative Complex

reviews from customers show that people with all skin types are happy with their results.
It's been clinically tested and shown to work.
A little goes a long way.
The opaque pump packaging will maintain the integrity of the vitamin and plant based ingredients.
Disadvantages of Exuviance Evening Restorative Complex
There are a few reviews from customers saying that they got no visible results.
Where To Buy
You can purchase Exuviance Evening Restorative Complex at Ulta stores or online.  The 1.75 ounce pump retails for $45.   If you head to Ulta, you'll be able to try a tester or maybe even catch up with an Exuviance rep.
Conclusion
NeoStrata is up there with the best of them when it comes to polyhydroxy acids and chemical exfoliation treatments.  That, and the fact that it's got good ingredients and great reviews, means Exuviance Evening Restorative Complex gets high praise from us.
Have You Used Exuviance Evening Restorative Complex?  Leave Your Review Below!
User Questions and Answers
User Questions and Answers
No Questions Have Been Answered For This Article.