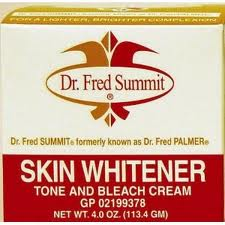 Dr. Fred Palmer Skin Whitener Review – Tried and True?
One of the oldest skin brighteners on the market is Dr. Fred Palmer Skin Whitener. Made by Summit Laboratories, the name of the product has been changed to Dr. Fred Summit Skin Whitener, but it is still commonly known as Dr. Fred Palmer Skin Whitener, so that's how we'll refer to it in this review.
Originally created by Dr. Palmer over 80 years ago, it's been used faithfully by women of color every since.  Today, it is used by women who want to fade age spots, freckles, and brown spots while they achieve a smoother, more naturally balanced, lighter,and brighter complexion.
Dr. Fred Palmer Skin Whitener Ingredients and How They Work
The active ingredient in Dr. Fred Palmer Skin Whitener is Hydroquinone, which blocks the production of melanin, which is what causes color in skin.  You'll find there is a lot of controversy regarding this ingredient.  On the one hand, it is universally known to be the most effective lightening ingredient.  On the other hand, there is some belief that it may be carcinogenic and may cause ochronosis, a permanent thickening of the skin, but this seems to only occur when hydroquinone is taken orally, not topically.  Because of its potential as a carcinogen, hydroquinone has been banned in many countries, though it is currently allowed to be present at levels up to 2% in over-the-counter products in the U.S.
It is recommended that you test Dr. Fred Palmer Skin Whitener on a small area inside your elbow for a number of days to determine if you will experience irritation, before applying to your face.  If you do not, then apply 2 to 3 times daily to clean skin where you want to lighten and brighten.
Dr. Fred Palmer Skin Whitener Pros and Cons
There are good and bad aspects to most things.  Dr. Fred Palmer Skin Whitener is no exception.
Advantages
It is affordable.
It has been around for a very long time, and is well-trusted.
Dr. Fred Palmer Skin Whitener reviews show that most users achieve positive results.
Disadvantages
It takes weeks to months to see results.
Many users complain that it is greasy, and goes on like chapstick or vaseline.
There may be risks or irritation associated with hydroquinone.
Where to Buy
Dr. Fred Palmer Skin Whitener enjoys very wide availability on the internet and at local beauty supply stores.  The price for a 2 oz tub ranges from $3 to $5 online. We don't know what to expect in terms of prices as beauty supply stores, though we suspect it is slightly more expensive.
Conclusions
If you are not concerned about the potential hazards of hydroquinone (and many dermatologists would agree that you should not be), then certainly, Dr. Fred Palmer Skin Whitener seems like a product worth trying.  Skin brighteners come in a wide range of prices.  This one has the most effective ingredient, at the highest concentration allowed without a prescription, and seems to work quite well for many women. Factor in the extremely low cost, and it would seem to be a no brainer.
Read about our Top Skin Lighteners
Have You Used Dr. Fred Palmer Skin Whitener?  Leave Your Review Below!
How Women Found This Review:
and dr palmers bleach cream
Click here to submit your review.
---
Dr. Fred Palmer Skin Whitener Review – Tried and True?
I have used this product since I was a young teenager. Over the years this product has become harder and harder to fine. When found online the price is outrageous. I need help finding product at a reasonable price.

---
Dr. Fred Palmer Skin Whitener Review – Tried and True?
I give this product a 5 star. Used it when I was a teenager and it speaks for itself. I am a woman of color and any discolorations on my skin this is the only cream that works

---
1
Dr. Fred Palmer Skin Whitener Review – Tried and True?
this product is to harsh for me left me with chemical burns when i was a teen i wouldn't recommend it to teenagers or people with sensitive skin

---
User Questions and Answers
User Questions and Answers
---
Q: hey so i brought this stuff from walmart and ive been using it for about a week now but im afraid its making me darker. it only has 2% Hydroquinone, Does Hydroquinone... maybe its all in my head but i used this to make my skin lighter. does this make your skin darker?? -Alexandria James Lee
A:
Hi Alexandria, as strange as it sounds, yes I have heard of hydroquinone causing the side effect of making skin darker. Hydroquinone is toxic, I don't recommend it. And if you're using it and getting ANY sun whatsoever this could be what's happening. You must use SPF every day if you're lightening your skin because it makes it really sensitive to the sun. If you want to try something all natural, with nothing toxic, check out my review on Beautycounter's Brightening Facial Oil with Vitamin C and other natural lighteners. Using these products plus SPF protection over time will fade those dark spots and brighten your whole complexion. It's a constant battle for me, but hydroquinione makes me break out in a rash, it's way too harsh. Your skin has a 28 day cycle of regeneration so you have to be patient, and keeping the sun off you is imperative. Good luck! ~Rachel
Was this question helpful to you?

---
Q: Can you use this to bleach your butthole? -Nikki
A:
I'm sorry Nikki, I don't have an answer to your question.... ;0)
Was this question helpful to you?

---