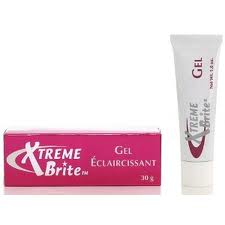 Xtreme Brite Brightening Gel Review – Is It Effective?
One of the most common complaints that women have about their skin is discoloration.  Age spots, dark patches, acne scars, and freckles are all very common, especially as we age.
Skin brighteners can correct these problems, while also improving the overall texture, and adding a vibrant smoothness to your skin.
Xtreme Bright Brightening Gel is a skin brightener available from Tomjai Enterprise Corporation.  The company originated in France, and in 2004, partnered with chemists and dermatologists to create a line of skin lightening products.
Today, they have 3 lines of these products.  Xtreme Brite Brightening Gel is part of the Xtreme Bright Line, and is one of their best sellers.
Xtreme Brite Brightening Gel Product Description
Xtreme Brite Brightening Gel is described as a powerful ultra-brightening cream enriched with vitamins and sunscreen, using a rich formula to give a bright, smooth, and uniform complexion.  It is said to also remove blackheads and acne, while it soothes skin.
Unfortunately, we could not find an ingredients list for Xtreme Brite Brightening Gel.  There is nothing listed on the official website.
Some review sites do list ingredients, but this information is said to be incorrect, referring to Xtreme Brite Brightening Cream instead.
You should apply a small amount of Xtreme Brite Brightening Gel once or twice daily to clean skin.  You'll want to make sure not to use it outside the affected area.  If you do, gently remove it with a warm, wet washcloth to prevent unintended lightening.
Xtreme Brite Brightening Gel Pros and Cons
Just like everything, there is good and bad to be found in this product, so we'll list here a few of the benefits and drawbacks as we see them.
Xtreme Brite Brightening Gel Advantages
It is affordable
The Xtreme Brite Brightening Gel reviews from customers are overwhelmingly positive, and most users report getting good results
Xtreme Brite Brightening Gel Disadvantages
It may take a number of months to achieve desired results
We could find no money back guarantee
There is no ingredients list
Where to Buy
Xtreme Brite Brightening Gel enjoys wide availability both online and in stores.  We saw it online at Amazon and various other retailers for prices ranging from $9 to $16 for a 1 oz tube.
You will typically use about 3 or 4 tubes to achieve the desired results.  The official website sells a tube for $12, and there is no discount for bulk purchases, and no guarantee that we could find.
We also weren't able to contact the manufacturer through the contact form, so we see no advantage in buying from the official website.  We've also heard that Xtreme Brite Brightening Gel is available locally at beauty supply stores.  You would have to look into pricing there.
Conclusions
There are definitely a few red flags surrounding this product.  They do not publish the ingredients,  there is no money-back guarantee, and the contact form on the website doesn't work.
With those things in the negative column, we would normally hesitate to recommend this product.  But Xtreme Brite Brightening Gel has received overwhelmingly positive feedback.  With this many satisfied customers, and a price that won't break the bank, we recommend that you give it a try.
Check out our Top Skin Lighteners/Brighteners
Have You Used Xtreme Brite Brightening Gel?  Leave Your Review Below!
User Questions and Answers
User Questions and Answers
No Questions Have Been Answered For This Article.