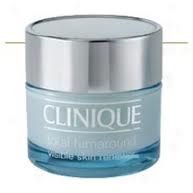 Clinique Total Turnaround Review
Clinique Total Turnaround Overview
Clinique has been in a trusted name in the makeup and skincare business for a long time.  They have a loyal customer base who believe in their products and continue to buy them year after year.  One of the products in their anti-aging line was called Clinique Total Turnaround.  Its exfoliating formula is said to speed up the renewal process of skin cells, bringing fresh, new, radiant skin to the surface.  The question, of course, is does it work.  In an attempt to answer that, we'll look at ingredients and Clinique Total Turnaround reviews, and figure out whether or not it's worth spending your time and money giving it a try.
Clinique Total Turnaround Ingredients and How It Works
Finding out what active ingredients go into Clinique Total Turnaround was actually a little tricky.  Clinique doesn't publish ingredient lists on its website (parent company Estee Lauder policy).  But they are available if you chat with an online customer service representative accessed from the site.  It turns out there are three main ingredients to note.  Salicylic Acid is a beta hydroxy acid that exfoliates skin more gently than alpha hydroxy acids.
Glucosamine is an amino acid that aids in the production of collagen.  (Unfortunately, it has been shown to improve skin when taken internally, it is as yet unclear whether or not it is effective when applied topically).  And cholesterol which smooths and plumps the skin.
Clinique Total Turnaround is meant to be used twice daily after cleansing and before moisturizing.  It comes in two formulas, serum and cream.  The serum is lighter and more suitable for oilier skin.  The cream is heavier and well-suited for drier skin.
Clinique Total Turnaround Pros and Cons
Advantages
Total Turnaround cream and serum contain ingredients that are known to exfoliate skin.
Their products are fragrance-free and thoroughly tested to be non-allergenic.
Clinique skincare products come with a money back guarantee.
Disadvantages
Clinique Total Turnaround has been discontinued and reformulated as Clinique Turnaround. Some customers are happy with the new product and think it's an improvement.  Some wish they'd left it alone.
Clinique Total Turnaround is still available online, but because of its growing scarcity, prices are high and rising.
Where to Buy Clinique Total Turnaround
Because the product has been discontinued, it is no longer available on the Clinique website or at the Clinique counter in department stores.  The price used to be a fairly reasonable $35 per 1.7 oz jar.  If you really want to try it, you can find it at online resellers, but the prices are widely varied and going up all the time.
Conclusion
Clinique is a well-established brand, and has been making quality makeup and skincare since 1968.  The ingredients in Clinique Total Turnaround are proven to have an exfoliating effect.  The reviews are mixed.  There are many positive reviews and several lukewarm ones.  It seems to be more suited to people with acne prone skin.  Since the reformulation into the Turnaround line, the reviews have also been mixed.  People who really loved  Total Turnaround tend to be disappointed, but newer customers seem to like the new product.   If you've never tried either product,  you'd probably be better off not trying Clinique Total Turnaround.  Even if it works really well, eventually, you won't be able to get it anymore.  And currently, the new Turnaround products are less expensive and come with Clinique's money back guarantee.
Have You Used Clinique Total Turnaround?  Leave Your Review Below!
User Questions and Answers
User Questions and Answers
---
Q: Clinique !! Who is running it now, whybdiscontinue two GREAT products. Gyava stain almost lipstick, and turnaround night cream ? -Renée
A:
Hi Renee, I'm sorry, that's so frustrating when you love a product so much and then they discontinue it. I've noticed Clinique has many new products so they must be trying to revamp their product line a bit. xo Rachel
Was this question helpful to you?

---
Q: I really miss the old total turnaround it was an incredible product. New one is terrible. I'm still using Clinique product but I'm trying to find a similar great same ingredient product. What's similar? -Julie
A:
Hi Julie, Total Turnaround I believe was a product said to exfoliate the skin as well as hydrate. My favorites right now (and have been for a while) is using Beautycounter's Overnight Resurfacing Peel

2-3x a week (it's gentle but you definitely wake up glowing) and you always need a good moisturizer to seal it in. Their strongest, and the one that I use, is the Countertime Tetrapeptide Supreme Cream, it's simply amazing.

Beautycounter is a very natural line with no harsh or toxic chemicals. But the peel does contain AHA's which work very well to gently exfoliate and build collagen, and the cream smooths wrinkles and firms. It's a great anti-aging combo if you're looking for something to replace the Clinique.

Thanks! Rachel
Was this question helpful to you?

---