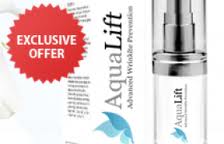 Aqualift Wrinkle Reducing Serum Review
It's a simple fact that as we get older, most of us don't want to to look our age.  One of the nicest compliments we can receive comes when someone guesses that we are younger than we are.  So it stands to reason that the search for the fountain of youth is big business.  But does any anti wrinkle product work?  The truth is, there are some ingredients that do help reduce wrinkles.  The active ingredients in Aqualift Wrinkle Reducing Serum are peptides, which can, according to the Mayo Clinic, help reduce wrinkles.  This product is often paired with an anti aging moisturizer called Vitaderm and sometimes Kollagen Intensiv, which boosts collagen production.
Aqualift Wrinkle Reducing Serum Ingredients and How They Work
Young skin contains lots of collagen, which keeps it looking firm and plump.  As we age, our skin produces less and less collagen.  When collagen breaks down, it forms peptides, small protein fragments, that signal our skin to create more collagen.  Wrinkle reducing products that contain peptides "trick" our skin into believing it needs to produce more collagen.  When we produce more collagen, our skin appears smoother and more full.  Aqualift Wrinkle Reducing Serum contains a peptide called Polymoist-PS Complex, which is an ingredient that can be found in some of our Top Wrinkle Creams.
It comes in the form of a serum, which is important because it delivers the peptides deep into the layers of your skin where it is needed.  It also contains moisturizers to keep skin looking young and hydrated.  For best results, Aqualift recommends that you use the serum twice daily, once in the morning and once at night.  Simply wash and dry your face, then apply Aqualift Wrinkle Reducing Serum all over your face and neck.  Allow it to absorb fully before applying makeup.  This step is important because peptides will only work if they reach the deeper layers of skin where collagen is created.
Aqualift Wrinkle Reducing Serum Pros and Cons
With that said, there are pros and cons to weigh when deciding on any purchase.  Sometimes, the disadvantages are too glaring to ignore.
Advantages of Aqualift Wrinkle Reducing Serum
Aqualift Wrinkle Reducing Serum contains peptides, which have been shown to increase collagen production and reduce wrinkles.
Aqualift Wrinkle Reducing Serum offers a free trial.
Disadvantages of Aqualift Wrinkle Reducing Serum
Really it's just one very big disadvantage.  Aqualift Wrinkle Reducing Serum appears to be just a scam.  Let me explain.  Aqualift is only available online, yet they don't have a website.  It's hard to trust a company when you can't really find  them.  If you do a search for

Aqualift Wrinkle Reducing Serum

, you will find sites advertising a "14-Day Free Trial".
If you look a little further, you will find that it's not really a free trial at all.  When you order the free trial, you are automatically enrolled in their monthly auto delivery program.
If you don't call Aqualift to cancel within 14 days of ordering the product, they will charge you $74.99 for the "free" product you already received.
And unless you cancel, they will continue to send you the product and charge you $74.99 every month.  The terms of canceling are very restrictive as well.  In order to avoid the $74.99 charge for the "free trial", your cancellation must occur within 14 days of placing your order, not receiving your product.  That's hardly enough time to test a product that claims results in 28 days.
To educate yourself on the free trial scams that are running rampant, check out our review on NuvaLift and Puravol, it will shock you!
Where to Buy Aqualift Wrinkle Reducing Serum
Aqualift Wrinkle Reducing Serum appears to only be available through the "free trial" offer/auto enrollment program on the internet.  The cost is $74.99 per month plus shipping and handling.
Conclusion
Aqualift Wrinkle Reducing Serum may have some value as a product, but I wouldn't recommend trying it.  There are plenty of online marketing scams, and I believe this is one.  Even the packaging is suspect.  There are several other wrinkle cures that are also only available through the same sort of negative option free trial offers, and they all come in similar looking packaging.  I suppose if you are very organized and can be certain that you will be able to meet the cancellation deadline, you might want to give it a try.  In my opinion, there are so many wrinkle creams to choose from, I'd steer clear of this one.
Check out our Top Wrinkle Creams to continue browsing
Have You Used Aqualift Wrinkle Reducing Serum?  Leave Your Review Below!
User Questions and Answers
User Questions and Answers
---
Q: Is this the real aqua lift wrinkle serum, where can I buy it an what is the cost an all benefits from this serum an when can I see the result an all ingrdients in this serum is this an chemical free serum ? -rosemary
A:
Rosemary, as I stated in my Aqualift review, this is pretty much a scam - it's a 14 day free trial then they bill you $90 on the 14th day and keep shipping it to you monthly, impossible to cancel. If you're looking for a trusted anti-aging treatment, go with my top recommendation Kollagen Intensiv. I've used it for years with great results. Rachel
Was this question helpful to you?

---