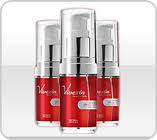 Vivexin Review – Should You Try It?
Vivexin Overview
Age can take a toll on your skin in many ways.  In addition to fine lines, wrinkles, and crows feet, you may begin to see bags and dark circles appearing under your eyes.  If you've noticed this, or if people seem to keep asking you why you look so tired, you might benefit from an under eye cream specifically formulated to treat these problems.  As you age, the tiny capillaries beneath your eyes begin to weaken and leak.  The loose iron molecules float around freely under your skin.  At the same time, the skin under your eyes becomes thin and papery, so these red iron molecules can be seen, appearing as dark eye circles.  Vivexin Rejuvenating Eye Treatment is formulated to treat both of these factors and create a more youthful look for your eyes.
Vivexin Ingredients and How They Work
Vivexin contains three key ingredients that have been clinically shown to address each of the problems your eyes may experience as your skin ages.  Haloxyl binds the iron in the blood, allowing it to be eliminated and released, so it no longer floats around under your skin, causing dark circles.  Eyeliss makes the capillaries stronger so they leak less blood and increases the elasticity of the skin.  Matrixyl encourages the production of collagen which makes skin plumper, thicker, and smoother.  While Vivexin hasn't been clinically tested, each of these ingredients have been, and they've proven to be effective.  Together with other ingredients that provide moisture and nourishment, Vivexin claims to create a smoother, clearer, more youthful look of the the skin around your eyes.
Vivexin comes in bottles containing a 30-day supply of the cream.  They say that if you apply Vivexin to the skin under your eyes twice a day, you should see results within six to 8 weeks.
Pros and Cons of Vivexin
Advantages of Vivexin
Individual studies have proven that the active ingredients in Vivexin are safe and effective.
There are no known side effects.
Vivexin comes with a generous 90-day money back guarantee.
Disadvantages of Vivexin
At $59.95 a bottle plus S&H, Vivexin is a bit on the expensive side.
Where to Buy Vivexin
Vivexin may be available in a few salons, but other than that, it is only available online at their website. There are many different price points depending on how much you want to buy at once.  If you've never tried it before, there is a 20-day free trial offer through one of Vivexin's many affiliated sites.  The way it works is that you pay $5.95 for shipping and receive a 30-day supply.  At the same time, you are enrolled in the Beauty Autoship Program.  Unless you call to cancel and return the product within 20 days, you will start receiving a 60-day supply every 2 months at the discounted rate of $39 plus shipping per 30-day bottle. If you buy Vivexin 1 bottle at a time, you'll pay $59.95 plus shipping.  If you buy 2 bottles at a time, you get one free.  If you buy 4 bottles, you get 2 free.
Conclusion
Vivexin's got an impressive list of ingredients backed up by a 90-day money back guarantee.  If you've got dark circles and bags under your eyes that you're looking to get rid of, it seems like Vivexin is worth giving a try.  Dark circles can be stubborn, so remember to use it for a full six to eight weeks for best results.  And if it turns out that it does work for you, the discounted price points we mentioned above could make Vivexin a fairly affordable solution for your tired looking eyes.
Have You Used Vivexin?  Leave Your Review Below!
User Questions and Answers
User Questions and Answers
No Questions Have Been Answered For This Article.