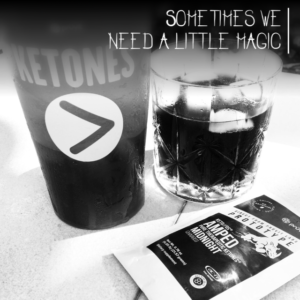 Pruvit's 12 Days of Christmas Sale! Check out the daily special here!
There has been a swirl of buzz this week about Pruvit's new #mysterymax flavor.
Pictures of mysterious "magical" ketones and trying to guess this new flavor has both customers and promoters in a tizzy, including myself!
Unless you're a promoter who attended their last Dallas Charged event in October where you got to taste it, everything's been very hush-hush.
Pruvit definitely knows how to build the anticipation of a new release! Their marketing and products are genius.
So what do we know about Pruvit's new Mystery Max? Keep reading. (I've tried it since writing this and have samples!)
The Build Up of Pruvit's Mystery Max
For the past week or so, we've seen the enticing images on the @justpruvit Facebook and Instagram pages of a new #mysterymax flavor, and it's got everyone chomping at the bit.
With a theme of black and white for a Black Friday release, and a barely recognizable "Keto//OS" in the background, my first guess was that is was a new Keto OS flavor.
There are only two Keto OS flavors, Orange Dream and Chocolate Swirl.
The Keto Max flavors are Maui Punch, Raspberry Lemonade and Swiss Cacao, and you can read about those in my Pruvit Keto//OS review.
But there was something more dark and powerful behind the marketing of Mystery Max, it had to be something stronger!
Update! Check out my Youtube Vid on the Amped Midnight

Mystery Max Color Revealed in a Facebook Live with Pruvit's CEO
I watched the Facebook live on Nov. 22nd with Pruvit's CEO Brian Underwood (he's an amazing leader) and he gave us a sneak peak at the new flavor.
It's PURPLE, a very dark purple, almost black. #blackmax

A flurry of comments ensued, was it Black Cherry? Grape? Blackberry? Some infusion of two flavors? Did it have MCT powder like the Orange Dream? Was it Amped like the new Blue Ocean?
Was it a Max formula or a Keto OS formula? Does it have the coveted AC-11 DNA repair that reverses aging cells?
By the end of the broadcast, there was no reveal! Just more mystery around the new #mysterymax #blackmax and a heightened level of anticipation.
It's so much fun being a Pruvit promoter! Their exogenous ketones are fantastic and each new flavor that's been released has absolutely blown me away.
I didn't get too excited about the new Keto Splash watermelon-grapefruit flavor until I tasted it, but WOW!
The same with the Amped Blue Ocean pina colada flavor. I didn't think I would be crazy about either one, but I was so wrong!
I've been drinking the new Keto Splash every darned day it's so delicious!
And the Amped Blue Ocean is my go-to if I know I have a lot of work to do including a hard workout – love the added energy and it completely kills my appetite.
Pruvit is exceptional at making ketones taste ah-mazing!
Waiting up for the Black Friday Sale
Luckily I'm a night owl, and don't go to bed until around 2 am every night.
This is perfect since Pruvit always seems to release any big sales or new flavors at 12:00am CST, so 1:00 am my time on the East Coast of Florida.
I am a Pruvit promoter (absolutely love the products and been drinking over two years) so I waited up for the sale.
1:00 am struck and I logged in. And there it was – the new flavor offered in a pack of 40!
Or so I thought…all we got was the new name and finally got a peak of the exciting new packaging!
Keto//OS Amped Midnight it said, but it didn't say what the flavor was. Ahhhhh!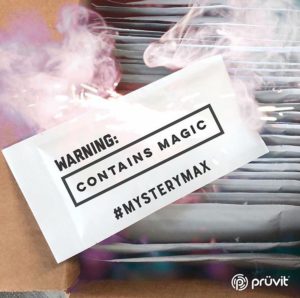 Pruvit apparently LOVES surprises, so much that even I won't know what the flavor is until I have that black magic in my hands, shake it up and taste it!
So then this happened….I got to the very end of check out, and the system crashed – Pruvit broke the internet…again. I saw this happen with the release of the Raspberry Lemonade.
That's what happens when you have a product that is absolutely blowing up the market with exogenous ketones!
At around 2:15 am, I tried again and my order went through with lightening speed. They must have had their back office ninjas working around the clock to free up space on the server.
BOOM! 80 servings are enroute to me! *Happy Dance*
Keto Amped Midnight Black Cherry Vanilla Has Arrived!
The Unveiling of Keto//OS Amped Midnight
You guys, the new Keto Amped Midnight has arrived and it's awesome!
The Amped Midnight flavor is Black Cherry Vanilla and it reminds me of a cherry Dr. Pepper, but more fruity.

Except there's no sugar, nothing artificial, and one serving puts you into the fat burning state of ketosis in under an hour. Can Dr. Pepper do that? 😉
Hints of cherry, grape, and it's smooth! MMM!
It gave me all the awesome energy I expected just like the Amped Blue Ocean and turned me into an energy powerhouse, like super hero status.
My productivity triples when I drink the Amped, it's INSANE in the best way ever.
How to Get Samples of the new Pruvit Amped Midnight
What will I do with all of these Keto//OS Amped Midnight magical ketones? I will hoard some no doubt, but I always offer up samples.
I always buy new flavors in bulk and offer 3 or 5 packs to my customers, so they can taste it before committing to a box ($10 each).
I only charge enough to cover my costs, I don't price gauge and sell them at a huge markup. I don't do business like that and my customers love me for it.
Pruvit Keto OS 5 Day Experience – Taste the Rainbow!
I also offer 5, 10, and 14 day experiences (out of my own stash) to people interested in tasting the rainbow before choosing a flavor.
With any purchase – I will include a bonus of the latest new flavor to make the experience even more fun!
Be sure and check out my full review on Pruvit's Keto OS and Keto Max where I dive into details about each flavor, my personal experience and before and after pics!
You can also read about the my mom and my brother's experience with Keto here.
My whole family has gotten healthy drinking daily ketones!
Contact me here to request a 5, 10 or 14 day Full Experience
Or you can email me directly at [email protected]. I promise you, you won't regret it – your life will change for the better!
Pruvit's 12 Days of Christmas Sale! Check out the daily special here!
FLASH SALE TODAY, DECEMBER 8th!
If you're a customer yet, here are the steps you need to take to become one (like now) so you can SEE the offer and purchase the Amped Midnight. 
Visit my website (link below)
Add something to your cart (anything)
Create your account (create User ID and password, add address, email, phone etc), and then LOG OUT (be sure and write your user id and pw down)
Then LOG BACK IN.
You'll now be recognized as a customer and you'll be able to view the Amped Midnight offer and add it to your cart!
You can either remove the initial item and just get the Amped Midnight, or get both. Everything else is 12% off today storewide as well!
Don't miss out – once these suckers are gone it's gonna be a while before we see it again. I just bought 4 boxes!
How Women Found This Review:
and keto os midnight, and pruvit amped dark
User Questions and Answers
User Questions and Answers
No Questions Have Been Answered For This Article.