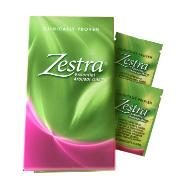 Zestra Review – Does It Really Work?
Zestra Arousal Oil Overview
Female Sexual Dysfunction (FSD) is more common than you might think. In fact, it is estimated that as many as 43% of women experience problems achieving sexual satisfaction.
Given the size of this market, I'm always surprised at how little discussion there is about solutions. Fortunately, there is Semprae Laboratories, and they make Zestra.
Semprae is a company founded by women and dedicated to improving women's sex lives. Zestra is an essential arousal oil that aims to increase sensitivity to touch, adding to both arousal and pleasure of women during sexual activity.
How Zestra Arousal Oil Works
Zestra is a blend of natural botanicals and extracts developed to heighten your sensitivity to touch. It comes in a pump bottle or single-use packets.
To use Zestra, you or your partner rub the oil gently onto your labia and clitoris before or during foreplay. Almost instantly, you'll feel a warm, tingly sensation which peaks in about 10 minutes, then lasts for another 45.
Zestra is one of only two products of its kind that have published clinical studies in reputable peer review journals. It was found to be both safe and effective in each of 2 clinical trials.
Zestra is recommended by both doctors and sexual healthcare professionals. It's safe to ingest. It's hypoallergenic. And according to its many fans, it works. Most women say they feel a warm, tingly feeling, and report increased sexual desire, arousal, and satisfaction.
Pros and Cons of Zestra Arousal Oil
When deciding whether or not Zestra is right for you, you'll want to weigh the pros and cons.
Advantages of Zestra Arousal Oil
Zestra is hormone-free, hypoallergenic, and safe to ingest. The ingredients are all natural, and have shown no serious side effects in clinical trials.
Convenient application. The single-use packets are great because you can take them anywhere. And if you're primarily planning on using Zestra at home, the pump lets you use exactly as much oil as you need with no mess or waste.
Disadvantages of Zestra Arousal Oil
Many women report that Zestra has an unpleasant odor. Some say it smells like burned oil. Others say bad potpourri. Those two smells don't seem similar to me at all, but enough people mention the odor so there must be some truth to it.
Zestra cannot be used with latex condoms. If you use condoms with Zestra, you'll need to use the polyurethane kind that don't break down when they come in contact with oil.
Zestra is somewhat expensive. There are less expensive warming oils available. If you try Zestra, and it doesn't work better for you than the others, you'd be better off sticking with one of the cheaper options.
Where to Buy Zestra Arousal Oil
Zestra is widely available from many retailers. You can buy it at the Zestra website. Or you can find it cheaper if you compare prices at Amazon.
If you'd rather not shop for it online, Zestra can also be purchased at local retailers like Walmart and Rite Aid.
Conclusion
If you are experiencing some form of Female Sexual Dysfunction, or even if you're not but just want to increase your pleasure, Zestra is worth giving a try. The fact that it's all natural and hormone-free means that really the only thing you have to lose is the $3 or $4 per packet that you'll spend.
The bottom line is that the women's sexual enhancement industry doesn't really have any big-name, well-established companies. Zestra is one of only two products that have published successful clinical trials.
You can trust it to be safe. So now the only thing left to do is try it. If it works for you, you might find it's well worth the cost.
Have You Used Zestra?  Leave Your Review Below!
How Women Found This Review:
and https://www womensblogtalk com/zestra-review
Click here to submit your review.
---
Zestra
Zestra Review – Does It Really Work?
No effect at all ! Money spent for nothing ! Better take just a little bit of Vicks, works a lot better !

---
Disappointing
Zestra Review – Does It Really Work?
I was really looking forward to results from Zestra. I was very careful to apply it only where they said, NOT inside the vagina. Within a few minutes I felt a warmth and tingling.But then it started burning like a bad rash, and it had the exact opposite effect I'd hoped for as a result. The burning sensation didn't last long, but it definitely scared me and turned me right off.

---
User Questions and Answers
User Questions and Answers
---
Q: Where do I buy zestea -Angela
A:
Hi Angela, just do a google search and you'll find it. The one I recommend is HerSolution gel, it's fabulous! I didn't like Zestra at all, it was sticky and gross and had a weird smell! HerSolution is a silky lube with a tingly light minty scent. Thanks, Rachel
Was this question helpful to you?

---
Q: If I buy this product where in manila -Juliet
A:
Juliet, you'd have to go through the check out process and put in your address and see if it accepts it as a shipping address, I'm not sure if they deliver to Manila. Rachel
Was this question helpful to you?

---
Q: The pump on dispenser is not working I turned too both directions. Can you help? -Louise
A:
Louise, I'm sorry I'm not affiliated with Zestra, I would contact the manufacturer and ask for a replacement. Rachel
Was this question helpful to you?

---