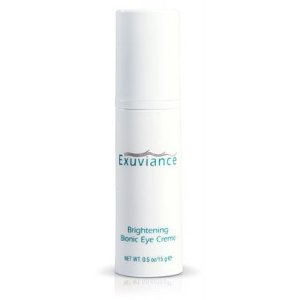 Exuviance Brightening Bionic Eye Cream Review
Exuviance Brightening Bionic Eye Cream Overview
The appearance of the skin around your eyes can cause a person to think that you are much older than you actually are.  In order to improve the appearance of this sensitive skin there are a number of products on the market that promise to brighten the skin around the eyes while at the same time diminishing the appearance of fine lines getting rid of dark circles and under eye puffiness.  Exuviance Brightening Bionic Eye Cream makes these same claims, but how well does this particular product live up to those claims?  Exuviance products are produced by a company called NeoStrata which markets and entire line of facial products to cleanse, moisturize, restore and protect the skin.  Let's see if it will work for you.
How Exuviance Brightening Bionic Eye Cream Works and Ingredients
Exuviance Brightening Bionic Eye Cream uses a number of natural ingredients to accomplish its goals of brightening the skin, reducing under eye circles, and diminishing the appearance of fine lines.  One of the main natural ingredients is Pro-Vitamin A which helps to diminish the appearance of crows' feet and wrinkles around the eyes.  Vitamin K is another natural ingredient that appears in the cream that helps to brighten the sensitive skin around the eye.  To help reduce puffiness around the eye the cream uses a special blend of cucumber extract.  All of these ingredients come together to create a product that had outstanding results in clinical studies after just four weeks of use; clinical studies that are nicely documented on the company's website.
Exuviance Brightening Bionic Eye Cream Pros and Cons
Even with a great ingredients list and great results from the clinical trials every product has pros and cons.  Here are a few of the benefits of Exuviance Brightening Bionic Eye Cream that you should keep in mind:
No fragrance, should not cause allergic reactions
Price is below average at around $40
Contains several natural ingredients
Clinical studies provided show excellent results
On the other hand there are a couple of disadvantages of this product that you should consider:
No before and after pictures shown along with clinical studies
The product cannot be shipped internationally
The lack of international shipping is somewhat odd, but frankly this is not a problem that will really affect many people.
Where To Buy Exuviance Brightening Bionic Eye Cream
You have several options if you want to give Exuviance Brightening Bionic Eye Cream a try.  You can purchase it online for as low as $41 from retailers like Amazon.com.  You can also buy it from the NeoStrata company site for $52.  This price is also the same price you will pay if you decide to purchase the eye cream from a brick and mortar store like Ulta, which also carries the eye cream.  The nice thing about making a purchase from a brick and mortar location is that you may be able to try a sample of the product in store.  This will better help you to determine if the product is right for you.
Conclusion
The most important questions at the end of the day with any beauty product is "Does it really work?"  The answer for Exuviance Brightening Bionic Eye Cream is "Yes."  The clinical studies show that it works well for an overwhelming majority of those who participated in the study.  This is very reassuring since many beauty products do not choose to put the results of their clinical studies on their websites.  This eye cream is a big time multitasker and if you are ready for a product that can help to eliminate all of the issues associated with the sensitive skin under your eyes, look no further.
Have you tried Exuviance Brightening Bionic Eye Cream?  Leave your review below!
How Women Found This Review:
and https://www womensblogtalk com/exuviance-brightening-bionic-eye-cream-review
User Questions and Answers
User Questions and Answers
No Questions Have Been Answered For This Article.