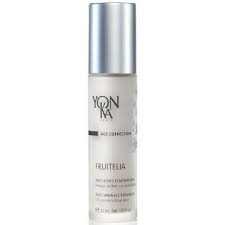 Yon-Ka Fruitelia Overview
This product comes in two distinct formulas. One is for normal to oily skin. The other is for dry and/or sensitive skin. Either way, Yon-Ka Fruitelia is a emulsion with natural AHAs to exfoliate that outer layer of skin to leave you with smooth, clear, unlined radiance. It's not a cheap product, but that seems to be about the only drawback mentioned in all the Yon-Ka Fruitelia reviews I've seen. So that bodes pretty well. Let's take a look at the ingredient profile and see what it can tell us.
Yon-Ka Fruitelia Ingredients and How They Work
Yon-Ka Fruitelia get's its AHAs from natural fruit extracts like:
Bilberry
Sugar Cane
Sugar Maple
Orange
Lemon
These fruit extracts do contain AHAs but they're not at effective concentration and the pH of the lotion isn't optimal even if they were.
For hydration, there's:
Hydrolyzed Sweet Almond Protein
Soybean Oil
Corn Oil
Urea,
Rice Bran Oil
Grapefruit Peel Extract reduces inflammation and redness and Apricot Kernel Oil firms and lifts skin.
The main difference between the Yon-Ka Fruitelia formula for dry skin and the one for oily skin is that the one for dry skin has many more oils in the formula. For instance, the dry skin formula contains Coconut Oil, which is a great, hydrating oil with antioxidants, but it's comedogenic, so those with oily skin should avoid it.
Yon-Ka Fruitelia Pros and Cons
Advantages of Yon-Ka Fruitelia
It comes in two different formulas based on skin type.
Some of the Yon-Ka Fruitelia reviews we've seen talk about how this is their favorite moisturizer and that it's very hydrating.
The pump packaging will ensure the freshness and effectiveness of the antioxidants and other botanical ingredients.
Disadvantages of Yon-Ka Fruitelia
Some find it to be too oily (even the version for oily skin).
It's expensive for an additional moistuizer.
The AHAs aren't really AHAs and won't provide exfoliation.
Where To Buy
You can purchase Yon-Ka Fruitelia online. The 1.7 ounce pump sells for $76, though you should look around for your best price. I've seen if for a little less.
Conclusion
While there are clearly people who love this stuff, I'm not sure why. The ingredient list is pretty week, and with all the oils in the formula, I'm not surprised some people find that it leaves their skin greasy. For this kind of money, you should skip Yon-Ka Fruitelia and use something with real AHAs so your skin can actually get that refinished look you want.
Have You Used Yon-Ka Fruitelia? Leave Your Review Below!
User Questions and Answers
User Questions and Answers
No Questions Have Been Answered For This Article.