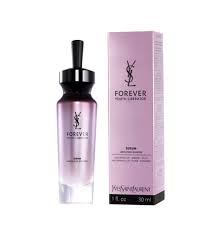 Forever Youth Liberator Serum Review
Forever Youth Liberator SerumOverview
Yves Saint Laurent has a very expensive line of products called Forever Youth Liberator. This range is built around a particular ingredient that claims to stimulate skin cell regeneration deep within your skin so it brings out all skin's "youth-promoting" functions, so your skin behaves more like young skin. That's a very roundabout way of saying that Forever Youth Liberator Serum and its cohorts in this line make your skin look younger.
According to YSL, Forever Youth Liberator Serum makes your skin instantly look soft and radiant. In about a week's time, it'll be more supple and hydrated. And within a month, you'll see visibly fewer wrinkles, smoother and tighter tone and texture, and a glowing luminous look. This is another product, however, where the reviews are quite mixed, so it's important that we look to the formula to see what we can find out.
Forever Youth Liberator Serum Ingredients and How They Work
This is a water based serum with the second ingredient listed as alcohol. This is unfortunate because it will take away from whatever comes after, and there are indeed some good ingredients that come after:
Glycerin provides gentle, skin-identical hydration for your skin.
Glycanactif which is a certain type of plant sugar which may communicate with cells how to act before they were damaged by age.
Sodium Hyaluronate which attracts and binds to water so your skin is plumped up and well hydrated.
Adenosine which also communicates with cells.
Recommended use is to apply it to clean skin in the morning and the evening. Before adding your moisturizer.
Forever Youth Liberator Serum Pros and Cons
Advantages of Forever Youth Liberator Serum
There are lots of favorable Forever Youth Liberator Serum reviews.
Disadvantages of Forever Youth Liberator Serum
It's very expensive.
It contains a lot of alcohol which is drying and damaging to skin.
You can find plenty of reviews where customers say it just does nothing yet costs so much.
Where to Buy
You can purchase Forever Youth Liberator Serum in department stores or online. The one ounce bottle retails for $155. Larger sizes are available. The 1.7 ounce is $205, and the 2.5 ounce bottle is $255.
Conclusion
Maybe I'm missing something here, but a serum that's mostly water and alcohol for 155 bucks doesn't seem appealing to me. Since there are some positive reviews for Forever Youth Liberator Serum, I would say this. Go to your favorite YSL counter and see if you can get a sample. That's the only way I recommend you try it. It's just too expensive and too unlikely to be any good for you to take such a big chance with such a huge amount of money.
Have You Used Forever Youth Liberator Serum? Leave Your Review Below!
User Questions and Answers
User Questions and Answers
---
Q: Is alcohol the second ingredient for the Forever Youth Liberator Eye Serum as well? -P
A:
Hi P, it does contain alcohol but I couldn't find a good list of ingredients online so I don't know if it's the second ingredient. The worst offender in these products is all the added fragrance/parfum! This adds hundreds of unnecessary chemicals and has always been my main issue with "high end" brands. If you're looking for a fabulous eye cream, with no added fragrance or toxic chemicals, check out Beautycounter's Eye Rescue Cream.

I wouldn't pay Forever Youth's outrageous prices either.... way overpriced.  xo Rachel
Was this question helpful to you?

---